'I THINK I have, to quote Liam Neeson, 'a certain set of skills' that I know do well for me.'
Devin Toner isn't trying to convince anyone he's something he's not.
There are no iconic or viral line-breaks from his youth racking up views on YouTube. He hasn't been hailed as the ball-carrying solution for a team he's played for, and he certainly didn't get fast-tracked to the international stage like James Ryan and Iain Henderson.
Tommy Dickson / INPHO Tommy Dickson / INPHO / INPHO
What is undeniable about the Meathman is that 'very particular set of skills,' as the fella says.
Skills acquired over a long career. Skills that make him a nightmare for people like, erm… opposition forwards.
You could labour the Taken phone-call comparison even longer, but unless Toner actually goes to Paris and murders about 32 Albanian (or Albanian affiliate) people traffickers, then it quickly stops making sense.
"It's relatively recent form that has allowed him to springboard himself right into the forefront of our thinking," said Joe Schmidt said after unveiling a team-sheet with Toner in the engine room from the start for the 44th time on Schmidt's 54-match watch while a Lion sits in reserve.
"It's also his ability to call a line-out… it's his ability to challenge opposition line-out as well. When you are throwing in and opponent has 6′ 10″, it probably looks quite high that you have to throw it. It puts a bit of pressure on."
In the kick-offs and receiving kick-offs it's great to have Dev out there. When it goes in the air, I don't know if you've seen how much his hands are in proportion to rest of his body! When he gets his mitts on ball, the ball it sticks in there really well."
In addition, now that we're in a post-Jamie Heaslip era, Toner is now the apparently indestructible force of this pack. We've often noted how he has long been a preferred lieutenant of the current head coach. His excellent record of being involved in 50 Tests since Schmidt took over stems not only from terrific consistency, but also incessant work behind the scenes to maintain a consistency of service.
More recently (in fact, coinciding with his drop down Schmidt's pecking order) Toner's hard off-field work involved cutting excess weight from his sizable frame. Over the summer he leaned down to 123 kilos, maintenance for the short-term demands of increased mobility as well as the long-term with less weight for his joints to hold through each and every impact.
The mobility shows not only in metres covered on the field, but also in how he is engaging in collisions lower and pushing through the target. Schmidt also pin-pointed Toner's link play as being 'better than some give him credit for'. The 31-year-old doesn't want the idea to take hold that this is a new development. He worked hard to hone the skills that for so long made him an immovable component in Ireland's engine room.
"I've always had good hands to be honest," says Toner with those 'big mitts' clasped together in front of him,  "as the game has progressed over the years we've started to do that more.
"As the game has progressed I'm kind of progressing with it. I've always been pretty happy with my skills."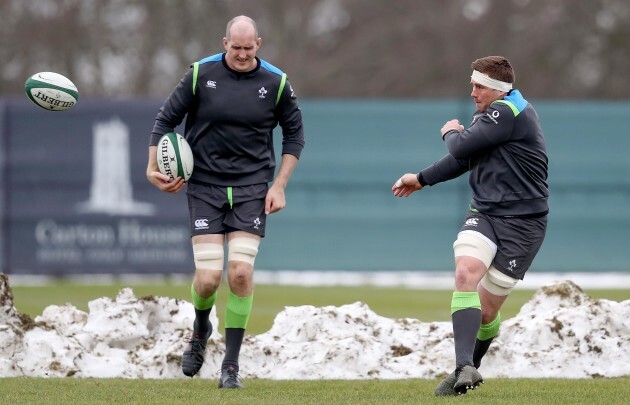 Tommy Dickson / INPHO Tommy Dickson / INPHO / INPHO
Toner has earned the right to be confident in his ability. Since slipping to the bench for last season's Six Nations finale against England, his place has suddenly looked under threat. On that day it was Donnacha Ryan and since then his provincial team-mate James Ryan has smashed his way through tackles and rucks to give Schmidt and Easterby a tough call to make.
Toner was back in the starting line-up for wins over Italy and Wales, but with the three top locks fit and ready, this is the week that really shows where he currently stands.
"You always reassess when you get dropped and you don't start. I did a lot of work in pre-season, I dropped eight or nine kilos so I'm getting around the pitch a lot better now.  I haven't changed much drastically, to be honest, since then. I just know that I worked really hard in pre-season and I've just gone with the flow."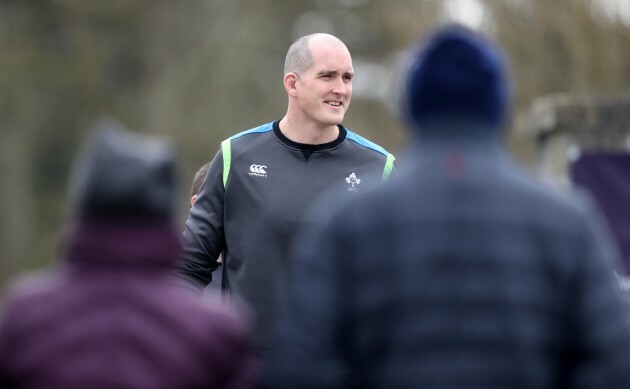 Tommy Dickson / INPHO Tommy Dickson / INPHO / INPHO
"Nobody wants to be benched, everyone wants to start every game they can.
"We (Ryan, Henderson and Toner) are inter-changeable, you have seen that in the different selections there has been and Hendy has another string to his bow, he can call line-outs as well just as well as myself. He has upped his skill-set from last year. That was the one thing which used to stand out for me."
Toner may seem like the gentle giant figure to some, but he's not willing to slap a younger rival on the back and watch them run out to take his place. The consistent record of selection under Schmidt is but a middle chapter in his career, coming after too many seasons of nearly, almost making the top grade.
Toner made his debut all the way back in the November series in 2010, but caps four and five didn't come until the final days of Declan Kidney's time in charge. Toner's coming-of-age from the near-miss against the All Blacks in 2013 through back-to-back Six Nations victories was no small factor in Schmidt's success.
So, if this now is a second coming of sorts, perhaps another Six Nations title is on the way?
"We're only thinking about beating Scotland. We have heard about the permutations but we are just focused on the performance."
Good luck.