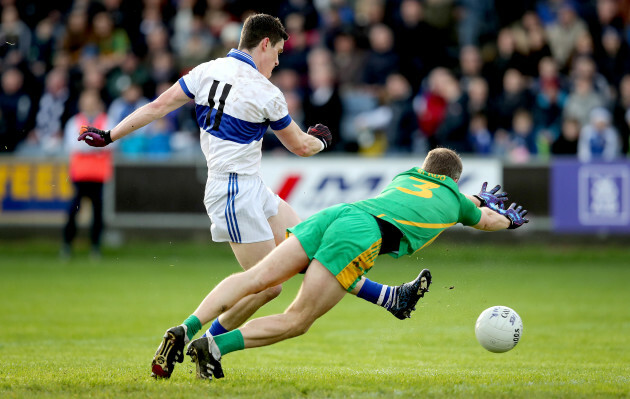 Ryan Byrne / INPHO Diarmuid Connolly strikes home the only goal of the game against Rhode. Ryan Byrne / INPHO / INPHO
YESTERDAY SAW the 2016 GAA club provincial championships conclude as St Vincent's swept to Leinster glory against Rhode.
Analyst Rob Carroll takes a closer look at the impact of St Vincent's captain, man-of-the-match and star man Diarmuid Connolly.
*************************
MAN-OF-THE-match, scorer of 1-2 and a direct hand in two other points seems like it was just another day for Diarmuid Connolly in yesterday's Leinster senior club final.
Connolly has a habit of doing the spectacular better than anybody but often that can seem to magnify his influence on a game.
The moments of skill last a lot longer in our brains than the routine.
People are always taken aback when you show them how few touches of the ball a player might have in a game.
For example Connolly averaged around 22 possessions per game in the 2016 championship. Of these 22 possessions he took on average five shots, scoring a little under 50%.
Although he is not Dublin's most prolific ball carrier (Ciaran Kilkenny) he is their most frequent shooter. With so few possessions it highlights the importance of quality over quantity.
As it was after yesterday's game Connolly was awarded the man-of-the-match award from TG4 but when you look across his numbers he had 13 possessions and made 4 tackles.
There were a few players who had more touches of the ball in Portlaoise but few who had the same influence.
Last week Connolly spoke of how the role of an inter-county half-forward has changed and was now expected to get in 10-12 tackles a game, be the link between attack and defence and tag on a few scores. His role yesterday was not very dissimilar to that.
Below is a touch map of Connolly's possessions (blue) and tackles (orange).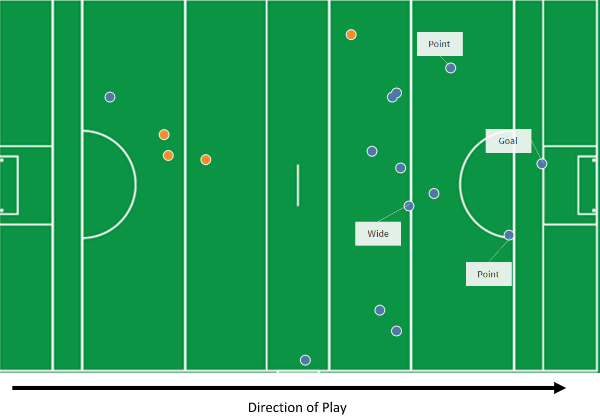 His first pass of the game was close to St Vincent's own '21 and you can see from the cluster of orange dots that he was doing his defensive duties yesterday but was on a lot of ball around the opposition '50 where he can be most dangerous.
This is the touch map of his possessions from the All Ireland Replay. Again you can see a couple of times where is picking the ball up at the back but a lot of his work is done from the half-way on.
His impact was in much wider locations against Mayo, where against Rhode he is able to penetrate the middle. In the 15th minute he picked out a wonderful pass to find Shane Carthy and to extend St Vincent's lead back out to a goal.
Connolly is fouled close to the Rhode '50 and even though the free is awarded Connolly never stops looking for a pass.
TG4 GAA BEO TG4 GAA BEO
He looks to take it instantly but it's not on. The camera zooms in on his face, so you can't see the runs being made, but his gaze is penetrating, never for a second does he take his eyes off what is in front of him.
A few seconds later he spots Shane Carthy open. It's an inch perfect pass.
TG4 GAA BEO TG4 GAA BEO
Rhode have plenty of bodies back but he's kicked it to the outside of Carthy, which makes it very difficult for the defender to get a hand on.
The marking isn't as tight as it should be but the ball from Connolly is inch perfect and Carthy takes the score.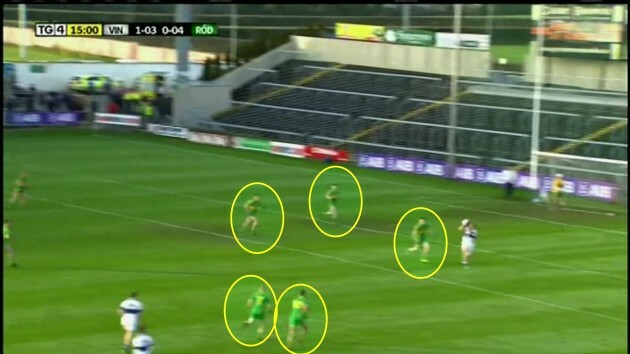 TG4 GAA BEO TG4 GAA BEO
Of course we have seen this before. In the drawn All-Ireland Final Connolly picked out an equally sublime pass to setup a Dean Rock goal chance. Even from a dead ball situation, when teams have time to get defensively set Connolly can pick a wondrous pass.
Connolly Fear
Rhode didn't get caught on the counter too often yesterday but there was one moment towards the end of the first half which showed the sort of fear Connolly can give teams.
Vincent's win a free just outside their own '45, with Rhode committed to the attack.
Connolly is highlighted and screaming for the ball.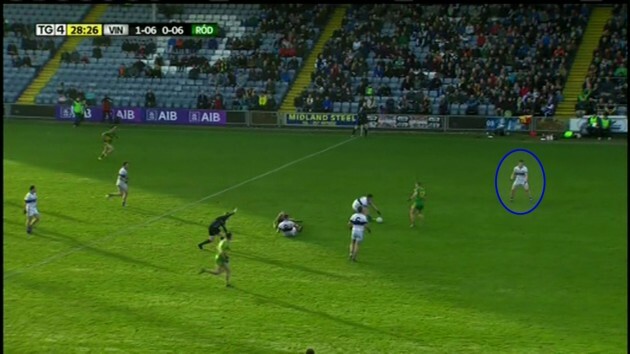 TG4 GAA BEO TG4 GAA BEO
As he makes his way forward there are three Rhode defenders, with a 4th on the way. There is nobody inside to worry about so Rhode should be able to deal with this. However such is the influence of Connolly they just keep backing off.
TG4 GAA BEO TG4 GAA BEO
By the time Connolly takes his shot he has traveled 40 metres and is now the furthest forward Vincent's player.
The Rhode defenders should be in better communication here and they need to get pressure on Connolly but sometimes a county player can simply frighten the opposition into making a tackle.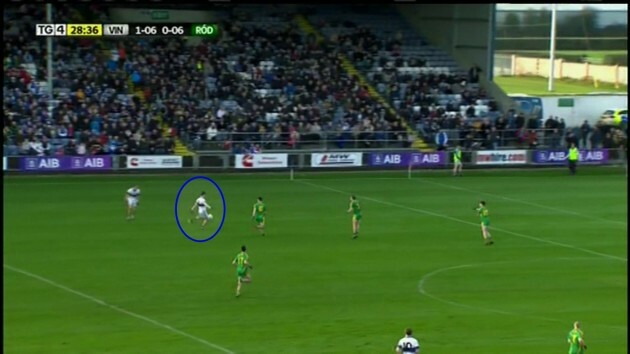 TG4 GAA BEO TG4 GAA BEO
Exclusive Six
Nations Analysis
Get Murray Kinsella's exclusive analysis of Ireland's Six Nations campaign this spring
Become a Member
Connolly Speed of Thought
As the two touch maps above show, Connolly rarely finds himself in easy scoring chances close to goal. He is prone to attempt some pretty long range efforts but often when games are in the melting pot, his ability to create space is a joy to watch.
In the replayed final his only point of the game came from this speed of thought and footwork. As the ball was delivered in Connolly has Lee Keegan breathing down his neck and a full set Mayo defence.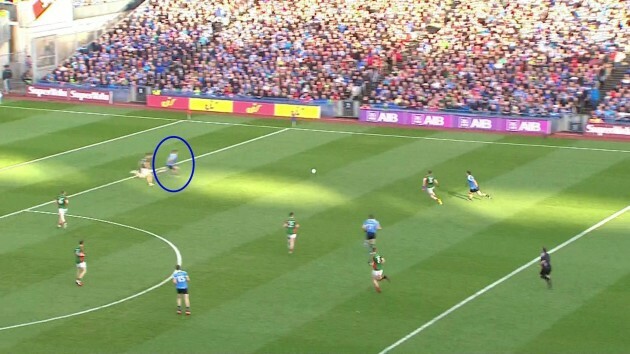 TG4 GAA BEO TG4 GAA BEO
Although he gathers the ball first time he does lose his footing slightly.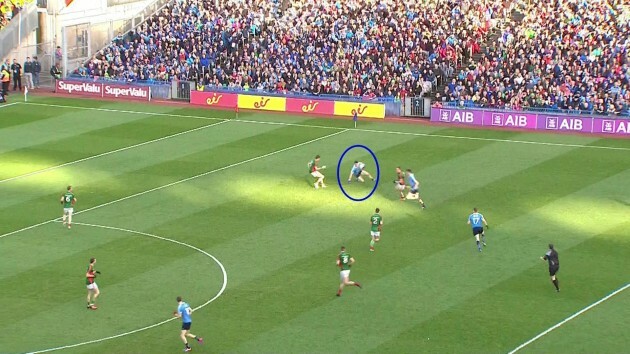 TG4 GAA BEO TG4 GAA BEO
His footwork buys him just a yard of space but it's enough to kick a magnificent point off his left foot.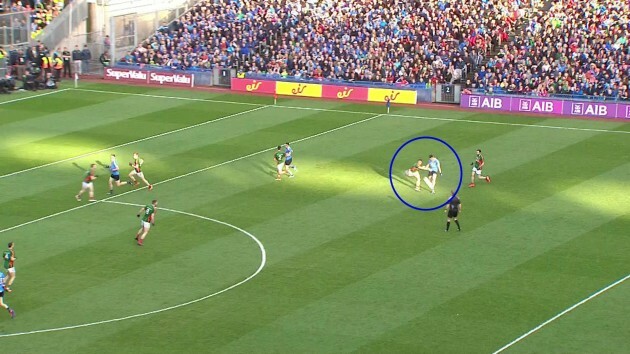 TG4 GAA BEO TG4 GAA BEO
Similarly yesterday – in match that admittedly was not at the same level of intensity – it was the quickness to what he does that makes defending Connollly close to goal almost impossible.
Vincent's send in a diagonal ball that takes a deflection.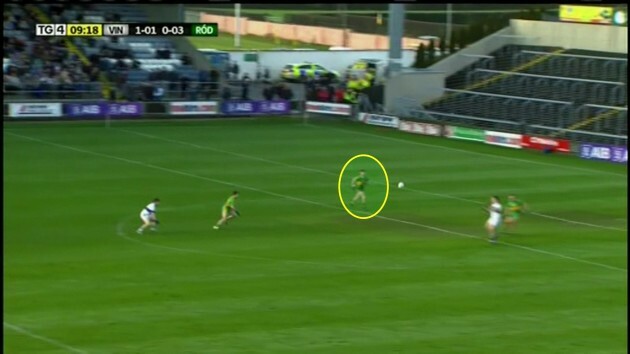 TG4 GAA BEO TG4 GAA BEO
This sort of ball if executed properly can disarm the sweeper completely. Time and again Rhode had the bodies back but Vincent's were just that bit further ahead in bypassing the Rhode defensive setup.
The deflection has probably wrong footed the defender to an extent but Connolly has a little look while in the air to see where his man is.
TG4 GAA BEO TG4 GAA BEO
Once he doesn't feel the hand on his back he has time to turn a kick a nice score.
Connolly rarely finds himself in this sort of position, effectively as the full forward, but similar to the All-Ireland final he doesn't need much of a gap to kick points off either foot.
Diarmuid Connolly against Chrissy McKaigue looks a very lively match up in February in the All-Ireland club semi-final when St Vincent's meet Slaughtneil.
Chrissy won't be content to sit back and will be aggressive in the tackle. Connolly will have as much work to do going towards his own goal as he will launching St Vincent's attacks.
The42 is on Instagram! Tap the button below on your phone to follow us!