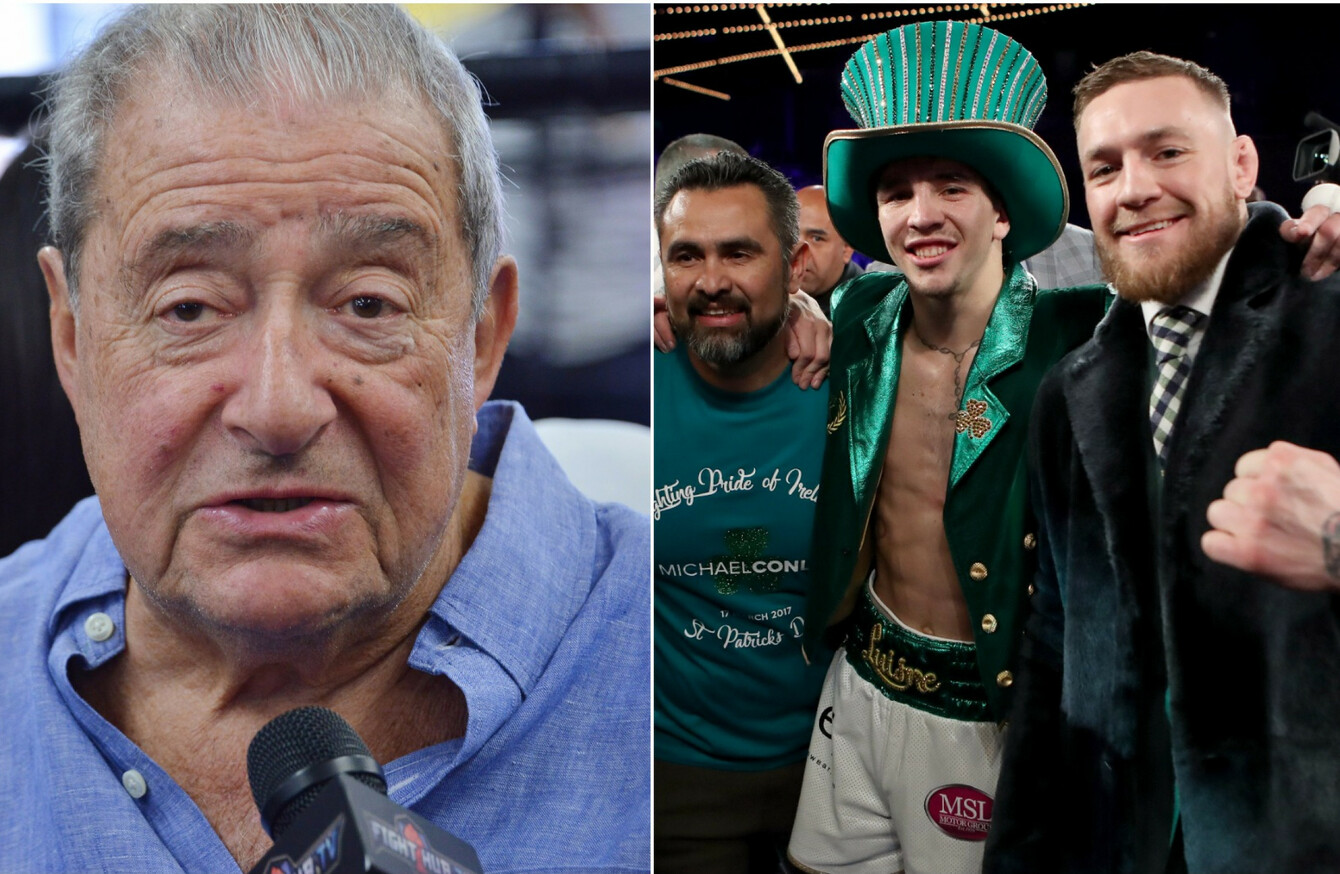 BOB ARUM REMAINS adamant in his belief that Conor McGregor's upcoming boxing match with Floyd Mayweather is 'a farce', but doesn't begrudge McGregor the massive sum of money he's set to pocket on Saturday night.
Arum crossed paths with McGregor on Saint Patrick's Day in New York, when the two-weight UFC champion walked Arum's prized Irish recruit Michael Conlan to the ring for his professional boxing debut at Madison Square Garden.
The 85-year-old Top Rank founder and CEO was charmed by the MMA superstar, but not enough to be enthused by McGregor's own pro boxing bow in Las Vegas.
"McGregor was very lovely when he came to New York to help Michael, to walk him to the ring," Arum recalls. "He is a lovely guy. I give him all props. He's going to make a lot of money, and good for him.
"But I'm not going to lie about it. It is a non-competitive athletic event. You can sugar-coat it any which way.
I mean, if you didn't have the names, where it's going to be a big cash-grab, wouldn't you say, 'Okay, McGregor, before you fight a Mayweather, fight some journeymen'? You know, 'Eight or 10 rounds, and let's see what you can do.'
"Instead, never having had a professional fight, to go in and fight one of the greatest fighters of our era – if not the greatest – I mean, it's an abortion. It makes no sense other than as a cash-grab."
Much of the discourse surrounding this weekend's scrap has alluded to the fight's impact on boxing, for better or worse, with many fans and pundits suggesting it might curtail the sport's recent resurgence should it fail to justify its own hype.
Arum, whose Top Rank Promotions recently inked an enormous deal with ESPN which will see many major fights beamed free-to-air to 90 million homes across the United States – including a potential Michael Conlan homecoming bout in 2018 – believes the blame will lie with the people, and not the sport, should Mayweather-McGregor leave a sour taste on Sunday morning.
"Boxing is back, especially now that ESPN is taking such an active role in the sport, offering it free on the air – we're getting massive ratings, great sponsorship. Boxing is on its way back. That's why I have said what I've said about this fight.
When this fight turns out to be a farce, which I believe it is, people shouldn't blame boxing. They should blame themselves. There was a movie once called Dinner for Schmucks, where somebody threw a dinner and had all morons at the table. Remember that movie? Well this is an event for schmucks. Anybody who buys it has only themselves to blame. Nobody is putting a gun to anyone's head to lay out money and watch this.
Arum then touched upon McGregor's team's decision not to employ a specialised boxing coach for the bout, which was first revealed to The42 by John Kavanagh last month.
The Hall of Fame promoter's contention is that, even if McGregor had the greatest boxing coach of all time in his corner, it still wouldn't make a difference to the outcome of Saturday night's bout.
He also scoffed at the notion that, with another six months' preparation, McGregor could become a competitive boxer; even a fight with Paulie Malignaggi would be a step too far, Arum suggested.
"McGregor's team know they have no chance! They're going to do this and walk away with a lot of money. That's the plan.
If they got the greatest trainer in the history of the sport, if they could raise Angelo Dundee from the grave and put him in McGregor's corner, he still wouldn't stand a chance!
"Another six months of training wouldn't do any good. Let me give you an example. You watch some basketball, don't ya? LeBron James, great basketball player, sensational athlete, right? If you put him in training as a boxer for six months and put him in with Anthony Joshua, what happens? Joshua knocks him out in 30 seconds.
"It's the same thing. It's a different sport! With tennis players, the ones that are top-caliber are the ones that have been playing since they were 10 years old. Because that's how they learn the game."
Arum did however reiterate his admiration for McGregor as an athlete within his own field, but concluded that his prospective shortcomings on Saturday will be accentuated by the rather straightforward fact that he has never experienced a professional boxing fight.
"It's nothing against Conor McGregor," he said. "He's a great MMA combat sports guy, I don't begrudge him, he's going to make a lot of money.
"But he's not a prizefighter. He's not a boxer. Period. End of story."
Tune in to Close Calls on The42′s Facebook page at 4pm on Friday for our Mayweather-McGregor preview, featuring analysis from boxers Eric Donovan and Jason Quigley as well as UFC star Joseph Duffy.
Subscribe to The42 podcasts here: