STUART BARNES, PAUL Wallace and Alan Quinlan chat to TheScore.ie about whether Munster's number 10 can reach his potential…
Is Ian Keatley good enough to become a top-class out-half á la ROG?
Stuart Barnes: At Thomond Park last week, there were three very good half-backs. Conor Murray's tough and hard, he's an international player, Rhys Webb's playing like one and Dan Biggar was smooth as hell. Ian Keatley didn't have that presence. You can't expect every fly-half to have that computer of a brain like Ronan O'Gara, but you can expect a fly-half at 27-years-old to put you in the right place. Munster won a lot of ball and I think, too often, they didn't do that.
I've never been convinced [by Keatley]. I thought he had a fine semi-final in Marseille against Toulon. But on the balance of what I've seen, most championship teams have to have a 10 who is close to or of international standard. At the moment, Keatley looks a decent rugby player, but I don't think he's at the level you'd expect.
For all the brilliance of Munster in how they understood how to control the tempo and won the breakdown battle, someone needed to put them in the right place. In that early period, O'Gara was special and that's what Munster are lacking at the moment.
Paul Wallace: When he was at Connacht, he showed superb game management, but then he barely played for two years.
Barnes: Fly-half is not about having all the skills. It's about bringing them all together at the right time. In Marseille in the semi, he seemed to be doing that. He's a bit like Toby Flood in England, because he had all the skills, but he'd try and kick at the wrong time and break at the wrong time. He has everything except blistering acceleration, but he doesn't bring it to bear. When Keatley comes out, he'll look like Ronan. Ronan used to tell me 'how dare you write that about me'. He was imperious. He was a swaggering little bugger, as good 10s are.
Alan Quinlan: All 10s need to be grumpy. Keatley needs that narkiness in his game. He's too nice. Sexton has that grumpiness, giving out to guys and demanding the ball. You tell guys 'I'm doing it this way, this is what you need to do'. I think that's what he's probably lacking.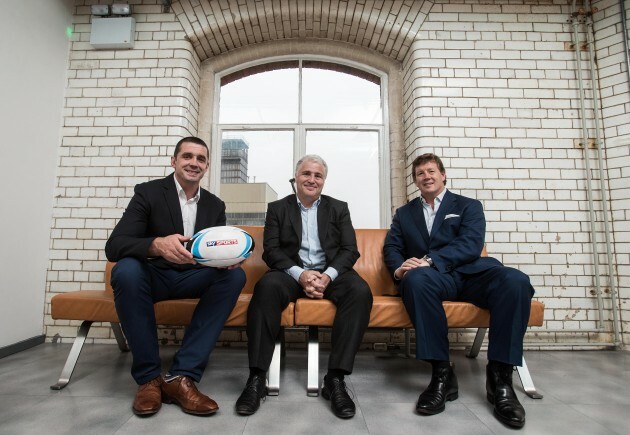 Dan Sheridan / INPHO Dan Sheridan / INPHO / INPHO
(Sky Sports pundits Stuart Barnes, Alan Quinlan and Paul Wallace were at the Guinness Storehouse to promote Sky Sports' exclusive live coverage of the Guinness Pro12 match between Leinster and Munster)
Barnes: In his defence, when Ronan was playing, Munster's gameplan was well designed, partly by Ronan I suspect. But everyone knew what they were doing. We have that then when Munster lost to Metro when they were absolutely smashing them. They started to go lateral. And Ronan got caught up in it as well after Declan Kidney left. And Keatley looks like a bloke who's come into a team that isn't defined in exactly what it's trying to do. They should have someone like Paul O'Connell saying: 'we drive it, we drive it and then we unleash someone like Zebo.' But this whole experiment with using the full length of the pitch — New Zealand do it well, but no other team in the world does it brilliantly like them.
So the slight defence of Keatley is that the team's knowledge is blurred. But he needs to be the one that says 'let's cut all the fuzz out and make it defined'. O'Gara seemed able to do that, Keatley, at the moment, is more of a cog.
Wallace: O'Gara always got go-forward ball. Keatley hasn't been getting go-forward ball. And that's what makes it so difficult for him. What Munster were brilliant at was one around the fringe, three or four guys can just pile through
Exclusive Six
Nations Analysis
Get Murray Kinsella's exclusive analysis of Ireland's Six Nations campaign this spring
Become a Member
Quinlan: It's very obvious on TV that there's a time in your own 22 when you kick the ball rather than running it. When you have great back-rows like myself, it's easier [laughs].
Did he drop his head for a few minutes against Toulon in last year's Heineken Cup semi though?
Barnes: You're right. Watching him, he wants to be one of the 23, or one of the 15. Ronan wanted to be number one of the 15. It's a psychological thing, and you have to work on it, but the essence of a 10 is wanting to boss. Wilkinson is a quiet and humble guy, but when he played, he always said 'I'm in charge of this team'. Look at Quade Cooper and Dan Carter. Carter takes the ball at an All Blacks session and says 'right, this is what we're doing'. The game hasn't changed to a great extent. There may be something with Munster's coaching in the last few years where it became 'this is how we play and everyone has their responsibilities'.
But two or three people in the team have to be fundamental in making decisions. There were times when Munster were struggling in Europe in the tight five and O'Gara would bang the ball deep and tell them to be patient. Ian seems to play as if 'this is our pattern and this is what we do'. So one guy says 'I am in charge of this team, this is how we play'. And the other says 'I'm a good player in a good team and I play my part in that team'.
It's a philosophical issue. Do you want your out-half to be one of the team, or your general. And I think because O'Gara was there before him, everything we say about Keatley is exaggerated. But O'Gara was clearly one sort of fly-half and Keatley was another. And it reflects badly on Keatley, because Munster need that sort of player.
Sky Sports has more Irish rugby than ever before including Guinness Pro 12, European Rugby Challenge and Champions Cups and the Irish Rugby Guinness Autumn test series. Sky customers can call 0818 719819 to avail of some great half price Sports offers.