IT'S BEEN A bad week for the National Football League.
In the space of seven days, San Francisco 49ers linebacker Reuben Foster was arrested at his team's hotel the night before their game with the Tampa Bay Buccaneers.
Foster was accused of domestic assault and immediately cut by the 49ers.
Then Washington surprised nobody but outraged everybody by picking Foster off waivers.
Doug Williams, a senior football executive with the team, added oil to the fire when he said that Foster's alleged assault was 'small potatoes' compared to what others in 'high, high, high, high places' have done.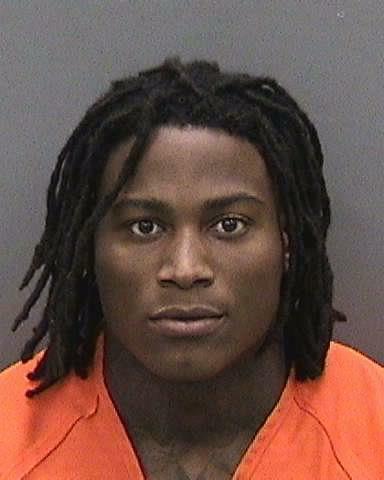 AP / PA Images Reuben Foster, then of the 49ers, hours after he was arrested at the team hotel in Florida on charges of domestic violence AP / PA Images / PA Images
Williams was forced to apologise and the NFL took the matter into its own hands and placed Foster on the Commissioner's exempt list meaning he can't play or train for any team, but he still gets paid.
Later in the week, TMZ released a video showing the NFL's reigning rushing champion — Kareem Hunt of the Kansas City Chiefs — shoving and kicking a woman during an incident in Cleveland last February.
Hunt was released by the Chiefs and the Commissioner's exempt list had its busiest week in some time.
While Kansas City did the right thing by cutting Hunt quickly, their statement implied the reason for the decision was because Hunt lied to them about his actions in February, not the actions themselves.
However, I'm willing to give the organisation the benefit of the doubt that this was just poor phrasing and not the truly held beliefs of a team that has dealt with two high-profile domestic violence cases in recent years.
In 2012, linebacker Jovan Belcher murdered his girlfriend, Kasandra Perkins, then drove to the team's headquarters and killed himself.
Then, in 2016, the team had to address the drafting of star wide receiver Tyreek Hill, who was on probation for a domestic violence incident in college.
Hill was due to go to the cinema with his pregnant girlfriend Crystal Espinal. However, a row broke out after Espinal discovered the wide receiver was checking text messages on her phone.
After throwing her phone and laptop out of his room, Hill choked his pregnant girlfriend before punching her in the face and stomach.
Since that incident, Hill has sought redemption and shown contrition for his actions, with the team making clear that their continued support is reliant on the star wide receiver proving he has changed.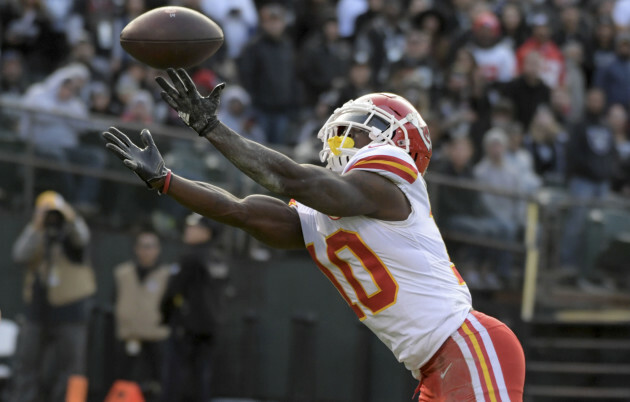 SIPA USA / PA Images Tyreek Hill's conviction for domestic assault was expunged from his record by a Payne County judge in August after meeting the terms of his probation. SIPA USA / PA Images / PA Images
While Hunt also apologised, the team obviously believe his actions after the event are more in line with those of Ray Rice than Hill.
Both denied the initial incident ever occurred and both were released by their teams following the discovery of video evidence of their actions.
In both situations, the ability of a media organisation to get hold of the tape, while the multi-billion dollar NFL was seemingly unable to do so, makes you wonder how hard the league really looked for evidence that would once again cast their organisation in a negative light.
But as they've shown with Deflategate, the league is willing to spend money and time on investigations. It's just when it comes to domestic violence ones, it appears as if they hope it'll just go away.
Unlike Rice, Hunt will almost certainly play in the league again.
While the Ravens' running back was on his way out, Hunt is in the prime of his career and, as Washington showed, teams will always be more willing to forgive domestic violence than peacefully protesting the extra-judicial murder of African Americans.
So just when you think the NFL might have turned a corner on domestic violence, history inevitably repeats itself.
Subscribe to our new podcast, Heineken Rugby Weekly on The42, here: