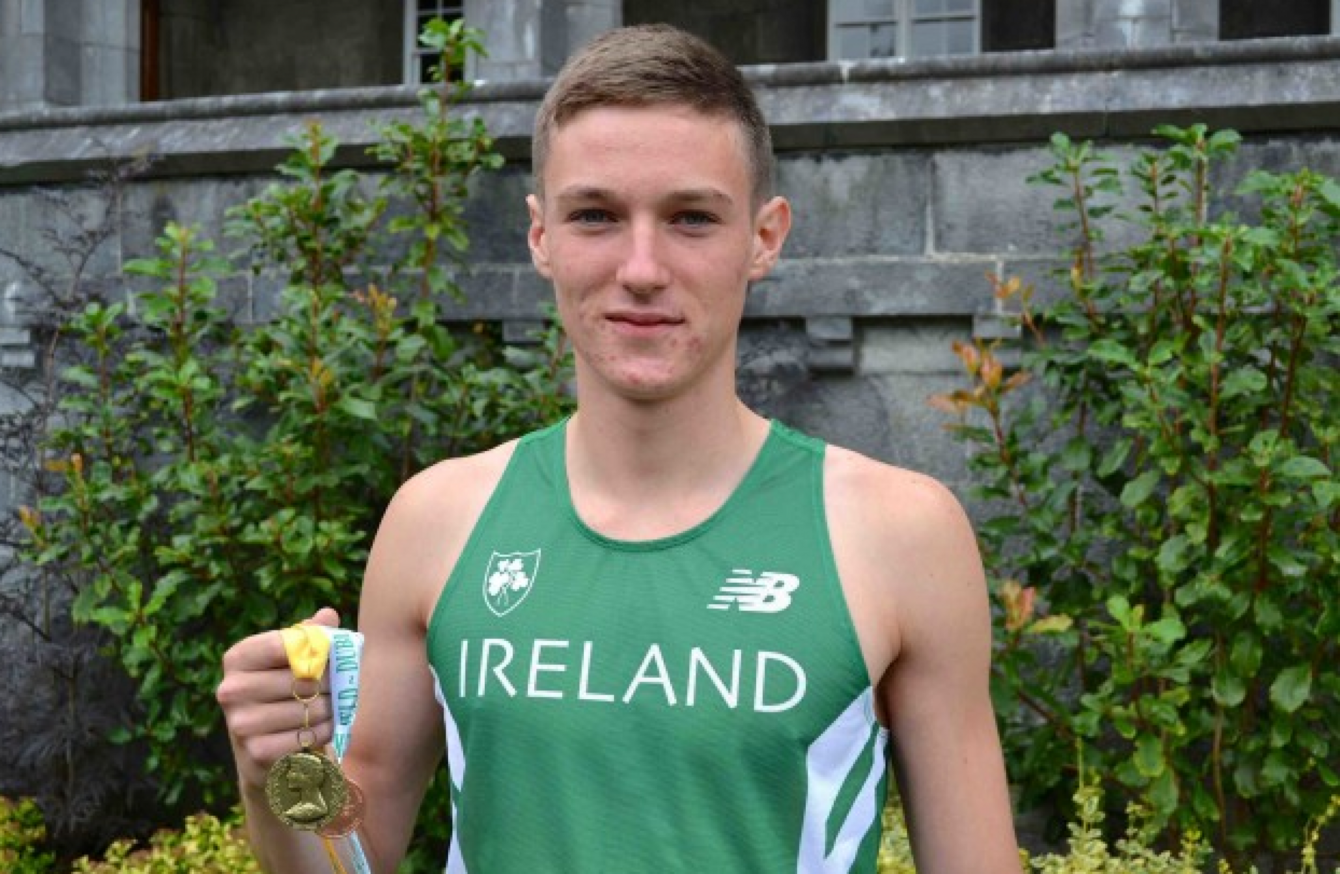 WHEN DONAGH MAHON was 16-years-old, he dropped by his local athletics club Gowran AC to have a go at cross country training.
He had never participated in track and field before, but went along at the behest of his friend. Upon arriving, he saw a bunch of lads running around a field.
But it was something happening elsewhere on the field that caught his eye.
"I saw some lads jumping over a pole onto a mattress and I thought, 'That looks like a lot more fun.'"
The high jump. A sport that requires participants to propel themselves off the ground and jump backwards over a bar generally placed six feet or more above the ground. The goal is to successfully curve your body over the pole without dislodging it. It's a sport that invites triumphant fist pumps and existential crises on the crash mat.
Donagh decided to try his hand at it. To his surprise, he ended up being a natural. He may have been a latecomer, but he had talent in abundance. The coaches took notice and within weeks, he was competing in Athletics Leinster events. In February 2013, he jumped 1.80 metres at an event in Athlone to finish third. A few months later, he jumped that height again to finish third in the Leinster Junior Championships.
At the 2013 All Ireland Schools Track and Field Championships, he won bronze. Following that win, his school posted a notice on their website that read, "This was Donagh's first year in athletics and it will definitely be one to remember."
As a student of St Kieran's College, a school renowned for producing Kilkenny hurlers on an almost industrial scale, athletics hadn't previously been on Mahon's radar. Save for a few sports days here and there, there wasn't any focus on the sport.
Instead, he played soccer his whole life. ("That was my bread and butter.") But as soon as it became clear that he had a natural aptitude for the high jump, he decided to give up soccer to focus on athletics and avoid potential injuries.
Jumping off 
Mahon progressed rapidly. 1.80 metres became 1.91 metres became 2.09 metres. Just over a year into his high jumping career, he was not only competing internationally, but he was setting records.
"I ended up setting the Irish indoor youth record and was very close to the outdoor one. I went to Azerbaijan that year for European Olympics trials, but unfortunately I had a bad day and didn't make it."
At this point, Mahon was in 5th Year in St Kieran's College. With the Leaving Cert looming, he decided to put athletics on the backburner. "I was very serious about my academics. I was spending a lot of time studying. I was in school from 9-4 and from 4-9, I was in and out of different supervised studies and things like that so I just couldn't really fit in the training."
After the Leaving Cert, he received an offer to study engineering in UCD. But something told him not to take it. "I just remember having the feeling of maybe wanting to do something different from what all my friends are doing. I ended up declining that offer and took a year out."
During his year off, coaches from Ivy League colleges started circling him and expressed interest in bringing him over. Mahon hadn't jumped in a year and a broken ankle scuppered his training further. It didn't matter, though. Based on his results from when he was 17-years-old, which included a personal best of 2.13 metres, the coaches were still interested. He visited a few colleges, but one stood out. Harvard.
Harvard is one of the most elite academic institutions in the world. It has produced countless Presidents, Nobel Prize winners and cultural icons. It has a pop cultural caché most third level institutions can only dream of, having been memorialised in everything from The Social Network to Legally Blonde. The name alone is practically shorthand for someone who is very, very smart. "Hey Haahvard!"
With all that in mind, Donagh Mahon packed his bags and moved from Gowran to Boston in 2016, where he now dons crimson singlets for the university's track and field team. His athlete bio contains this quote from Coach Brenner Abbott:
Donagh is a naturally gifted high jumper. He has a tremendous upside being so new to the event. Within his first year of competition he was able to set the Irish Junior National Record. With his dedication and focus I believe he will make an immediate impact on the Ivy League.
Irish students landing athletics scholarships in the United States is nothing new, but going to Harvard is exceedingly rare. By his own estimate, there are only three Irish students on campus. This is partly because it's so competitive and partly because Ivy League colleges don't administer athletics scholarships in the same way as other colleges.
"There's no what they call merit-based scholarships," explains Mahon. "You can't stand out at something and they'll give you money for it. Academically, if you can get into the university – whether you're an athlete or not – they will cover whatever your family can't cover." In other words, if you're not smart enough to study there, you won't be admitted, regardless of your athletic prowess.
Harvard expects a lot of its student-athletes. It's not enough to be dedicated to your training. You have to stay on top of your studies, too. There's no room for slacking, no prospect of grade inflation. In other words, it's nothing really like Last Chance U.
"You hear of students going over on scholarships in America, especially to the schools in the south, and they don't do anything much other than their sport and there's a lot of downtime. Here it's not like that at all."
"You're first and foremost a student and then they see it as you're doing this sport on top of your studies. I have class from 9am to 2pm and then training for four or five hours a day followed by dinner. And then I'm in the library until midnight or sometimes 2am. It's very taxing."
That four or five hours of training often comes as a welcome respite for Mahon, a much-needed break from his otherwise demanding schedule. "Training is still the highlight of my day just because you can get in such a rut studying and doing all this homework. And it's just nice to run around and forget about it."
Last year marked Mahon's return to the high jump after a two-year hiatus. Things didn't go quite to plan initially.
"The beginning of my season here was very frustrating. I was coming from two years of not jumping at all, a broken ankle and all these different miscellaneous injuries, so I knew it would take me a year to get back into it. The first half of the year I was jumping 1.90 and 1.95, and those were heights I was jumping when I was 17. Here I was two years later, training every day and still only getting those heights. It was very frustrating."
But his luck soon changed thanks to one little lifestyle change.
"What was interesting was, in the space of a week, I decided to make myself get eight or nine hours of sleep a night and when I did that, everything kind of changed. We flew to California that week and I jumped 2.08, which ended up being my best that year and only four centimetres below my personal best.
"The end of my season turned out better than expected. I didn't expect to get that close to my PB in my first year back. I was delighted with that."
In May, he traveled to participate in the 2017 NCAA East Preliminary Round, which saw 48 of the top high jumpers from the region head to Lexington, Kentucky, in the hope of making nationals. He jumped 2.00 that day and failed to advance to nationals, but the experience was worthwhile.
"Even just to get regionals as a first year student coming from two years off, I was delighted with that. The goal is to get to nationals this year, which would be nice. We'll see how that goes. We're still in the middle of winter training, so it's a long way away."
As for his long-term sporting aspirations? Well, it's complicated. Mahon is surrounded by high achievers in Harvard and their ambition is contagious. It has forced the 20-year-old to consider whether he wants to focus on his career or his sport.
"One of the selling points of Harvard is that they have so many resources for you. Like they can get you internships here or there. As athletes, we don't get to take advantage of a lot of those things just because we are spending four or five hours a day training. A lot of the celebrities or businessmen that come to give talks, we have to miss them for training. And it definitely makes you think which is going to take more priority in my life – my career or my sport."
"For me, I want to put on the Irish singlet one more time, at least. So that would be European U23s, which is not this summer, but the summer afterwards. That's a goal of mine. I think I have to jump 2.15 twice or 2.18 once, which is the criteria at the minute. If I get that, great. I'd probably start looking at what's next, what's the next step I can jump up to. If I don't, then that's when I'd start questioning whether it's time to focus on my career."
A lot of people ask me, "Why do you bother spending four hours a day jumping over a pole when it won't last you that long?" and there's truth to that. But for the moment, I enjoy it and it's something I'm good at. I'm pretty competitive as well so I like competing and getting better at things.
And what about that career Mahon has spoken so much about? He recently declared his major in film production having caught the movie bug during his gap year. "Screenwriting is the direction I want to head. I'm learning a bit of directing as well."
We've got an idea for his first film, one that's tailor-made for the big screen. It's about a kid from a small village in Co Kilkenny who randomly takes up the high jump and ends up at one of the most illustrious academic institutions in the world.
The42 has just published its first book, Behind The Lines, a collection of some of the year's best sports stories. Pick up your copy in Eason's, or order it here today (€10):