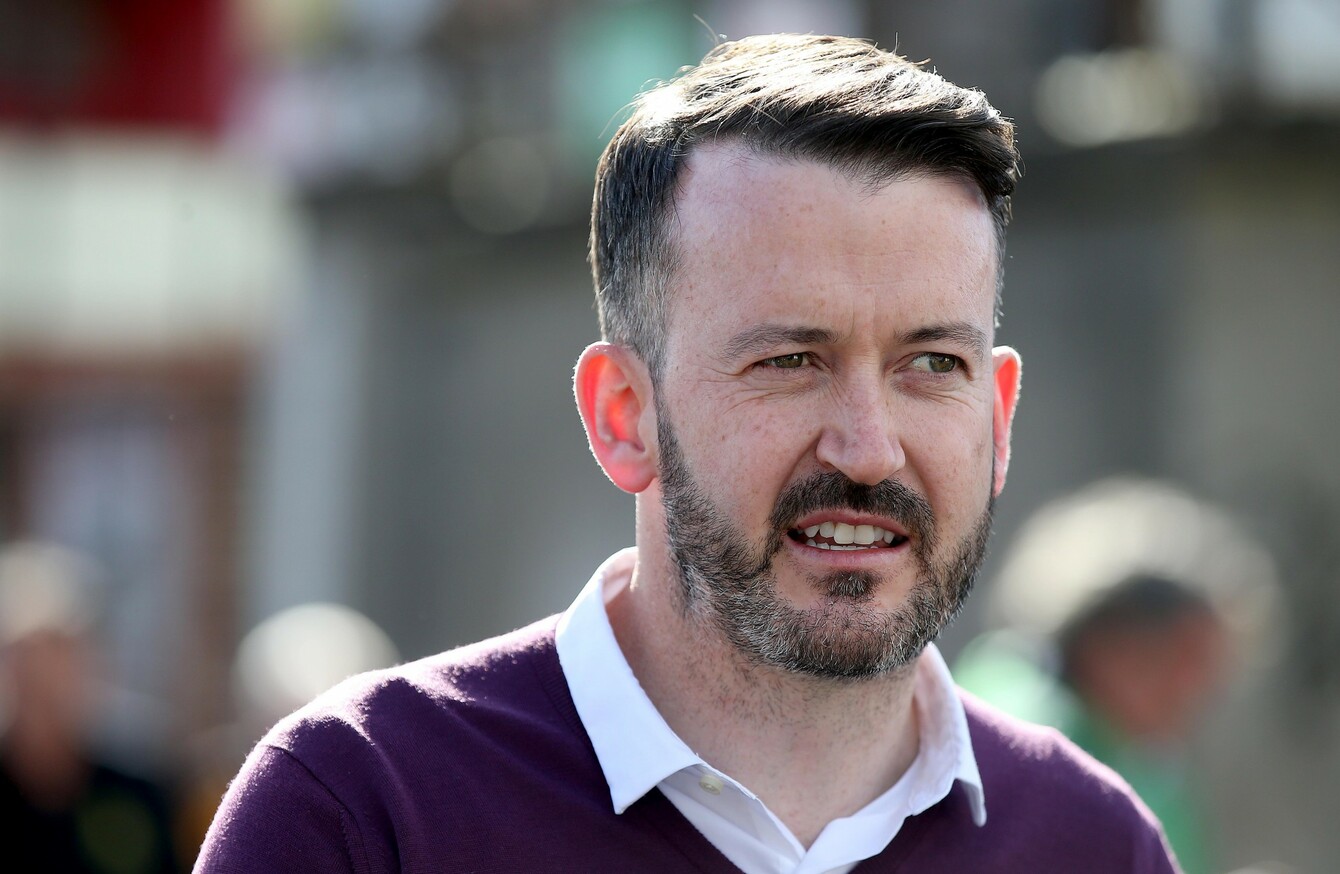 Image: James Crombie/INPHO
Image: James Crombie/INPHO
DONAL ÓG CUSACK has revealed that he wasn't shocked to receive a phone call from Davy Fitzgerald asking him to come on board as Clare coach and selector.
The world of hurling was left wide-eyed with the news that the two old on-field foes were set to link up with the Banner County in 2016.
The two All-Ireland and All Star winning goalkeepers are two massive personalities and they didn't always see eye-to-eye.
But Cusack said he knew what Clare boss Fitzgerald was calling about when he saw his number pop up on his phone a few months ago.
"I had a sense that that was why he was ringing me," said the former Cork netminder.
"I don't know; I just had that sense. I had a call and I missed it and I rang him back and we missed each other but I just had that sense.
"I have a very good friend and I told him Davy Fitz was looking for me and I said 'I have a feeling he's going to ask me to get involved with Clare.'
"So, when his number came up, I wasn't (surprised)."
Cusack was speaking in Boston, where he is helping the Gaelic Players Association (GPA) promote Sunday's AIG Fenway Hurling Classic between Dublin and Galway at the iconic Fenway Park.
He met the players he will be working with next season last Friday and already he is looking forward to the challenge.
Clare won the 2013 All-Ireland, beating Cork after a replay, in fine style, though since then they have struggled, which is part of the reason Cusack has been brought in.
"I've been on record as saying I was a fan of how they played the game," said Cusack.
"Style is personal, so everyone has their own tastes in terms of preferences on how the game should be played.
"But I would be a fan of that group and how they played the game in the last couple of years. I'm looking forward to learning about them. Davy doesn't want yes men around him. I know we've got one definite common in place between the two of us; we both love the game. We sat down a couple of times. We spoke at length on a number of occasions. We spoke on the phone and we met face-to-face. We went through all different things you would obviously go through."
Joining the Clare backroom team means Cusack has had to give up a lot, including playing club hurling, his role as GPA Chairman and his seat on the Sunday Game's hurling panel of analysts on RTE Television.
He says he was happy to move on from these and back into the world of the competitive inter-county game.
"I had to weigh them up," he explained. "Playing for the club, working for RTE and the GPA.
"I work for a living as well! I have a day job! So you need to prioritise. You can't do everything.
"I needed to be fair to my employers and I needed to be fair to the players and the management if I was getting involved with Clare.
"I'd love to be able to do all these things but I can't and I'm very comfortable with that decision."
Possibly the biggest wrench for him was the decision to leave his position in the GPA, which he will vacate following the trip to Boston.
What are they
really like?
Rare insights on sport's biggest names from the writers who know them best. Listen to Behind the Lines podcast.
Become a Member
Cusack has long been a passionate advocate of players' rights, he was to the forefront of a series of panel strikes in Cork, and he was a prime mover behind the growth of the GPA from a small outsider body to official GAA recognition.
"I had a good time. I was delighted to be able to serve the players. I made a lot of friends and was just happy to be part of the Association.
"I'll never forget the great battles. That was all part of the journey.
"The GPA will continue to change. The pace of change, like most things in the world, is rapid. But what should never change is that the players are directing their own futures and their own destinies.
"I think change is good. I'm hoping that the new man that will come in will have different views and different ideas. I'm hoping that he will bring different energy to the thing.
"I look forward to me sitting down reading the newspaper and absolutely disagreeing with direction he's taking the Association in," he joked.
Dublin and Galway meet in this weekend's AIG Fenway Hurling Classic, an 11-a-side game on a small pitch with goals-only allowed.
Already in excess of 20,000 tickets have been sold for the game at one of America's oldest and most revered sports venues.