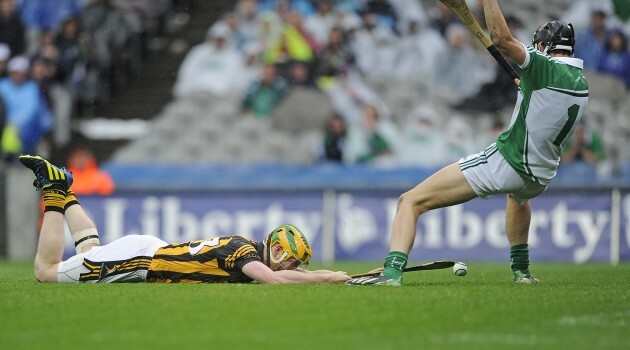 Tommy Grealy / INPHO Richie Power is fouled by Donal O'Grady last August. Tommy Grealy / INPHO / INPHO
LIMERICK CAPTAIN DONAL O'Grady has revealed his 'gut instinct' compelled him to trip Richie Power during last year's All-Ireland semi-final and he expected to be sent-off in the wake of the incident.
O'Grady has spoken out about his ankle tap on the Kilkenny forward and insists there was no malice in the foul.
With his side two points down entering the closing stages, the 34 year-old's tackle was rooted in desperation as he tried to keep his team in contention.
http://vine.co/v/MV2X0M0jeTg
"Look, it was either Richie Power score a goal or me try to knock him. It was a crucial stage of the game and it was probably worth a yellow card. At the time my gut instinct said I have to bring him down or else the match is over. And when I did it, I said: 'I'm gone now'.
"I wasn't booked, I was already on a yellow. I wasn't booked but, looking back, it was a yellow-card, no doubt. Technically it was striking with the hurley, but there was no maliciousness. It was more a leg-tap than a belt of a hurley as such. I think it was just the whole day that was in it.
"In fairness to the referee he had a job to get back himself with the rain falling. I suppose the thing was had Limerick gone down the field and scored a goal to win the match it would have made it a lot more news."
Morgan Treacy / INPHO Donal O'Grady at the launch of the GPA annual report yesterday. Morgan Treacy / INPHO / INPHO
O'Grady isn't in favour of a black card being introduced in hurling and does believe players would be more inclined to make tactical fouls if the Hurling 2020 committee's new yellow card proposal is introduced.
"You'd probably have the safety net to do a tackle like that. My gut feeling though is that it won't come in. I think it's harder in hurling to commit what would you call it? A malicious foul? It's a lot harder."