FORMER LIMERICK HURLING captain Donal O'Grady feels his county can make inroads in the qualifier system and will be heartened by the displays of their young guns last weekend.
John Kiely's men fell 3-17 to 2-16 against Clare in Thurles last Sunday afternoon but despite that loss O'Grady feels the team will not be subjected to serious scrutiny or criticism in their native county.
"There were five debuts and the lads would have learned a lot," O'Grady says.
"Some of the younger fellas like Kyle Hayes and Sean Finn would have seen at the very early stages what senior hurling championship was all about but I thought those two lads did really well and kept faith and belief in themselves.
"Kyle moved about and got into the game while Sean really tied Conor McGrath down as the game went on.
"Coming up to Thurles on Sunday no-one in Limerick was really over-confident of beating a star-studded Clare team and having seen the lads play I am disappointed — but not hugely so.
"I think the lads will push on from this and were we to play Clare again in a week's time the younger fellas would be in a much better position."
O'Grady admits, however, that there were some frustrating aspects to the side's play.
A high tally of wides – 11 by half-time alone, no score from play until the 20th minute, and a tendency for their players to run into traffic and be dispossessed.
"It was some of the more experienced lads that were caught with that," he said, referring to the turnovers.
"But you would be hoping now that the team will be left alone to pick up and drive on from here.
"They have some fine young talent, John Kiely is the right man for the job, and I think the main thing we have to worry about is the concession of the goals.
"Clare's goals were sloppy mistakes as far as I am concerned and I would say the players of Limerick would agree. We can do a lot better than that and we will.
"The other side of it is that when we ran at Clare we really caused them problems. So going forward in the qualifiers I think that is a tactic we can use again."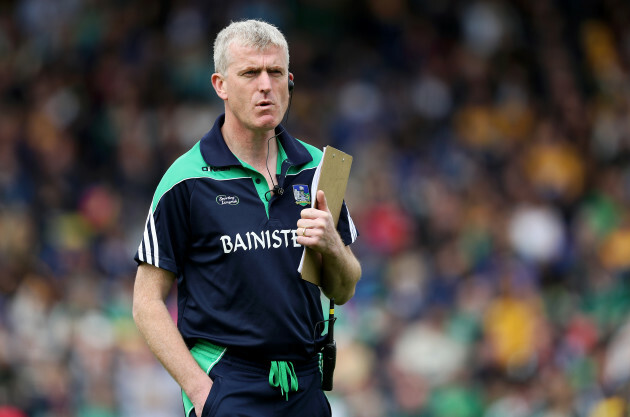 Tommy Dickson / INPHO John Kiely. Tommy Dickson / INPHO / INPHO
Overall, O'Grady feels that last Sunday's game was one Clare simply had to win.
"All the pressure was on them," he stated. "They have had a tough time since 2013 and had only one win in nine Munster championships before that game.
"With the win they are in an All-Ireland quarter-final and could be hurling late into the year.
He adds: "Whereas with us there wasn't a huge amount expected. Declan Hannon (24) was one of our most experienced players.
"Last Sunday will have exposed them to a high-pressure atmosphere. They will improve their mental toughness and the physicality needed for this level will be clear too. I think we can look forward with confidence."
35-year-old O'Grady played 46 times in senior championship hurling for Limerick and stands at second in the list of Limerick's most championship appearances.
The versatile star captained Limerick for three seasons, between 2013 and 2001, and on July 14, 2013, he captained Limerick to a first Munster SHC title in 17 years and a 19th ever title.
O'Grady also captained Limerick to the 2015 Waterford Crystal Cup title.
He is currently involved with the West Limerick Bank of Ireland Celtic Challenge management team and will help lead the West Limerick side to the quarter-final of the competition against Dublin Plunkett this Saturday.
O'Grady says the Celtic Challenge is a perfect chance to mix coaching the game he loves suits him with work and family commitments. He has a young family and a Spar and Topaz outlet to run. Time is precious.
He adds: "The good thing is we have six or seven lads, at least, from the Celtic Challenge team who can represent Limerick in the future.
"Ronan Connolly played in the Celtic Challenge last year and did so well that he was recommended to the Limerick minor management and ended up playing in the All-Ireland minor final at corner-back."
Finally, O'Grady says the Limerick supporters will have a huge role to play in the team's fortunes for the remainder of the season.
"You could hear the roar when we got back into the game and hit 1-5 without reply.
"That's what Limerick hurling is. The crowd behind you and the players responding. We need to give the supporters something and we will again this year.
"Our best style is renowned as a direct approach and when we ran at Clare we caused trouble. There's a lot to look forward to."
The42 is on Instagram! Tap the button below on your phone to follow us!