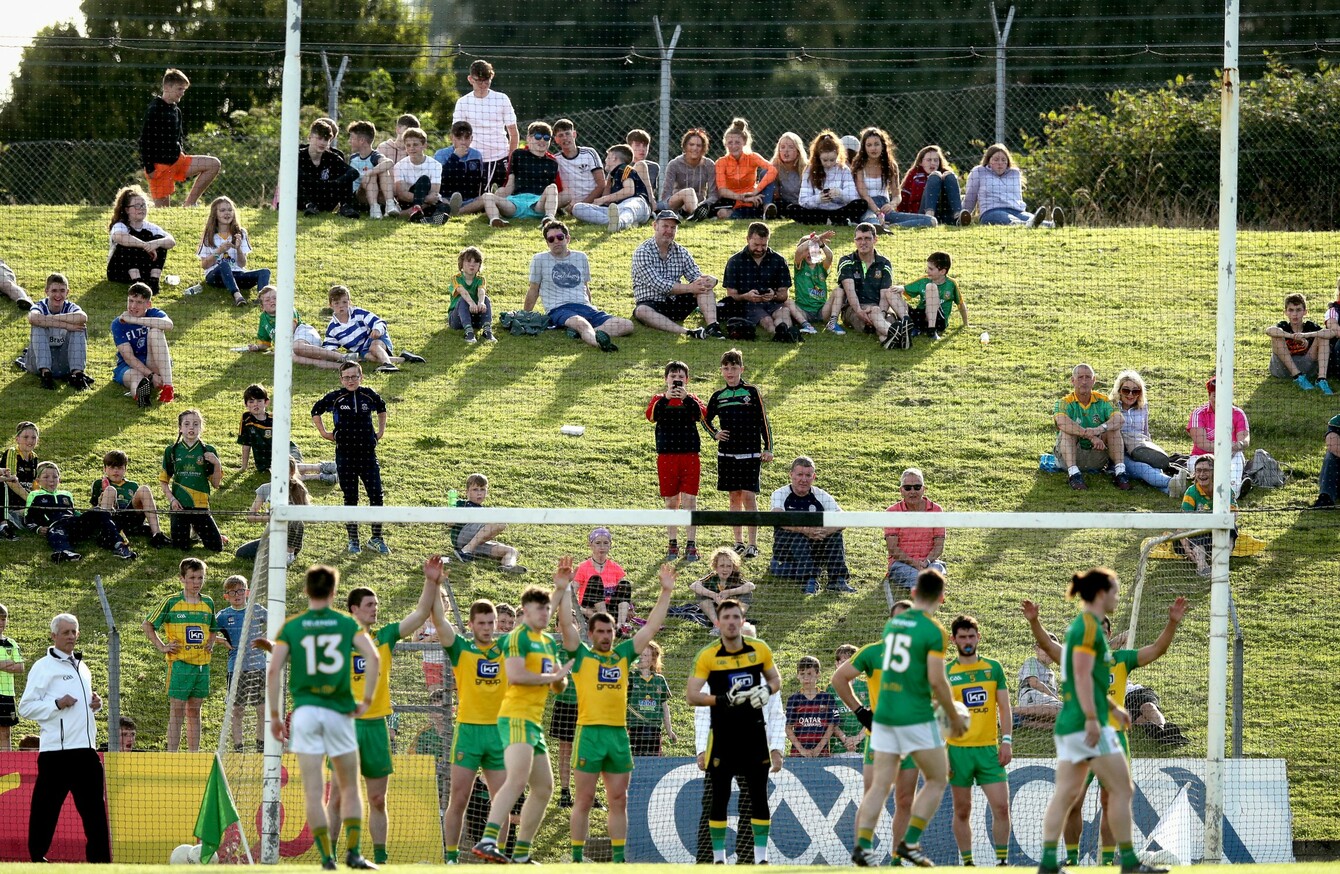 Image: Ryan Byrne/INPHO
Image: Ryan Byrne/INPHO
Meath 1-14
Donegal 1-15
PATRICK MCBREARTY'S SEVENTH point of an enthralling contest in Navan sealed Donegal's passage to Round 4A of the All-Ireland football qualifiers at Meath's expense.
With the teams level no less than 10 times, it seemed to be heading towards extra-time. However, a patient Donegal move that lasted well over a minute finally concluded with McBrearty's 45-metre effort splitting the Meath posts.
Donegal will now face either Cork or the Connacht losers for a place in the last eight of the All-Ireland series.
Meath, this evening, can certainly count themselves unlucky. They contributed hugely to an affair that few would've complained had it run to extra-time – bar the sports editors perhaps with deadlines looming.
Over the course of the first hour there was never more than two points between the teams. It was only when Ryan McHugh slapped home the type of goal that Ryan McHugh does, did Donegal go three up at 1-12 to 0-12 on 61 minutes. Eoghan Ban Gallagher had played the final pass.
However, just moments later, Meath were back on terms when Cillian O'Sullivan scored a rebound after Mark Anthony McGinley had saved bravely from Pauric Harnan.
Brian Menton then fired Meath a point up with six minutes left and another turnaround was in place by the 68th minute when Michael Murphy and McBrearty had Donegal a point to the good, 1-13 to 1-12.
In the end, despite Donal Lenihan's seventh of the evening getting Meath back on terms, McBrearty's matching of the same total got Donegal over the line.
The talking point of the first half centred on a disallowed goal by Hugh McFadden two minutes before the interval.
From a move that involved both Murphy and then Ryan McHugh, McFadden clawed the ball past Paddy O'Rourke in the Meath goal for what appeared to establish a 1-7 to 0-6 Donegal lead.
However, match referee Derek O'Mahoney, on consultation with an umpire, ruled square ball and when Lenihan's third free of the first half levelled it up at 0-7 to 0-7 at the break, Donegal manager Gallagher made his feelings known to the Tipperary official.
The only other goal chance came just beforehand when Donegal seemed to be making impressive headway with Eoghan Ban Gallagher and Eoin McHugh slicing their way through the Meath defence only for full-back Conor McGill to make a vital interception for the home team. McGill would make an ever better save – this time from a block – in the second half from Donehal substitute Jamie Brennan.
Those two late incidents, which both went Meath's way, were really the only points of differentiation in a first half of fine margins.
Murphy, who was playing in and out, scored two fine points – one on the run and another from long range – while his understudy at centre-field, Jason McGee, also popped over twice.
Meath, to the backing of an excitable crowd in glorious sunshine, carried a threat  with captain Graham Reilly, Ruairi Ó Coilean 'Sullivan and Donal Keoghan all joining Lenihan on the scoreboard, it was 0-7 each at the break.
An excitable crowd made for a great atmosphere, which seemed to get noisey the more frenetic things got. Donegal sailed close to the wind on many occasions but when McBrearty's late shot sailed over, they'd finally hurdled Meath.
Scorers for Meath: Donal Lenihan (0-7,7f), Cillian O'Sullivan (1-1), Donal Keogan (0-1), Shane McEntee (0-1), Bryan Menton (0-1), James McEntee (0-1), Graham Reilly (0-1), Ruairi O Coilean (0-1)
Scorers for Donegal: Patrick McBrearty (0-7,3f), Michael Murphy (0-5,2f), Jason McGee (0-2), Frank McGlynn (0-1)
Meath
1. Paddy O'Rourke
2. Donal Keogan
3. Conor McGill
4. Mickey Burke
5. Pauric Harnan
6. Brian Power
7. Shane McEntee
8. Bryan Menton
9. Ronan Jones
10. James McEntee
11. Cillian O'Sullivan
12. Graham Reilly
13. Ruairi O Coilean
14.  Sean Tobin
15. Donal Lenihan.
Subs: Michael Newman for S Tobin (ht), Donnacha Tobin for S McEntee (60), Eamon Wallace for C O'Sullivan (65, black card),
Donegal
1. Mark Anthony McGinley
2. Paddy McGrath
3. Neil McGee
4. Caolan Ward
5. Ryan McHugh
6. Frank McGlynn,
7. Eoghan Ban Gallagher
8. Jason McGee
9. Ciaran Thompson
10. Jamie Brennan
11. Martin O'Reilly
12. Eoin McHugh
13. Patrick McBrearty
14. Michael Murphy
15. Hugh McFadden.
Subs: Martin McElhinney for C Thompson (43), Jamie Brennan for H McFadden (48), Karl Lacey for M O'Reilly (58), Mark McHugh for F McGlynn (60)
Referee: Derek O'Mahoney (Tipperary).