1. Defining game of an era
SO DONEGAL AND Monaghan meet in the Ulster championship for a fourth straight year. The last three contests were finals, with Monaghan boasting a 2-1 record.
Donegal and Monaghan have had a stranglehold of the Anglo-Celt Cup since 2011 but that might be about to change, with Cavan and Tyrone boasting a promising mix of talent and youth. A changing of the guard is coming.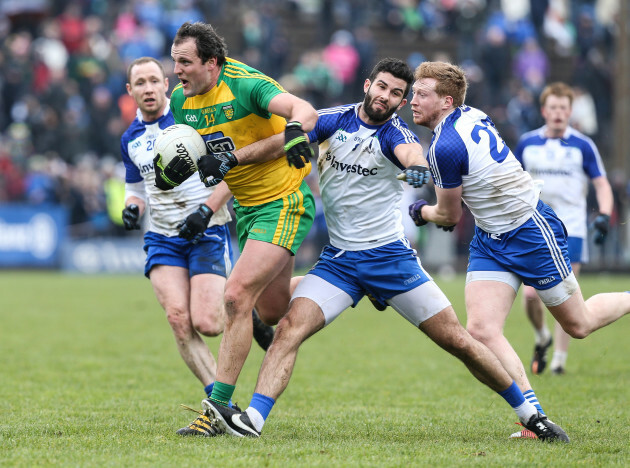 Andrew Paton / INPHO Andrew Paton / INPHO / INPHO
Donegal will be regarded as the kingpins of Ulster since the turn of the decade, natural considering their All-Ireland win in 2012.
But any perceived invincibility from the Jim McGuinness era has washed away and a win for Monaghan on Sunday would make it three wins over Donegal from their last four attempts in the championship.This Monaghan squad feel their have Donegal's number.
Donegal's Ulster title window appears to be closing. This could be one last chance for their older guard to see their name in lights.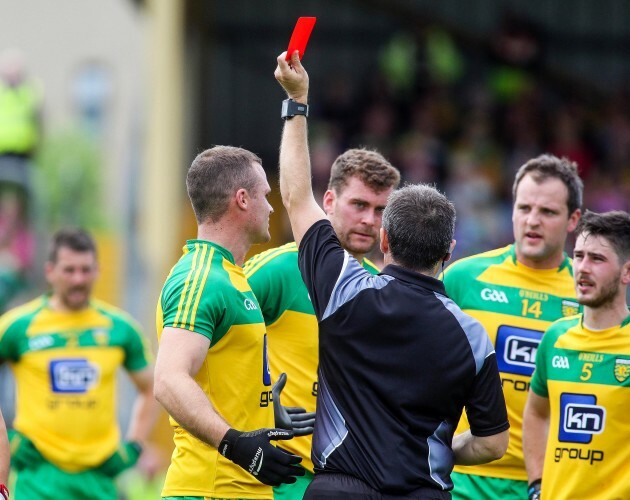 Presseye / Lorcan Doherty/INPHO Presseye / Lorcan Doherty/INPHO / Lorcan Doherty/INPHO
2. Donegal's defensive issues
Donegal don't appear to be as defensively solid as years gone by. The loss of Neil McGee is massive, but especially against Monaghan. It leaves Rory Gallagher with a headache over who will pick up Conor McManus.
Donegal will allow Monaghan to take possession out almost unchallenged up to midfield. Gallagher's men like filter bodies back to set up on their defensive 45. When they initially lose possession in attack they attempt to win it back, before turning and retreating without challenging the play until it goes past midfield.
Conceding ground up to midfield is a tactic that might actually play into Monaghan's hands. Fermanagh cut through Donegal on a number of occasions, creating goalscoring opportunities. Monaghan primarily play a high-octane running game using four or five deep runners from midfield to carry the ball into attack. Then you'll see McManus looping around in an arch to kick a point, or they'll run straight at goal.
Donegal will also need to cut down on the frees they conceded against Fermanagh. McManus won't miss many inside the 45.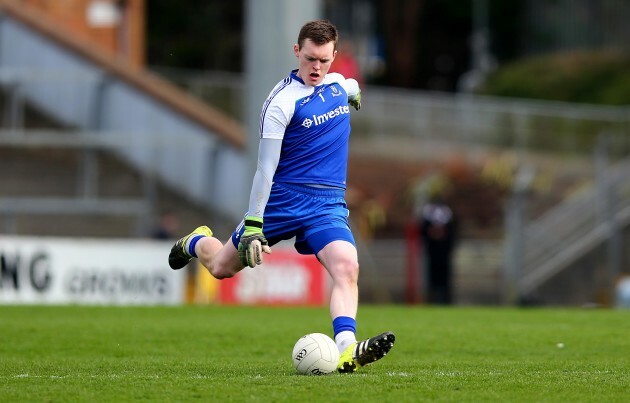 Donall Farmer / INPHO Donall Farmer / INPHO / INPHO
3. Battle of the kick-outs
Early on in their quarter-final win, Monaghan conceded kickouts to Down which allowed them to build attacks from deep. When they eventually pushed up on Stephen Kane's restarts they took control, winning 13 altogether.
Donegal's new goalkeeper Mark Anthony McGinley had a mixed debut against Fermanagh. He saved a penalty and made a couple of other important stops, but his kick-outs were not up to the lofty standards set by his predecessor Paul Durcan.
It may take McGinley some time to develop the sort of relationship that Durcan had with his midfielders, but he kicked three balls over the sideline in the first half against Fermanagh. It's an area Monaghan will target, while at the opposite end Gallagher has to decide between allowing Rory Beggan the option of going short or forcing him to send it long.
It's going to be a fascinating aspect of the game.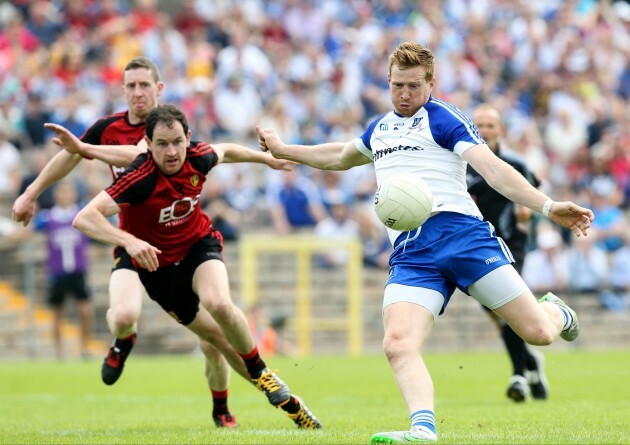 Presseye / Andrew Paton/INPHO Presseye / Andrew Paton/INPHO / Andrew Paton/INPHO
4. Importance of goals
In 14 games under the management of Malachy O'Rourke, Monaghan have failed to find the net on eight occasions. Defensively, they are extremely solid, but it's their ability to find the net against the big teams that will determine how deep into the championship they progress. Scoring two goals against Down, albeit a poor side, was a good start. Donegal will provide a far sterner test of their ability to raise the green flag.
Odhran Mac Niallais, fast developing into Donegal's main man in the middle third, got himself on the end of two sweeping moves against Fermanagh to find the net. But Donegal scored just 12 points on their last championship excusrion, and the question is if Monaghan shut them out in front of goal, will Paddy McBrearty and co. kick enough points to win?