MUNSTER V SALE is one of those fixtures that have overriding evocative memories.
INPHO INPHO
Never mind that the sides have met five times in European competition down the years. Whether you're a Munster fan or just a plain (non-Sale Shark supporting) rugby fan, there is one moment that will still stand out above all others in the build-up to Saturday's 1pm kick-off:
Ronan O'Gara's restart, Sebastian Chabal's catch and the oncoming train…
Georgie Casey / YouTube
What inspired that ferocious intensity though was match the came in round one of the Heineken Cup pool in 2005. Munster went over to Edgeley Park for a dark and dreary Friday night tournament opener.
Frankie Sheahan's first-half try helped Munster into a slender  9 – 10 advantage, but the second half was often a case of clinging on. Charlie Hodgson took his penalty count to five and Jason Robinson helped the Sharks bite off a convincing 27 – 13 win.
"I'd like if that's what I remembered," says Donncha O'Callaghan, "I just remember the dressing room being a dark place after it."
Time for another Miracle Match – or at least more proof of how awe inspiring Munster could be when faced with a challenge at Thomond Park.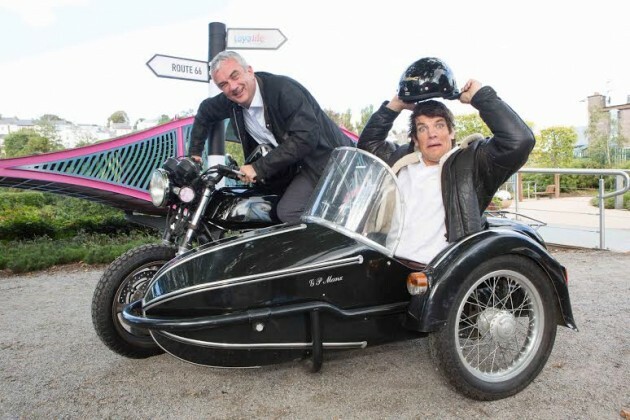 Laya healthcare has teamed up with rugby star Donncha O'Callaghan to promote their new product offering of laya life. Being a father-of-three, Donncha knows how important it is to look after the needs of your family.
"Losing the first match, losing any match but especially the first, it's European Cup final from then on in.
"You can't afford to make another slip up and I think that heightens it. [You're thinking] 'one more mistake like this and we're done'. When you have a competitive group the last thing you want is knowing that the meat of your season could be over within two weeks of the start of the competition. That's the driver, fear is the driver."
That fear drove Munster to run up 88 points in two games against Castres. The Dragons were also beaten in back-to-back fixtures, but the lack of a December bonus point meant the pressure was well and truly on when Sale traveled to Limerick in late January.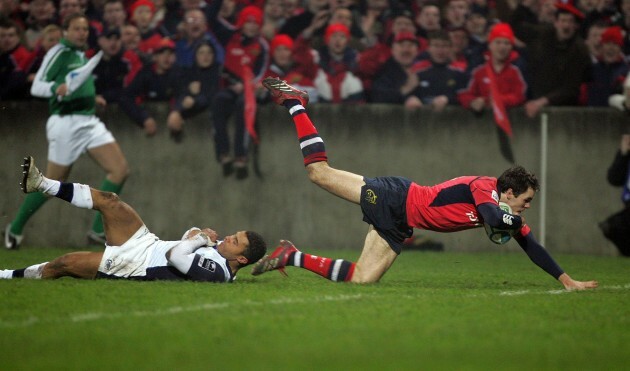 ©INPHO ©INPHO
The reception on their arrival was not lacking in heat or intensity, but Munster were not found wanting for attacking flair, invention or cool heads either.
As often tends to be the case, the man at the centre of the storm has the most trouble recalling how the bigger picture unfolded.
Conor Ryan / YouTube
"All I remember from that day is just the composure from Wally to get the bonus point try. Having no doubt – unbelievable faith in your team-mates – last play of the game and you need to get something out of it. Then you've a big player like him that just makes things happen. That's what you need sometimes.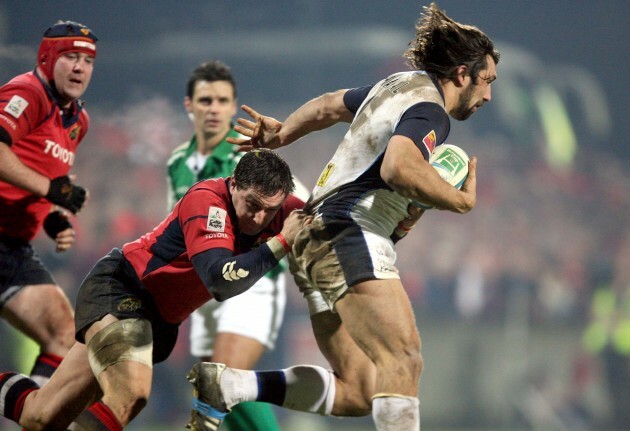 ©INPHO ©INPHO
"You can talk about Paulie and that hit, but people really forget that there was 81 minutes gone and Wally dragged a fella over the line to get the bonus point.
"The hit on Chabal was interesting, but in the dressing room after the match the fella everyone was celebrating was Wally – that's the guy we wanted to get to because he got the job done."
©INPHO ©INPHO
O'Callaghan will be hoping to join O'Connell as a surviving member of the 2005/2006 meetings between the sides. But memories have a funny way of latching on to minds that, at the time, were far removed from the action.
"That's what's lovely about this competition – I know it has a different name now and all that kind of stuff – there is a bit of rivalry between the teams, there's little things left over that you remember.
"They'll remember their trip to Thomond."
Laya life is a revolutionary new product combining simplicity with affordability. Laya provides a complete online process for customers comprising three to five simple steps; with no medical checks or delays with processing your information. Your cover starts straight away and the goal is to make everything as simple as possible. For more info visit layalife.ie