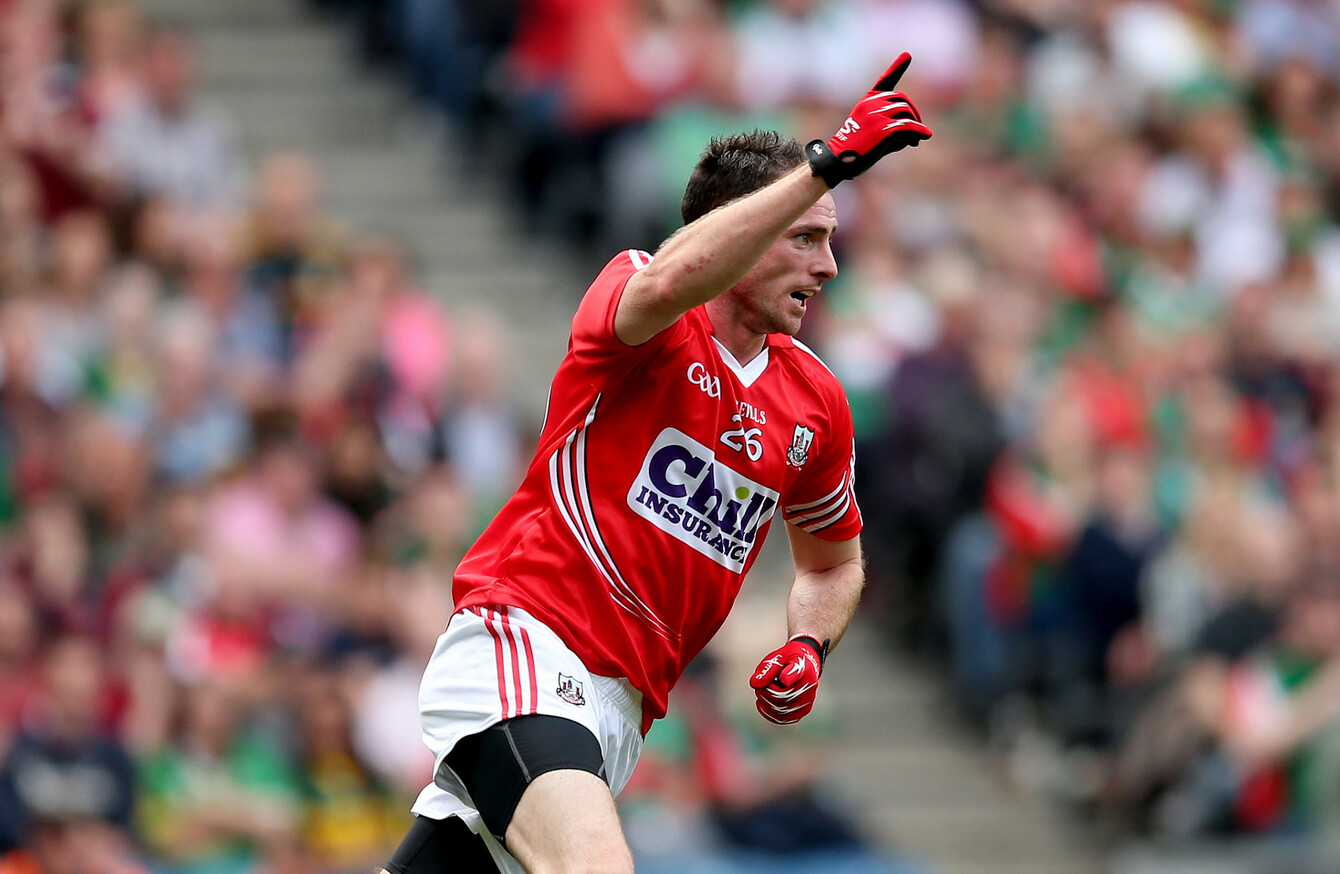 2010 All-Ireland medal winner Donncha O'Connor recently retired.
Image: James Crombie/INPHO
2010 All-Ireland medal winner Donncha O'Connor recently retired.
Image: James Crombie/INPHO
THE TURNOVER IN management and backroom teams, a drop in the standard of club football and a need to improve the culture in the senior squad.
All areas that have been identified by 2010 All-Ireland winner Donncha O'Connor as key areas that should be targeted in aiming to improve Cork's football fortunes.
The 37-year-old brought the curtain down on his inter-county career in the wake of the recent Round 4 qualifier defeat to Tyrone.
That result capped a miserable season for Cork after they suffering a severe beating in the Munster final against Kerry a fortnight before.
O'Connor, one of the last remaining pillars of the side that lifted the Sam Maguire in 2010, describes playing for the county as a privilege but is keen to stress the issues that need to be examined after their fortunes have nosedived sharply in recent campaigns.
"I feel privileged to have played for Cork. It has defined my life for the last 12 years. The standard of the Cork senior team now just isn't up to scratch, that's probably been established, but this has been happening over a good few years.
"How many more post-mortems will we have to endure before a concerted effort is made to put Cork football back to where it should be? Yes, the players are there and it can start to turn around in a 12 or 24 month period but there has to be a will on all sides for that to happen."
The alterations in managers, and particular in strength and conditioning coaches, has been highlighted by O'Connor, while he is also uncertain a massive clearout of their panel is the solution ahead of the 2019 campaign.
"I think the chopping and changing at has hurt us. Conor Counihan was there for six years. Since then we have had three different managers in five years. Not getting at any one person but in those five years, we have had five different S&C coaches.
"That has a massive effect. They all had different ideas and it's impossible to progress when each one takes at least six months getting to know a group.
"As regards the current squad, I don't think we should throw the baby out with the bathwater in terms of cutting players either. Yes, some just do not have a high enough standard and we need to be clear about who they are but making cuts across the board will make it difficult.
"We lost a lot when a significant number of leaders left in 2013 and also losing Ciaran (Sheehan) to Australia on top of that made it difficult for Brian (Cuthbert) but it had a massive effect.
"It's very hard to expect U21s to step up. Nowadays it realistically takes two to three years to make the step up to inter county standard unless you are an exception, like Con O'Callaghan for example.
"People talk about the culture in the squad and that is an issue. Talented footballers that do not have a high standard off the field are just not going to do. That's not saying you can't have a social life. People confuse that with living like a monk, that's not what I'm saying.
"I'm saying that the basic lifestyle standards are not there with a minority in the current group. Nothing personal, but you are not going anywhere with that element in your group."
The dilution in standards in club football is also something that strikes O'Connor as a problem when he surveys the football landscape in Cork.
"I was lucky enough to play for my club Ballydesmond, my division Duhallow and Cork for a long time but when I started playing club football, there was no easy game. Nowadays the first round games have teams winning by 15 or 16 points.
"The competitiveness is gone out of senior football. I think the competitions have to be condensed. Teams that are not competitive year on year should just be regraded. Be ruthless about it for a few years.
"If you are good enough, you will work your way back up as a club but the standard is too diluted. It's hurting Cork football because I have no doubt that a really good strong senior championship would help improve the standard of the county team.
"People tell me coaching and underage is the problem. I don't know enough about that but one thing I did notice, by way of example, was the standard in the primary game at the Munster final.
"It's hard to explain but timing wise and technique wise, the Kerry players just seemed light years ahead from where I was watching. Maybe that's a generalisation and I certainly don't know what the answer is, but I think it's relevant."
What are they
really like?
Rare insights on sport's biggest names from the writers who know them best. Listen to Behind the Lines podcast.
Become a Member
For all the difficulties and tough days he endured at the close of his Cork career, O'Connor is still keen to reflect on the good times he enjoyed in a spell that yielded that September victory in 2010 along with National League and Munster senior triumphs.
He's the latest member of the team from that successful era to retire but savours the bond that exists between those players.
"When I look back, the most enjoyable parts for me were simple things like having a cup of tea in Killiney before big matches in Dublin or heading to the 40 foot that evening with Dr Con.
"The bus journey down from Dublin after the All-Ireland final in 2010 also stands out. 2009 hit us hard and so to get back there the next year and win it was such a relief. I have a really strong connection with a lot of those players from when I started back in 2006.
"We might not meet that often but we battled together and when we do meet, I know that connection is there. People wouldn't know how strong that is. That goes for a lot of the current squad too. There are players in there getting the most out of themselves and I really respect that.
"Winning was important but building that connection with fellas who are also trying to get the most from themselves, that was the most important thing.
"The other people I would like to acknowledge are the supporters, especially those from back home, especially my parents, family and my club in Ballydesmond. I will never forget what they did for me through the good times and the bad."
The42 is on Instagram! Tap the button below on your phone to follow us!