Marty Clarke takes to the field for Down against Clare in the 2011 All-Ireland senior football qualifier.
Image: James Crombie
Marty Clarke takes to the field for Down against Clare in the 2011 All-Ireland senior football qualifier.
Image: James Crombie
MARTY CLARKE HAS not ruled out the prospect of playing Gaelic football again but he is largely at peace with his enforced retirement last year due to a rare medical condition.
The Down player was diagnosed with Addison's Disease four years ago and that prompted his decision to hang up his boots in March 2017.
Clarke was a brilliant underage prospect with Down before moving to Australia to try his hand in the AFL with Collingwood.
He returned to help his native county reach the All-Ireland final in 2010 and claimed an All-Star award for his exploits that year.
The An Ríocht club man subsequently returned to a second spell with the Melbourne-based club and in total made 73 AFL appearances for the club.
Clarke is still involved in Gaelic football as a pundit and club trainer, while he retains the ambition to line out as a player again for his club.
"I would like to. It's just a matter of when. Of course I would like to. I'd love to be able to do it. (I'm) trying to keep fit as much as I can.
"I've a lot going on, I just finished my degree this year. I'm actually training a team at the minute just down in my brother's club. He plays for a different club in Down (St John's).
"My brother is married to a girl from there. I'm still doing my own training."
Thoughts of playing county football again for Down are not on Clarke's radar at present.
"Definitely not. Not at the minute. I'd still think about it and that. But thinking about it, and getting yourself to the standard and fitness to do it is another thing. It's not on the radar.
"It probably happened a bit quicker than I expected, with the health condition I was diagnosed with. Yeah, definitely I've accepted that. You never totally rule a line through anything.
"If I felt I was able to get conditioned enough and love the game again as much as I did back then, then I'd give it a go and if I wasn't good enough, I'd be happy enough with that.
"But it's not going to be this year or next for that side of it."
Clarke will be keeping a close eye on the fortunes of his native county this weekend as they start out on the 2018 championship road.
They take on Antrim on Saturday night in a game that will take place as Liverpool's Champions League final unfolds in Kiev.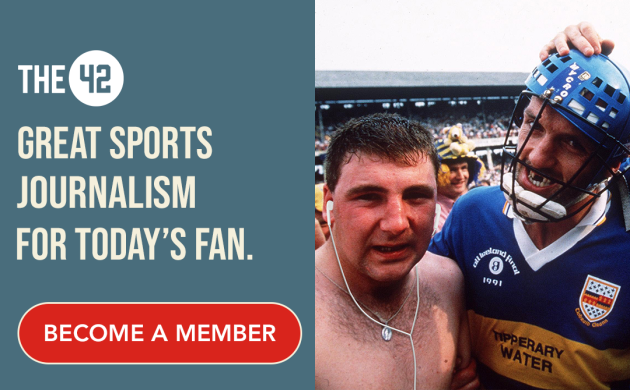 The last high-profile clash between Saturday night GAA championship action and a Champions League decider involving an English team was in 2011 when Clarke notched 0-5 as Down slipped up against Armagh.
"Soccer would be a big interest for most of the guys. I remember that, that they were potentially going to change the game. But we were coming off the back of an All-Ireland, and Armagh were really surging at the time.
"So it was a really big game for the GAA. Most people turned a blind eye, that weren't United fans. As far as I know, Barcelona beat them that night. But I support Derby! I don't have any of those concerns.
"It's one of those things, it's for the supporters to worry about. The players have invested so much. I hope the crowd doesn't suffer on Saturday night as a result, but you'd imagine that it will because it's Saturday evening and there are a lot of Liverpool fans in the North. There's not much they can do about it really.
"You always want them (Down) to succeed and do well. They were very unfortunate to get relegated (in the league) with six points, but you would expect them to win this weekend against Antrim in a home game."
The42 is on Instagram! Tap the button below on your phone to follow us!