Dr Crokes (Kerry) 2-19
Kilmurry-Ibrickane (Clare) 0-10
Paul Brennan reports from Lewis Road, Killarney
DR CROKES REMAIN on course to defend their Munster and All-Ireland club titles after a routine semi-final win over Clare champions Kilmurry-Ibrickane at a sun-splashed Lewis Road on Sunday.
The loss of goalkeeper Shane Murphy to a head injury was the only negative to what was a wholly polished Dr Crokes performance, although the squandering of at least five great goal chances will upset a team renowned for the accuracy of their execution.
Johnny Buckley put in his best display in some time, dominating the kickouts, driving forward with the ball and generally being the fulcrum around which Crokes revolved. And he needed to be after his midfield partner, Ambrose O'Donovan, was black-carded for a sliding tackle on Dermot Coughlan in the 17th minute.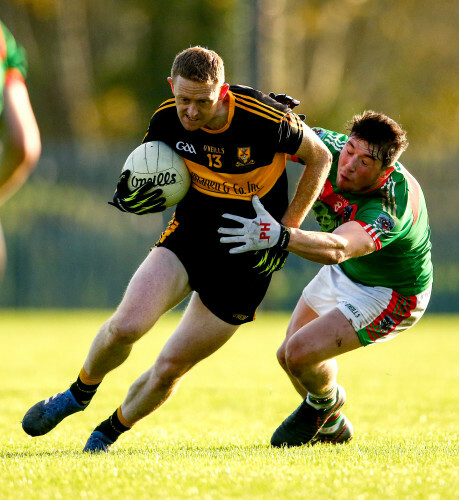 Cathal Noonan / INPHO Cathal Noonan / INPHO / INPHO
Dr Crokes led 1-5 to 0-3 at that stage, with Buckley having found the net three minutes earlier after brilliantly fielding a kickout and driving through the centre to place the ball past Ian McInerney.
Early points from Micheal Burns, David O'Leary, Daithi Casey and two from Colm Cooper had the home side up and running from the start, and the gap should have been greater at the end of the first quarter with Kieran O'Leary and then Brian Looney sending shots just wide of McInerney's goal.
O'Donovan's dismissal did little to stem Crokes, however, and they continued to notch up the scores to lead 1-11 to 0-4 at the break.
Kilmurry-Ibrickane struggled for scores throughout that first half, with just two points from play, the second from Martin McMahon right at the end of the half when he blazed his shot over the bar with just Dr Crokes' sub goalkeeper, Johnny O'Leary to beat.
Cathal Noonan / INPHO Cathal Noonan / INPHO / INPHO
The Clare champions started brighter in the second half with early scores from Mark McCarthy and a Keelan Sexton '45′ but Crokes were soon back into the stride with a couple of early Cooper frees.
Mike Moloney and Fionn Fitzgerald made a couple of brilliant blocks to deny Kilmurry-Ibrickane a goal in the 40th minute, but the visitors didn't help themselves with poor handling and decision making.
In the 44th minute Kilmurry-Ibrickane pressed the self-destruct button when McInerney dropped Buckley's high ball in and Kieran O'Leary pounced to score Crokes second goal to make it 2-15 to 0-8, and it was just a matter of running down the clock for the last quarter, with a Munster Final spot in two weeks to focus on.
Scorers for Dr Crokes: C Cooper 0-9 (6f), K O'Leary 1-1, J Buckley 1-0, M Burns 0-2, G O'Shea 0-2, D O'Leary 0-1, G White 0-1, B Looney 0-1, D Casey 0-1, T Brosnan 0-1

Kilmurry-Ibrickane: M McCarthy 0-4, K Sexton 0-2 (1f, 1'45′), I McInerney 0-1f, M McMahon 0-1, N Hickey 0-1, D Coughlan 0-1
Dr Crokes
1. Shane Murphy
2. John Payne
3. Michael Moloney
4. Luke Quinn
5. David O'Leary
6. Fionn Fitzgerald
7. Gavin White
8. Johnny Buckley
9. Ambrose O'Donovan
10. Micheal Burns
11. Gavin O'Shea
12. Brian Looney
13. Colm Cooper
14. Daithi Casey
15. Kieran O'Leary
Subs
17. Tony Brosnan for A O'Donovan (17, black)
16. Johnny O'Leary for S Murphy (26, injured)
18. Shane Doolan for B Looney (45)
22. Paul Clarke for K O'Leary (49)
20. Jason Lyne for L Quinn (52)
23. Eoin Brosnan for C Cooper (55)
Kilmurry-Ibrickane
1. Ian McInerney
20. Evan Talty
3. Darren Hickey
4. Mark Killeen
17. Stephen Moloney
6. Martin McMahon
7. Shane Hickey
8. Keelan Sexton
9. Keith King
10. Niall Hickey
11. Dermot Coughlan
12. Michael Hogan
13. Michael O'Dwyer
14. Mark McCarthy
15. Enda Coughlan
Subs:
18. Noel Downes for M O'Dwyer (h-t)
22. Peter O'Dwyer for D Coughlan (45)
23. Thomas Lerhihan for M Hogan (49)
19. Eamonn Bracken for S Moloney (52)
25. Declan Callinan for E Talty (56)
21. Darren Sexton for K King (57)
Referee: Sean Lonergan (Tipperary)
Subscribe to The42 podcasts here: