CHRISSY MCKAIGUE HAS been central to Slaughtneil's amazing All-Ireland club campaign this season.
Will he have the same impact tomorrow in the final in Croke Park or can Dr Crokes curb his influence?
And how successful will McKaigue be in preventing Colm Cooper play a central role for the Kerry side? We take a closer look at their battle.
*********************

CHRISSY MCKAIGUE PICKED up all the plaudits after the semi-final against St Vincent's. While he was quick to heap praise on the rest of his team mates there is no doubting his influence on this game in both attack and defence.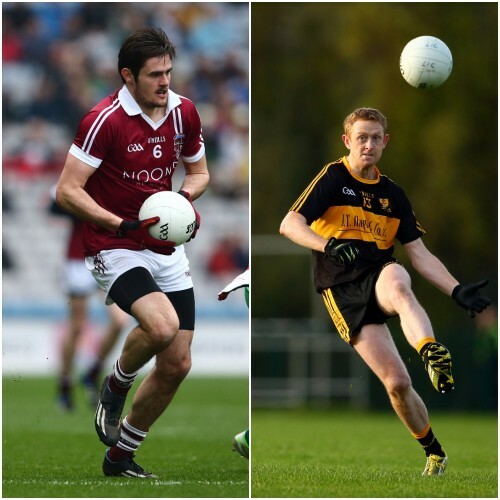 INPHO Will Chrissy McKaigue mark Colm Cooper? INPHO
McKaigue was an ever present in the game, having almost 30 possession swhile keeping Diarmuid Connolly to under 10. Slaughtneil are not a one man team but this one man has a big say on the team's performance.
Here is a look at Connolly's touch map for that semi-final.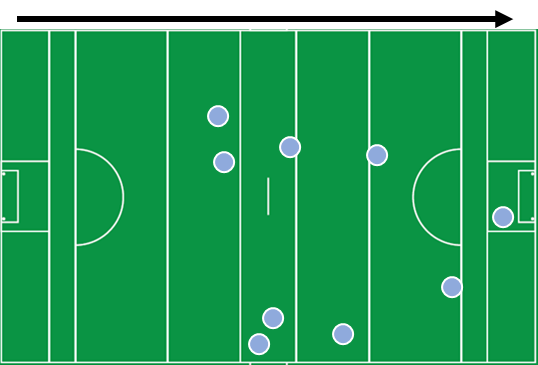 Connolly had just two possessions close to goal. One resulted in a point, but he played most of the game in his own half, with McKaigue breathing down his neck.
While McKaigue was given the job to mark Connolly, it was actually Connolly who had to mark McKaigue. Chrissy kicked four points, had one shot drop short and won 2 free's inside the Vincent's 45.
He was quoted after the game discussing how he sees himself as an attacking centre back and it's that element of his game that will give Dr Crokes the biggest headache.
If Chrissy McKaigue picks up Cooper, which I suspect will happen, it will be interesting to see how Crokes cope. McKaigue's first job will be to stop Cooper feeding Kieran O'Leary, putting him under pressure and making life generally difficult.
But going the other way will Cooper be expected to track back or will they try and assign someone else to that role? The danger of asking Cooper to track every time is that you lose such an attacking force and similar to Connolly when you do get on the ball, it's far from the opposition goal.
But can Dr Crokes be organised enough to manage McKaigue's runs from deep?
There was one great example in the first half where McKaigue just puts his head down and pierces a hole in the Vincent's defence.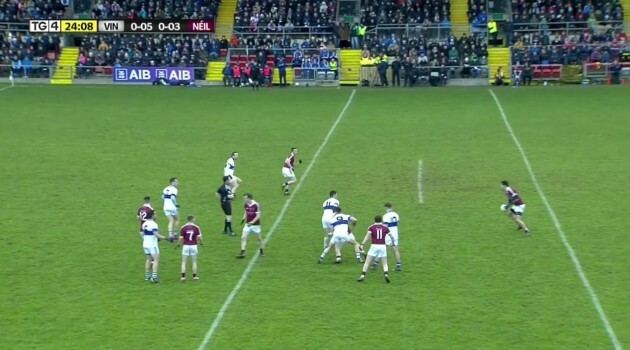 Slaughtneil win the ball from a throw-in. McKaigue spots half a gap and puts on the after burners.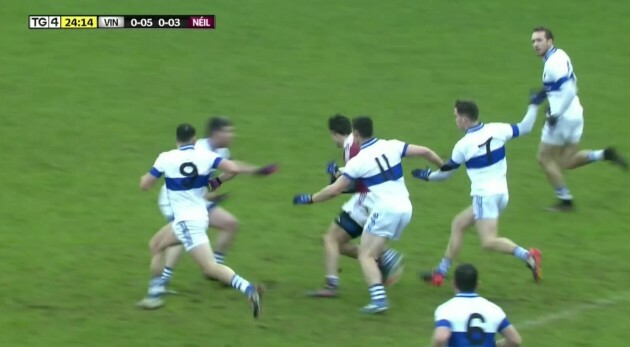 He wins a free in this example, but look at how many Vincent's players are attracted to him. He's coming at pace and attracting this sort of attention will open up huge gaps somewhere else.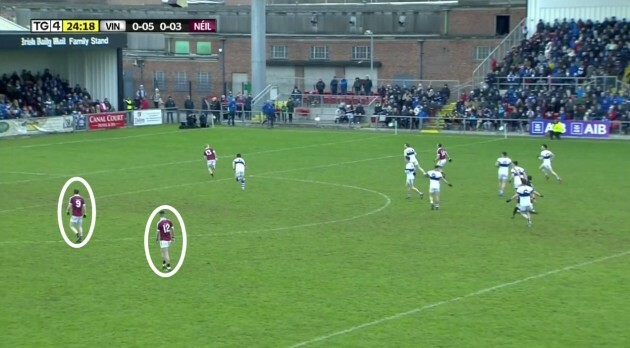 This is just a few seconds after the free is blown and there are two Slaughtneil men standing inside completely unmarked.
When you watch Chrissy intently, you notice that he doesn't feel he has to be involved in the every play of the game. Sometimes you will see him stand more or less in the same spot as the play unfolds around him.
He trusts his team mates and is well aware of when he is needed and not. So although you know he will break forward, you are never sure when.
His point to put Slaughtneil 0-8 to 0-7 ahead was a prime example of holding still until you are needed.
Chrissy competes with Connolly for a Vincent's kickout here.
The ball breaks for Slaughtneil and they kick into the corner. You can just see McKaigue in shot.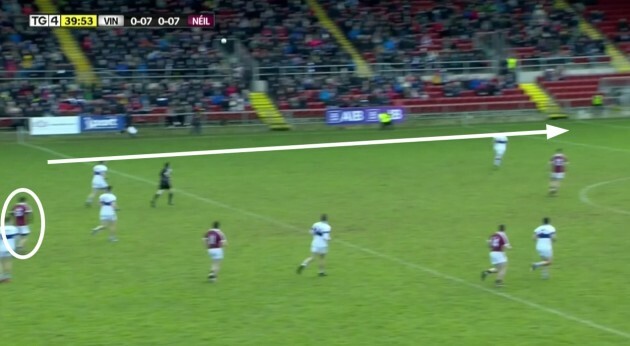 The ball gets recycled back out and Chrissy is still only a few yards from where the kickout broke. Connolly is getting more attracted towards the ball.
Slaughtneil move the ball back into Vincent's territory and this attracts a swarm defence, including Connolly, leaving McKaigue to time his run and arrive just on cue.
From kickout to shot he hasn't moved very far, but just held his ground and waited for the right moment to be involved.
McKaigue offers a lot to this Slaughtneil team in both attack and defence. Both backroom teams will have spent many an evening discussing the best way to play this. I would expect it to have a massive impact on the game.
Slaughtneil High Press
A big contrast to the Corofin team who played with spare men at the back, Crokes will face a different proposition against a Slaughtneil team who like to press high up the pitch.
Slaughtneil will defend in numbers when they have to but don't play with a dedicated sweeper. At times you will see different players drift into that space at the top of the D but in the Ulster final or All Ireland semi-final they never played with a permanent sweeper.
Exclusive Six
Nations Analysis
Get Murray Kinsella's exclusive analysis of Ireland's Six Nations campaign this spring
Become a Member
They really like to push high up the pitch and put as much pressure on as possible. If you get this press right you can live without a sweeper.
Very early in the game we can see how committed Slaughtneil were on a Vincent's kickout. St Vincent's goalkeeper Michael Savage is Cluxton's understudy with Dublin and likes to get the game moving as quickly as possible.
Slaughtneil made it so difficult for Vincent"s to get the ball forward. Here Slaughtneil have seven men well inside for the kickout.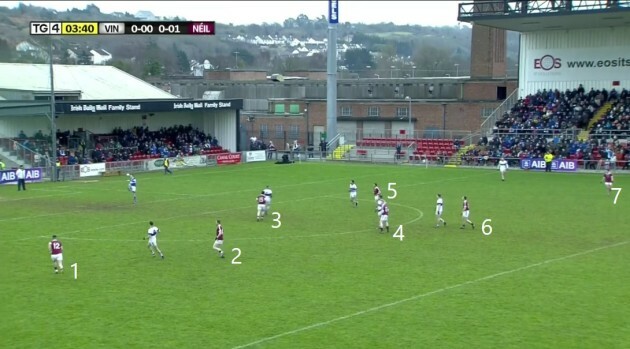 It takes Vincent's 30 seconds to work the ball out to the half-way, where Connolly has to come out and look for it.
Slaughtneil got hands on at every occasion and never gave an inch even this high up the pitch. Connolly is picking up the ball 65 yards from the Slaughtneil goal, which is exactly what they want.
Even late in the game we saw Slaughtneil stick to the plan. This is two minutes into injury time but still they refuse to let Vincent's out easily.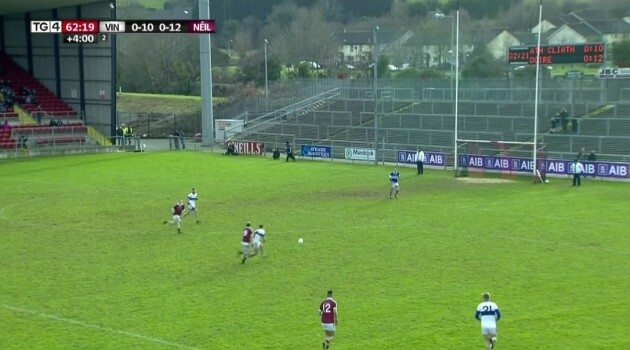 They commit a foul but still don't want to retreat.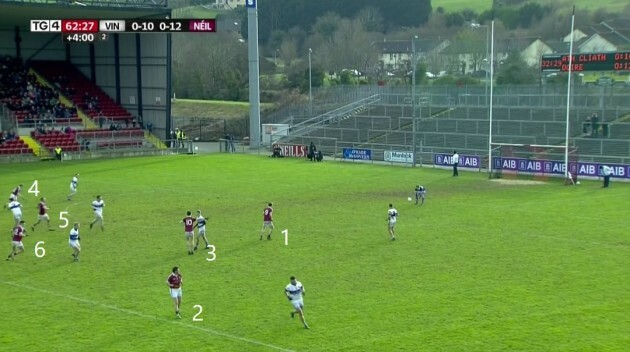 Two minutes from an All-Ireland final, you would forgive any team for dropping off here. But not Slaughtneil. They are in your face and will make Dr Crokes work for every inch of progress up the pitch.
Despite committing so many men forward on a kickout. They still have ten defenders in and around the ball as Vincent's made their way forward.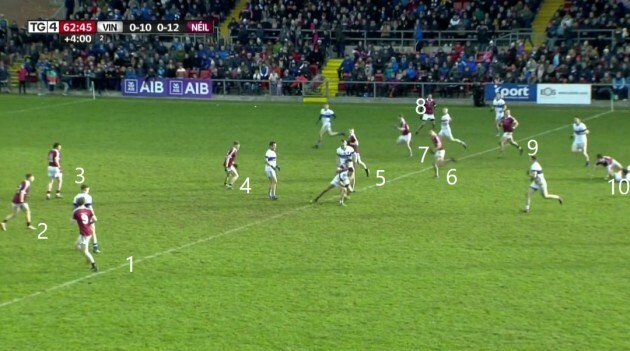 Croke Park might open this out a bit more and make it harder to replicate but their work-rate up and down the pitch and sheer doggedness is a key strength.
Slaughtneil are a possession team, in much the same way that Dr Crokes are. Both teams seem more than happy to pass the ball around and take time out of the game until they are good and ready to attack.
The bigger pitch in Croke Park will make Slaughtneil's pressing game a little harder.
The42 GAA / SoundCloud