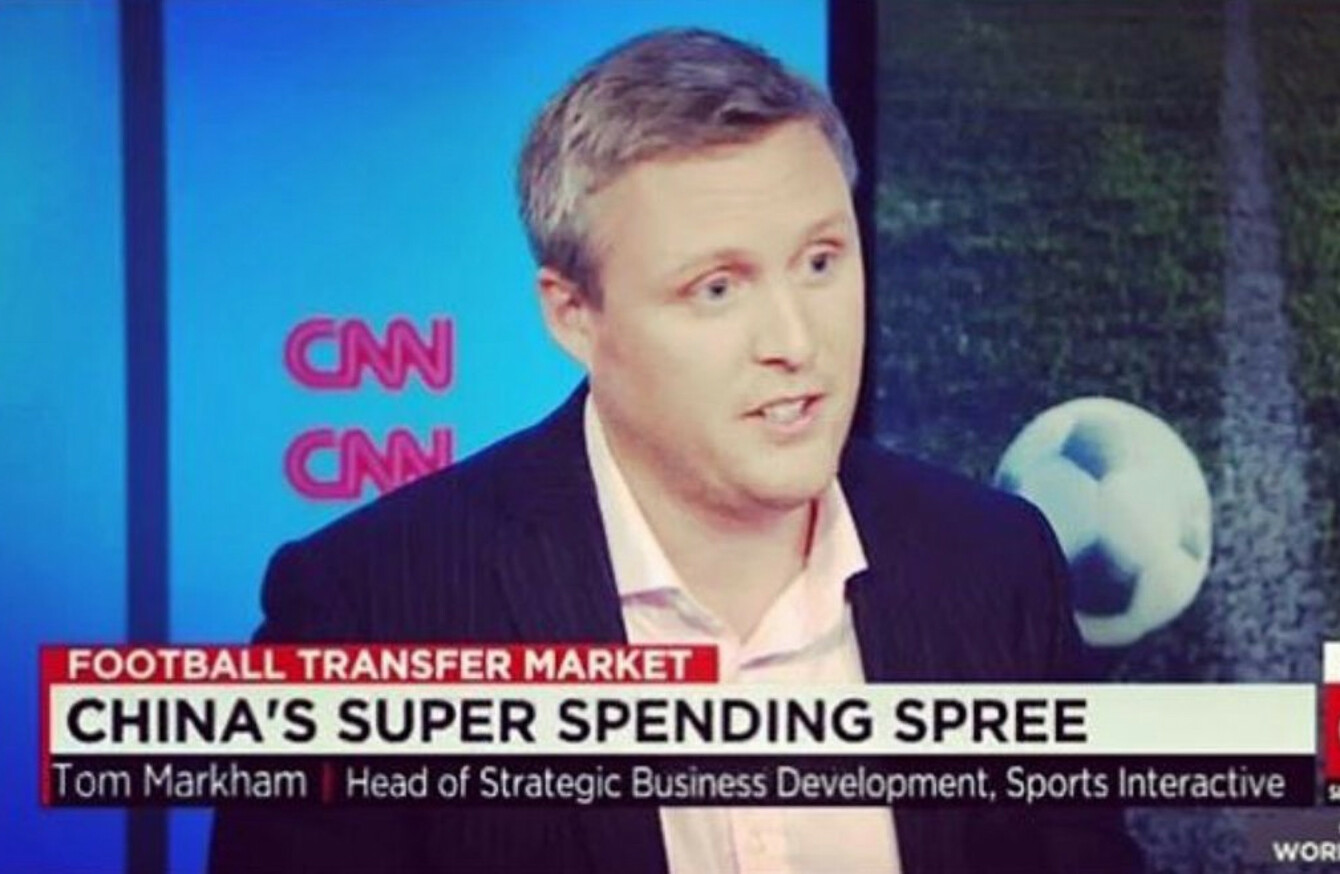 Markham is a regular contributor to CNN on sports business matters.
Image: Twitter/@TMFootyFinance
Markham is a regular contributor to CNN on sports business matters.
Image: Twitter/@TMFootyFinance
DOCTOR TOM MARKHAM'S family is steeped in Irish sporting history.
Anyone familiar with the GAA will notice he shares his name with the cup awarded to the All-Ireland minor football championship winners.
The piece of silverware was commissioned in honour of his great-grandfather — a Clare man who joined the Irish Volunteers in 1912, working as an intelligence officer for Michael Collins, before dedicating his life to Gaelic games and founding two clubs in Dublin.
His son, also Tom, represented the Dubs at minor level for five years before progressing to the senior team and, later, becoming Ireland's chief veterinary officer.
"I'm Tom Markham the fifth, actually," he reveals, as if it weren't confusing enough already.
Grand-aunt Eileen Duffy O'Mahony was named in the GAA's Camogie Team of the Century after winning eight All-Ireland senior medals as goalkeeper for Dublin. Her brother Billy Duffy represented Arsenal in the late 1940s but was forced to retire prematurely after contracting tuberculosis (TB).
"Billy played for the Ireland schoolboys against England and scored all the goals in a 5-0 win," Tom explains.
"He was signed by Arsenal and went straight into the first team squad — playing 15 games during the 49/50 season. However, he then got TB and had to have part of his lung removed, which didn't lend itself to playing football.
The club were incredible with him. They sent him to live in Switzerland after his treatment for six months, then he moved back to Dublin and they paid for him to go to university. He was the first one of that family to do so and it was all covered by Arsenal.
"He died a couple of years ago and the club invited about 30 of us from the family over. They had an announcement at half-time so it was very classy from them. I grew up as an Arsenal fan and it was all drummed in from him."
Source: Kevin D/YouTube
Tom may not have gone on to become a distinguished athlete like several of his relations, but he is certainly well-respected in the football world. As an expert in the financial side of the game, he has worked in advisory roles on a number of takeovers involving Premier League clubs.
A man with many strings to his bow, Markham is also head of strategic business development for Sports Interactive (SI) — the company behind the hugely-popular Football Manager computer games.
"Like a lot of football fans of that age group, I probably played way too much Championship Manager back in the day," he remembers. "I'd be locked away with my folks screaming to 'get off that stupid game'.
"It was quite funny when I actually got the job at SI as they had always said playing computer games wouldn't get me anywhere. So I proved them a little bit wrong on that front."
His father, who lined out for Connacht in rugby, worked for the United Nations, meaning the family spent time in Egypt, Lebanon and other far-flung places before eventually settling in Howth.
Attending St Paul's school in Raheny, Tom tried his hand at just about every sport he was introduced to. Like many, he was uncertain when the time came to 'pick a career' and wound up studying accounting and finance.
Not yet ready to join the work force, he did a masters degree in Liverpool but returned to take a job with AIB in Ireland's International Financial Services Centre (IFSC). While working on the trading floor, Tom also sat his accounting exams.
"It's a tough shift as you're doing a full day of work and then going to lectures for three hours three or four times a week after work."
But a job advertisement in the Sunday Times was to catch his eye and give him the courage to pursue his passion.
"It was for the club secretary's role at Sunderland," he tells. "This was just after the Drumaville consortium had taken over in 2006. I applied for the job and got called in for an interview. This was with no background working in that area but I was very keen. The interview went well and I got called back for a second one but was pipped by Margaret Byrne. Up until recently, she was Sunderland's chief executive but left under interesting circumstances (the Adam Johnson scandal).
"That process just gave me a flavour for it. If I could get that far by just being enthusiastic, then I decided I'd get fully tooled up, come back and see where it could go. Work-wise, I had been moved onto the liquidity desk at AIB so I could see what was happening in terms of the banks, the economy and all of the lending seizing up.
"I noticed there was an MBA in Football Industries over in Liverpool when I had been there the previous time and I said I'd love to do that. I was qualified as an accountant and had a few years experience working in the bank so I just said let's take a punt on this. It was a sort of calculated risk and I knew I would get a job somewhere else."
So he went back to Liverpool and enjoyed "the best year" of his life.
"You're in an environment where there are 33 people on the course and they were all very similar-minded but from 14 different nationalities.
So you could ask a Japanese guy how everything happened in Japanese football, what the structure was, how much the broadcasting contracts would bring in etc. And you could do the same with Germany, Mexico, Brazil and South Korea. It was all about building up an international network."
For his dissertation, Markham focused on football club valuation and, through his professor Tom Cannon — a guest regular on Sky Sports News — he met Keith Harris. A former chairman of the Football League who advised the sale of numerous clubs including Chelsea's purchase by Roman Abramovich, Harris had a wealth of knowledge in the industry. He read Markham's research and ended up becoming a mentor for the ambitious youngster.
"At that time, I was going out into the market again trying to find another job and had an interview at Queens Park Rangers for the financial controller's job," he says. "Flavio Briatore and Bernie Ecclestone had taken ownership of the club and, on paper, I think it was the second wealthiest club in the world. So it looked good but Keith told me it was a real mess behind the scenes so it wouldn't be a good place to go. He advised me to do the interview for experience but that I shouldn't take it and he was spot on.
"I had another job interview with Coventry City. This job was half working for the Ricoh Arena and half for Coventry City. It just didn't sit right."
As the right opportunity hadn't arisen, he agreed to lecture at the Henley Business School's International Capital Market Association (ICMA) Centre while doing his PhD simultaneously and working on other projects.
"I had a lot of free time and Henley had agreed to pay for me to go to every industry-related event — all the conferences. I had already started that in Liverpool because it's a very insular and an almost incestuous industry. Once you keep on showing your face at these things and you're not offending anyone then you can do reasonably well, but it takes a long time to break down the barriers."
At the time, he was doing contract work for different companies within the football industry such as Creative Artists Agency (CAA), who represent the commercial rights for Cristiano Ronaldo and Jorge Mendes among others, the Association of Football Federations of Azerbaijan (AFFA) and PricewaterhouseCoopers (PwC).
That led to a situation where Markham was employed to write detailed reports on clubs for Uefa in relation to their Financial Fair Play regulations — brought in to prevent clubs spending more than they earn in the race to be successful.
"From a media perspective, Uefa never properly expressed what FFP was trying to achieve and the rationale for it," he says. "There were differing reasons and internally there was a lot of in-fighting at Uefa over FFP and the various agendas."
Markham completed reports for the likes of AC Milan, Barcelona, Galatasaray, Grasshoppers Zurich, Stuttgart and Manchester City, whose enormous spending under Sheikh Mansour and the Abu Dhabi United Group was coming under significant scrutiny at the time.
"They were so far outside the range where they should have been that it was quite contentious at all levels," he states.
Under pressure from Europe's heavyweights, FFP ruled have been dramatically relaxed in recent years.
During that time, he also crossed paths with another Irishman, Padraig Smith — a former FAI employee worked at Uefa who would go on to take up his current role at MLS side Colorado Rapids.
Then three years ago, Markham was handed the chance to join the SI team and develop the ever-growing virtual world that is Football Manager. He is now head of strategic business development at the gaming company, which has sold in excess of 15 millions, and says he thoroughly enjoys the role.
"It was funny because the job title didn't necessarily fit any of my background. Everyday is very different. The beauty of working here is that it's so flexible. There are some who might not start until 1pm but they won't leave until midnight. Then others don't come into the office at all and work from home.
"There are 115 who work here and unfortunately it's a situation where you're dealing with a very lads-centric game so I think we're made up of 113 men and two women. We've been trying to get away from that, although it's difficult. We've been focusing on growing our female audience somewhat because, let's face it, there are so many girls who have season tickets at clubs and who are really interested in football."
He adds: "My main role here at FM is to manage all the relationships with the industry. We've tried to align ourselves with the football industry rather than the video game industry. We found that most people who play the game might play Fifa or PES (Pro Evolution Soccer), a lot of them do, but they're not necessarily real gamers.
We have the biggest database in world football, data is becoming such a commodity and more and more clubs and organisations around football were using it, so we felt we had something to offer."
As well as offering data to clubs and companies around the game, FM has recently introduced in-game advertising and Markham is excited that they have finally acquired the licence for the Bundesliga for the 2019 edition. They also have struck up charitable partnerships with the likes of Kick It Out and War Child and a link with the League Managers Association (LMA), which helps aspiring managers learn about coaching with the aid of a simulation module.
"No two weeks are the same," he says. "It's very interesting and there are lots of different things going on. One of the reasons I like it here so much is that my boss, Miles Jacobson, is realistic about getting involved in other projects. His attitude is if you get everything done that's expected of you, then there's no problem being involved in work elsewhere."
After writing a detailed paper called the Markham Multivariate Model (MMM), which offers a formula to work out how much a football club is really worth, Markham was employed to produce a valuation report for then West Brom owner Jeremy Peace.
"I did that and he (Peace) turned around and said 'Do you know anyone who would like to buy a football club?'. One of the companies I had worked with in the past, FMMA, have good connections in China and it was actually an alumnus of the Football Industries MBA in Liverpool so I knew this guy we were dealing. He was one of the only creditable guys in China who could suss out whether people were real or just tyre-kickers.
They provided the group, Yunyi Guokai Sports Development Limited, that bought West Brom and I facilitated that transaction on this side. That was very interesting to be part of everything that happens. The previous year, there had been a Chinese bidder but the deal fell through so I had to convince Jeremy to speak to another Chinese group because he didn't want to know after his previous experience."
Markham's CV includes advising in the purchase of Southampton by Jisheng Gao and Lander Sports Development Company, while there is on-doing work relating to Newcastle United's imminent sale.
And if all that wasn't enough, the Dubliner has someone found time to set up a film production company, Nods & Volley's Entertainment, with one documentary already in the bag and set for release next year. It tells the remarkable tale of Carlos Kaiser, a Brazilian man who managed to carve out a 26-year playing career in professional football despite the fact that he couldn't kick snow off a rope.
With a former football agent friend who now works as an oil broker in London, Rob Fulham, he headed for Brazil to interview some of the country's great players after hearing all about the ultimate con artist.
"You may have read the story that Rob Smyth wrote in the Guardian," Markham begins.
" My friend Rob came to me with three paragraphs that had been translated from Portuguese , this would have been 2013, and said 'Have a look at that'. It looked like it had been completely embellished. We thought it was very interesting, so the two of us were over at the World Cup and we were out with Brazilian friends. They all worked in football and were telling their best football stories. This came up twice in two nights.
"We came back and just said we need to do something — it's too good a story not to be told properly. We spoke to a friend of mine  who was ex-BBC and he was keen to move on it so we put the initial money into to it.
"We met (BBC South American correspondent) Tim Vickery as well, who happened to be in London, and asked him about the story. He said it was the best football story he had come across the whole time he lived in Brazil. A friend of mine who is an agent managed to find us the guy so went over to Brazil and spent a combined five months over a two-year period in Rio.
"The story just got deeper and deeper and deeper — It's sensational. It makes a complete mockery out of Catch Me If You Can. There are 60 stories but this would have been even harder to execute. Anyone can put on a pilot's outfit, very few could step out onto the training ground at Flamengo with Carlos Alberto as the manager and Bebeto playing up front with you, then manage to blag it when you can't really play."
They interviewed a total of 12 World Cup winners for the film, including Zico, Bebeto and one of the last with Carlos Alberto before he died last year. Release is set for next May.
It's almost a journey of unbelievability because there are conflicting reports. So it's a case of 'Whose report do you believe?'. There are a couple of big twists as well that you mightn't be expecting.
"We're really happy as it couldn't have gone much better. It was great fun and we got to spend time with real legends of the game. That was an amazing experience."
Two more documentaries are on the horizon too — one on the ancient Italian sport of Calcio Storico "a cross between football, American football, MMA, a little bit of GAA" and another about Jamaican prodigy Leon Bailey, who appears destined for greatness having joined Bayer Leverkusen from Genk a year ago.
You're likely to hear more about all three in the not-too-distant future.
The42 has just published its first book, Behind The Lines, a collection of some of the year's best sports stories. Pick up your copy in Eason's, or order it here today (€10):