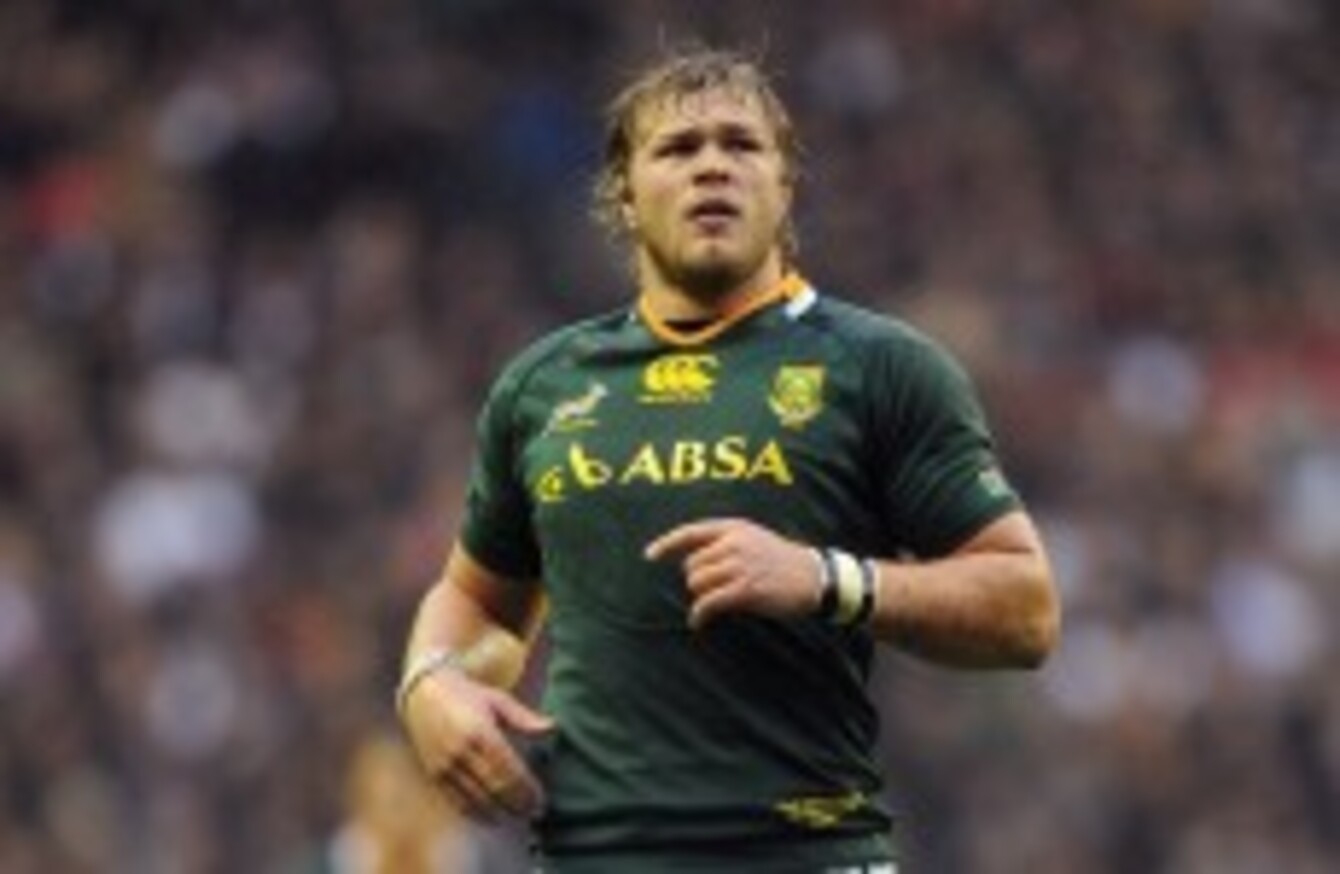 Vermeuelen's combination of size, power, attitude and technique make him a menace at No. 8.
Image: EMPICS Sport
Vermeuelen's combination of size, power, attitude and technique make him a menace at No. 8.
Image: EMPICS Sport
KIERAN READ IS deservedly lauded as the best No. 8 in the world, but the Springboks' Duane Vermeulen is increasingly challenging the crown.
Standing 6ft 4ins tall and weighing in at around 118kg, Vermeulen is very much in the mould of a classic South African 'eighthman'. His ball-carrying can be destructive, while his power in the tackle is a major momentum builder for Heyneke Meyer's side.
As the 28-year-old has grown increasingly comfortable on the international scene over the last three seasons, he has added more skills to his repertoire, showing an increased understanding of the intricacies around the breakdown and ruck in particular.
Such has been his form in 2014 that there have been strong calls from South Africa and elsewhere for Vermeulen to be considered for IRB's World Player of the Year trophy.
The Nelspruit man only made his Boks debut in 2012, with his excellent Super Rugby displays having been previously ignored as Pierre Spies dominated South Africa's No. 8 shirt.
Heyneke Meyer has had faith in Vermeulen's ability to stand out at the highest level, however, a belief that is now paying dividends.
Ireland face a major test in keeping the in-form back row quiet this weekend, with Vermeulen having recovered from a muscular tweak to take his place in the Springboks' starting team for Saturday's Test match in Dublin.
Primary ball carrier
The clip above gives us a glimpse of Vermuelen's power when carrying the ball, but it's a situation in which he rarely finds himself. Averaging somewhere around 10 carries per game, much of the No. 8′s carrying is done close to rucks and with lots of defenders on top of him.
Whatever about the likes of Handré Pollard and Willie le Roux having added new attacking dimensions to the Boks' game plan, they are still heavily reliant on direct, abrasive carrying in narrow channels, particularly deep inside the opposition half.
Vermeulen is the man who takes much of the burden on his wide shoulders, eking out a handful of metres on each carry and bouncing a defender into the ground from time to time.
He does possess explosive upper body strength, allowing him to dip and then drive through contact, while his aggression often sees him accelerate as he reaches the collision, something that is easier talked about than done.
In the example above, Vermeulen is in the type of position we're talking about, close in to the preceding ruck and offering himself up to carry in the face of a stacked defensive line.
He actually makes no gainline progress for the Boks on this occasion, but does manage to suck in three defenders as the Springboks look to set up a potential match-winning drop goal against New Zealand.
Vermeuelen's total carrying metres statistic is rarely too far above 30; certainly not a number to be disrespected, but it would surely be higher if Meyer used him in different areas of the pitch to carry.
Instead, the Boks largely rely on their powerful centres to do much of the carrying further out from the ruck, while creative fullback le Roux very often leads the way as top carrier, popping up all across the pitch to threaten.
Ireland will not be losing sleep worrying about Vermeulen's ball-carrying in the narrow channels, but his is a crucial role for the Boks as they bludgeon teams in their defensive 22.
It's worth briefly pointing out that Vermeulen is also a strong carrying option from the base of the South African scrum, a skill that many No. 8s are not called upon to use too often in the modern game.
Big hitter
Vermeulen also puts his physical abilities to good use in the tackle, as in the example above, which actually led to a harsh penalty concession. He lines up Australia's James Slipper on this occasion, times the hit expertly and unleashes his weight into the prop's upper body.
It's a good read from Vermeulen to get himself into position, recognising the line Slipper is running and then shooting up from the Boks' defence to get his dominant tackle in.
Generally, the No. 8 is not a tackle count leader for Meyer's side, but there is usually quality in the contact he makes in defence. Despite his bulk, Vermeulen is quite mobile and that allows him to work hard, get around the corner and play an important part in defence.
Breakdown specialist
Given his body shape, it might not be expected that Vermeulen would be much of a groundhog, but the evidence to the contrary is plentiful. Despite his size, the 28-year-old remains highly flexible and dynamic, allowing him to get over the ball smartly.
We see as much in the example above, as Vermeulen combines with Francois Hougaard to make the hit on Michael Hooper, then bounces up off the ground to get over the ball.
His remarkable speed to recover his feet and then jackal beats Wallabies' hooker Saia Fainga'a, who then reacts by pulling Vermeulen through and over the ball. A superb steal from Vermeulen in an important area of the pitch.
One of the major factors that makes the Springbok back row such a threat at the breakdown is the fact that he is so hard to shift off the ball once he clamps into position, as below.
Vermeulen bides his time in this instance, hovering in behind what he expects to be a tackle by Handré Pollard. As Isreal Folau glides past the put-half, Vermeulen assists Bryan Habana in making the tackle, then snaps down over the ball.
On this occasion, the Wallabies are in a better position to drive Vermeulen off the ball, but his strength and weight make him impossible to shift.
Exclusive NZ - IRE
Rugby Analysis
Get Murray Kinsella's match analysis and Garry Doyle's updates from New Zealand exclusive to members
Become a Member
We end up with the situation below, with Rob Simmons [5] attempting to roll Vermeulen off the ball with a can-opener technique, Matt Toomua [12] trying to pull the No. 8′s left arm off the ball and Nick Phipps [9] doing his best to tug the ball from his grasp.
All three Wallabies fail in their actions, and Vermeulen wins the turnover penalty.
Francois Louw has been a menace for the Boks at the breakdown over the last three seasons, but with the Bath flanker currently sidelined through injury, Vermeulen has taken on increased responsibility in this area of the game.
That much is highly evident in how hungrily the No. 8 hunts from the inside, searching energetically for that brief glimpse of clear ball at the breakdown.
Coaches generally want their breakdown threat to be on the inside of the tackle, from where the ball has come. Committing players from the outside is a potential recipe for disaster, leaving so much space open as the attacking team comes around the corner.
Vermeulen is always switched on to the fact that even when the ball passes him and defenders are in position to make the tackles further out, he has a role to play. That involves competing and stealing as in the example above.
Another simple point to highlight around Vermeulen's breakdown work is the fact that he always has his eyes on the ball. It seems like a stupid thing to underline, but it's a key aspect for all groundhogs.
It can be easy simply to eyeball the ball carrier, and scan around the peripheries of one's field of vision in defence, but Vermeulen is always honed in on the ball, being very specific in where his gaze lands.
That allows him to be extremely accurate with his jackaling, as in the instance above. It's also worth noting again the line that Vermeulen runs, always on the hunt from the inside.
Peak form
The South Africa No. 8 is also an important part of the line-out efforts, offering a jumping option and lifting effectively. Technically, he is superb in the maul too, possessing a strong understanding of where and how he can best use his power.
Vermeulen is playing some of the best rugby of his life at present, and while a muscular issue may have stifled his ability to train at full tilt this week in Dublin, Ireland are taking on a world-class No. 8 on Saturday.