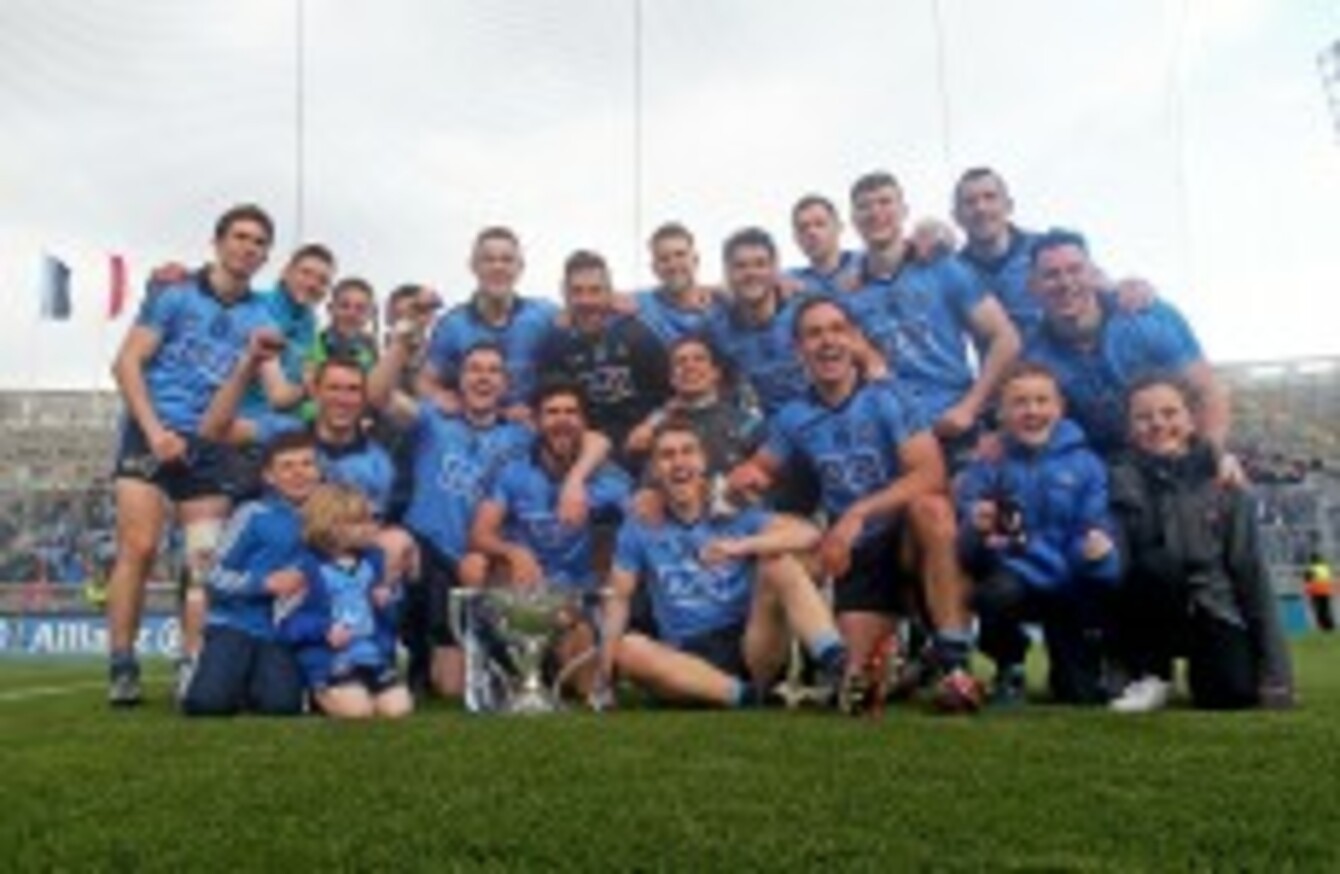 Dublin's players celebrate today's victory.
Image: Donall Farmer/INPHO
Dublin's players celebrate today's victory.
Image: Donall Farmer/INPHO
1. Dublin's league dominance continues
For the first time, Dublin have stitched together three successive football league titles. The completion of that feat wasn't stressful, they were a dominant and ruthless force today. Cork were despatched by 11 points as the final transpired to be a one-sided encounter similar to last year's decider against Derry rather than the slender success in 2013 over Tyrone.
Dublin have shown a capacity to win in different ways. They held their nerve to withstand an onslaught from Monaghan in the semi-final. Then today they turned on the style, particularly in the passages either side of the break. Dublin may have had three points after four league games this year but transformed after that to ensure their league dominance continues.
2. Cork's collapse in form
After all the encouraging facets they had displayed this spring, Cork's form deserted them at a crucial stage. There was a chance to banish the memories of that crippling league loss to Dublin last year but instead they suffered another bad April beating in Croke Park.
Killed in the battle for kickouts, Cork's defence was submerged under the relentless Dublin waves. After a rocky start, they settled to trim the deficit to 0-7 to 0-4 by the 30th minute.
Yet in the next 18 minutes of play, Cork shipped 1-8 and only managed a single point. At that stage you could have stuck a knife in this game as it was done. Cork's previous eight league games had given them plenty to cheer about but their last clash leaves them feeling glum ahead of the summer.
3. Kilkenny back flying and Rock bags ten
Twelve months ago, Ciaran Kilkenny was facing into a long road of rehabilitation after a cruciate injury. He watched on as Dublin swept to the league title against Derry, joined on the sidelines by Dean Rock.
But when the 2015 instalment of league glory was delivered today, Kilkenny and Rock were both central characters. Kilkenny's attacking raids caused difficulties for Cork as he shot 0-3 while Rock's kicking was precise from play or frees as he weighed in with 0-10. They were instrumental to Dublin's victory with the heights both are currently hitting bound to please Jim Gavin.
4. Dublin blunt Cork's attacking edge
Cork's scoring league returns this year haven't been shabby, largely thanks to the prolific form of Colm O'Neill and Brian Hurley. Before today O'Neill had bagged 5-34 and Hurley had contributed 2-10. Dublin identified that twin threat and set about stopping the pair when in possession while also preventing Cork's middle third from sourcing them.
Cork hit seven points today with O'Neill scoring six of those and Hurley managing one. But only a single of those came from open play, O'Neill's 52nd minute point the solitary strike in question.
True, there was a spell in the first-half when their forays prompted fouls by the Dublin rearguard. Yet in only conceding 2-7 overall, Dublin's blunting of Cork's attacking edge went a long way to settling this match as Jonny Cooper and Cian O'Sullivan were in particular excellent.
5. Dublin loom large in Leinster
They were already billed as the warmest of favourites to conquer all before them in Leinster this year and today's performance will have done little to quell such chatter about Dublin. In pace and poise, there was a marked contrast between their showing today and the fare on offer in last night's Division 4 final.
The comparison is relevant given it's either Offaly or Longford that Dublin will be gearing up for on 31 May. Will Dublin receive a genuine examination of their credentials in Leinster this summer? And if they do sweep through the province again, will the lack of contests have any effect on their progress in the All-Ireland series?
6. Can Cork shake off this disappointment?
Cork's players and management spoke openly about the problems they endured in 2014 after a tough league afternoon. The 17-point turnaround that culminated in defeat against Dublin created a hangover that was difficult to shake off. They stumbled over Tipperary and then smashed into a Kerry wall.
A similar scenario now awaits them. Brian Cuthbert admitted after today's game that it is a challenge. Certainly the championship arena is the ultimate arbiter but how well they fare there could be determined by their ability to overcome this setback.