THE DEFEAT OF Donegal's motion to prevent Dublin from playing two Super 8s games at Croke Park was a hot topic to emerge from the 2019 GAA Congress in Wexford on Saturday.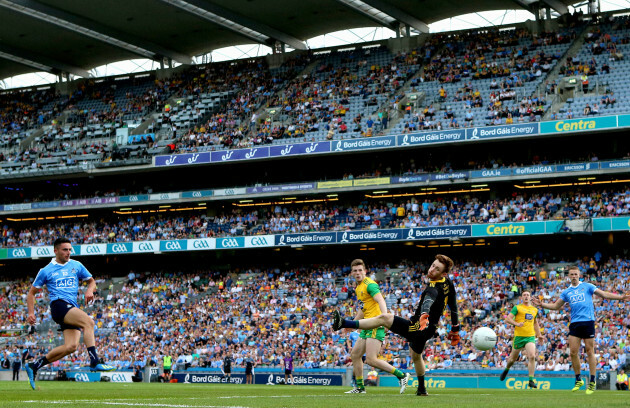 James Crombie / INPHO Dublin faced Donegal in the Super 8s last summer. James Crombie / INPHO / INPHO
Motion 39 sought to stop Croke Park from being utilised as a home venue in inter-county championship fixtures, but was soundly beaten when it went to the floor.
It means Dublin will be able to play twice at the stadium this season if they reach the Super 8s, like they did in the inaugural running of the format in 2018 when they took on Donegal and Roscommon.
The debate cropped up on Allianz League Sunday on RTÉ with Tomás Ó Sé siding with the Donegal argument on the motion.
The Kerry All-Ireland winner also questioned where Congress in its current guise is serving the GAA well.
"I get where Dublin are coming from, John Costello will defend Dublin at any cost and he will want the best for his fans.
"But the argument that Donegal put forward, I think is perfect. It was called negative and mean-spirited, I wouldn't agree with that one bit. I think they tabled a motion, is it unfair to play two games at home.
"And for me Croke Park is home for the Dubs. If it's a home venue, how did they play there twice?
"The top table, there's a lot being talked about, do they dictate what happens? Congress is supposed to be a democracy, to me it's not. I think it's a small percentage of people that run it their own way. I think there's a total disconnect between the rule makers and the players and the people on the ground.
"It doesn't bother me. I'd play Dublin anywhere, I'd play them in the backyard if I had to. It's not the point and I think it's unfair and I think Donegal were completely legitimate and I thought it was a fair motion to bring and it's a fair question to ask.
Colm O'Rourke and @Tomas5ky debate the rights and wrongs of allowing Dublin to play two Super 8s games in Croke Park. Watch the football highlights and analysis on @RTE2 Allianz League Sunday now! #AllianzLeagueSunday #RTEGAA pic.twitter.com/n1g77W0gm4

— RTÉ GAA (@RTEgaa) February 24, 2019
Speaking on OTB AM, Donegal chairman Mick McGrath said they were disappointed with the outcome at Congress.
He also insisted that their motive for submitting the motion was based on fairness and was not meant as an attack on Dublin.
"We weren't trying to move Dublin out for the O'Byrne Cup, the National League, the Leinster championship, All-Ireland semi-finals or finals.
"It was just the one game in the quarter-finals and the reasoning behind that was it was deemed there would be a neutral game, a home game and an away game of the three games in the group.
"But when you've got one county that can declare the ground as a neutral and a home base, then we find that very difficult. Our members were puzzled by that.
"We're quite disappointed that we didn't get more support but we have to accept democracy from the floor."
He added that he had no problem with Dublin taking a defensive stance on the issue, but expressed disappointment with former GAA president Sean Kelly, who labelled the motion as 'negative'.
"If there was any divisiveness, it came from him not from us. We would have had a good enough relationship with him down through the years. We weren't looking for any favours from anybody, we were only looking for one word 'fairness.'
"To say we were 'negative'… we were far from negative and at no stage were we afraid or concerned about playing Dublin in Croke Park. We played them there many's the time and we're the last county to beat them in the championship there."
Kelly responded to McGrath's comments later in the show and reiterated his view, saying he "commented practically on the wording of the motion".
"It was written in a negative sense because it said no county could nominate Croke Park as their home venue. That's a negative [and] that's what I was talking about.
"I think if it was approached in a different light, it might have got a different result."  
Additional reporting by Sinéad Farrell
Do you agree? Let us know in the comments section below.
Subscribe to our new podcast, The42 Rugby Weekly, here: