IT WAS THE day that Donegal took defending to a new level, and nobody had ever seen anything quite like it.
In an All-Ireland semi-final in his first year as manager, a rookie Jim McGuinness decided that he had the perfect gameplan to beat the Dubs.
Pull 14 men behind the ball, leaving Colm McFadden by himself in attack, and turn the 45 yards in front of Donegal's goal into an impenetrable fortress.
It very nearly worked — indeed, it probably would have if McFadden's shot early in the second half had gone the other side of Stephen Cluxton's crossbar.
It was a lesson in how to frustrate and flummox an opponent, and although McGuinness has ruled a repeat when the counties meet again in Croke Park tomorrow, the legacy of that day lives on.
"It was such a unique thing in Gaelic football, the way they played that day," Dubs forward Paddy Andrews explained.
"But we've kind of seen it over the last couple of years and the players nearly all have the experience of having played against that in some shape or form."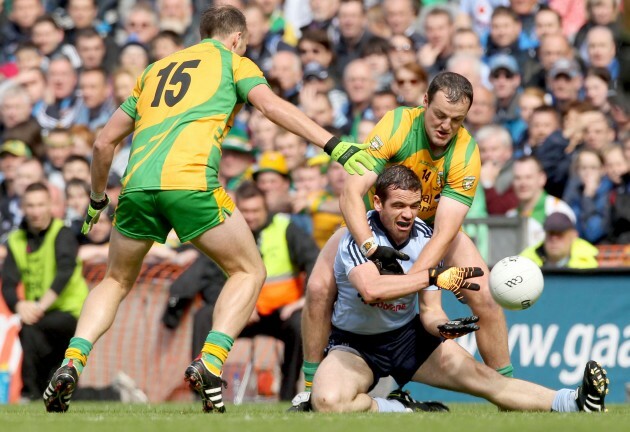 James Crombie Donegal's 2011 tactics limited Dublin to just two points from play, but the Boys in Blue still won 0-8 to 0-6. James Crombie
Even some club sides have started to base their game on that McGuinness blueprint, Andrews continues.
"Ah you would [see it] with some of the games in the Dublin championship, with some of the biggest teams playing the smaller teams.
It seemed to be a lot of the smaller teams felt that was the only way have for them to have success was to play that way.
"I think Donegal have nearly mastered it in all fairness. All credit to them, when Jim McGuinness came in he got a style of play for his team that worked for that group of players and they've had success.
"Why would you change when you've won, what, three Ulsters in four years and they were All-Ireland champions two years ago?
"You would see it a bit in games you'd play and you just try and call on that experience."
Even if Donegal do have an ace or two up their sleeve tomorrow, their suffocating blanket defence no longer has the element of surprise.