Liveblog
Welcome to tonight's coverage of the Division 1 tie between Dublin and Donegal. We're just underway in Croke Park and we'll bring you the team news now.
Dublin 0-0 Donegal 0-0
Michael Murphy is extremely unlucky not to see a red for a high challenge on Davy Byrne, not dissimilar to Richie Hogan's dismissal in last year's All-Ireland final.
Dublin 0-0 Donegal 0-1
Ciaran Thompson gives Donegal the lead from a free.
Flag
GOAL! Hugh McFadden bags an early goal for Donegal against Dublin.
Craig Dias was a late introduction into the Dublin team for James McCarthy, he's wearing nine.
Dublin 0-1 Donegal 1-1
Sean Bugler opens Dublin's account with a well-taken score.
Dublin 0-2 Donegal 1-2
Murphy claims an advanced mark and slots it over. Ciaran Kilkenny does likewise at the far end.
Dublin 0-2 Donegal 1-3
Murphy swings over a free.
Dublin 0-2 Donegal 1-4
A lovely Donegal score arrives after Murphy flicked a kick-out into Ryan McHugh's path. He races through, plays a neat one-two with Jamie Brennan, and has a shot saved by Evan Comerford. Brennan grabs the rebound and fists it over.
Dublin 0-3 Donegal 1-5
Brennan again, this time from the boot, extends the Donegal lead to six.
Dublin 0-4 Donegal 1-6
Michael Langan swings over a good score.
Dublin 0-5 Donegal 1-6
Bugler grabs his second, this one a lovely effort off his left from a tight angle.
Dublin 0-6 Donegal 1-6
Rock curls over a free, his second of the night.
Dublin 0-7 Donegal 1-6
Ciaran Kilkenny sends over a nice point on the run.
HT – Dublin 0-7 Donegal 1-6
Some action from the opening half.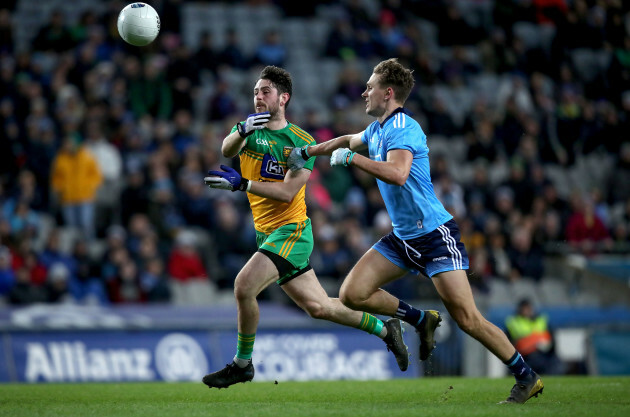 Source: Bryan Keane/INPHO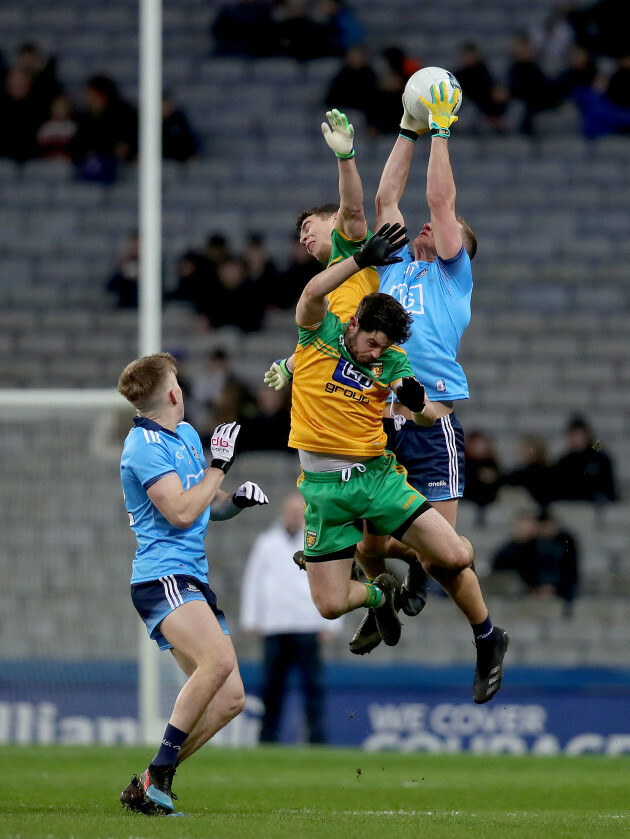 Source: Bryan Keane/INPHO
Dublin 0-7 Donegal 1-8
Peader Mogan bears down on goal and has his weak shot saved by Comerford before he slots over the rebound.
Dublin 0-7 Donegal 1-8
Craig Dias was replaced by Cormac Costello at half-time. That was his first appearance for Dublin since being dropped six months into Jim Gavin's reign as boss. Hugh McFadden added a score for Donegal.
Dublin 0-8 Donegal 1-8
Niall Scully is brought down by McFadden who is booked. Rock applies the finish.
Dublin 0-10 Donegal 1-8
Howard carries the ball forward and pings it between the posts.
Dublin 0-10 Donegal 1-9
Murphy curls over a good score.
Dublin 0-11 Donegal 1-10
Scully flicks it ahead to the run of Rock, who swings it over from the right-hand side. Mogan responds immediately for Donegal.
Dublin 0-11 Donegal 1-11
Murphy scores after getting a nice pass from Paddy McBrearty, who has just entered the fray.
Dublin 0-13 Donegal 1-11
Two excellent scores in the space of two minutes by Fenton. Dublin are back within one.
SAVE! Comerford makes a super stop to deny McBrearty a goal.
Dublin 0-14 Donegal 1-11
Brilliant run by Basquel as he glides past two defenders and slots over to level the game up.
GOAL! Paul Mannion flicks into the Donegal net to give Dublin the lead late on.
Dublin 1-14 Donegal 1-12
Mannion's goal arrived from Brian Howard's attempt from long range which dropped short. The Kilmacud Crokes man benefited from a rare mistake by Shaun Patton, who fumbled the ball and allowed Mannion to pounce. Murphy is fouled and slots over the free from the next play.
Dublin 1-15 Donegal 1-13
Davy Byrne breaks forward for his second injury-time score in-a-row at Croke Park. At the far end McFadden pulls back a score.
RED CARDS! Michael Murphy and John Small are both sent off on second yellow cards.
FT – Dublin 1-15 Donegal 1-14
Contribute to this story: