THERE'S A PAIR of heavyweight showdowns in Croke Park next Saturday. Can Mayo and Donegal take down provincial champions Tyrone and Dublin?

The42 columnist Rob Carroll takes a closer look at last Saturday's action – Mayo's win over Westmeath and Donegal's victory against Cork – to reflect on what areas they need to improve on and where they will look to exploit?
**************************
THE MAYO GAME felt over on 32 minutes. They led by 12 points and Westmeath had managed just one point from play. It took until the 43rd minute for Mayo to register their next point.
Mayo won't get away with simply switching off for such a long period of the game against Tyrone but when their running game was in full flow, they will cause Tyrone some issues.
Turnovers
Turnovers are going to be key in this game. Mayo will need them to break down the defensive Tyrone system but equally if they cough up many turnovers, they will be severely punished.
Kevin McLoughlin's role has been much talked about this year, but there were signs on Saturday that he has more license to get forward than in previous rounds. From a short kickout he picks the ball up deep in his own '45.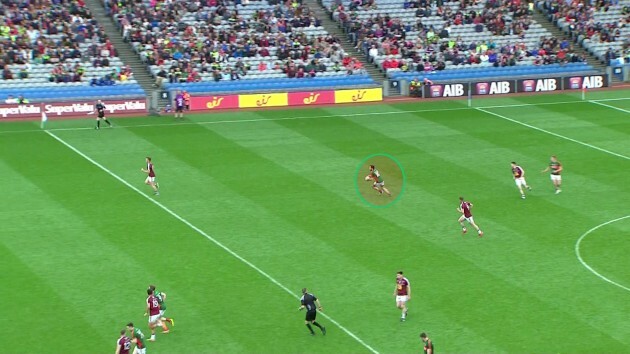 Granted there is very little pressure here but the intent from McLoughlin is clear. Donal Vaughan and McLoughlin are bursting forward, but Keith Higgins just has a little look over his shoulder and checks his run as he lets the other two go past him.
McLoughlin finds himself in a lot of space and if O'Connor could have shaken off the tackle, it looks like a certain goal. As it turned out, O'Connor nearly created his own goal chance.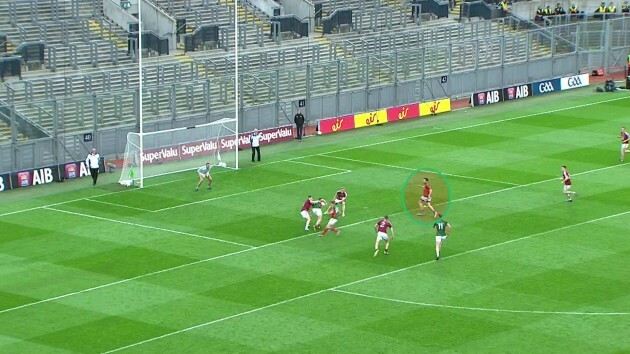 Tyrone won't be this porous in defence but it will be these sorts of runs from McLoughlin, Keegan and Boyle coming from deep, that Mayo will need to break the blanket.
There was another great example a few moments later. You can see below that McLoughlin again starts from deep off their own kickout.
As the ball is worked through the hands, McLoughlin spots the gap in midfield and just goes for it.
What I also like here is that while Donal Vaughan seems unaware of the McLoughlin run, he is in the middle of Westmeath players just getting in the way. His marker – Westmeath number 11 Paul Sharry – is watching him, oblivious to the space behind him and Vaughan just gently runs across the path of another player.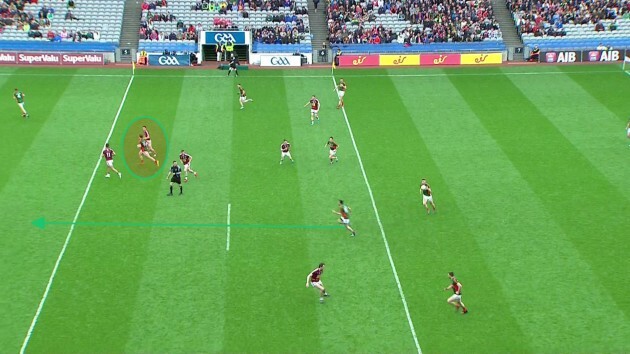 All the while leaving a giant hole down the centre of the pitch. McLoughlin wins a free and it settles Mayo a little.
Indiscipline in the Tackle
One aspect of play the Mayo management team should be concerned about is the number of scoreable frees they conceded.
Westmeath's first five shots were all from frees and in total Westmeath attempted 11 shots from placed ball scoring seven points.
Here Mayo look defensively sound. The players will know they have a sweeper inside and there are plenty of bodies back.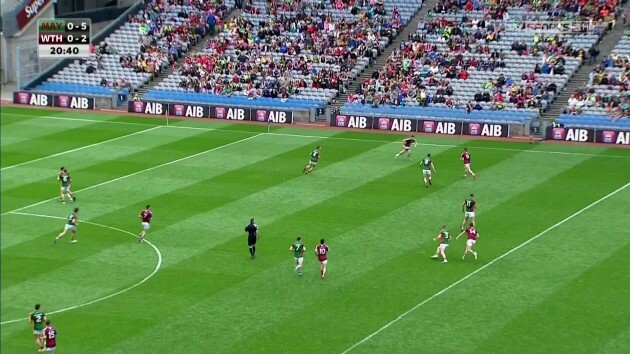 Keith Higgins get beaten with a lovely sidestep but proceeds to foul. As we can see from the image below, he might have even been lucky to avoid a black card. There is no real need to commit a foul here.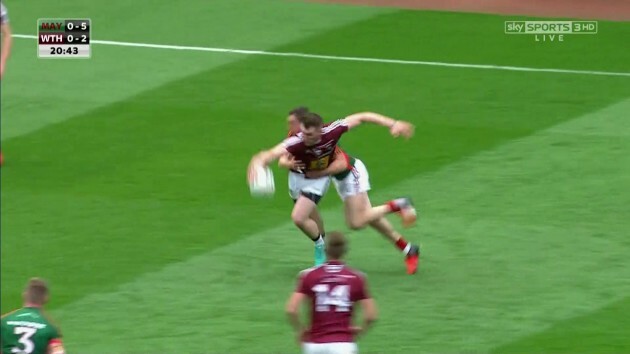 Again later in the game, we can see that Mayo have bodies back and this is by no means a fast counter attack by Westmeath.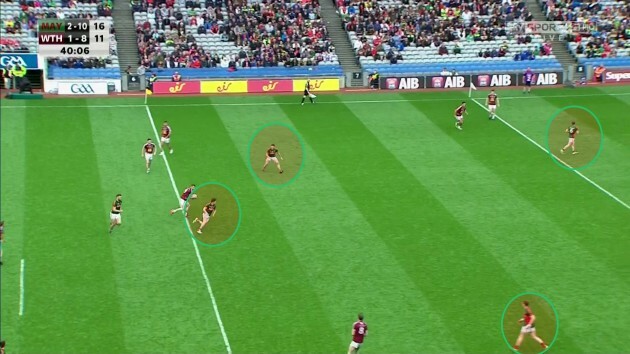 As the ball is played in McLoughlin needs to just hold up the play and allow the Mayo defenders get back. Instead they give away another very kickable free. They will need to make scoring as difficult as possible on Saturday and coughing up 11 scoreable frees won't be good enough.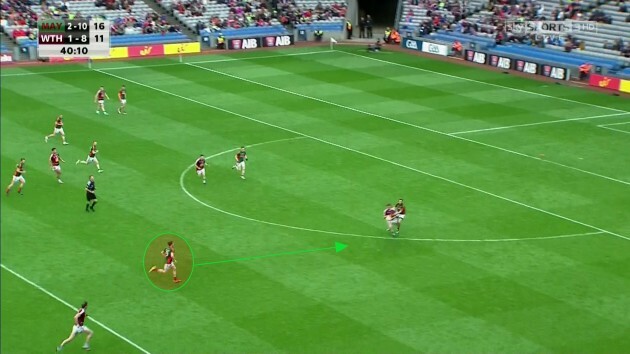 Andy Moran
Moran was sublime in the first-half at the weekend. His movement and ability to arrive at the right time in the right place was a joy to watch.
His performance will give Tyrone plenty to think about in the lead up to this game. Early on we can see how deep he likes to play, almost on the end line.
Colm Cavanagh plays very deep as a sweeper. Against Derry he sat right back in on the full forwards and after Moran's display you could see him doing something similar on Saturday.
Moran is always on the move and will ask serious questions of whomever picks him up but more importantly of Cavanagh. If he does play deep, Mayo might be able to create space where the Westmeath full back is above.
Tyrone will be more compact but against Donegal, where they played nobody inside, Cavanagh could push up a bit. Moran probably removes that opportunity for him now.
Even if Moran doesn't get on a lot of ball, keep an eye on how much space he can create for others. Likewise, with Regan and O'Connor being so wide here, they are trying to keep the middle as free as possible.
Keeping that Tyrone '45 as big as possible is something they must do on Saturday. Moran also won't be content to just sit inside. He showed his experience and skill by being able to drift out of full forward but re-join the attack at just the right moment.
Here he is out around the '45 but take a quick look to see what's inside.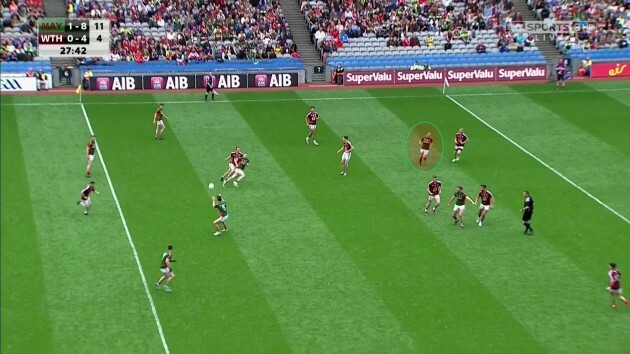 The play develops and Mayo look on for an easy score.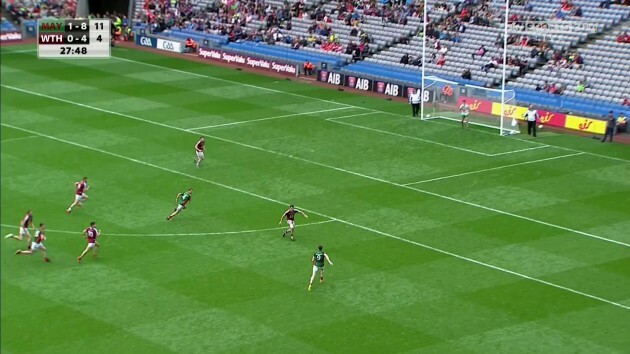 However when the move breaks down, it's Moran who arrives right on cue to kick the score.
Last point on the Mayo performance. I think they will and should force Tyrone to go long on the kickouts. They have plenty of big men around the middle and enjoyed some great success forcing Westmeath long.
Donegal v Cork
Donegal progressed well after a very shaky start. It was a strange sight to see Cork players ghosting through a missing Donegal defence at times.
Rightly or wrongly this team is credited with the ultra-defensive systems we see in place today, so the ease with which Cork kicked some early scores was strange.
They improved a lot in the second-half but a similar display on Saturday and you feel the game could be over.
We can see here that as Tom Clancy finds Donncha O'Connor with a nice kick pass, it's Ryan McHugh that is the man closest to him.
But moments later he is the wrong side.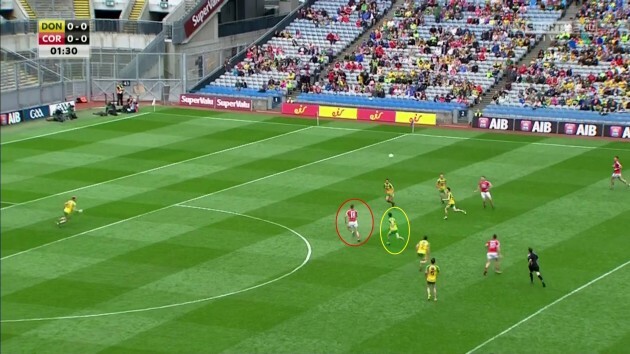 Just a minute later McNiallais offers a very poor attempt at a tackle.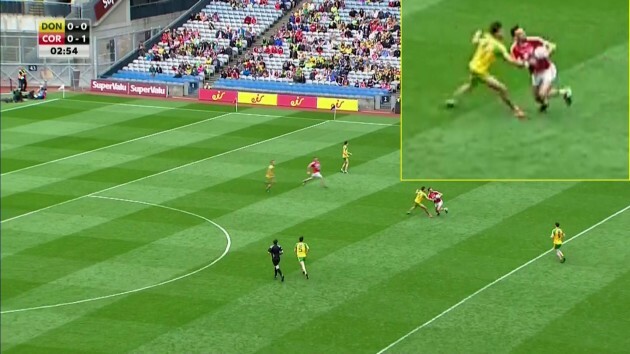 Donegal have plenty of cover inside but the intensity just wasn't there in the early part of the game. In the seventh minute Cork created a great goal chance that stemmed from a lazy tackle in midfield.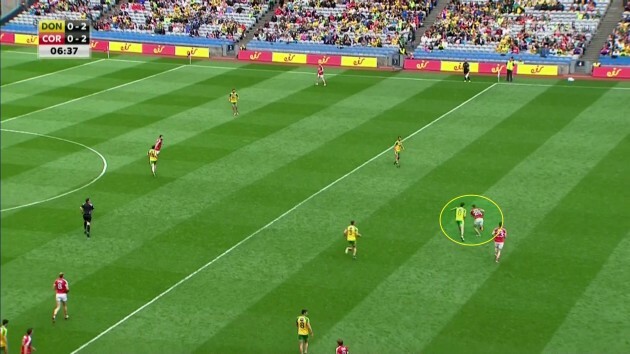 McNiallais again offers little resistance to Powter, whose pace left a few Donegal players in his wake as he bore down on the Donegal goal.
Anthony Thompson does a fantastic job at sweeper to prevent the goal. Thompson has so many decisions to make in the next couple of seconds and gets every one right. His first concern is the man behind him and even with a player coming straight at him, he has the presence to take a quick look behind him.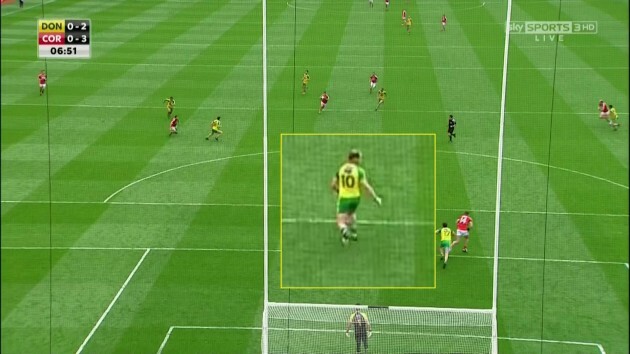 Satisfied that threat is taken care of, he now has another decision to make. The player on his left means he has a decision to make.
Often we see inexperienced sweepers here panic and do one of two things. They push up on the ball and leave all that space behind them or they drop off completely and make the opportunity easier.
Thompson does neither. He holds his ground and never commits either way. This limits the passing option for Powter and means he can only go himself.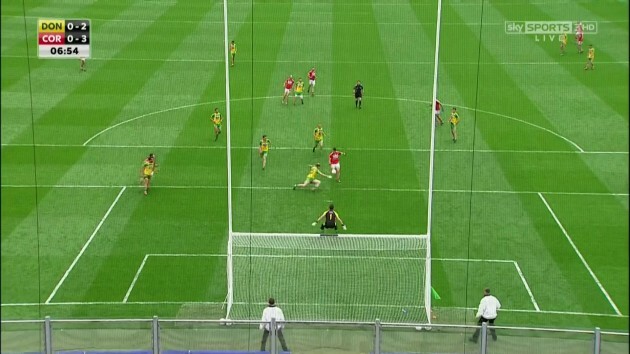 In keeping his options open, he only dropped from the '21 to '13.o Once he knew Powter could only go himself, he went to tackle him, making the opportunity a lot harder than first seemed. It was a really excellent bit of sweeper play.
Donegal Kickouts
There will be much talk about what Donegal should do to the Dublin kickouts, but I actually believe this game could be decided by the Donegal kickouts.
They went long on just six kickouts out of their 30 kickouts. Dublin won't allow that to happen and will force Donegal to go long more often than not.
How much possession Donegal can gather from those kickouts will be vital to how they perform on the day. We saw in the Tipperary game that as dangerous as Galway looked early on, Tipperary starved them of possession of their own kickouts. Dublin could do the same to Donegal this weekend.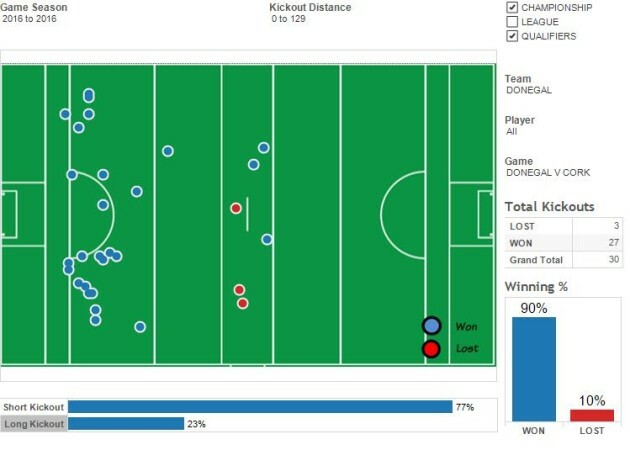 Paddy McBrearty
Paddy McBrearty will playing a very similar role as Andy Moran and will offer the same sort of questions as I mentioned above for Moran.
His performance will be as much to force Cian O'Sullivan to think and move out of position, as it will be to get on the ball and score.
His scoring will of course be needed but if he can occupy O'Sullivan and keep him a bit deeper than he would like to play, he will allow McHugh and MacNiallais more time and space out the field.
We have two intriguing battles to come on Saturday. A full house and the pressure of the quarter-finals may open these games up as they progress, but I expect them to start as cagey tactical affairs.
**********************
Pics – (Screengrabs): @SkySportsGAA
The42 is on Snapchat! Tap the button below on your phone to add!