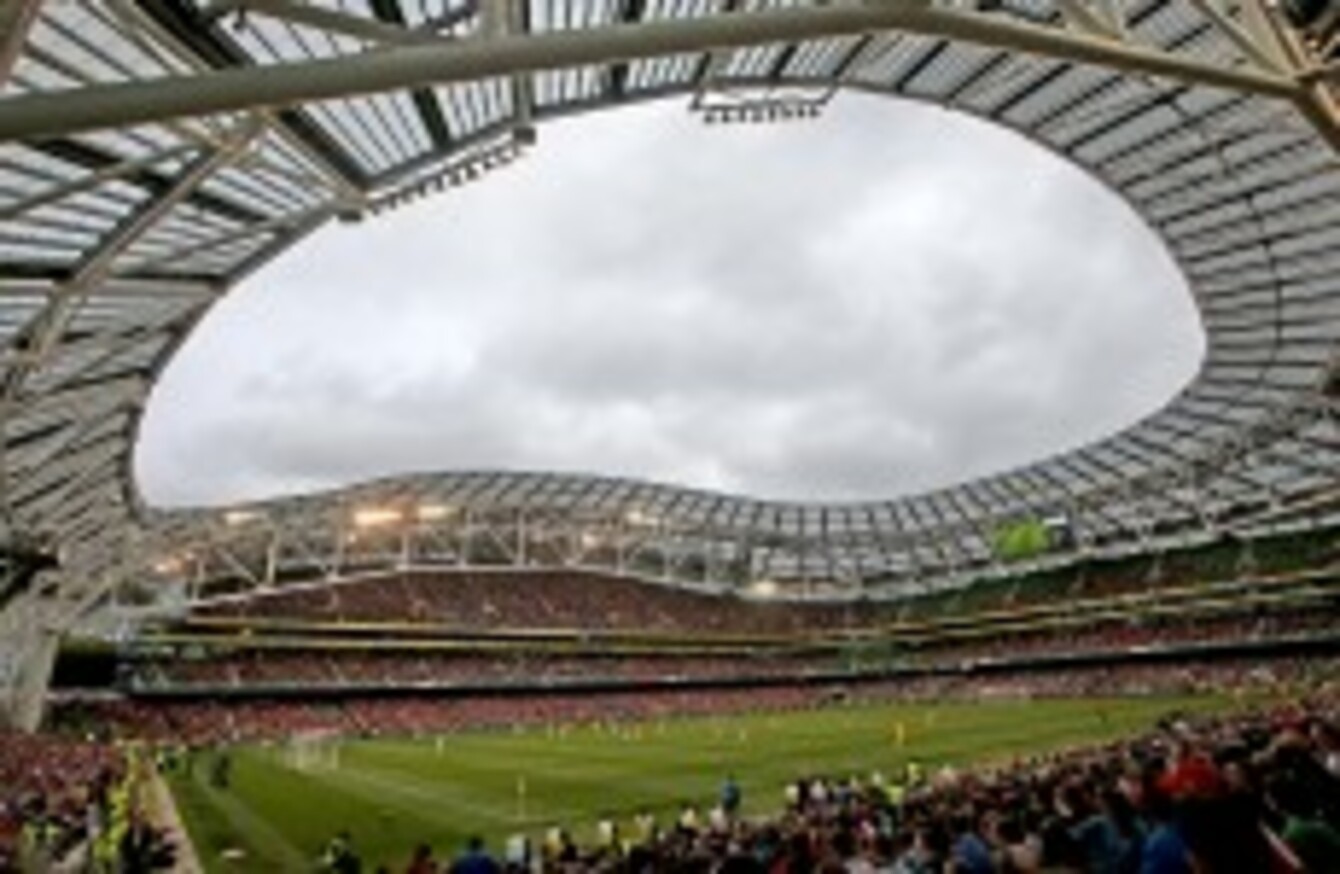 Image: James Crombie/INPHO
Image: James Crombie/INPHO
DUBLIN HAS BEEN announced as one of 13 host cities for the 2020 European Championship.
The capital will be given four games – three group fixtures and one round of 16 clash.
The final and semi-finals of the tournament will be played at London's Wembley Stadium after it beat off competition from Munich's Allianz Arena. The Bavarian venue must make do with three group games and a quarter-final instead.
Baku, capital of Azerbaijan, will also host a last-eight game as will Brussels, Copenhagen and Brussels.

Source: Football Association of Ireland/Vimeo
Having hosted the 2011 Europa League final at the Aviva Stadium, Dublin does have a positive and recent working relationship with UEFA and are set to use that event as a template with which to plan for Euro 2020, especially with regards to national and local Government support.
There was expected delight within the FAI with the organisation's Chief Executive John Delaney commenting:
"I would like to thank Michel Platini and the UEFA Executive Committee for their decision to award this honour to Ireland against strong competition from all over Europe. In 2020 the Association will be entering its 100th year and this once off opportunity to host part of the European finals at our home stadium will provide a major boost for Irish football and the country as a whole. We could not have done it on our own and I thank our partners, Dublin City Council, the Government and all of the organisations who put in tremendous work to win it for Ireland. In particular I would like to acknowledge the work of Declan Conroy who successfully co-ordinated all of the parties involved to deliver a superb technical bid as well as the Irish supporters whose exemplary behaviour is acknowledged around Europe as one of our biggest assets."
Our business, transport and tourism infrastructure along with a world class stadium played a major part in delivering the bid for Ireland along with full political support and everyone involved has worked superbly as a team to bring this event to Dublin. Together, we now look forward to playing our part in hosting what promises to be a ground-breaking, European wide celebration of football."
The idea of having the Euro 2020 tournament spread across the entire continent as opposed to one or two countries is the brainchild of UEFA president Michel Platini in an effort to mark the 60th anniversary of the competition.
Should they qualify, the Republic of Ireland will play at least two of their group games in Dublin.
With 13 cities successfully submitting bids, it means six were left disappointed. Those included Cardiff, Sofia, Minsk, Jerusalem, Skopje and Stockholm.