IT MAY ONLY be March and clearly it's early in season but there will still be some concern for Mayo in this performance.
Tommy Dickson / INPHO Michael Darragh MacAuley was one of Dublin's stars on Saturday night. Tommy Dickson / INPHO / INPHO
Obviously Mayo wanted to win, but if Mayo were to lose maybe it was better losing and not performing, than having a real go and coming up short again.
The first half was a shambles from a Mayo perspective. Mayo will be telling themselves they just didn't show up and it's not a reflection on how they perform.
As one of the best teams of this decade that is probably the case, but I still think you want more form, from a true All-Ireland contender. You can excuse the performance if the execution isn't quite what it should be, but too often there were complete system failures and poor decision making.
Dublin's second point came from a Mayo kickout. Firstly this is a Mayo kickout, so they should be controlling the game but the ball gets kicked and Mayo are completely outnumbered.
The camera angle doesn't allow us to see if this is what Clarke was kicking to on first sight or just a lack of movement from the Mayo players to get to the pitch of the ball, but it doesn't look good.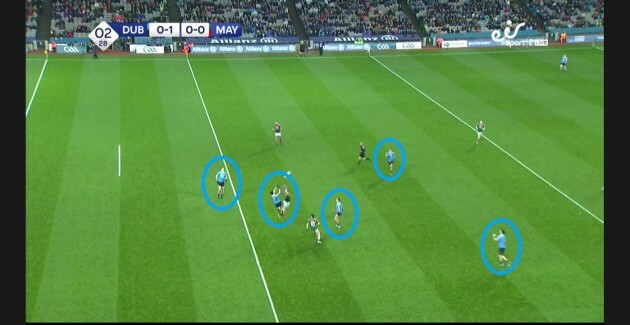 Dublin win possession and start attacking. Dublin almost religiously keep the D free.
I can imagine in training this is almost set up as an exclusion zone, sacred ground, where no players dares to go.
There are two scenarios where Dublin will enter that space. Firstly they will send a man through that space if they want to take a defender out of there. Secondly if they are going to shoot.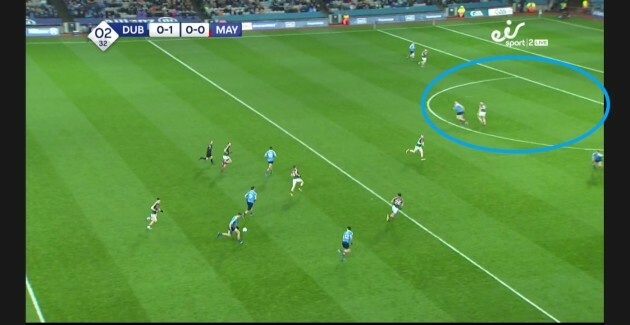 As soon as Fenton starts moving with the ball Dublin players all start moving away from the D.
On the face of it Mayo should be okay defensively here. Colm Boyle has stayed as the sweeper but the problem is that almost everyone gets attracted to the ball. Tom Parsons is following Dublin's Shane B. Carthy but between Boyle, Gibbons and Coen, nobody even looks at Michael Darragh MacAuley.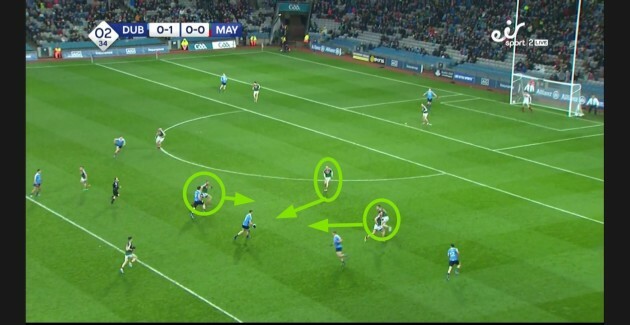 This is just too easy. Dublin are clever at keeping their shape. Conor McHugh is wide and O'Gara keeps Keegan completely out of the action, but this isn't new from Dublin.
They are the best team in the country at keeping their width. Boyle's job in this case is to make a decision but also to communicate with those around him.
MacAuley finds himself on the 21-yard-line with a relatively easy chance, although he does lay it off for the score. This move involved two hand passes. That's it.
Fenton picked up the break ran straight and laid the ball to MacAuley who laid it off to McHugh. It was just all too easy and it really was a sign of things to come for the rest of the night.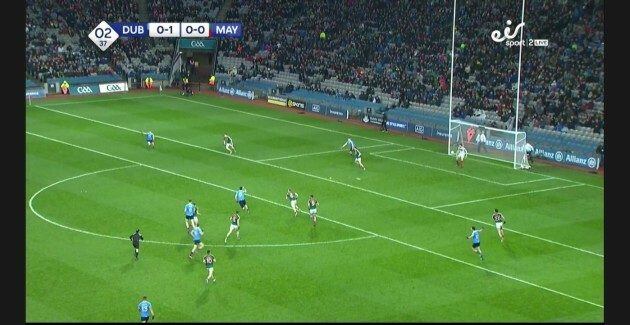 Perhaps my favourite Dublin attack of the night came in the 17th minute. As we can see below Mayo are really well set up. A ring of defenders are protecting the scoring zone and there are two free men inside.
Dublin want to set this move up so that they clear the D. At the moment Mayo have three men right at the heart of the defence. Dublin need to move them.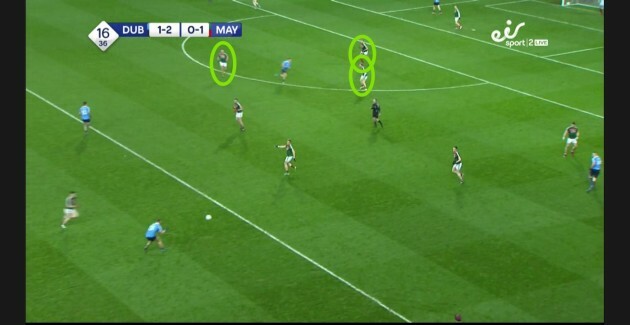 The first man cleared is Colm Boyle. The Dublin player, Shane Carthy, actually runs straight into him. This isn't really a screen as there is no immediate scoring opportunity.
It would have been easy to sidestep Boyle but Carthy wants him to know he is there (not in an aggressive way).
It's almost like a call to be marked, he wants Boyle to mark him as he heads to the corner and it works.
As the ball moves across the pitch, Tom Parsons moves out towards the ball carrier which is fine but Mayo have committed four v three on the ball and someone needs to take a look behind.
There is one man left to move and Niall Scully plays a big part. Without ever being interested in the ball he just makes a direct run right across Jason Gibbon's eye line. This run has an upside either way.
If Gibbons follows – which he does in this case – it leaves a giant hole in the middle of defence and if he doesn't, Scully will likely find himself free on the 21.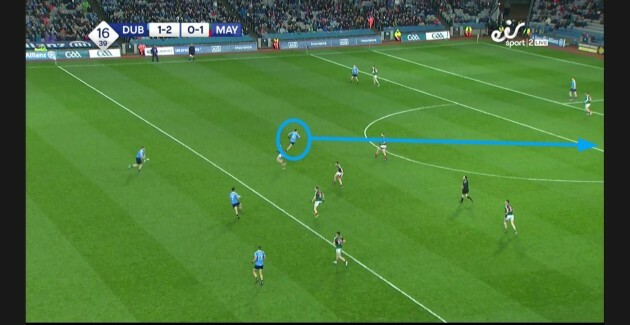 The play shifts to the far wing and Fenton comes on the burst and gets all the plaudits for a penetrating run, but the reality is that all that space has been cleared for him by some really clever movement.
Fenton finds himself in an empty D with an easy point chance, but the goal opens up.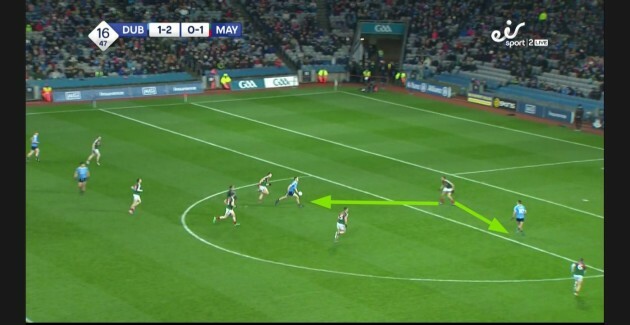 Jason Gibbons is now caught between the devil and the deep blue sea and Scully is free. However remember back to the start of the move when Colm Boyle was standing in the D?
Shane Carthy did an excellent job of keeping him busy away from goal. Both Carthy and Scully have contributed so much to this move. In Carthy's case he never touches the ball, even his GPS figures won't stand out for this play.
But he has taken a key player in taking Mayo completely out the game. This sort of movement and cleverness is something we don't see consistently from any other team.
Mayo attacking contrast
Let's contrast the Dublin attacking shape with Mayo's. Approaching half-time Mayo turn the ball over at the top of their own D and launch a much needed counter-attack.
There are a lot of Dublin players in attack here. There are nine in the camera shot and at least one other Dublin player in at full-forward.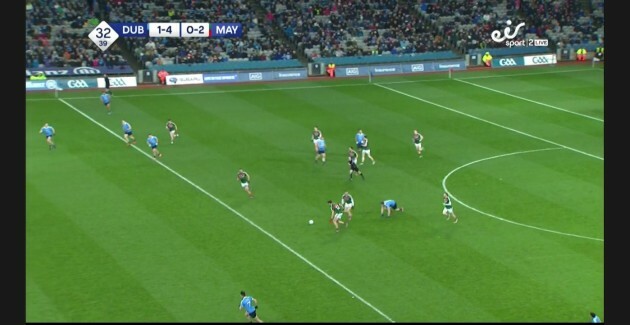 This is a great attacking platform for Mayo. It's the type of scenario where almost every team is vulnerable and can be exploited.
As Mayo players plough forward they all run straight down the throat of Dublin. You can see how narrow the attack is through midfield.
As they transition through midfield and into attack, there is never a hint of width in the Mayo attack. They all get in each other's way and make it very easy to defend against.
If you look at the Dublin sweeper in this case, he can be fully focused on what is in front of him. No Mayo player is asking him a question or forcing him to move. Mayo have attacked down the middle and offered little else.
The contrast is that when Dublin launch a counter-attack a minute later it looks completely different. Fenton releases MacAuley with a kick pass. Despite Kilkenny being central, he does everything he can to get wide and outside MacAuley.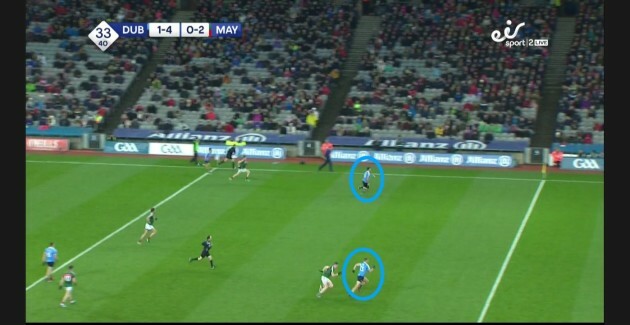 When Kilkenny picks the ball up, Conor McHugh is pushing to get wide as well and in the process take Durcan with him.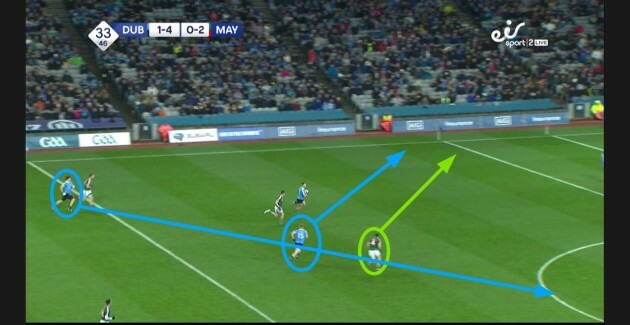 Dublin are at all times trying to build width into their attacks, so they can penetrate the middle.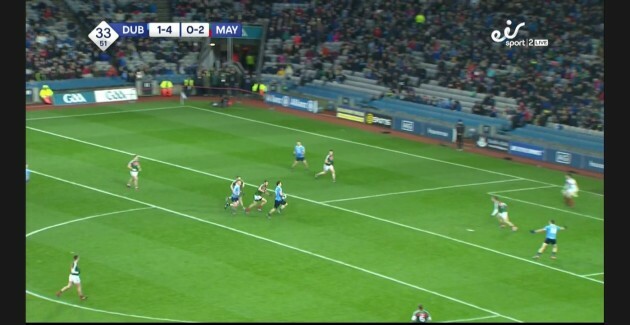 MacAuley forces a great save from David Clarke. Dublin get the ball wide so they can go down the middle. Mayo just tried to go straight down the middle and it was all too easy for Dublin.
It was an off day for Mayo. They are a much better side than this and are odds on to be in an All-Ireland semi-final come August.
But Dublin were missing a lot of their top line players and still looked as efficient as ever. Against Tyrone, much of Dublin's play just lacked the precision execution of championship football but this performance offered a lot more.
There won't be much Mayo can take from this game. A win in their next game against Cavan will almost certainly secure their Division 1 status and they can confine this game to cutting room floor.
The42 is on Instagram! Tap the button below on your phone to follow us!