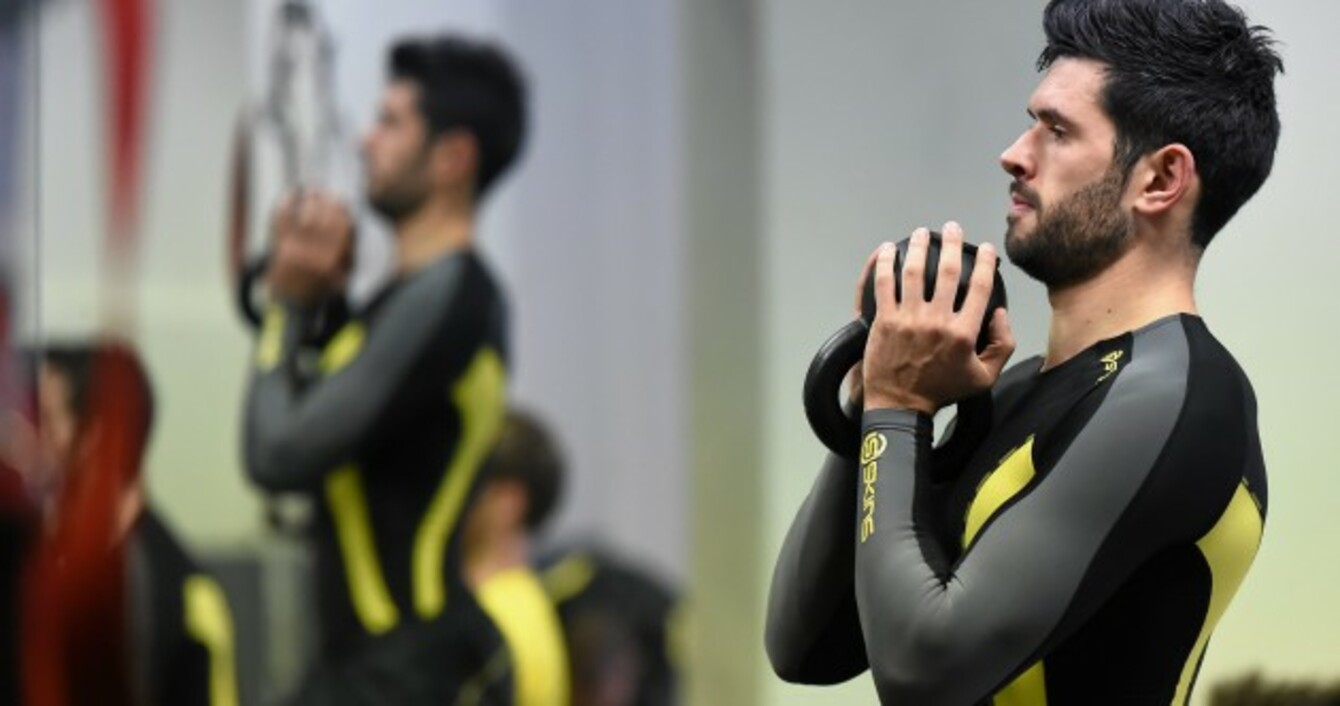 O'Sullivan enjoys going the extra yards to improve his performance.
Image: SPORTSFILE
O'Sullivan enjoys going the extra yards to improve his performance.
Image: SPORTSFILE
AT THE RECENT GAA Coaching Conference in Croke Park, Dr Sharon Madigan delivered a hugely insightful and enlightening seminar on nutrition.
But before she started her talk, Madigan, Head of Performance Nutrition with the Institute of Irish Sport, wanted to gauge the audience's understanding of the topic.
To set the ball rolling she opened the floor and asked attendees, many of whom were underage coaches from all parts of the country, a simple question.
What is the most common nutrition myth you've come across? After a brief silence, one middle-aged man raised his hand. "I'm confused," was his answer.
Laughter engulfed the room yet his response represented the general consensus. There was universal agreement that confusion, ultimately, was the prevailing feeling towards nutrition, food and the new prominence of gym work.
Dr Madigan could have spent the entire day at the top of the room fielding questions and queries from mystified parents, coaches and players.
Even at inter-county level, players are still learning – but very often the difference is that they have access to professionals for more than 45 minutes in a conference hall.
They can pick the brains of nutritionists and are provided with the tools and resources required to follow a structured plan which is designed to maximise their potential and increase their level of performance.
"It has changed quite a lot," Dublin's Cian O'Sullivan says of the emphasis on strength and conditioning and nutrition. "It's all about getting that extra one or two percent. Teams are always looking for the edge. Anything that can help, I suppose teams are going to seize that.
"Daniel Davey, who has been involved with Dublin, has been doing a great job on the nutritional side. The focus has always been handing it over to the players and just giving us the tools to eat as best we can and prepare meals as best we can.
"When you are eating healthily it does take a lot of preparation. You even see it around town at the moment. There are a lot of healthy eating options popping up all over the place.
"It's just the shift in perspective people have and eating habits. It is becoming more accessible. You just have to be conscious of what you are eating – going for the salads as opposed to a bowl of pasta. It's an extra little responsibility."
And GAA players require that additional stringency. They, unlike most other elite level sport stars, must strike a balance between their training, recovery time and professional job.
As a tax consultant with PricewaterhouseCoopers, O'Sullivan knows that better than most.
He's been given the morning off to attend the launch of SKINS' new launch, for whom he is an ambassador – but time is tight and once his obligations are complete, the All-Ireland winner is back in the day job mould.
"It can be difficult at times, definitely," he continues. "But at the same time it is achievable. There are some great examples out there. Caroline O'Hanlon is a doctor up in Armagh, she is the Armagh ladies' football captain and she is an international netball player for Ireland.
"She does all those three things. So if you want to, you can do it. It just means you have to be really well organised and you have to have a lot of discipline.
"The aspect of your life that does take a back seat is probably your social life, but then that is something you can kind of make up for in the off-season. You can catch up with your friends and family in that time. It's difficult but it's doable."
It's still early in the season and O'Sullivan is working his way back to match sharpness after taking six weeks off over the winter period – yet it's clear he maintained some sort of training schedule during his time off.
We're sitting in the Dublin Sports Clinic, where O'Sullivan has just taken part in a group workout session with a handful of journalists.
The 27-year-old is a natural athlete and played a number of sports to a high level as well as dedicating a lot of time to cross-country athletics during his teenage years.
But it was the communal aspect of GAA which swayed him towards football.
"Cross-country and athletics, it's individual sport," he explains. "When you win you only really have yourself to celebrate with. I just really like the aspect of playing in a team.
"When you are young you go back to the club and all the dads would go back and have a couple of pints and all the kids would have a packet of crisps and a bottle of Coke.
"You form great bonds and friendships through that. I have a soft spot for my younger days with the GAA. I was playing a bit of soccer as well, but GAA was always number one for me."
The Kilmacud Crokes club man admits a lot has changed since he first entered the Dublin set-up. Counties have strength and conditioning coaches on board to ensure their players are in peak physical condition for the demands of the modern game.
"Back then when I was young the strength and conditioning side of things hadn't taken off," he says, while sipping out of a prominent sports nutrition's shaker. "The trick in football is to find that balance. You can do all the strength, conditioning and gym work you want, but that might be to the detriment of your basic skills.
"You still need to get sufficient pitch-time to work on your aerobic fitness and also to work on your skills such as kicking and handling. So it's about striking a balance between the amount of strength and conditioning you do, and the amount of actual football you do.
"You see with the elder guys on the team, who might have seven or eight training years under their belt in the gym, they know what they need to work on in the gym themselves.
"The new guys, the under-21s coming in, they probably need a little more hand-holding. Although having said that, over the last number of years structures are being put in place for the younger teams to start strength and conditioning from a younger age.
"When I was back at under-16, I didn't see the inside of a gym ever. So that's how it's all shifting at the moment."
Developing strength and power is the primary focus, as is preventing injury. O'Sullivan spent considerable time in the gym last year as he battled with a troublesome hamstring injury. Nothing is left to chance.
"Some guys need to focus on building a bit more mass. It's all individual specific. A guy might need to put on an extra stone or two and if he doesn't do that, he probably will find himself falling behind.
"The only way he is going to do that is through strength and conditioning. Another guy might be plagued with injuries and might need to work on his functionality a lot. If he doesn't do that, he'll get left behind.
"Then there are other guys who are just freaks and who are born with six-packs, are really strong and fast and never get injured. They don't have to do as much as everyone else. It all depends on the player really.
"Personally I love all the pitch-based stuff. All the kicking drills are nice, when you are doing those nice sexy cross-field balls. That doesn't happen too often.
"In the gym there would be some that I wouldn't be too fond of – single leg squats with medicine balls. They can really take it out of you. But they are very important at the same time to build stability up through your ankles and hips."
"I do enjoy the extra training but I like the times when it's very much no football, just relax and have a life."
The42 is on Snapchat! Tap the button below on your phone to add!