CIAN O'CALLAGHAN'S red card in the second half put the final nail in Dublin's coffin yesterday but to be realistic about it, Galway were in complete control of this game all the way through.
The Leinster senior hurling quarter-final offered further confirmation of Galway's All-Ireland credentials to some extent and they gave a very solid display, against what I would have to say was a very poor Dublin outing.
One of the fundamental differences between the two teams was the performances of the respective forward lines.
Galway's forward play, in contrast to Dublin's, was very impressive.
Galway's good forward play
One of the big reasons why Galway are All-Ireland contenders, and favourites in many people's eyes, is that they have real variation in their attacking play.
They can go long and direct when they need to, but they're also well capable of playing it short and dragging opposition defences out of shape and position with clever movement.
Their spread of scores is most impressive, and has been for the past while.
Yesterday, they dominated Dublin's defenders in one-on-one situations.
In the first example below, it's an early score for Conor Whelan, who's up against Dublin's Oisin Gough when the ball is delivered.
Whelan has too much for Gough, who slips initially as both men contest the ball: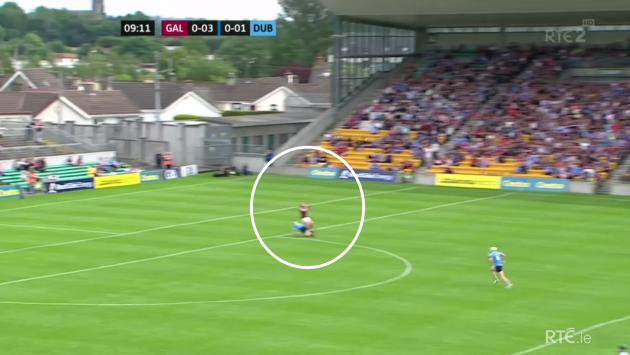 Whelan still has work to do as he goes to gather the ball, close to the endline:
But he's still allowed to wheel back inside, make an angle for himself and below, he's preparing to pop an easy point over the bar: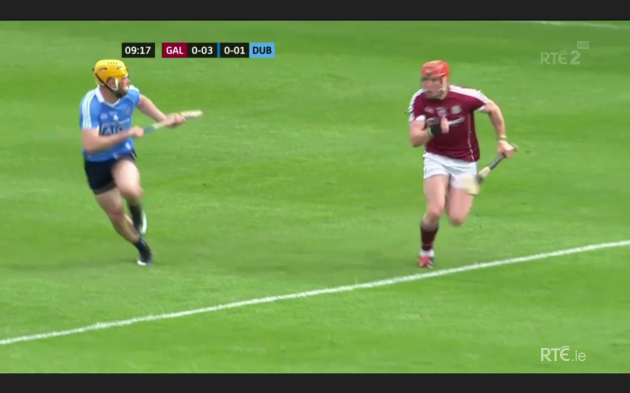 In the 21st minute, Conor Cooney won a 50-50 ball over Eoghan O'Donnell, who was probably Dublin's best back on the day, and shot over a point from the right touchline.
Every single one of the Galway forwards offered a threat but the main point is that many of the balls going in were in one-on-one scenarios, and Galway were winning them.
They were in charge of the contact areas and that allowed them to profit.
This wasn't the only way that Galway were making hay, however.
They were also capable of moving Dublin's players all over the field, allowing them to pick out their own men very easily then.
In the next three pictures, you can see how simple it was for Galway to create a score.
First of all, David Burke is stooping to clip a sideline ball down the right touchline: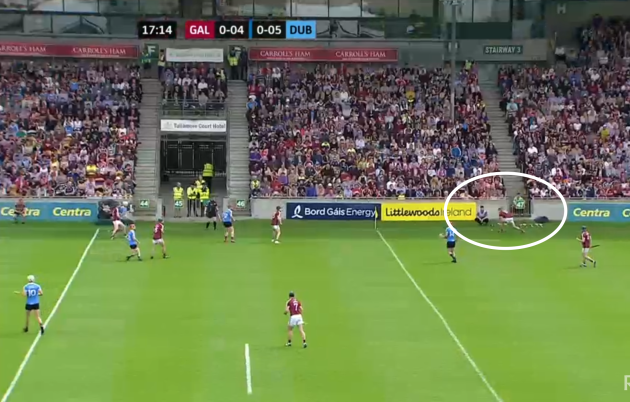 Joe Canning (circled) is in acres of space as he goes to collect it: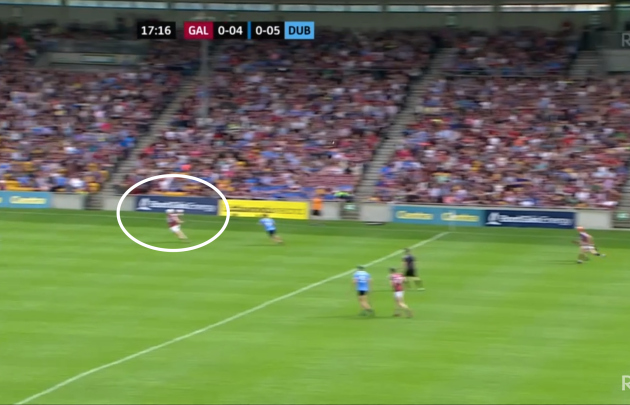 Despite mis-controlling the ball initially, Joe still has time to pick it up, turn back inside and deliver a pass inside to Cathal Mannion, the eventual scorer (circled):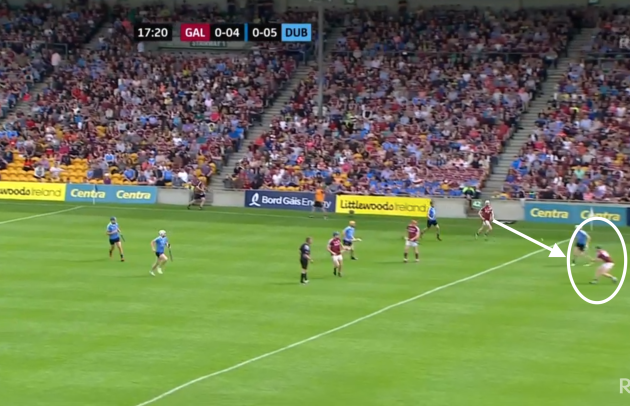 Have a look at this next example, in the 20th minute, as Conor Whelan plays a crossfield pass to Joe Canning (circled):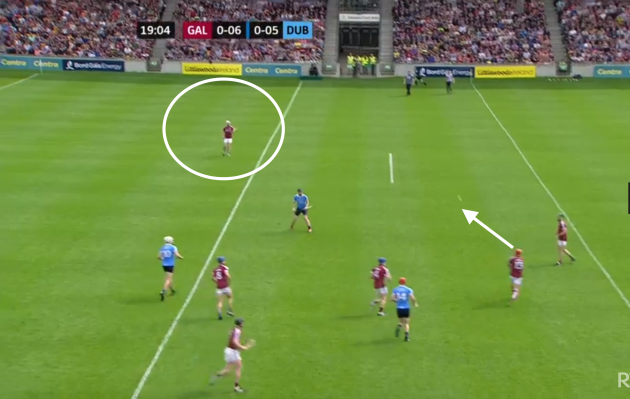 It results in a simple point for Galway, and this was happening all day long.
You simply can't give players of the calibre of Whelan and Canning so much space in which to operate, because they will hurt you.
In the next example, I've frozen the play at 18 minutes and 59 seconds, and I'll explain why.
Cian O'Callaghan is taking a line-ball but if Dublin don't win possession, the arrows will give you some kind of indication of what space is available for Galway to work in.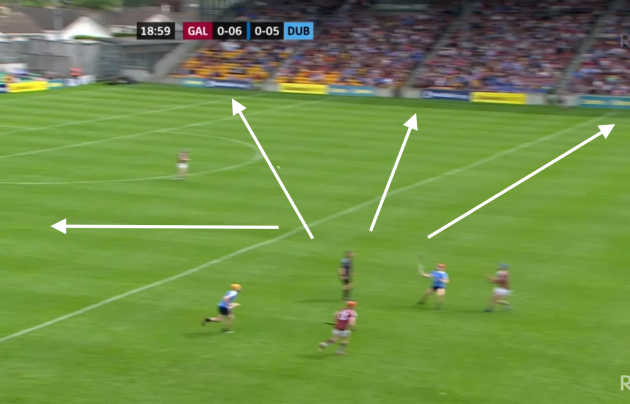 Dublin, defensively, are all over the place and as fate would have it, it leads to the score I've discussed above, when Whelan has time and space to pick out Canning for the point.
Dublin's poor forward play
If you're an underdog against an All-Ireland contender, you have to take your chances if you have any hope of staying in the game.
After 13 minutes, Dublin had only one point on the board and that came from Chris Crummey, a half-back.
What was disappointing from Dublin's point of view is that they didn't offer enough of an attacking threat.
Even when they did create chances, they weren't capable of executing them.
Ben Quinn was threatening all day for Dublin and hit a lovely goal before half-time but if he was capable of betting overall finishing, he would have caused far more difficultly for Galway.
In the 11th minute, Quinn got onto a ball and accelerated through. But with no support players around him, he turned back inside and prepared to get off a shot which drifted harmlessly wide.
The pictures below show, first of all, the promising position that Quinn found himself in:
Next, we see Quinn, just four seconds later and preparing to shoot wide, off his left hand side: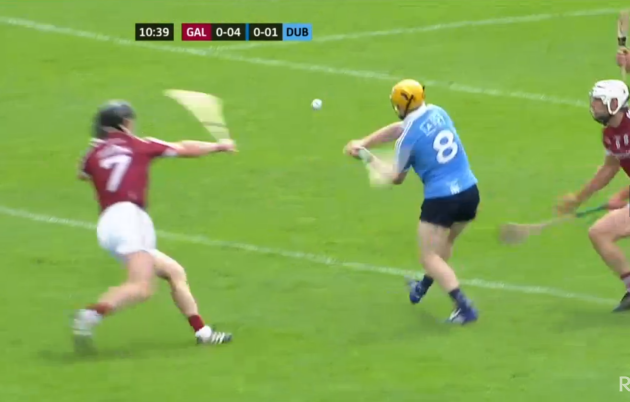 Another example I'd like to highlight is Liam Rushe in the next picture, in a good position to deliver a diagonal, crossfield ball: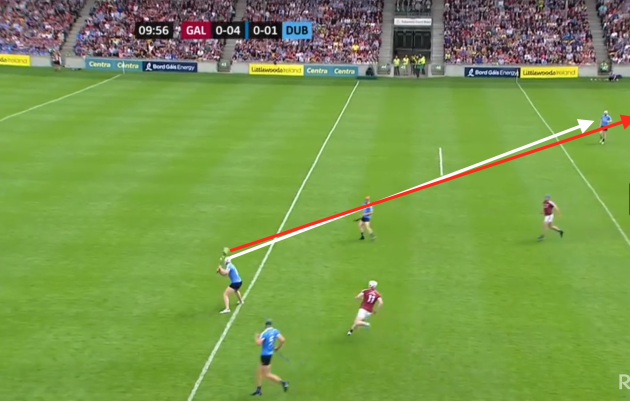 The white arrow in the picture illustrates a clear option that Rushe has to pick out what, for him, should be a routine ball.
The red arrow, however, is where the ball goes. It was overcooked and allowed Daithi Burke to easily see off Donal Burke and shepherd the ball safely out over the touchline.
Daithi against Donal in the battle of the Burkes, incidentally, was a mismatch to a large degree.
Donal's not long out of minor and Daithi's one of the best inside backs in the country.
Even though Donal did get away for one excellent point from play, Daithi was in complete control of that match-up.
Another couple of examples in the first half illustrated how Dublin were struggling to convert. In the 33rd minute, Niall McMorrow hit a wide under no pressure and here, in the 34th minute, Eamonn Dillon finds himself in a very promising position: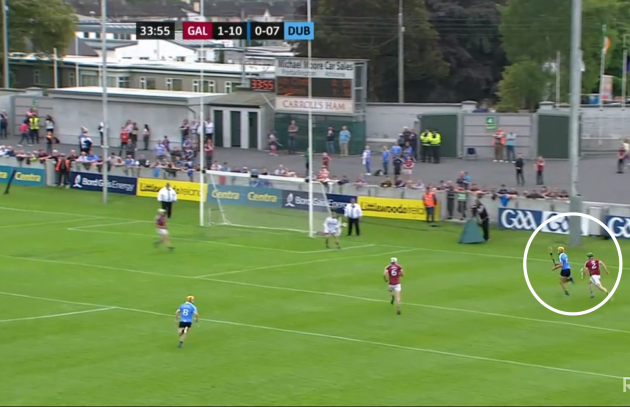 Dillon had done really well to get inside Adrian Tuohy but he slaps the ball harmlessly into the ground and the ball drifts wide. Again, poor execution from Dublin's point of view.
Dublin's attacking play just wasn't good enough, and that was in complete contrast to how easily Galway were opening up Dublin at the other end of the field.
Alarm bells were ringing for Dublin as early as the eighth minute, when I watched a passage of play that summed up just how much Galway were in control.
Daithi Burke won the initial contact and Padraig Mannion was on hand to mop up. He played a ball inside to Adrian Tuohy, who looked up and played a nice ball to Joe Canning. Next, Canning played a lovely pass into Conor Cooney, who drifted a shot wide.
That move should have finished with a score but if you get a chance to look back on it, keep an eye on how little pressure is being applied by the Dublin forwards as Galway clear their lines, and how much space is afforded to Canning and Cooney.
For me, it was a passage of play that illustrated how Galway could ramp up the intensity levels when they wanted to, but without any sort of pressure from Dublin.
Galway's dominance of Dublin puck-outs
This was a real trend in the game, particularly in the first half when, on the scoreboard at least, the game appeared to be competitive.
Dublin, when they went long in particular, were getting very little joy from their own puck-outs.
In the fifth minute, Conor Dooley's short one was picked off by Jason Flynn for a point and when Dooley went long with the next one, Galway mopped that up too.
Here's Padraig Mannion catching one clean out of the skies in the seventh minute: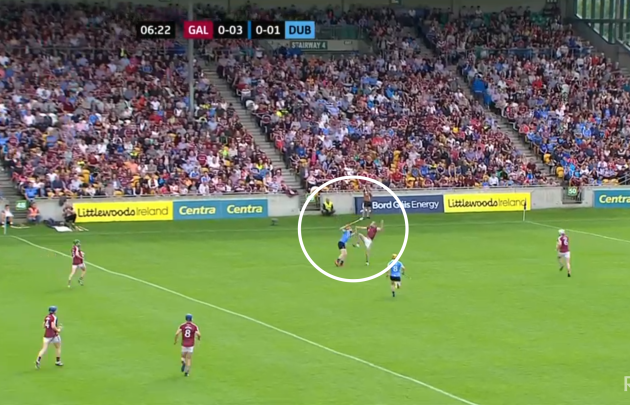 Here's Aidan Harte winning another one on his own, after it drifts through two players:
Just look again at the space for Harte in that one.
There's more, much more. In the 18th minute, Dublin went long with another puck-out but it was lost to David Burke, who batted the ball down to Joe Canning. Burke looped around, took a pass from Canning and slotted the ball over the bar.
In the 21st minute, another puck-out lost to Padraig Mannion and in the 27th minute, Aidan Harte won another one clean in the air.
Dublin were cleaned out on their long puck-outs and I'm not quite sure what their plan was.
Did they have one in terms of who would contest dropping ball, or were Galway simply too strong for them? I think it's a weak Dublin aspect as much as a good Galway one.
The point is that if you're hitting long puck-outs on a consistent basis, and you don't have a genuine contest under the dropping ball, a team like Galway will dominate.
Galway's leaders coming to the fore
Every team needs their big players to stand up on big days. That's what marks out a big team in the first place.
Galway are now beginning to perform really consistently, right through the team.
They have such a good spine with David Burke, Gearóid McInerney, Padraig Mannion, David Burke, Joe Canning, Conor Whelan.
These fellas are putting in high-quality performances throughout the season and are lining themselves up for a serious tilt at the big prize.
They're bossing games and particularly Joe, who was very influential in the middle of the first half when the game was somewhat competitive. He set up some really good scores.
To conclude, Galway's goal in the 28th minute crystallises much of what I've discussed above, in one passage of play.
It stemmed from a long clearance out of their half-back line from John Hanbury after Cathal Mannion, who's a forward, helped out his brother Padraig in a ruck inside the Galway half.
In the freeze frame below, there are a number of elements to discuss. First of all, look at the amount of space in and around that Galway forward line.
The eventual goalscorer, Jason Flynn (purple circle), is in loads of space and the creator, Joseph Cooney, is circled in white and preparing to loop around to collect the breaking ball, as the arrow suggests: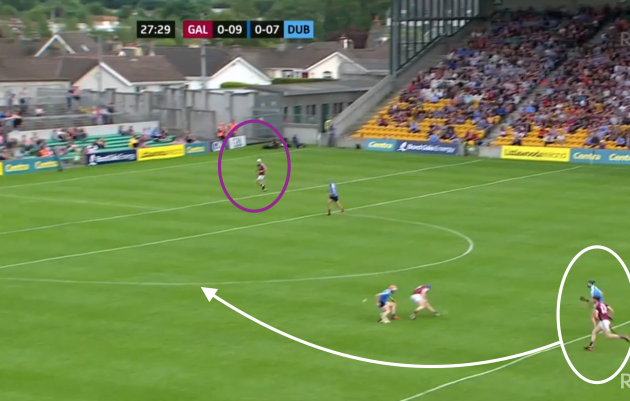 Cooney's direct marker, Chris Crummey, isn't badly positioned but when the ball squirts through, Cooney is through on goal having given Crummey the slip, as you can see in the next picture, below.
Again, look at Flynn inside, standing up with his hand in the air, waiting for a pass: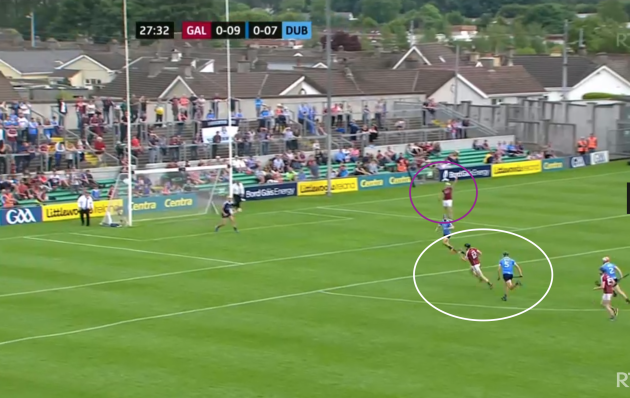 As play develops, Cooney forces a good save from Conor Dooley, but Flynn taps home the rebound.
The reason that Galway have so much space in which to operate is because of how they're set up.
You see Joe dropping deep a lot of the time, Cathal Mannion too. The Dublin backs followed them and so, when the ball went into the Galway attacking zone, there was rarely a covering defender available to close off the space.
This goal came from exactly that type of play, Mannion tracking back, collecting the ruck and passing to Hanbury, who cleared the ball downfield.
With Mannion gone from the forward line, there was space to exploit inside, and Galway used it.
A whole ocean of space opened up for Cooney and while it was excellent attacking play from Galway, it was so naive from a Dublin perspective.
The Dublin backs followed the Galway forwards all day but didn't close them down or lay a glove on them.
To sum up, this was men against boys, with Galway completely dominant.
In the second half, it was like a training game for them and while much stiffer tests lie in store for the Tribesmen, they're well set to cope with them.
The42 is on Instagram! Tap the button below on your phone to follow us!