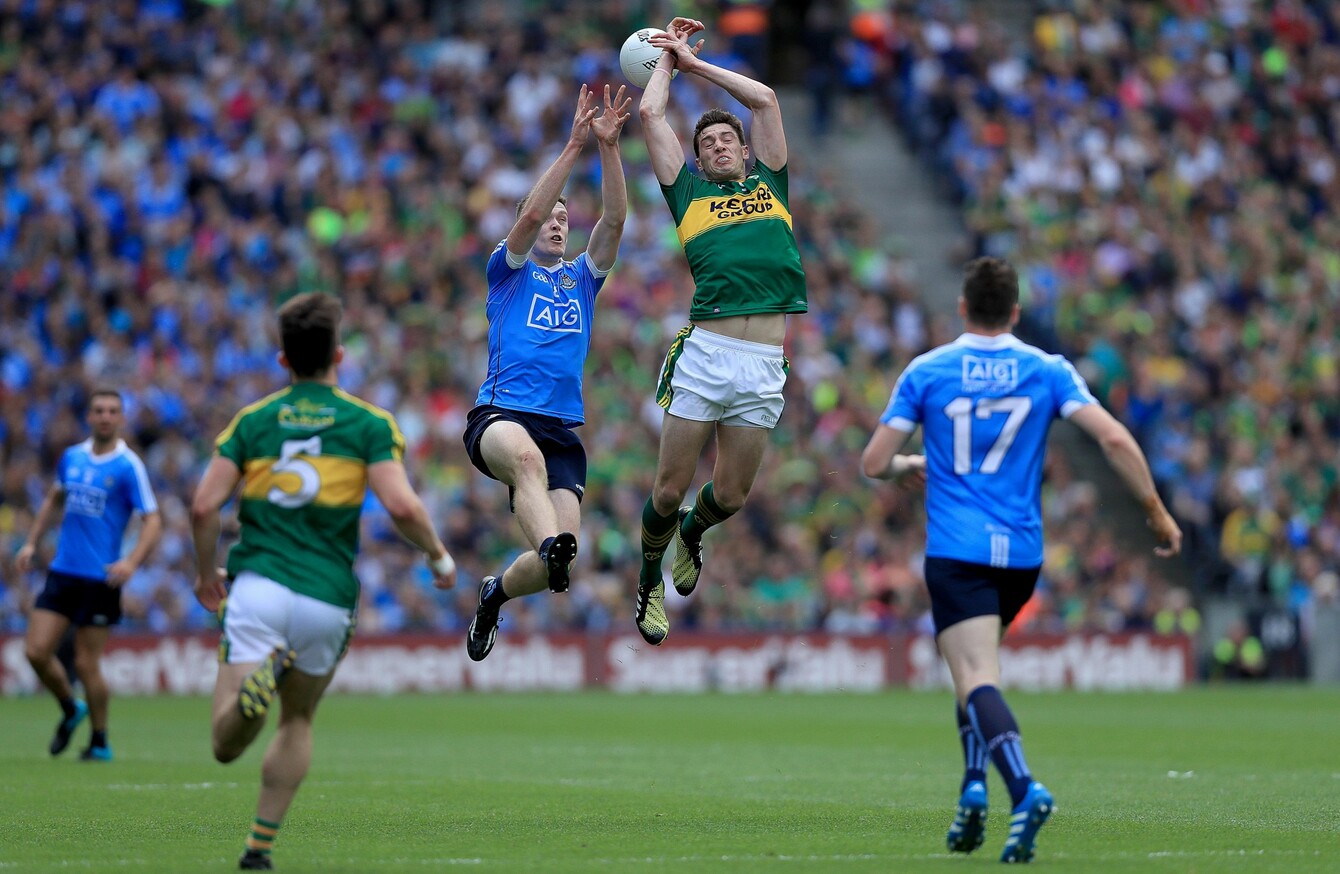 Kerry were immense but Dublin had that extra pep in their step at the end.
Image: Donall Farmer/INPHO
Kerry were immense but Dublin had that extra pep in their step at the end.
Image: Donall Farmer/INPHO
TODAY IN CROKE Park, we saw not only the game of the 2016 season but one of the greatest games in recent times.
It was as good as I've ever seen, up there with classics like the 2013 semi-final between these counties and that great Tyrone-Armagh match in 2005. Neutrals wouldn't have complained if Kerry drew level at the finish and we got a second instalment next Saturday. It was a genuine classic.
Before the match I felt Dublin would win it but I was expecting a big Kerry challenge. People talked about how damaging the league final losses was but they'd plenty time since then to recover. It was crazy to write them off.
Kerry are used to peaking at this time of the season and they showed that today. They were immense. It was all the more impressive given how the first-half unfolded considering it took Kerry 14 minutes to get a score.
But then they got a new lease of life and were really energised after the first goal, which came for a really bad error by Stephen Cluxton. Then the call went Kerry's way for the second goal. At the time I felt it was very hard to judge as the ball was in mid air but to be fair the umpire had a great view of it and he was adamant in making the decision. He never doubted himself and wasn't swayed by Dublin players protesting. It was a good piece of work by the official.
Dublin had started so well yet there they were trailing at half-time. Even when they came at Kerry in the second-half, they didn't go ahead and when Paul Murphy put Kerry three up with nin minutes left, I thought it was a significant advantage in such a tight game.
If they could have got another point and pushed four clear, they'd probably have won it. But Dublin had that greater fluency in attack in the last few minutes, Kerry were a bit more laboured. I felt Dublin got a little more out of their substitutes, the running of Paul Mannion and Paddy Andrews unsettled Kerry. Dublin just had that extra pep in their step to get over the line.
Still it was fine margins at the end. The decision not to give a free to Peter Crowley after the challenge by Kevin McManamon was a really big call. If the free had been given, it was in great territory for Bryan Sheehan to step up to it and try to level it.
I saw Mikey Sheehy giving out to the referee after, that's not something you see too often. It showed how pivotal a decision it was. Kerry were incensed. Another one that looked to have gone against Kerry was when Paul Murphy was penalised late on for a free when I didn't think he'd touched the ball on the ground. It was a harsh call.
You have to give Dublin huge credit of course. It was a major test for them and a position they hadn't been in for a while. To come back and still claim victory took serious character. Eoghan O'Gara came on and kicked a great score.
For me two great Dublin leaders shone in the finale – Diarmuid Connolly and Kevin McManamon. There was no shying away by them, they kept going. Connolly missed a couple of shots but showed that he has huge belief in himself by kicking that last one. You need leaders during tough times in games and Dublin have them in abundance.
Dean Rock as well was superb. 0-12 in All-Ireland semi-final is savage kicking. He only missed one, nailed some really big kicks including a couple of 45's. He was immense in landing pressure kicks in a tight game against one of the best teams in the country.
At the other end, Paul Geaney was really good for Kerry in attack. Taking him off seemed a strange one. He might not have been on much ball in the second-half but always made something happen. Kerry needed some outlet in the full-forward line late on after committing a lot of bodies back. I felt Geaney would have provided that.
This defeat will hurt Kerry. They proved that when they come to Croke Park on these big days, they are a different animal but to lose after that performance is painful. I noticed Kieran Donaghy coming back out on the pitch after with his daughter, while Marc Ó Sé and Aidan O'Mahony stayed on a little longer after the final whistle. These guys are huge players in Kerry and legends of the game nationally.
They've a lot of mileage in the legs alright. Emotions will be running high this week, they'll need to go away and figure out over the winter if they'll come back again in 2017. I imagine it's a similar decision for Eamonn Fitzmaurice. He might not have beaten Dublin but I think he's still a fantastic manager. Their minor side showed again today that there's a conveyor belt of talent coming through in Kerry.
I'd love to see Fitzmaurice back, I think he's a great tactical mind and carries himself brilliant. He was very smart not to make any comments about the referee afterwards. He's so gracious in defeat and today summed him up.
Looking ahead to the final, Dublin are definitely in pole position when you look at the form of both teams. Mayo haven't impressed, they were beaten in Connacht, while since then they've performed in fits and starts.
It might suit them though having that build-up. I previously felt with Mayo, that they were accustomed to winning brilliant semi-finals, and then couldn't get to those heights again in the final. Physically they are in superb shape and will be able to match Dublin in that department. But right now I feel that Dublin will be celebrating on 18 September.
The42 is on Snapchat! Tap the button below on your phone to add!