REALISTICALLY AFTER 25 minutes of today's second game in Croke Park, the match was over.
I don't like admitting that from a Kildare point of view but Dublin gave an awesome performance and you can't dress it up any other way.
I've always felt that Dublin are the one team that when they have you by the throat, they will squeeze it. They're better at that than everyone else. If they score four goals, they'll be hungry and want to get five.
There's no showboating, no lack of respect to the other team. They have a system and everyone buys into that. If you weren't a Kildare man today, you'd have to stand back and just admire them.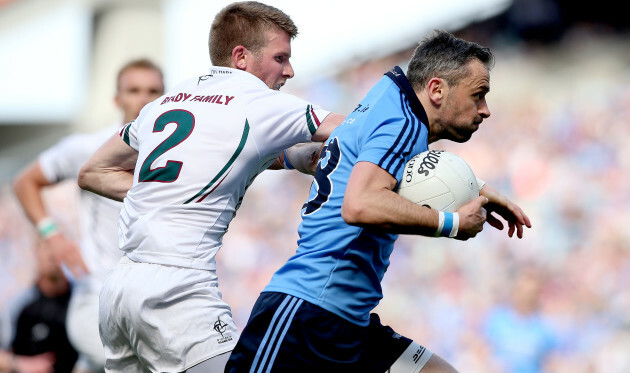 James Crombie / INPHO Dublin's Alan Brogan bursts past Kildare's Ciaran Fitzpatrick. James Crombie / INPHO / INPHO
The heart was ruling the head a little bit before the game as you try to be positive. If Kildare could upset Dublin, it was going to take a huge performance but the concession of those early goals were killers.
The telling thing in first 20 minutes was that Jack McCaffrey tore Kildare to shreds. Ciaran Kilkenny seemed to waltz through the defence as well. You have to curtail players like that, take personal responsibility for your man and try to nullify him to some extent.
For the second Dublin goal, McCaffrey left three or four lads standing and he'd plenty options before Bernard stuck it in the net. That was a big problem for Kildare that they didn't press Dublin high enough up the field.
Jugular
Then when Kildare did attack in droves and Dublin turned them over, they poured forward. Where other teams tap the ball over the bar, Dublin go for the jugular and that was shown in the late goals by Connolly and Bernard.
It wasn't even the starting team, Alan Brogan came on and produced a brilliant performance as he kicked three points. That's another plus for Dublin. Jason Ryan would have sat down to spend hours analysing Dublin but they couldn't cope with that attacking power.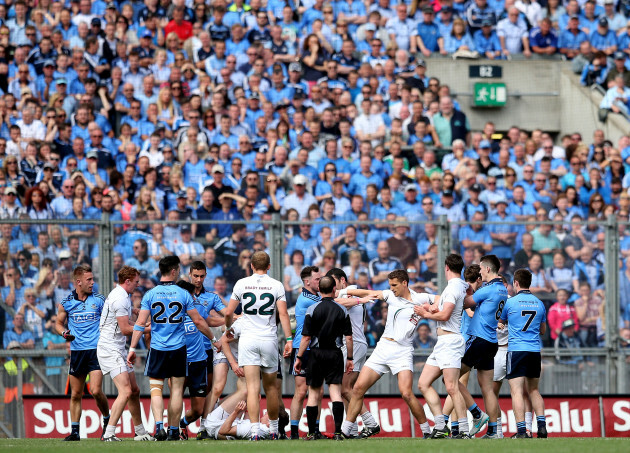 James Crombie / INPHO Tempers flare late on between the teams. James Crombie / INPHO / INPHO
How much of a benefit is this to Dublin though? They're now chasing a 10th Leinster title in 11 years and this issue about the lack of competitiveness keeps coming up. The structure are something we're talking about year in year out and I believe that eventually the GAA will do something about it.
The Leinster Council won't want to let Dublin go, they're such an attactive proposition. But I met Pillar Caffrey before the game today and he made then point that it's amazing how much it has changed that Dublin Kildare is no longer a standalone fixture.
It's now part of a double-header and that's a sign of how the relationship has gone. The talk in Kildare during the week was that we'll do well to be within 10 points. In the end it was 19 points and the extent of Dublin's dominance creates an issue that needs to be looked at.
Tested
It's another game where Dublin have not truly been tested and there's nothing they can do about that. But we still don't know how they'll handle it when the pressure is put on like we saw last year against Donegal.
I think probably Kerry and Donegal, and maybe to a lesser extent Mayo, are the only teams capable of putting them to the pin of their collar. We'll have to wait for that collision but for today Dublin's backroom team can reflect on another awesome performance.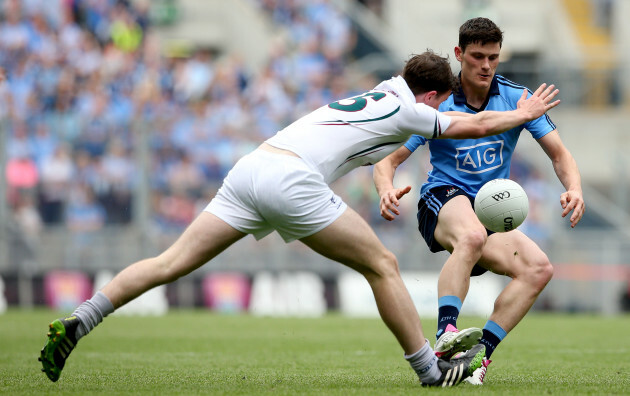 James Crombie / INPHO Kildare's Padraig Fogarty and Dublin's Diarmuid Connolly. James Crombie / INPHO / INPHO
For Kildare, it's a tough defeat to take. We may not have beaten them but there were a few seasons, where we felt we were really competing. But there's been a really big turnover since 2012 with only the likes of Emmett Bolton, Eamonn Callaghan, Paudie O'Neill and Eoghan O'Flaherty left.
Recovery
They've to dust themselves down now, it's just six days until they've a trip to Tullamore to play Offaly. In one sense the players would want to get back at it as quick as possible after a defeat like that.
But in another sense it's not good to only have it in six days time if players have picked up any knock or a dead leg. To me it just doesn't seem right that they've such a short turnaround.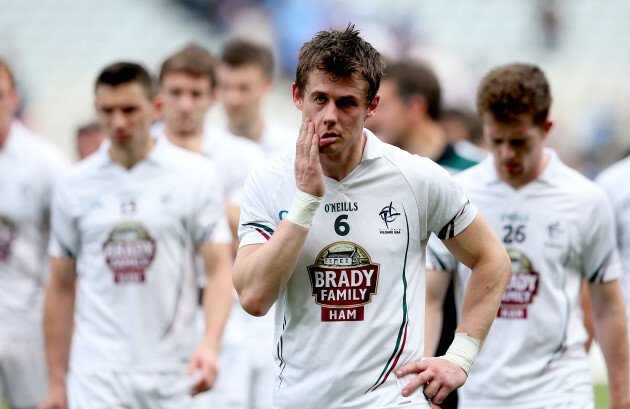 James Crombie / INPHO Kildare's Emmet Bolton dejected after the game. James Crombie / INPHO / INPHO
Westmeath revival
I don't think I've ever seen anything in Croke Park like today's first game. The scale of Westmeath's comeback was amazing. Remember Meath were brilliant in the first-half. They were really slick in attack, were full of running and pace and moved the ball very well.
Exclusive Six
Nations Analysis
Get Murray Kinsella's exclusive analysis of Ireland's Six Nations campaign this spring
Become a Member
Ten points up and Meath were coasting, so what happened? I felt that Tom Cribben would have told his team to forget about patterns and systems, go out and have a serious go at Meath.
Moving Kieran Martin to attack was a great move, he was phenomenal. But the way he came in along the endline to score was crazy points for Meath to give away. You could see the lift it gave the team, in defence their players were roaring them on with fists clenched. They knew they had Meath on the ropes.
Meath had a couple of big chances to get scores to settle them but took really bad options. I think the loss of Graham Reilly was a telling factor, they needed someone to take that ball at pace and have the experience to do the right thing. His black card was a big setback.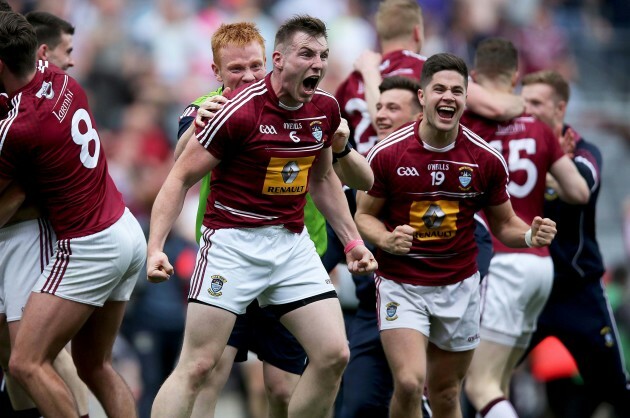 Donall Farmer / INPHO Westmeath players celebrate at the final whistle. Donall Farmer / INPHO / INPHO
I really liked the creativity that Westmeath showed in the second-half. John Heslin was outstanding, he's just a really good footballer and to hit 1-9 is phenomenal stuff in a Leinster semi-final.
We've know he's a player of huge ability for some time. His scoring feats have been superb for some time, the 2-16 he hit against Garrycastle in a club game a few years ago was proof of that.
Underdog
It was a brilliant underdog story, the type the championship story needed. 22 championship games against Meath brought 22 losses. Westmeath were always the bridesmaids, never the bride and missed glorious chances like in 2003 when Dessie Dolan's late free went wide.
From a neutral point of view, it was a brilliant occasion to witness. I know Tom Cribben personally and his selector John Doran, two Kildare men. I'm delighted for them, they're hugely passionate and they'll enjoy this success.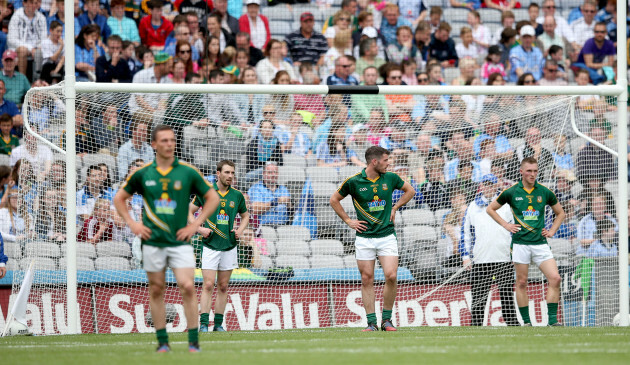 James Crombie / INPHO Meath players dejected at the final whistle. James Crombie / INPHO / INPHO
Setback
The Meath players and management are going to have to deal with a lot of negative talk around the county now. This is a big setback and recovery won't be easy. Mick O'Dowd and Trevor Giles need to get the team together and embrace the qualifiers.
They'll feel sory for themselves for day or two but that must then be parked park that as they try to drive forward. We spent a good bit of time in the qualifiers with Kildare and the key is to focus the minds. That needs to be done quickly if Meath are to get their season back on track.