1. Dubs chase five
DUBLIN ARE ON the cusp of making history this Sunday. They're one of four football teams who've completed the four-in-a-row – in addition to Kerry (1929-32 and 1978-81) and Wexford (1915-18).
Of course, no side has had a stab at a fifth title in succession since the Kingdom in 1982, when Seamus Darby's late goal stunned Mick O'Dwyer's men. It's somewhat fitting that Kerry now stand in between Dublin and the Drive for Five.
There were no hawkers outside Dublin's training base in St Clare's selling five-in-a-row t-shirts this week, while the sheer size of the city means the players won't have experienced anything like the claustrophobic build-up Kerry did in '82.
But the pressure will be huge as Dublin attempt to achieve a feat that's never been done before.
2. Kerry's young guns facing first final 
Dublin are an extremely experienced outfit at this stage and unlikely to be blinded by the bright lights of All-Ireland final day. On the other hand, Kerry have a number of new kids on the block who'll be taking part in their first senior decider. 
Of the side likely to march behind the parade on Sunday, only Shane Enright, David Moran, Stephen O'Brien, Paul Geaney and Paul Murphy have been part of a final squad before. 
A number of Peter Keane's side are still in their rookie campaign with Shane Ryan, Gavin Crowley and Adrian Spillane only making their championship debuts earlier this summer. 
Of the players who featured in the semi-final, nine players have 11 championship appearances or less, showing the relative inexperience of the group.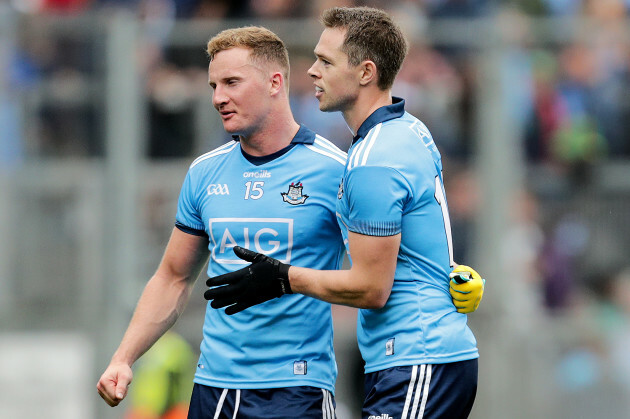 Laszlo Geczo / INPHO Dublin's Ciaran Kilkenny celebrates after the Mayo game with Dean Rock. Laszlo Geczo / INPHO / INPHO
3. Dublin's record vs Kerry
Dublin's 2011 All-Ireland final victory over Kerry, where Stephen Cluxton stroked over the late winning score, was a turning point in the rivalry between these counties.
Far removed from the 17-point trouncing Kerry handed out to the 'startled earwigs' in the 2009 quarter-final, Dublin have been utterly dominant in clashes with their southern opponents this decade.
This will be the fifth championship encounter in the 2010s between the old rivals. Dublin have prevailed in all four to date – twice in All-Ireland finals ('11 and '15) and twice in semi-finals ('13 and '16).
Kerry's best performances came in those last four clashes, while they left a victory behind them in 2011 – a defeat that created the blue monster.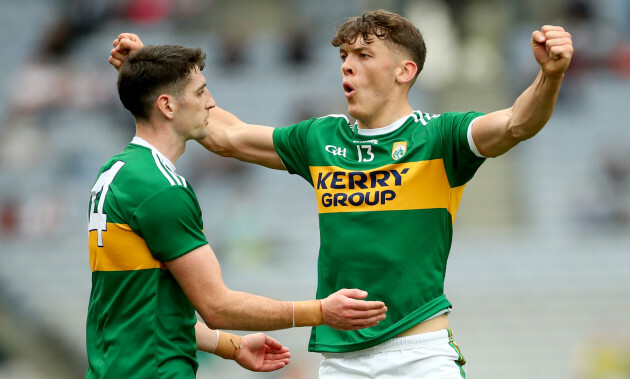 James Crombie / INPHO Paul Geaney and David Clifford celebrate a late score in the semi-final. James Crombie / INPHO / INPHO
4. Kerry can hurt Dublin, but have they the defence?
Kerry's undoubted quality up front gives them a real puncher's chance of winning this game. The foursome of David Clifford, Paul Geaney, Sean O'Shea and Stephen O'Brien are in good form and should benefit from the one-on-one match-ups Dublin will allow in defence. 
But the real concern for Kerry is at the back. Since Cork opened them up with a running game in the Munster final, there have been real question marks hanging over this defence. 
Dublin have match-winners all over their attack and Kerry's back six will need to be at the top of their game, while keeping the concession of frees in the scoring zone to a minimum.
They must prevent Dublin from scoring goals, while providing enough possession for their own forwards to do the damage at the far end.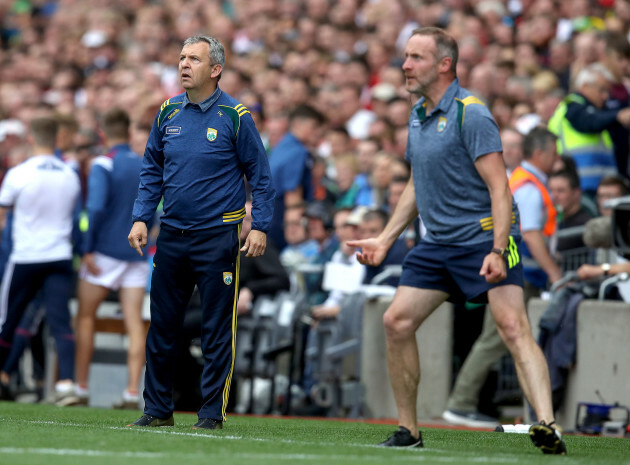 Bryan Keane / INPHO Kerry manager Peter Keane and Tommy Griffin on the sideline. Bryan Keane / INPHO / INPHO
5. Sideline battle
Both Keane and Gavin will be mulling over several selection issues this weekend. The Kerryman has arguably the bigger calls to make and he'll be weighing up whether to start Jack Barry and Tommy Walsh.
Barry has a good record when he's matched up with Brian Fenton at midfield over their past few league meetings, but injury has restricted his playing time this summer. Walsh had a major impact as a second-half substitute against Tyrone and caused wreck at full-forward in Tralee against Dublin earlier this year.
Gavin has never started an All-Ireland final without Cian O'Sullivan manning his defence. The Kilmacud Crokes defender came on after 50 minutes in the semi-final and if he is brought into the side David Byrne is the one who could miss out. 
Diarmuid Connolly will retain his place on the bench but will Bernard Brogan make the 26 in what's likely to be his final day at Croke Park as a player?
Dublin and Kerry meet in the All-Ireland senior football final at 3.30pm on Sunday. Specsavers are proud sponsors of Hawk-Eye at Croke Park. To make sure you don't miss a point, book an appointment online today at specsavers.ie