THE MARK KEVIN Heffernan made on the GAA, in Dublin and nationwide, is still obvious today.
The current crop of Dublin footballers' achievements are constantly compared to 'Heffo's Army' of the 1970s, who won three All-Ireland titles in four years after an 11-year drought.
The late Heffernan, who passed away in 2013, captained Dublin to All-Ireland success in 1958 before his successful transition to inter-county management, which began in late 1973.
And the life of one of the GAA's most famous sons has been portrayed in a new documentary, Kevin Heffernan: Wrapped up in Blue, which will be released tomorrow.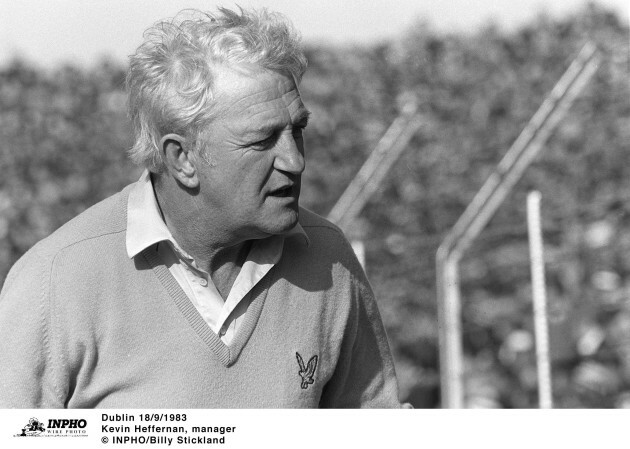 Billy Stickland / INPHO Billy Stickland / INPHO / INPHO
The documentary features interviews with family, friends and colleagues of the sporting icon and promises to give an interesting insight into Heffernan as a man, on and off the field.
One of the men who knew him best, at club and county level, is Dublin legend Jimmy Keaveney and he opened up to the42 about Heffernan and the impact he had on Gaelic games in the capital.
After a barren run with Dublin's footballers in the 1960s and early-1970s that resulted in just one Leinster title, Keaveney packed in the inter-county game in 1973.
But when his St Vincent's club-mate Heffernan got the inter-county job he was famously persuaded to return to the Dublin setup. Only a few months later Dublin won their first football All-Ireland since 1963 and the rest, as they say, is history.
"I knew Kevin from playing with him and under him at St Vincent's and when he got the Dublin job he asked me to give it a go," Keaveney told the42.
I was a bit overweight at the time but I worked on that and got myself fit.
"We were nothing special at the time, we weren't bad footballers or anything but we would have been about fifty or sixty-to-one to win the All-Ireland with the bookies at that stage.
"We were an old team, all in our late 20s and no one would have rated us at all. People thought we were over the hill."
But Heffernan brought energy to the side, a tough training regime and turned it around in a matter of months.
"Kevin had a great knack for getting the best out of teams. I always said that if Kevin had taken a soccer or a rugby team he would have been successful.
"He actually took a hurling team in St Vincent's who were no good and he won a county championship with them."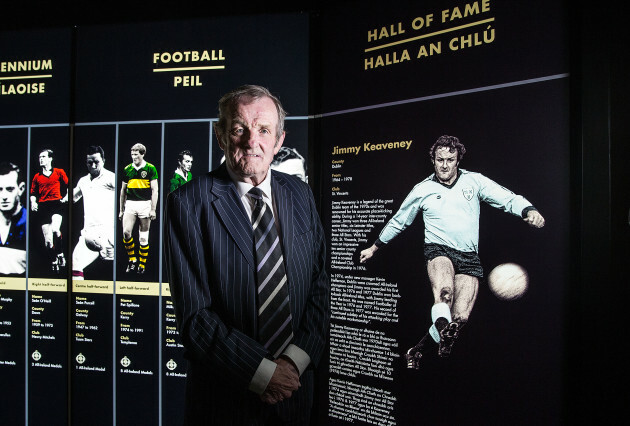 Dan Sheridan / INPHO Jimmy Keaveney was named Player of the Year in successive seasons. Dan Sheridan / INPHO / INPHO
As a character Keaveney remembers that Heffernan had ideas ahead of his time. He was a self-assured leader who knew what he wanted from his teams.
"He made decisions his way and that was that. At the time we thought Heffo was mad, training on Saturdays before a game on a Sunday but when you compare it to nowadays, it was nothing.
"There was a time when Kevin Moran came over for a couple of international games for Ireland, at the end of the season playing for Manchester United.
"He asked could he do a couple of training sessions with Dublin when he was over and he was knackered after taking part in a couple of training sessions. And that was coming from one of the top Divison One teams in England!"
And looking back on his glory years with Dublin, which saw full-forward Keaveney named Player of the Year in All-Ireland-winning years of 1976 and 1977, the 70-year-old can't help but wonder which players would have been up to the training regimes of the modern inter-county footballer.
"The programmes that they are doing now, they are in gym and out training six or seven times a week. It's much more professional. Whether we would have been able for that I don't know.
"What we did, was we did enough, every county did enough to get out there on the field and compete."
Kevin Heffernan: Wrapped up in Blue is available to buy for €14.99 from Golden Discs HMV, Xtravision, Easons and Tower Records stores nationwide and online from tomorrow.