Liveblog
JIM GAVIN'S DUBLIN make their first appearance of the summer this afternoon as they face Longford at Croke Park.
As always, we'd love to hear your thoughts on the action. Email ryan@the42.ie, tweet @The42_ie, post a message to our Facebook wall, or leave a comment below.
To disable push notifications on this liveblog, please click the toggle button above.
Good afternoon and welcome to The42's live coverage of the second part of today's Croke Park double-header as we get our first look at Jim Gavin's Dubs this summer.
Throw-in at GAA HQ is 4pm.
The first of the day's games is still in the balance with Dublin leading Galway by two points in the Leinster hurling championship. Follow the remaining minutes here.
The odds are stacked against Jack Sheedy's men today and certainly history would suggest Dublin should prevail having won the last five championship meetings between the sides.
Jim Gavin has made four changes to the side that were beaten by Cork in the league final last month. With James McCarthy missing out with a toe injury, Fingal Ravens' Darren Daly starts at wing back alongside John Small installed at centre half in place off Cian O'Sullivan.
The remaining changes come at full back where St Olaf's David Byrne comes in for Rory O'Carroll, and at wing forward where Fingallians stalwart Paul Flynn edges out Tom Brady.
Dublin
1 Stephen Cluxton (Parnells)
2 Jonny Cooper (Na Fianna)
3 David Byrne (St Olaf's)
4 Philip McMahon (Ballymun Kickhams)
5 Darren Daly (Fingal Ravens)
6 John Small (Ballymun Kickhams)
7 Jack McCaffrey (Clontarf)
8 Brian Fenton (Raheny)
9 Denis Bastick (Templeogue Synge Street)
10. Paul Flynn (Fingallians)
11 Ciaran Kilkenny (Castleknock)
12 Diarmuid Connolly (St Vincents)
13 Dean Rock (Ballymun Kickhams)
14 Kevin McManamon (St Judes)
15 Bernard Brogan (Oliver Plunketts Eoghan Ruaidh)
Meanwhile, here's the Longford side plotting the downfall of the 2013 All-Ireland winners.
Longford
1. Paddy Collum
2. Dermot Brady (capt.)
3. Barry O'Farrell
4. Cian Farrelly
5. Colm P.Smyth
6. Barry Gilleran
7. Diarmuid Masterson
8. Kevin Diffley
9. Michael Quinn
10. Rory Connor
11. Ronan McEntire
12. Peter Foy
13. Barry McKeon
14. Brian Kavanagh
15. Ross McNerney.
With half an hour until the actions gets under way, here's a selection of our pre-match reading material:
Full-time in the hurling and it's ended in a draw. Full match report here.
Speaking to RTÉ, Jim Gavin says his side are taking one step at a time and aren't thinking beyond today's game. His counterpart, meanwhile, insists the visitors haven't come to Croke Park to 'park the bus' and will play their own game.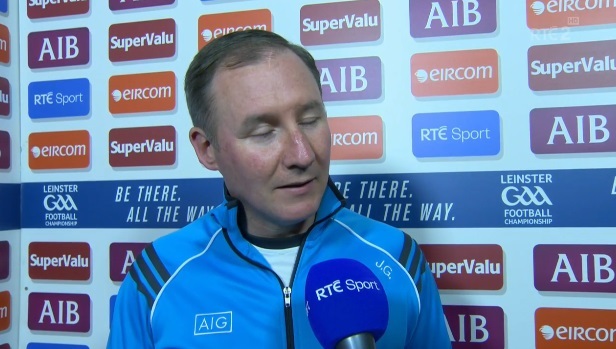 The earlier rain has disappeared and it's now a bright afternoon in the capital with both sides out on the pitch for the national anthem.
Which way do you see this one going? Do Longford have any chance of causing an early upset?
And away we go with Longford defending Hill 16 in this first-half.
Early chance for the visitors but Brian Kavanagh spurns the opportunity as he fires wide when he should have done much better. You get the feeling Longford will need to grasp every opportunity they get this afternoon.
Dublin 0-2 Longford 0-0 Two points in quick succession for the Dubs as they make all the early running. Brian Fenton dissected the posts and Kevin McManamon followed shortly after with a lovely score.
GOAL! Dublin 1-3 Longford 0-0 It's all too easy for the Leinster champions as Philly McMahon has acres of space to run through midfield and pop one over and then Diarmuid Connolly pierces the Longford defence before finishing clinically past Paddy Collum.
Dublin 1-4 Longford 0-0 It's difficult to keep-up at this rate as Bernard Brogan opens his account as he cuts back inside and a sweet strike with the right peg extends Dublin's lead.
Dublin 1-5 Longford 0-0 It's looking rather ominous for Longford as Brogan scores his second point in as many minutes. Jim Gavin's side are moving the ball quickly and the visitors are unable to contain the Dubs.
Dublin 1-6 Longford 0-01 Jack Sheedy's men are on the board as Connor scores a nice point but at the other end, Ciaran Kilkenny shows all his strength to create the opening and he pops it over with his left.
Dublin 1-7 Longford 0-1 Dean Rock sends over a free and here's a closer look at the opening goal of the game. 
Dublin 1-7 Longford 0-3 Poor kick from Stephen Cluxton allows Longford score twice in quick succession. Firstly, Kavanagh opens his account and then Rory Connor adds another.
Dublin 1-7 Longford 0-4 Longford are certainly growing in confidence as Connor reduces the deficit to six points with another sweet score.
Dublin 1-8 Longford 0-5 Extremely soft point to concede as Paul Flynn is allowed to run uncontested and he has the simple task of knocking it over from the centre of the goal. Longford do hit back intermediately, however, through Kavanagh.
Dublin 1-9 Longford 0-5 The visitors are forced into an early change with Barry McKeown hobbling off to be replaced by Liam Connerton. On the restart, Dean Rock converts a 45.
Dublin 1-9 Longford 0-5 First wide of the afternoon for Dublin but they're in complete control of this game already. All of their forwards are on the score sheet and the sky blue shirts continue to enjoy acres of space on the vast playing surface.
Dublin 1-9 Longford 0-6 Connerton, who has just come on, continues Longford's revival with a lovely effort.
Dublin 1-10 Longford 0-6 Another Longford wide follows a straightforward point for Kilkenny as Dublin's lead stretches back to seven points.
Dublin 1-11 Longford 0-6 Rock continues to pick Longford off at will as he makes it look so easy with a leisurely swing of that right boot and the ball sails between the posts.
GOAL! Dublin 2-11 Longford 0-6 After a brief stoppage, the Dubs are quickly back into their stride as unselfish play from McManamon creates the opening for Paul Flynn and he makes no mistake.
Dublin 2-12 Longford 0-6 Bernard Brogan fires a point over with his left and the gulf in class has been evident from the outset here. All but two of the Dubs' points have come from open play so far.
Dublin 2-12 Longford 0-6 Here's Dublin's second goal as Longford's defence was split open once again.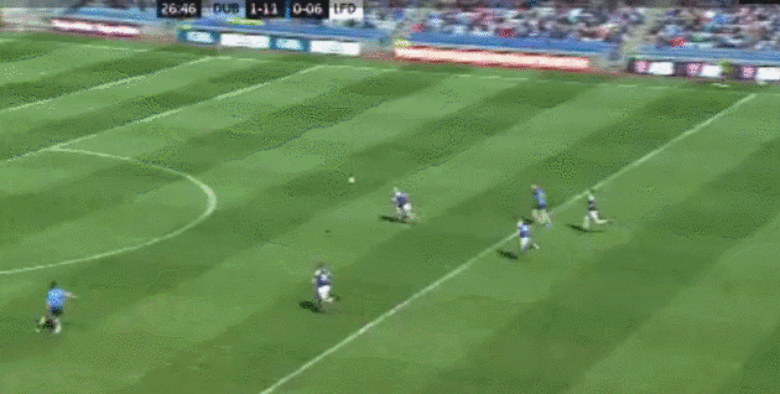 Dublin 2-13 Longford 0-7 Dean Rock adds to his tally as we approach the interval.
Dublin 2-14 Longford 0-7 Kavanagh's free gives Longford their first score in 13 minutes but then Brogan fires over another with his right on front of the Hill.
Dublin 2-14 Longford 0-8 And the first-half is brought to a close with Dublin taking a 12 point lead into the interval.
It's been fairly comfortable for the Dubs as they've picked holes in the Longford defence and looked like scoring every time they advance forward.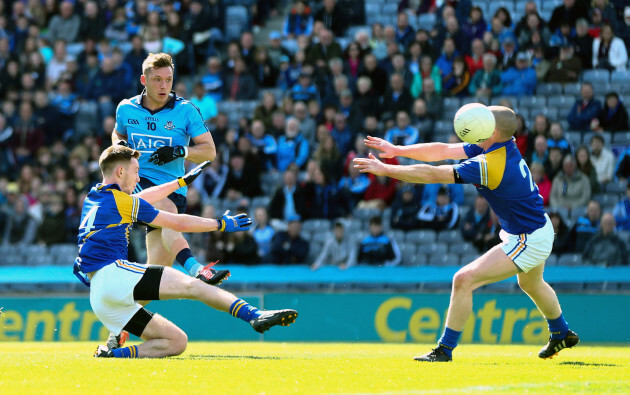 Source: Cathal Noonan/INPHO
The Sunday Game pundits have labelled Longford's tactics as 'naive' with Pat Spillane making a comparison between their approach and swimming in the Atlantic – you're going to drown.
Fintan O'Toole here in Croke Park, getting set for the second-half action. There's only  going to be one outcome isn't there? Complete one-way traffic so far as we expected.
Michael Fitzsimons comes on for Dublin at the break instead of Philly McMahon while Tomas Brady replaces Diarmuid Connolly.
Dublin 2-16 Longford 0-8
Hawkeye delivers the verdict that Ciaran Kilkenny grabbed a point form play and then Rock nails a free.
Dublin 2-17 Longford 0-9
Are you still with us? Kavanagh and Flynn trade points as Dublin stay 14 clear. Michael Darragh MacAuley has come on for Denis Bastick.
The atmosphere in Croke Park is pretty muted now. At least the sun is shining after a burst of heavy showers earlier. We know which way this game is going to end up, it'll be Kildare or Laois next up at the semi-final stage for Dublin.
Dublin 2-19 Longford 0-9
Couple of more points for Dublin through Paul Flynn and Kevin McManamon.
A third goal for Dublin from Dean Rock.
Fourth goal for Dublin from Bernard Brogan.
Dublin 4-19 Longford 0-9
Longford's miserable afternoon continues. Dublin rip open their backline twice in quick succession with Rock palming the ball to the net via the crossbar and then Bernard Brogan shoots a fierce low shot in for the fourth goal.
Nine years ago Dublin and Longford last met in the Leinster championship and there was only two points separating the teams that day. There's no semblance of a similar contest today, it's 22 points between them now.
Eric Lowndes is the latest Dublin sub to enter the game with Johnny Cooper coming off.
There's a sight to please Dublin fans as Alan Brogan enters the fray instead of Bernard Brogan.
Dublin 4-22 Longford 0-9
Eric Lowndes taps over Dublin's latest point.
Big hold up there in the game as Longford's Ross McNerney suffered a nasty head injury. He's been stretchered off and the game is under way again. We'll have seven minutes of injury time as a result.
Dublin 4-23 Longford 0-9
Dean Rock slots a '45 for Dublin.
Full-Time: Dublin 4-25 Longford 0-10
All over in Croke Park and it's ended in a  hugely comfortable win for Dublin as they see off Longford by 27 points. Thanks for joining us today.
Contribute to this story: