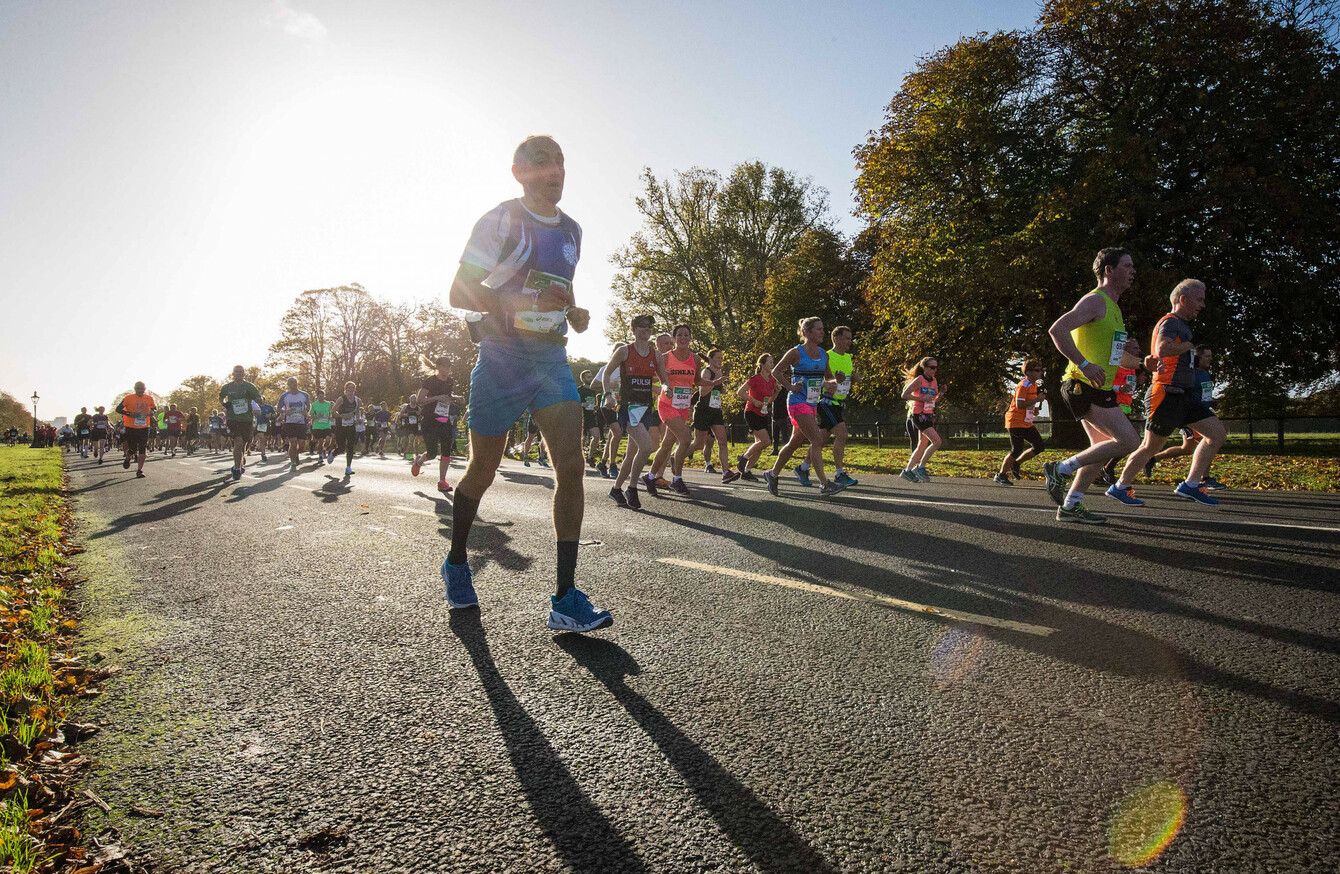 A record 20,000 will take to the capital's streets on Sunday.
Image: Oisin Keniry/INPHO
A record 20,000 will take to the capital's streets on Sunday.
Image: Oisin Keniry/INPHO
HERE WE ARE again. The RDS, on October Bank Holiday weekend. The overwhelming medley of emotions, the conflicting comfort of not being a first-timer this year. There's a strange reassurance to it all. Just one of the many who are back. Hooked, nervous, excited, mad. Why? Good question.
This day 12 months ago remains as vivid as the last. Autumnal, leafy Dublin. The crispness in the air, punctuated only by giddy nerves. 20,000 of us, many more besides just as invested in it; supporting, cheering, carrying, shouting, a shoulder to lean on. Where else would you rather be? Honestly.
When I crossed the line after hours of progression, persistence and pain last year, I said not again. Not for a while, anyway. The sense of achievement is powerful, sure, but you do wonder. The discipline and training, was it worth it? You contemplate, as you fall over the line in a crescendo of masochistic delight, who you are and what you're doing. Why?
But then it hits you. This — the hours of training, the sacrifices, the dedication — is what drives you. To others, something out of the ordinary. A marathon? You're mad, they say. But to you, it's normal. It's addictive. It's a way of life. When's the next one? How much quicker can I go?
Yet there's more to it than that. Granted the time on the clock as you come into Merrion Square on Sunday afternoon is the primary motivator, but there's more to Dublin on Marathon day than that. The capital in all its beauty, sport as it should be — empowering, captivating. At its bloody best.
The atmosphere inside the RDS on Friday lunchtime, minutes after the Marathon Expo had opened its door was remarkable. Jammed. Vibrant. From two miles down the road in Ballsbridge could you see race bags strung over shoulders, packed to the top with goodies and pre-race essentials. And over at the UCD flyover, the first sign of branding on the bridge. It feels real now. 
Inside, it's like some sort of runner's paradise. Stall after stall of gear, of merchandise, of freebies. Memories come flooding back. The 'good luck' wall is already full, yet the doors have barely been open half an hour. There are hundreds of messages, some remembering those who would, and should, have been here. We're fortunate to be here. Grateful. 
The LED clock at the top of the stage says 44 hours. That's 44 hours until the 2018 Dublin Marathon — the 39th edition — gets underway at 9am on Sunday morning. 20,000 of us tackling that 26.2 mile route. Fitzwilliam Street Upper, over the Liffey, through the Phoenix Park, past Terenure, into Milltown and back towards the city via Merrion Road. It can't come quickly enough. 
I'll be down in Limerick this evening, covering Munster's Guinness Pro14 game against Glasgow Warriors. It's an intriguing clash, with plenty at stake. But, in my head, all I can think about is Sunday. That's all I've been able to think about this week. One minute, excitement, the next apprehension. It's all part of it. It's what makes it a truly unique experience.
There was a lovely, and beautifully poignant, thread on Twitter yesterday, one of many personal stories attached to the Dublin Marathon, told by someone who had run their first marathon at just 15 having been inspired by Eamonn Coughlan.  
When everybody else told him he was out of his mind and too young, this man's father was the only person to support him, so much so that he bought him a brand new pair of Asics runners for his training. Father and son shared an emotional moment at the finish line that year, but two short years later, the man's father passed away suddenly.
This year, in 2018, he is running his fifth Dublin Marathon in memory of his father. For his father. A lifelong love affair with the event, and that goes for thousands who take to the streets on Sunday. All doing it for their own reason, none more important than the other. 
That's the achievement in it all. And that's why we're here again. Streets thronged with people you don't know urging you on. Urging you to keep going, to expend every last sinew for no reason other than the fact this is what Dublin does. The friendly marathon, for sure. My original and favourite? Absolutely.
I'll have the three-hour, 20 minute pacing band around my wrist. I'll keep chasing the time I want, chasing the time my four months of training demands. But, in truth, it matters little. To get across that line, with family and friends dotted everywhere and anywhere, is what makes it. 
Those initial post-race doubts quickly evaporate into the Autumnal air. We're still 44 hours away from my second marathon, but will I be back here this time next year? You bet. The lure of the annual marathon. 
Enjoy every minute of the day, whether you're running, volunteering or supporting. The city we grew up in, the city we know so well, the city we love, showcased at its beautiful best. The most wonderful day of the year.
Subscribe to our new podcast, Heineken Rugby Weekly on The42, here: