Updated at 17:00

IF MAYO WERE to win this game, what would they have to do? To win their own kickouts, they needed to dominate Dublin's (as much as you can), not give away easy scoreable frees, don't concede a goal and take your chances when they arrive.
Some on that list sound like clichés, but that doesn't make them untrue or unwarranted. They have probably been the same list as long as the game has been played. And at half-time so many of these were achieved.
Dublin were 57% from their own kickouts. In the Jim Gavin era, Sunday made it only the 3rd time Dublin have been below 60% on their own kickouts at half-time. It puts in context how dominant Dublin have been and also the effort and planning it would have taken for Mayo to pull this off.
Mayo were 60% from their shots from play. Their average last season was 44%. So as a comparison to last season they took their chances. You can pick out a couple of obvious exceptions in Lee Keegan's chance that he drops short and Cillian O'Connor had a relatively easy free at the top of the D. They were probably two efforts that you need be nailing but their first half-shooting was above expected.
Mayo won all their own kickouts expect for the very first one and they'd 'only' given Rock three attempts at frees. Last year coming into the final they'd been averaging 10 per game.
The only major blot on the first half copybook was the goal in the opening minutes.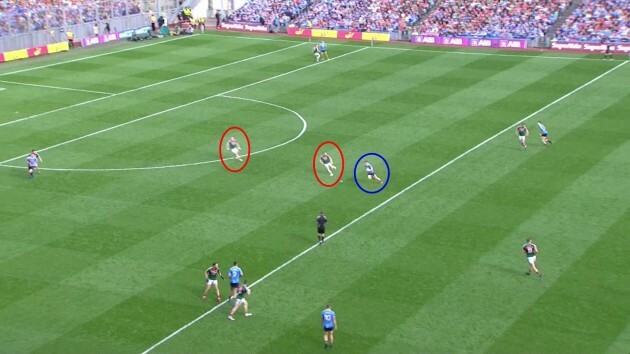 RTÉ RTÉ
Con O'Callaghan's finish is simply sublime. In front of the Hill to roll the ball past Clarke with such skill was a joy to watch.
However Donal Vaughan won't be delighted when he looks back on the video of this. His job is to stay between the ball carrier and the goal.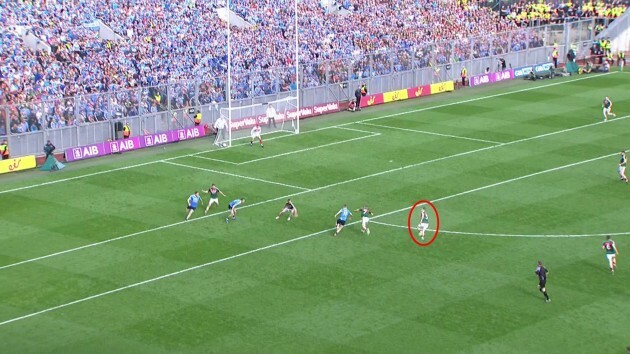 But when O'Callaghan runs around Boyle, Vaughan is completely out of position. It was an early blow and it did make you wonder what sort of day Mayo were in for.
But Mayo rallied, never panicked and really dominated Dublin in the first half. A first half to be very happy with and it really felt as if Mayo were well on top. The problem with feelings is that they mask the facts. When you looked at the scoreboard it didn't reflect the dominance.
Only a point ahead at the break meant they would need the same sort of performance in the 2nd half and when you looked at the Dublin bench you saw two former footballers of the year and All Star Diarmuid Connolly you really did wonder if Mayo had enough in reserve.
Cluxton's kickouts
It's easy to pick out the Mayo mistakes and say where Dublin won this game but it was decided on some very fine margins and Dublin didn't get everything right. I've mentioned how good Mayo were on the Dublin kickouts. And re-watching the game it's interesting to see some of Cluxton's decisions.
The first kickout goes short but the second he kicks long despite having options.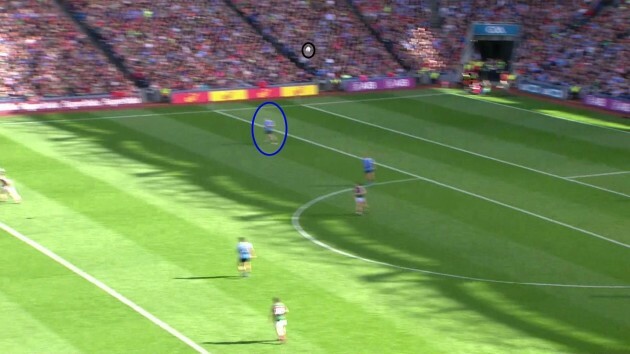 Despite having an easy option he decides to kick long to a single Dublin player surrounded by Mayo shirts.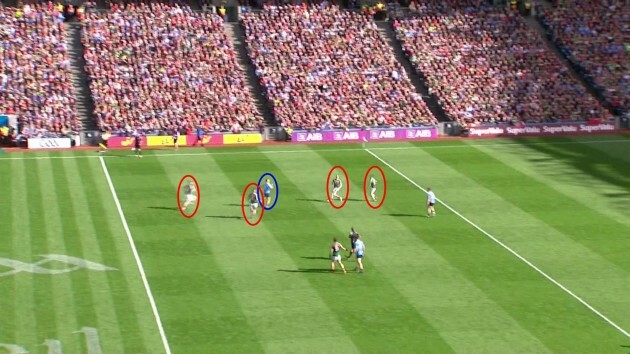 It's really unlike Dublin to get outnumbered in these sorts of areas. Firstly because Cluxton avoids kicking to these situations and secondly Dublin work so hard at being inside their man at the break.
It was also noted on the Sunday Game that it was the introduction of Jason Sherlock that told Cluxton to start going short with the kickouts. Mayo had won another long kickout just before and kicked a really nice point.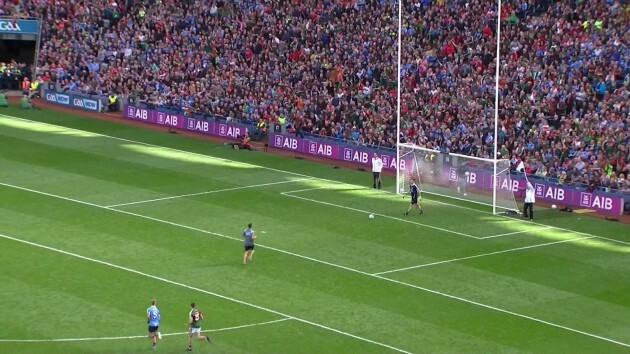 So Sherlock runs on and gives an instruction, we don't know exactly what but maybe it wasn't to go short. Cluxton kicks this one short. But he would take four more kickouts before the half and kicked two of them long with Mayo winning both. Whatever Sherlock said here the strategy really changed at half-time.
It wasn't until after the break the Dublin went short with all their kickouts. It can't be underestimated the effect the sending off would have had here. Dublin's kickouts are hard enough to win with 15 but almost impossible with 14.
Mayo had 54% possession in the first half largely because they were securing their own possession while limiting Dublin's. However the second half was a reversal of that.
Despite Dublin's first kickout of the second half going short Mayo nearly won it. However from then on Dublin won them easily.
Second half swing
If the result had gone the other way Jim Gavin's decision to start O'Gara might have been scrutinized a lot more but the game really started to turn after the break with the Dublin subs adding a lot. Overall Mayo's shooting just wasn't at the level they maintained in the first half.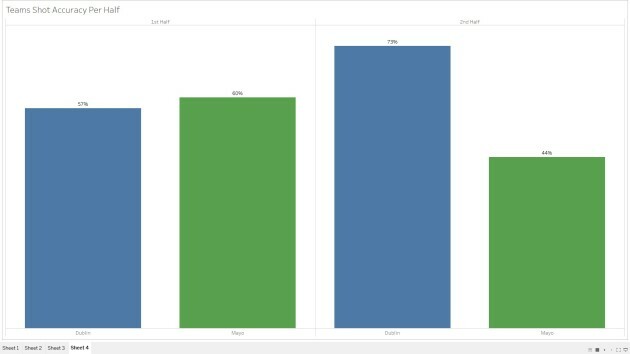 They dropped to 44% and had only 9 shots from play compared to 15 in the first half. While in the reverse Dublin's shooting was exceptional, anything north of 50% is usually a good day. As Mayo were forced to withdraw their match winners Dublin were bringing on former footballers of the year and the difference in accuracy really told.
O'Connor's frees
If Cillian O'Connor stays fit he could well pass Colm Cooper's scoring record next season, that's in about 30 games less. O'Connor added another 7 points to his already really impressive season to finish on 75 points, averaging over 7 per game. His scoring return is second to none but the frees are a big issue.
If we take a look at the below we can both compare Rock and O'Connor but also see how quickly and drastically O'Connor's accuracy starts to tail off.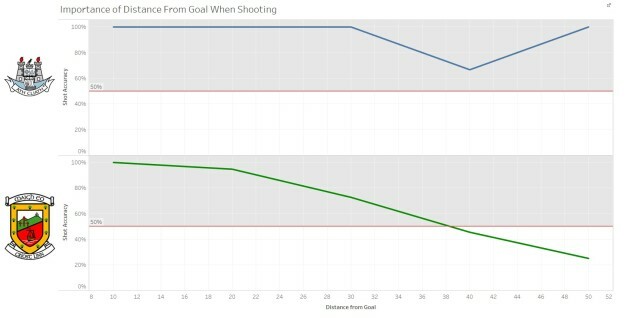 While Rock maintains an almost flawless accuracy O'Connor really struggles from range. The graph above is before yesterday's match. Knowing this and how well Jason Doherty knocked over those two dead-balls in the sim-final was it worth keeping him on the pitch for a last minute effort?
Exclusive Six
Nations Analysis
Get Murray Kinsella's exclusive analysis of Ireland's Six Nations campaign this spring
Become a Member
Mayo are losing these games by such fine margins, it's only very minor tweaks that it's going to take but if you were to pick one area where Mayo could add a few % points it's in those longer range frees. I think O'Connor deserves more credit than he gets but if you could pick an area to improve, long range frees would be it for me.
Dublin turned the screw at the right time
When it was required Dublin turned the screw on Clarke's kickouts. He only lost four all game. But two of those were his last two of the game and in both cases it took over a minute for the game to restart. There were injuries, substitutions, pulling, dragging and cards galore. It's very difficult to blame the referee in this case. Both teams, any team would probably be at the same sort of thing given the same opportunity.
One team is determined that the kickout won't be taken quickly and with so little time left in the game there are very few sanctions the referee has that could warrant the crime.
Perhaps for this sort of thing it is worth considering the 50m penalty the AFL have. It's about the only punishment I can see that would put a stop to this. The speed of thee restarts is so important now that these sorts of delays have a real impact.
Despite the delays Dublin still had to go and win the ball.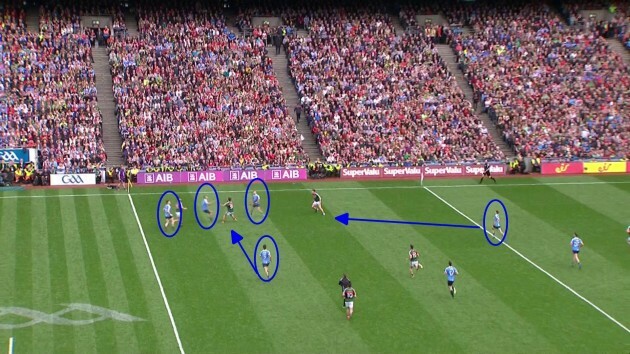 In contrast to the first half where Mayo were dominating the drop zone – we can now see Dublin have 3 players around the dropping ball but as important are the two support players arriving for any breaks, ahead of their Mayo counterparts.
The last kickout, after Rock scores there is also a huge delay. This time however Mayo make space and maybe it could have gone to Barrett.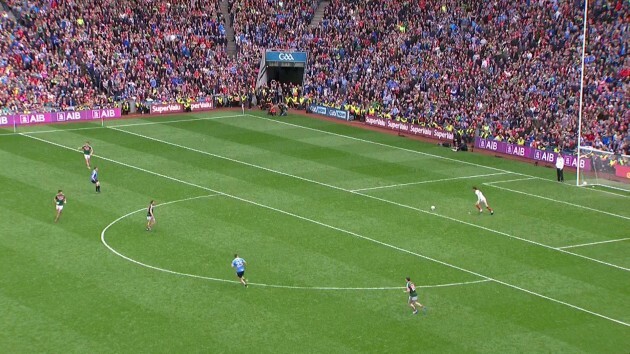 I don't think you can imagine the pressure on Clarke here and maybe it's asking too much to pick out a short pass in the dying moments of an All Ireland final. But the option is there and as we now know there was time on the clock for a last attack.
If Dublin are the greatest team I don't know what that says about this Mayo team. They gave it everything they had, they've played 10 games this year and it could have nearly been 11.
Dublin shot 73% from play in the second half and 68% for the match. In the last 19 All Ireland Finals the best return from play before yesterday was 60%. Dublin needed everything they had to beat Mayo.
Dublin are deserved champions and in key moments they always seem to find that extra edge. Dublin don't win them by much but they do win them.
Subscribe to The42 podcasts here: