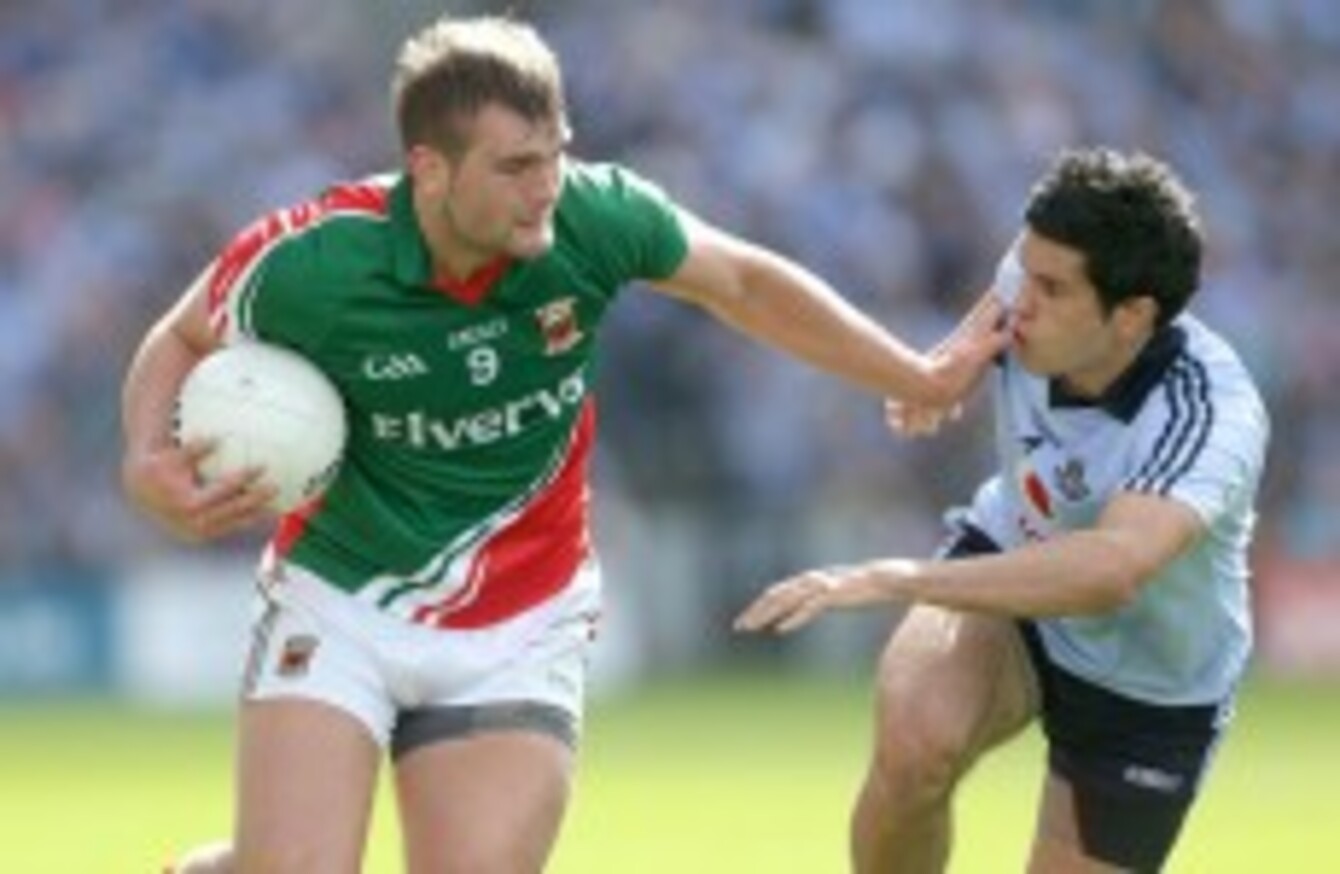 Dublin's Cian O'Sullivan with Aidan O'Shea of Mayo.
Image: INPHO/Morgan Treacy
Dublin's Cian O'Sullivan with Aidan O'Shea of Mayo.
Image: INPHO/Morgan Treacy
30 PLAYERS WILL take to the field on Sunday afternoon but it is the health of one that has been most heavily debated this week.
This player is still eligible for the U21 ranks yet his participation is regarded as the key to the destination of the Sam Maguire Cup.
That's an incredible position for Cillian O'Connor to be in but is indicative of how critical he is to the Mayo cause. Remove him and it's a major setback.
He's named to start but whether he will is debatable. It's a massive call. If he's not fit, I would not start him. He cannot have done a lot of training since the Tyrone game, certainly he must have done minimal contact work.
Mayo's attacking inspiration
If O'Connor is absent, do Mayo have the forwards to cope? The last day we saw Alan Freeman step up to the plate. He demanded the ball, he hit his frees confidently and he converted a penalty. That's a good sign and bodes well.
Andy Moran isn't exactly flying. He's such a spiritual leader of the team yet he isn't the same player he was last year before his injury.
Alan Dillon and Kevin McLoughlin are tremendous, tireless workers. But they operate far from goal regularly during games. Michael Conroy came on and made a difference against Tyrone, looking like a player who was there to stake a claim. End Varley is another option.
But are they going to come in to kick 1-6 or 1-7? You don't see that in them in contrast to O'Connor. He has that ability, that important calmness in front of goal. That's what Mayo could miss.
Pic: INPHO/James Crombie
Dublin's strength in depth
Conceding three goals in an All-Ireland semi-final normally creates concerns for a team. But the key context for Dublin is that they're not facing Colm Cooper on Sunday.
The Dublin player who suffered most against Cooper was Ger Brennan. I've said before that I believe Ger lacks pace. But what he brings to the table is that he organises his defence very well, is a very good kick passer and understands the game.
I would stick with Brennan and get Cian O'Sullivan and Michael Darragh MacAuley to drive at Mayo's midfield. Mayo's midfield are a superb pairing but the O'Shea brothers won't be keen on chasing them back. Dublin's full-back line has also come under scrutiny but they struggled against Kerry because so much space was given to Cooper outside them.
Philly McMahon came on the last day and is an option there. But he was very lucky to stay on the park in that game and I think he sails too close to the wind on many occasions. You need fellas to go out with a calm demeanour in such a big game.
Up front, I believe Dublin are better off with Kevin McManamon and Dean Rock coming in off the bench. Dublin have trusted and believed in their forwards all year. They're a very settled unit which isn't a bad thing.
If they're  not happy at stages on Sunday, McManamon can be brought in to inject pace and hopefully get goals. Rock gives them a different angle and is able pick off points. That's difficult to combat.
Pic: INPHO/James Crombie
The start to the match for Mayo
I was talking on Thursday night on Newstalk about Mayo's starts to the game with big Liam McHale and Kevin O'Neill. You look at last year when they had a calamitous start but after that, I think they technically won the game.
Their fears may prompt them to keep it nice and tight for the start to this game. But they have played a certain way all year and they shouldn't want to change that mindset. I'd like to see them trust themselves and apply pressure up the park on Cluxton's kickouts from the start.
Mayo need to be brave and show belief. Unfortunately for them, their past finals record is going to be a factor until they win one. It's not a monkey on Mayo's back but a big gorilla at this stage. Dublin were in a similar situation until they won in 2011.
I grew up in a county where you were told that Down don't lose All-Ireland finals. I walked into Croke Park at 21 years of age expecting to win. Mayo carry the exact opposite ethos, they don't perform in Croke Park to the extent they can win finals.
Eventually that trend has to be bucked. I do think this Mayo team have wee bit more backbone and they do crucially believe in their manager.
Verdict
The best two teams in 2013 have reached the biggest day. Mayo definitely have a chance and if they do not provide Dublin with space, their chance grows even further.
But I fancied Dublin at the start of the year. I talked and listened to Jim Gavin when he took the job about his plans. He expressed his enthusiasm for football and he has produced results. I believe they have the better balanced forward line and that's what will get them through by a few points.