Liveblog
Result: Dublin 4-11 Mayo 0-11
*****************************
Here's the teams named to start today:
Dublin
1. Ciara Trant (St. Brigid's)
2. Martha Byrne (Cuala)
3. Sinéad Finnegan (Fingallians)
4. Rachel Ruddy (Ballyboden St Enda's)
5. Sinéad Goldrick (Foxrock Cabinteely)
6. Niamh Collins (Foxrock Cabinteely)
7. Leah Caffrey (Na Fianna)
8. Lauren Magee (Kilmacud Crokes)
9. Olwen Carey (Thomas Davis)
10. Carla Rowe (Clann Mhuire)
11. Lyndsey Davey (Skerries Harps)
12. Nicole Owens (St Slylvester's)
13. Sinéad Ahearne (St Sylvester's) – captain
14. Niamh McEvoy (St Sylvester's)
14. Noelle Healy (St Brigid's)
Mayo
1. Yvonne Byrne (Ballyhaunis)
2. Orla Conlon (Castlebar Mitchells)
3. Sarah Tierney (Hollymount – captain)
4. Martha Carter (Carnacon)
5.  Rachel Kearns (CL McHale Rovers)
6. Marie Corbett (Carnacon)
7. Fiona Doherty (Moy Davitts)
8. Aileen Gilroy (St Brigid's)
9. Fiona McHale (Carnacon)
10. Doireann Hughes (Carnacon)
11. Niamh Kelly (Moy Davitts)
12. Ciara Whyte (Kilmoremoy)
13. Sarah Rowe (Kilmoremoy)
14. Cora Staunton (Carnacon)
15. Grace Kelly (Moy Davitts)
The referee today is Seamus Mulvihill.
Closing in on throw-in here, who's your tip to win this? Dublin chase a first title since 2010 while Mayo last won this championship in 2003.
Dublin 0-1 Mayo 0-0
Dublin quickly off the mark through a Sinead Aherne pointed free.
Dublin 0-1 Mayo 0-1
And Mayo are level with their star player Cora Staunton making space under pressure on the right to fist over a point.
First free of the day for Cora Staunton on the left wing for Mayo into Hill 16 but her shot drifts across goal and wide.
Patient build-up play by Dublin at the other end featuring a great run by Carla Rowe but the move culminates in Nicole Owens shooting wide.
Mayo 0-2 Dublin 0-1
Super score. Cora Staunton fires over a superb long-range free to edge Mayo in front.
Staunton then close to adding another from play but her kicks just tails wide from play. She's definitely causing problems early on for the Dublin defence.
Staunton being double marked now by Dublin defenders Sinead Finnegan and Niamh Collins.
Wides starting to tally up for Mayo, Staunton's third shot off target. The latest from a free.
Dublin having some trouble trying to make inroads against the Mayo rearguard around their half-back line but Nicole Owens has managed to engineer a free.
Dublin 0-2 Mayo 0-2
And captain Sinead Aherne shows the composure to slot the ball between the posts and bring Dublin level.
Mayo 0-3 Dublin 0-2
Dublin have plenty back in defence but Mayo find a gap and Niamh Kelly sprints clear to clip over a neat point.
Dublin 0-3 Mayo 0-3
All square now, Aherne's third pointed free of the game for Dublin.
Mayo 0-4 Dublin 0-3
Mayo back in front, Staunton hooking over a point under pressure.
Dublin 0-4 Mayo 0-4
Good play from Dublin against a packed Mayo defence and it's their first point from play as Aherne punches the ball over the bar.
Dublin 0-5 Mayo 0-4
Carla Rowe takes a quick free short and Aherne capitalises to shoot over her fifth point of the day. Dublin ahead by one.
Dublin 0-5 Mayo 0-5
Sinead Goldrick is turned over in possession in midfield and Mayo counter with Grace Kelly hooking over a point
Goal for Dublin from Niamh McEvoy!
Dublin 1-5 Mayo 0-6
Great work by Noelle Healy who got on the ball after a kickout, charged upfield and offloaded to Niamh McEvoy who stayed calm to roll a shot to the net. Mayo respond through a Cora Staunton free.
Sub: Dublin have lost defender Sinead Finnegan through injury with Deirdre Murphy coming in to replace her.
Dublin 1-6 Mayo 0-6
Back to a three-point game again. McEvoy lobs over a point after the hard yards were made by Lyndsey Davey.
Mayo goalkeeper Aisling Tarpey saves the Dublin penalty!
Aisling Tarpey is the Mayo hero just moments after being brought on in goal after Yvonne Byrne was sent to the sin bin for a foul on Sinead Aherne. Tarpey did well to tip Aherne's penalty away and Mayo cleared.
And now Mayo lose defender Rachel Kearns to the sin bin.
Mayo down to 13 players and Dublin fail to capitalise with Carla Rowe shooting wide.
What a let off for Mayo! Noelle Healy races through and it looks like she was fouled close to goal. She got the shot away but the ball hits the upright as Mayo clear. Should that have been a penalty?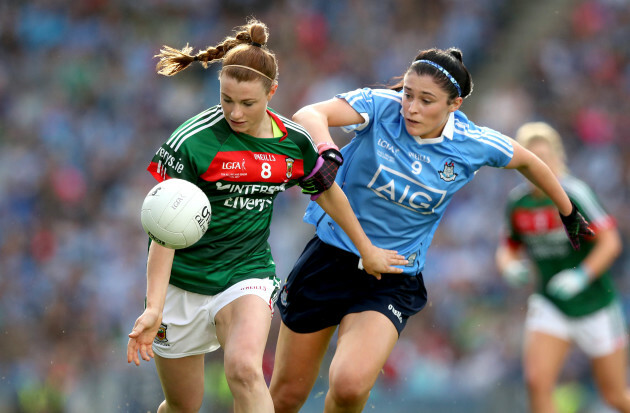 Source: Ryan Byrne/INPHO
Half-Time: Dublin 1-6 Mayo 0-6
46,286 the confirmed attendance in Croke Park, record for ladies football finals.
Dublin 1-7 Mayo 0-6
Sinead Aherne pops over a free after Lauren Magee was fouled. Dublin ahead by four.
Nothing is going right for Cora Staunton in front of goal. She's just hit her 8th wide of the game, the latest from a free.
Another Dublin goal chance but Nicole Owens blazes a shot wide with Carla Rowe on her shoulder in support.
Dublin 1-7 Mayo 0-7
Staunton on target this time from a free to cut the deficit Mayo face to three.
Dublin carve Mayo open again but another goal chance is spurned! Noelle Healy's shot is dragged wide after Sinead Goldrick, Carla Rowe and Sinead Aherne all involved in the move to create that opening.
Dublin 1-8 Mayo 0-7
Aherne again on target from a free to extend Dublin's advantage to four.
Sub: Mayo bring in Amy Dowling for Ciara Whyte.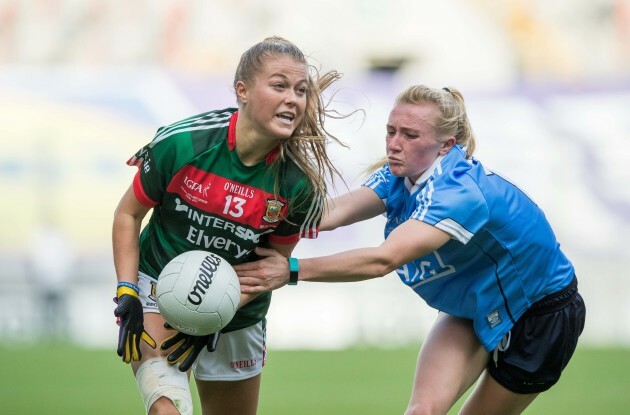 Source: Morgan Treacy/INPHO
Dublin 1-8 Mayo 0-8
Aileen Gilroy cuts the deficit Dublin face to three with a fine point for Mayo.
Dublin 1-9 Mayo 0-8
Aherne shows her excellence for Dublin, winning a free with an incisive run and then converting it. Dublin by four again.
Sub: Fiona Hudson on for Dublin for Martha Byrne.
Dublin 1-9 Mayo 0-9
Brilliant score from Cora Staunton from play when Mayo needed it most.
Dublin 1-10 Mayo 0-9
But Dublin instantly restore that four-point cushion as Carla Rowe raises a white flag.
Dublin 1-10 Mayo 0-10
Three in it again as Grace Kelly curls over a Mayo point.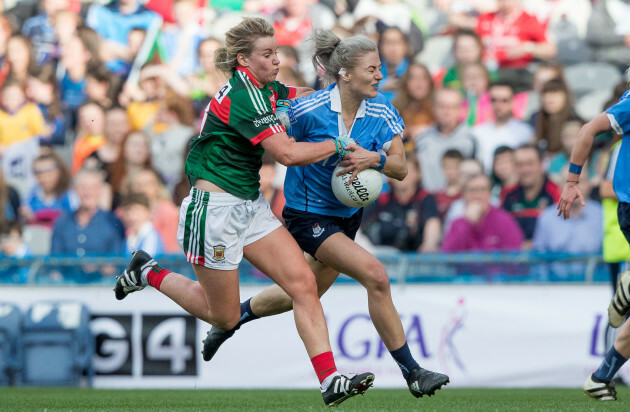 Source: Morgan Treacy/INPHO
Sub: Sarah McCaffrey on for Dublin for Lyndsey Davey.
Goal for Dublin from Sarah McCaffrey!
Dublin 2-10 Mayo 0-10
And that could be the key moment! They've threatened a second goal all through the second half and it's finally arrived. Carla Rowe burst through and despite being fouled, advantage was played allowing her to release the substitute McCaffrey, who blasted the ball to the roof of the net.
Sub: Dublin bring in Hannah O'Neill for Nicole Owens.
Dublin 2-11 Mayo 0-10
Sinead Aherne taps over a free and Dublin are in control.
Goal for Dublin from Carla Rowe!
Dublin 3-11 Mayo 0-10
They've lost the last three finals but Dublin are about to claim glory at last. Carla Rowe slots home their third goal and after Mayo pushed them hard in the second half, Dublin are storming clear now.
Fourth goal for Dublin from Sarah McCaffrey!
Dublin 4-11 Mayo 0-10
A kickout from Mayo goes astray and after Noelle Healy intercepted, she raced forward and played the ball across for McCaffrey to have the simple task of palming the ball to the net.
Dublin 4-11 Mayo 0-11
A late consolation point for Mayo from Cora Staunton.
Full-Time: Dublin 4-11 Mayo 0-11 – Dublin are champions!
After three final losses in a row, Dublin get to taste success as they make up for recent disappointments. It was comprehensive in the end but Mayo challenged them for long stages. Better team won in the finish, Dublin more clinical in front of goal. Thanks for joining us for today's decider.
Contribute to this story: