"JESUS, IS IT 25 years?" John McDermott wonders where the years have gone.
Yes, we assure him, a quarter of a century has passed since Dublin and Meath lit up the championship summer of 1991 with that four-game Leinster SFC saga.
McDermott was 21 and featured for ten minutes of game two as a Meath substitute.
Dublin's Paul Curran figured in all four games. In the first one, he was at midfield alongside Paul Clarke. Curran was shifted to wing-forward for the first replay, came off the bench at corner forward in game three and played the fourth match at centre forward.
For both McDermott and Curran, the memories come flooding back when they reflect upon clashes that captured the imagination of an entire nation.
After the highs of the country's international soccer team at Italia 90, the GAA bounced back with a bang a year later as Dublin and Meath served up memories to last a lifetime.
©INPHO Paul Curran gets ahead of Meath's Terry Ferguson in 1991. ©INPHO
Those were days when the hits went in hard and often, and McDermott wonders how many players would be guilty of black card offences under current rules if you went back through the tapes of the four games.
He also recalls a massive drinking session a week before the final instalment, as Meath boss Sean Boylan decided to whisk his players to Scotland to escape the hype.
Curran smiles and admits that drinking bans weren't part of Dublin's make-up either at the time.
"There was always a few jars around, always!
"There was no such thing as no drink. There were fellas on that team who went out the night before matches.
"Dave Foran and Ciaran Walsh would have one or two pints on the Saturday night, that was accepted. I'd imagine there were a few more going out unofficially but they'll remain nameless! It's moved now completely, totally changed, a different ball game."
There were twists and turns aplenty, with McDermott honest enough to admit that Meath could have been beaten "out the gate" in three of the games.
"That was my first year on the panel," McDermott recalls.
"My first game for Meath was against Dublin in the League, that was a draw, and my first championship game was against Dublin, in the second match.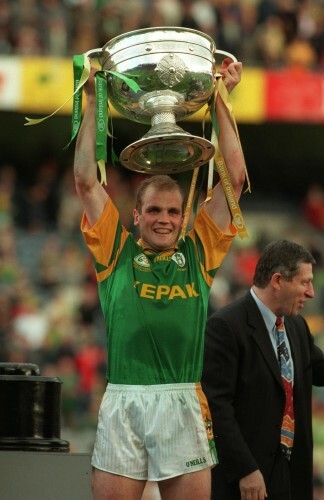 Tom Honan / INPHO John McDermott proudly parades the Sam Maguire cup in 1999. Tom Honan / INPHO / INPHO
"In Meath at that time, footballers were judged on how well you did against Dublin, not how well you did in an All-Ireland.
"Usually that was in a Leinster final but in that year, it was the first round.
"We had some big characters, the likes of Colm O'Rourke, Robbie O'Malley, Mick Lyons, big names in Meath football. They were heroes to me, I grew up looking at those guys.
"The four-game saga was the thing that put them on the map."
It's a big statement from McDermott, when you consider that Meath won All-Ireland senior titles in 1987 and 1998, and contested another final in 1990 against Cork.
"I think so," he insists. "From then on, the GAA became a bit more 'in vogue.'
"The four games did more for Gaelic Football's profile than ten All-Irelands, caught the imagination of the country."
The series ultimately culminated with Kevin Foley netting an unforgettable equalising goal for Meath in the third replay, before David Beggy kicked the winning point.
MeathClips / YouTube
MuscularChristianity / YouTube
"In three of the four games, Meath should have been beaten out the gate," McDermott admits.
"And the way the (fourth) game ended, if you were to pick someone to score a goal, Kevin Foley would be the last fella.
"It was goal or bust. It started down the far end but Tommy Dowd made that goal.
"Colm O'Rourke was fouled and he could see something happening. He got up, kicked the free, 'Jinxy' (Beggy) got it, to PJ Gillic, Tommy with a one-two with (Brian) Stafford and that injected pace into the whole movement. 
"We weren't sitting on the line, we were standing, willing the ball into the net.
"Everybody was shocked. Kevin f*****g Foley! Where did he come from?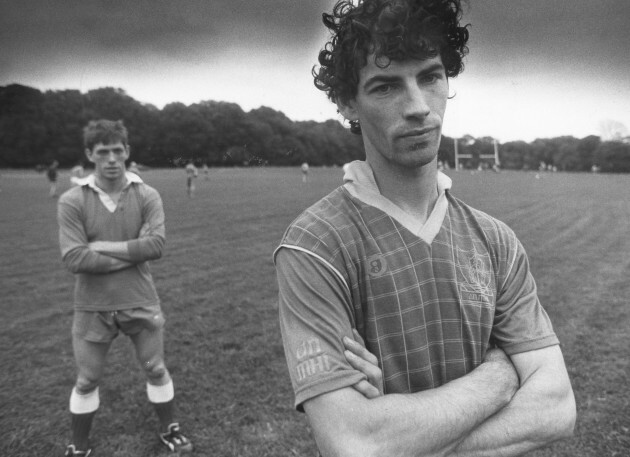 Billy Stickland / INPHO Meath goal hero Kevin Foley. Billy Stickland / INPHO / INPHO
"Someone made a comment years later about how he ran back into position the way he did, in such a casual way.
"He didn't buck leap, no fist-pumps or a run to the Hill. It was as if he'd left his gloves in the dressing room."
On co-commentary alongside Ger Canning, legendary former Kerry boss Mick O'Dwyer lost the run of himself a little, McDermott remembers.
"Beggy will never forgive him!" McDermott laughs. "On commentary, Micko said that 'the right man has it, (Bernard) Flynn!'"
But it was most definitely Beggy and with one swing of his right boot, over five hours and 40 minutes of championship fare was settled.
"We had two weeks of a gap between the last two games," McDermott says.
"And we had the mother and father of a 'strength and conditioning' session! 
"Serious craic. The late Noel Keating, founder and MD of our team sponsors Kepak, and Sean Boylan organised a trip to Scotland. We trained but by God did we enjoy ourselves.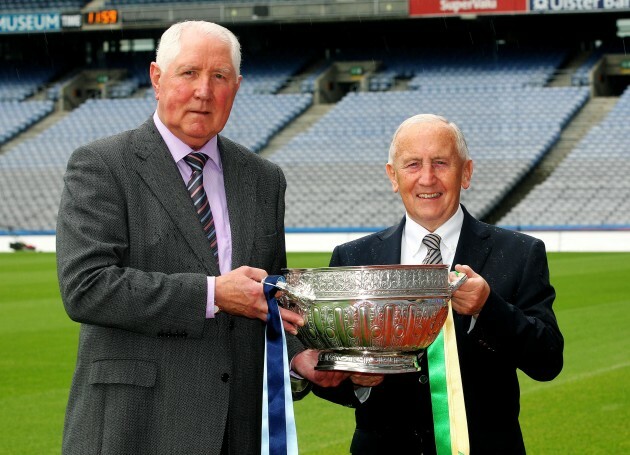 Lorraine O'Sullivan / INPHO Dublin's Paddy Cullen (left) and Sean Boylan were team managers in 1991. Lorraine O'Sullivan / INPHO / INPHO
"Everybody went absolutely mad over there. We had a training session on the weekend before the fourth game, onto the pitch and everybody was absolutely dying.
"The bus driver had to go back to the hotel and get water – and he had to go back again later for more water.
"Noel and Sean had gone over to suss out this beautiful hotel and they felt it was the best place to bring the team, to get away from everybody and just to get us out.
"Football was the last thing in our minds for part of that trip and it was the right decision.
"They were great times. I'm not going to go down the road of how it was so different in our day but it was a different type of football. The modern game wouldn't suit guys like me at all. I was more catch and kick but if you look back at those games, some of the hits were so bone-crunching that you could hear them. They wouldn't be tolerated in the modern game.
INPHO Dublin's Keith Barr misses a penalty in game 4. INPHO
"I was a young guy, 21, and there wasn't a much better way to start an inter-county career than that. Every game in Croke Park was a sell-out, every game a thriller. Then we went into a recession for five years before coming again in '96.
"You had some great battles," McDermott adds.
"(Eamon) Heery against Beggy, two real hard guys, Mick Lyons and Vinny Murphy.
"Robbie O'Malley was one of the best corner backs of all time but in every line, we had a leader. You had O'Malley, Harnan, Lyons, McEntee, O'Rourke, Hayes. You didn't have to look too far to say 'this fella will dig us out of a hole.'" 
McDermott's 46 now, the father of four children, three boys and a girl.
He'll bring them to Croke Park next Sunday but unlike 25 years ago, Meath travel more in hope than expectation.
But McDermott says: "If I was a Meath player, I'd be thinking 'isn't it great to have this team beside us – I want to see how good I am against them.'
"Dublin are the best team in the country by a mile and let's see how well we get on against them. If you want to judge yourself, judge yourself against the best."
***
Paul Curran finished that fourth game against Meath suffering from a bout of concussion and with hazy memories from a work night out.
He worked with Gilbeys at the time, helping to manufacture Baileys Irish Cream, and the third replay coincided with the company's big summer bash.
"It was over in Leopardstown, a couple of hundred people at it.
"I don't remember a whole lot about it. I ran into Mick Lyons's knee, lost control of a ball soloing through and when it went out in front of me, I went to go for it and flick it away.
"Mick came straight through and smashed me with his knee."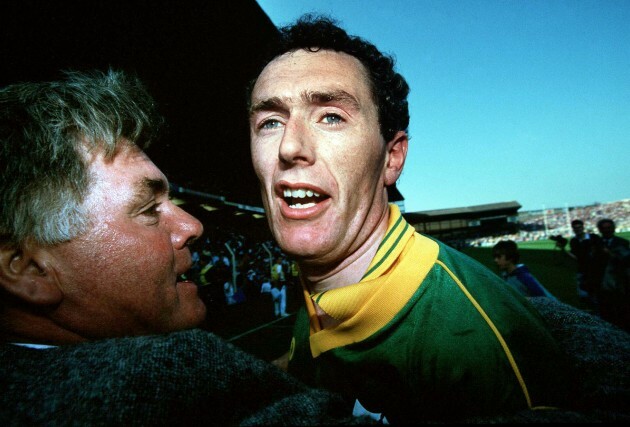 INPHO Brian Stafford savours Meath's eventual win. INPHO
Curran played on for the remainder of the game and when asked for his stand-out memories of the four matches, one sticks out above all others.
"The result, still," he says, ruefully. "I think the Meath boys would probably remember it a bit more fondly. We ended up on the wrong end of the result and you try to wipe it from the memory as quickly as possible. The ones you win, you have a little bit more memory about.
"But I'd remember the key incidents in the game. In game 1, Mick Deegan coming out with the ball, dispossessed and PJ Gillic, from the Hogan Stand sideline, bouncing one over John O'Leary and over the bar.
"In the second game, there was Vinny Murphy's boo-boo at the end, straight through and he went for goal instead of fisting it over.
"The third game was a funny one for me. I was dropped, came on and ended up kicking the equaliser in extra-time from under the Hogan Stand down into Hill 16.
"That score came early in the second period of extra time, there were no more scores after that.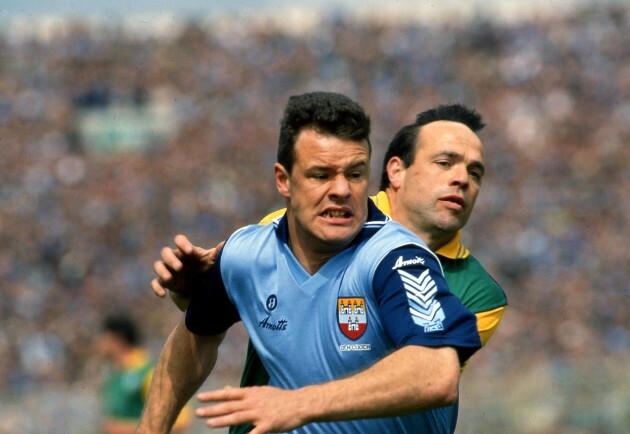 ©INPHO Vinny Murphy tussles with Meath's teak-tough full-back Mick Lyons. ©INPHO
"The fourth game was played in brilliant sunshine, a Saturday evening and you had the rollercoaster that finished the whole thing. We were in a position of control, let it slip and missed a penalty. It looked like extra-time again and then Beggy popped up with the winner to put us all out of our misery."
There was some video analysis in between games, Curran recalls, but nothing as scientific as nowadays.
"It would have been the old VHS cassette, the tape pushed in, fast forwarded with a remote control, stopped and maybe played back a couple of times.
"That was the science behind the video stuff then."
Meath went on that year to contest an All-Ireland final against Down, where they were beaten.
Curran reckons that if Dublin had emerged from the province, they could have gone all the way.
"I think it might have kicked us on," he says. "I think we were a fresher team than Meath, we were coming at that stage.
"After '91, we'd play in three of the next four All-Ireland finals, we were on the rise whereas Meath had won their two All-Irelands and a few of their lads were coming to the end."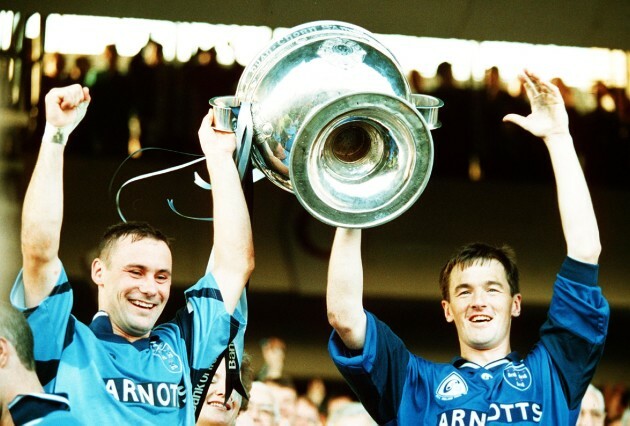 INPHO Paul Curran (left) and goalkeeper John O'Leary with Sam Maguire in 1995. INPHO
Curran dropped back in later years to play as a wing-back and his defensive head tells him that Foley's famous goal should have been stopped at source.
"I think it was Martin O'Connell that should have been hooshed out over the line by Vinny. But it was a big strong arm by Vinny that got the whole thing going. 
But we showed good character to come back in the years that followed. It could have done some damage but don't forget that Meath were the dominant force in Leinster at the time. They won Leinster in 1986, '87 and '88, we pipped them in '89 but they won again in '90 so they'd won four of the previous five.
"They went on to win that one as well so they had complete domination of Leinster.
"Laois did us a favour in '92, taking Meath out in the early rounds and that was a massive boost for us. I remember being at home and listening the radio and news came through that they'd been beaten. I got a great lift from that."
In 1995, Curran finally won the All-Ireland senior crown that he craved while McDermott went on to capture Celtic Crosses in 1996 and 1999. Two men linked together by the events of that summer in '91.
"Thanks for the trip down memory lane," says McDermott, cheerily, before signing off.
John, the pleasure was all ours. As it was back then.
The42 is on Snapchat! Tap the button below on your phone to add!