AT HALF-TIME IN Croke Park yesterday, Dublin had produced 17 shots from play to Meath's seven, and by full-time it was 25–13 in Dublin's favour.
To beat Dublin will require a team to get everything right and hope the Dubs are not quite firing on the day. Meath were close in the first half but the game ran away from them in the second.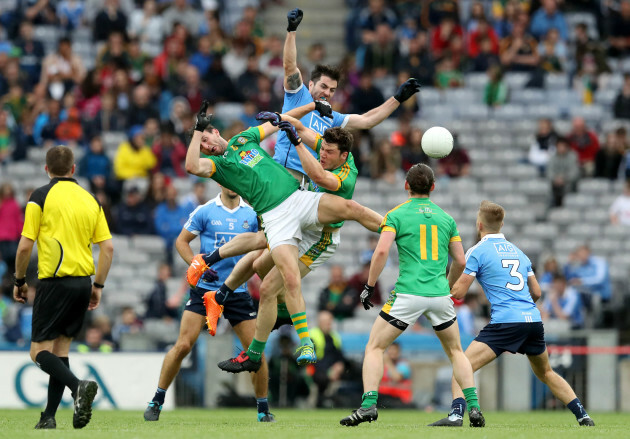 Ryan Byrne / INPHO Dublin and Meath players battling for possession yesterday Ryan Byrne / INPHO / INPHO
There were signs throughout the first half that Dublin weren't quite there. Meath had an early goal chance that they failed to convert, they only kicked two wides to Dublin's six but still found themselves trailing by three at half-time. Dublin won't shoot seven points from 17 (41%) shots in too many halves of football this year.
And any team with aspirations to beat them has to take advantages of those favours when they come their way.
In the end Dublin looked like playing in second gear was enough to see off Meath and you always felt that Dublin could turn it on and pull away. But when Meath look back at the game, they will see that it was in the first half that it got away.
With the game won at a canter in the end, it is hard to read too much into how Dublin played.
Counter Dublin
Most teams are at their most dangerous when they turn the ball over and while Dublin can look like they are playing a different game at times when it comes to movement at kickouts, shooting from long range or general attacking prowess they do look mortal when it comes to being hit on the counter.
Laois exposed them a few times in Nowlan Park and Meath had a number of good opportunities in the first half.
Counter 1:
Dublin will never be found wanting in committing men forward. It's one of the hall marks of their game, one of the few teams to really go all-out attack at times.
But that does come at a cost, a cost they have limited since Donegal ambushed them in 2014, yet that natural instinct has still not left them.
As Bernard Brogan gets swallowed up by some Meath defenders, Dublin have seven attackers.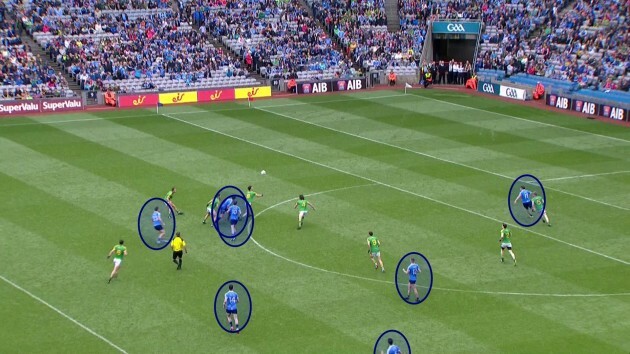 RTÉ Player RTÉ Player
This is not a big issue as long as the opposition don't attack you at speed but when they do, Dublin look vulnerable.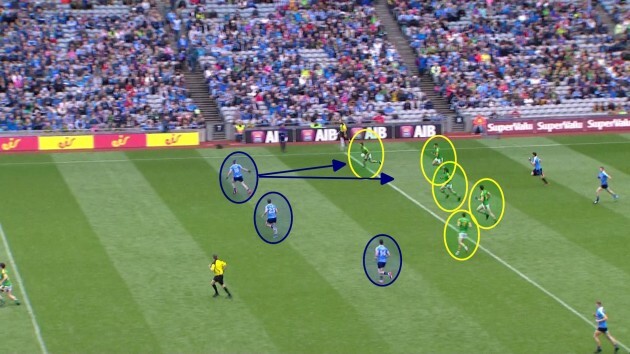 RTÉ Player RTÉ Player
Meath have created a five v three situation in midfield and their runners are coming at pace. Bastick is pointing, presumably trying to organise things inside him. Dublin really just want to slow the attack at this stage, give the defence time to reorganise before the cavalry arrive.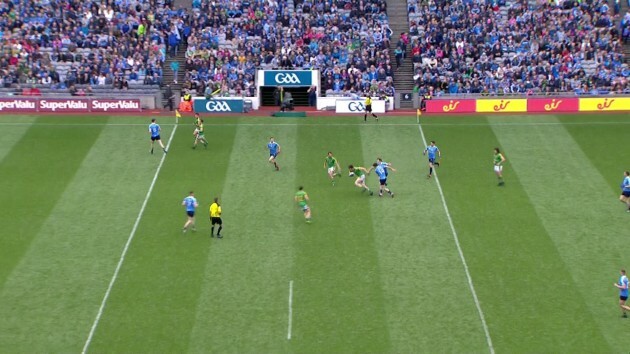 RTÉ Player RTÉ Player
Surprisingly the Meath player manages to break the tackle of both Flynn and Connolly. In the meantime, a couple of the Dublin players have switched off, especially Bastick.
The spare man nearest the ball and the spare man near Fenton on the '65 are both now in dangerous positions. Bastick should have taken at least one of these, instead he has left both go past him with too much ease.
RTÉ Player RTÉ Player
This overlap forces Cian O'Sullivan out to meet them. Ultimately this chance led to a well taken point for Meath, we could hardly say they had carved Dublin open here but it was an early sign.
Counter 2
Bernard Brogan is beaten to the ball and Meath reach their own '45. Initially it's hard to see much wrong with the Dublin shape.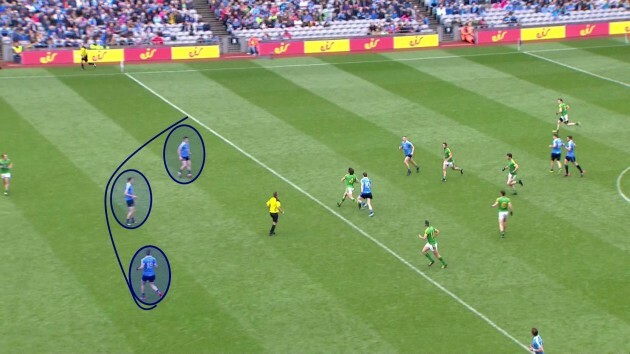 RTÉ Player RTÉ Player
From here however Dublin just seem to switch off. In the next image we can see Small and Fenton aren't even looking at the ball and are slow to spot the danger.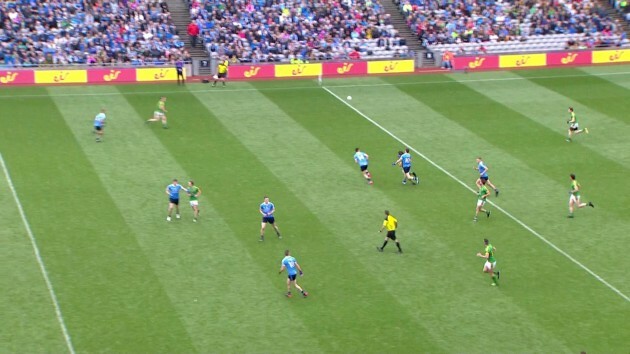 RTÉ Player RTÉ Player
Granted they might have an eye on their men but Fenton especially should spot the danger on the ball and maybe be less concerned with what is happening on the far wing.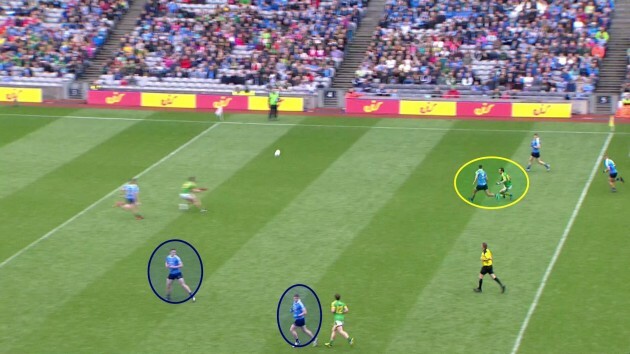 RTÉ Player RTÉ Player
You can see again a few seconds later as Graham Reilly has brilliantly wrong footed McCarthy, Fenton is still looking the other way, failing to recognise the big hole that's opening up through the middle.
RTÉ Player RTÉ Player
Again this counter attack forces Cian O'Sullivan's hand and he has to come out and meet Reilly. This leaves a one v one inside and considering the early goal chance Meath created, I really felt they should have been willing to test the same ball a few more times.
Against better (and possibly taller) inside forwards this sort of space might lead to conceding more than a point or two for Dublin.
Push Up Or Drop Off?
Cluxton marked his 80th appearance on Sunday and the headline of the piece in the match programme called him the game's biggest influencer. Every team, coach, commentator and analyst worries about the kickouts strategy when they face the Dubs.
The first thing to say, is that it's just not that easy. Having a strategy and having players (and enough time) to execute that strategy are very different things.
Exclusive Six
Nations Analysis
Get Murray Kinsella's exclusive analysis of Ireland's Six Nations campaign this spring
Become a Member
To put strategy versus execution in context – since 2011 only one team has got the better of Dublin on their own kickouts. Only one team has managed to win more of Dublin's kickouts then they could win themselves. That was Kerry in the 2011 All-Ireland final.
Since that All-Ireland final in 2011, Dublin have never lost their kickout battle. So despite all the great minds, the endless hours of tape watched and all the articles and strategies written. nobody has got it figured out.
The best a team has achieved in the past two and a bit seasons is to win 37% of Dublin's kickouts. That's the best result.
Should you push up and at least try and win some? Possibly. But sometimes when the best you can do is win a third, you can possibly over egg the importance of this facet of the game.
Meath allowed Dublin a clean run at the kickouts, forcing Cluxton long on two occasions all game. Pushing up comes at a risk, a risk most teams don't seem comfortable taking.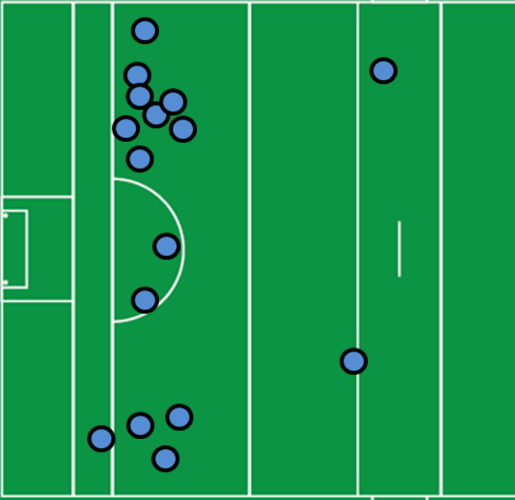 Rob Carroll Rob Carroll
Free Taking
For all that will be said about Dublin winning this game at an ease and the likelihood is that they had many more gears to use if necessary, the gap at the end of 11 points was made even easier by the number of fouls Meath gave away.
Dean Rock was magnificent from placed ball, converting nine frees. Until Dublin's last two scores of the game the difference between both teams was the Dublin frees.
Meath needed to be aggressive but an accusation I would make of all teams is they don't seem to realise how costly those scoreable fouls really are.
So for clarity here is a simple graphic.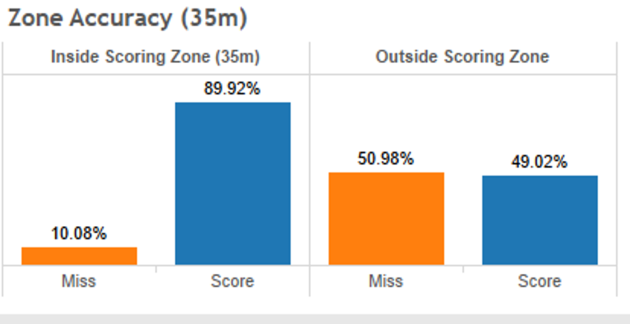 Inside 35 metres the return from placed ball is 90%. From play inside 35m the return is just 51%.
You are handing a team an enormous advantage when you foul. So by all means be aggressive, but understand the cost when that aggression leads to fouls.
Dublin will have much sterner tests to come and it's probably only then we will find out if the minor weaknesses they have shown will be present on the big days.
The42 is on Snapchat! Tap the button below on your phone to add!