LAST UPDATE | Nov 21st 2020, 7:09 PM
Result: Dublin 3-21 Meath 0-9
******************
Welcome to tonight's live coverage of the Leinster SFC final, as Meath bid to stop Dublin's bid for a 10th Leinster title in-a-row. Here's how the teams are named to start.
There's one late change for Dublin. Davy Byrne replaces Tom Lahiff. He'll most likely switch to the full-back line, with Eoin Murchan at wing-back and James McCarthy pushed to midfield.
Dublin
1. Stephen Cluxton (Parnells)
2. Michael Fitzsimons (Cuala)
3. Jonny Cooper (Na Fianna)
4. Eoin Murchan (Na Fianna)
5. James McCarthy (Ballymun Kickhams)
6. John Small (Ballymun Kickhams)
7. Robbie McDaid (Ballyboden St Endas)
8. Brian Fenton (Raheny)
19. Davy Byrne (Naomh Olaf)
10. Niall Scully (Templeogue Synge Street)
11. Ciarán Kilkenny (Castleknock)
12. Sean Bugler (St Oliver Plunkett's/ER)
13. Paddy Small (Ballymun Kickhams)
14. Con O'Callaghan (Cuala)
15. Dean Rock (Ballymun Kickhams)
Meath
1. Mark Brennan (O Mahonys)
2. Seamus Lavin (St Peter's Dunboyne)
3. Conor McGill (Ratoath)
4. David Toner (Curraha)
5. Donal Keogan (Rathkenny – joint captain)
6. Shane McEntee (St Peter's Dunboyne)
7. Matthew Costello (Dunshaughlin)
8. Bryan Menton (Donaghmore Ashbourne – joint captain)
9. Ronan Jones (St Peter's Dunboyne)
10. Cillian O'Sullivan (Moynalvey)
11. Bryan McMahon (Ratoath)
12. Ronan Ryan (Summerhill)
13. Jordan Morris (Nobber)
14. Shane Walsh (Na Fianna)
15. Thomas O'Reilly (Wolfe Tones)
An eery silence fell around Croke Park as the Bloody Sunday centenary ceremony got underway, remembering the 14 victims from that horrific day 100 years ago.
Both sets of players are warming up now as the 7pm throw-in time approaches.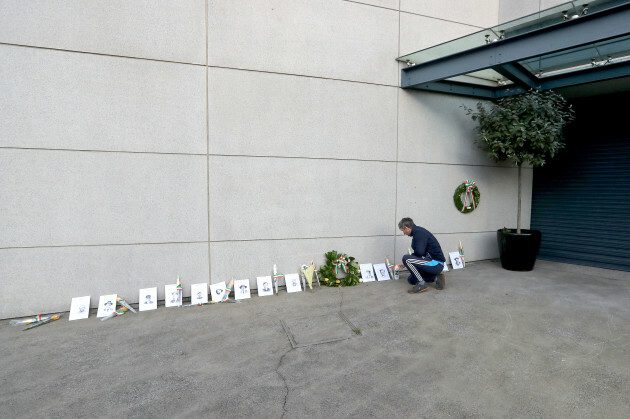 Bryan Keane / INPHO Bryan Keane / INPHO / INPHO
The national anthem is over and we're about to get underway. Meath start as selected.
Dublin 0-0 Meath 0-1
2 mins – Bryan Mention gives Meath the lead after a darting run from Cillian O'Sullivan.
Dublin 0-1 Meath 0-1
2 mins – Paddy Small opens the Dublin account with a free.
Dublin 0-2 Meath 0-1
5 mins – Dean Rock with Dublin's second free of the night.
Dublin 0-2 Meath 0-2
8 mins – Nice boost for Meath as they get a turnover and Jordan Morris points.
Goal for Dublin from Dean Rock!
Dublin 1-3 Meath 0-2
10 mins – That's the devastating response Dublin are capable of. They netted from a move that stemmed from a Cluxton kickout as Brian Fenton fed Rock to score. Then Paddy Small added a point from a mark. Four in it.
12 mins – Bryan McMahon shoots wide for Meath, Sean Bugler hits one off the post for Dublin and then both Con O'Callaghan and Paddy Small are off target with shots.
Dublin 1-5 Meath 0-2
14 mins – No mistake from Ciaran Kilkenny as he shoots over a typical point and Rock adds another.
15 mins – Half a goal chance for Meath but it doesn't work out and the eventual shot for a point goes wide. Those are the type of chances they can't spurn.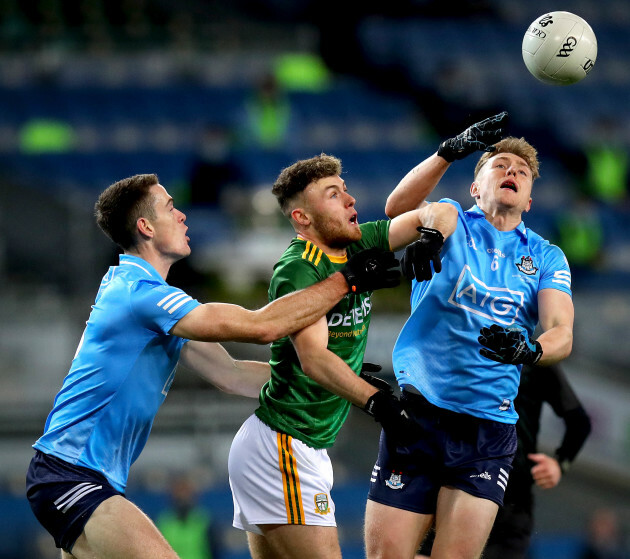 Ryan Byrne / INPHO Ryan Byrne / INPHO / INPHO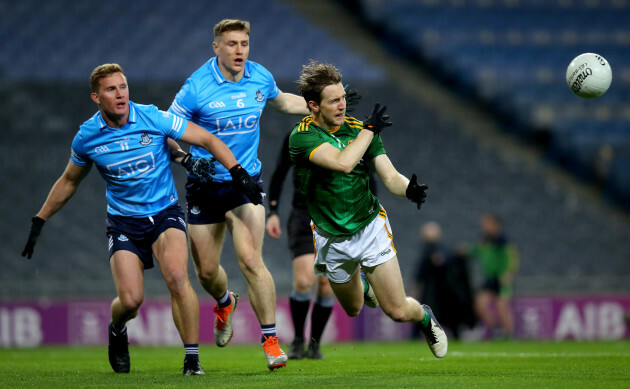 Water Break: Dublin 1-6 Meath 0-2
Dublin 1-7 Meath 0-2
19 mins – The action resumes with normal service as Con O'Callaghan points to leave eight between the sides.
Dublin 1-8 Meath 0-2
20 mins – Ciaran Kilkenny with Dublin's latest point and Meath's struggles continue.
21 mins – Exactly the sort of stuff that hits Meath hard, a chance to pick off a point from a free but young Jordan Morris sees his shot go wide.
Goal for Dublin from Sean Bugler!
Dublin 2-8 Meath 0-2
23 mins – This is just ruthless from Dublin. Meath are trying desperately to close down point-scoring chances but suddenly the gaps open up with Robbie McDaid involved for a burst that culminates in Sean Bugler palming to the net.
Dublin 2-9 Meath 0-2
28 mins – Meath see another free count for nothing as Thomas O'Reilly's attempt drops short, Paddy Small converts a chance at the other end for Dublin.
Dublin 2-10 Meath 0-2
30 mins – Dean Rock slams over a '45 for Dublin.
Dublin 2-12 Meath 0-2
35 mins – Rock and Scully stretch Dublin's advantage further. 16 points in it now.
Half-Time: Dublin 2-12 Meath 0-2
Well there's not much more to say about that latest expression of Dublin dominance? We'll be back shortly with the second-half action but this game is only heading in one direction with Dessie Farrell's side on course to complete ten-in-a-row for the county.
Second-half action under way, Brian Howard on for Dublin.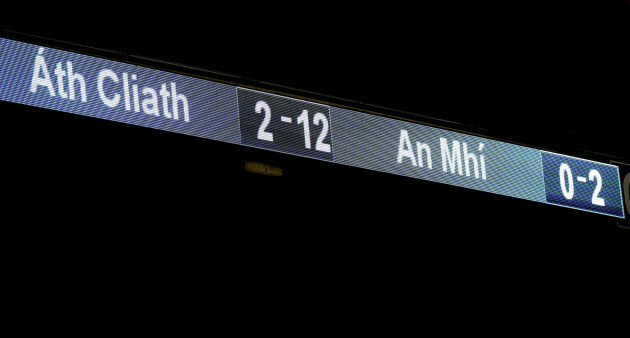 Ryan Byrne / INPHO That half-time score makes grim reading for Meath fans. Ryan Byrne / INPHO / INPHO
Johnny Cooper, who hurt his ankle near the end of the half, is gone off for Dublin with Howard coming in.
Dublin 2-13 Meath 0-3
40 mins – Dean Rock knocks over a free and then Thomas O'Reilly scores a dead ball for Meath, their first score since the 8th minute.
Dublin 2-13 Meath 0-4
41 mins – Nice effort by Cillian O'Sullivan off his left for Meath.
Subs: Cathal Hickey and Eoin Harkin in for Meath.
Dublin 2-15 Meath 0-4
44 mins – John Small and Ciaran Kilkenny tap over points for Dublin, who have the luxury of bringing in a player of the calibre of Paul Mannion for Paddy Small.
Dublin 2-16 Meath 0-4
51 mins – Con O'Callaghan with Dublin's last point, then HawkEye judges Dean Rock's shot is wide. Meath introduce Jason Scully to their struggling side.
Water Break: Dublin 2-16 Meath 0-4
So not many scores during that period, Dublin are still 18 points clear. They won last year's final by 16 points and in 2014 it was 16 as well when they took on Meath.
Dublin 2-19 Meath 0-4
60 mins – Sean Bugler, Ciaran Kilkenny and Paul Mannion keep the scoreboard ticking over for Dublin.
61 mins – Meath get sight of goal, Joey Wallace fires in a shot under pressure but Cluxton beats it away.
Dublin 2-19 Meath 0-4
61 mins – Black card for Meath's Ronan Jones as Rock taps over a free for Dublin.
Dublin 2-20 Meath 0-7
65 mins – So Meath have at least beat last year's total on the scoreboard against Dublin with three points in a row arriving. Jason Scully, Joey Wallace and Jordan Morris all on target.
Red card for Dublin's Cormac Costello.
Straight red for the Dublin substitute, not sure what it was for but he seemed at a loss when he saw the colour of the card.
Dublin 2-21 Meath 0-8
69 mins – Sean Bugler slams over a point for Dublin with a goal seemingly on. Jordan Morris clipped over a free for Meath. Three minutes of injury time will be played.
Dublin 2-21 Meath 0-9
71 mins – Meath grab another point through Jordan Morris.
Goal for Dublin from Niall Scully!
Full-Time: Dublin 3-21 Meath 0-9
A familiar story as Dublin win yet another Leinster senior football title. Again it's another miserable experience for Meath and the state of the inter-county action in the province.
21 points to spare for Dublin, they'll take on Donegal or Cavan on Saturday 5 December in the All-Ireland semi-final. Can anyone stop them in 2020? It's the end of the championship road for Meath.
Thanks for joining us tonight.