Liveblog
Good evening and welcome to tonight's action from O'Moore Park, Portlaoise.
Here's how the sides will line out. There's one change on the Offaly team, no word of changes yet from the Dubs.
Dublin
1. Evan Comerford (Ballymun Kickhams)
2. Darren Byrne (Raheny)
3. Cillian O'Shea (Kilamcud Crokes)
4. Shane Clayton (Ballyboden St Enda's)
5. Declan Monaghan (Clontarf)
6. Sean McMahon (Raheny)
7. Brian Howard (Raheny)
8. Andy Foley (Clontarf)
9. Darren Gavin (Lucan Sarsfields)
10. Cian Murphy (Thomas Davis)
11. Tom Fox (Kilamcud Crokes)
12. Aaron Byrne (Na Fianna)
13. Chris Sallier (Thomas Davis)
14. Con O'Callaghan (Cuala)
15. Stephen Smith (Skerries Harps)
Offaly
1. Barry Rohan (Shannonbridge)
2. Clint Horan (Clodiagh Gaels)
3. David Dempsey (Ballycommon)
4. Colm Doyle (Clara)
5. Adam Mahon (Edenderry)
17. Jack Egan (Ferbane)
7. PJ Daly (Cappincur)
8. James Lalor (Raheen)
9. Jordan Hayes (Edenderry)
10. Ciarán Farrell (Edenderry)
11. Paddy Dunican (Shamrocks)
12. Jack Walsh (Gracefield)
13. Ronan McEvoy (Shannonbridge)
14. Ruairi McNamee (Rhode)
15. Shane Tierney (Daingean)
Dublin 0-1 Offaly 0-0
1 min – Tom Fox gives Dublin the lead.
Dublin 0-1 Offaly 0-1
3 min – Shane Tierney responds to level us up.
Dublin 0-2 Offaly 0-1
4 mins – Glenn O'Reilly sends Dublin back in front.
Dublin 0-3 Offaly 0-1
6 mins – Con O'Callaghan misses a scoreable free, but Chris Sallier sends over a score a moment later.
Dublin 0-3 Offaly 0-2
8 mins – Patrick Dunican drives forward and reduces the gap to one.
Dublin 0-4 Offaly 0-2
11 mins – Aaron Byrne curls over after a quick Dublin counter-attack.
Colm Basquel was a late addition to the Dublin bench.
Dublin 0-5 Offaly 0-2
14 mins – Byrne doubles his tally for the Dubs. Offaly are being made work hard for scores.
The game is being streamed live right here:
Source: TG4/YouTube
Dublin 0-6 Offaly 0-3
15 mins – Byrne slots over a 45 for Dublin's third score in a row, but Shane Tierney puts over a wonderful score in response.
Dublin 0-7 Offaly 0-3
18 mins – Fox sends Dublin four in front. Offaly have scored just once since the 8th minute.
Dublin 0-7 Offaly 0-3
20 mins – Ruairi McNamee kicks Offaly's fifth wide.
Dublin 0-7 Offaly 0-4
21 mins – Tierney lands over another stunning point to bring the Faithful back to within three.
Dublin 0-8 Offaly 0-4
25 mins – Byrne extends Dublin's lead to four. Con O'Callaghan has been quiet so far but he was a central figure in that move. Offaly are now on seven wides.
Dublin 0-7 Offaly 0-5
27 mins – Jordan Hayes lands a massive point from distance.
Dublin 0-9 Offaly 0-5
29 mins – Eoin Murchan tags on a score after a fast Dublin breakaway.
Dublin 0-10 Offaly 0-5
30 mins – O'Callaghan swings over a free he won himself. It's double scores, despite Offaly's recent spell of dominance.
Half-time: Dublin 0-10 Offaly 0-5
Offaly competing really well but 8 wides have cost them.
Con O'Callaghan has scored just once so far, a free in the 30th minute, but Dublin's runners from deep are doing the damage.
Dublin 0-11 Offaly 0-5
32 mins – O'Callaghan and his marker David Dempsey pick up yellows. The former slots over a free for four-in-a-row chasing Dublin.
Source: Morgan Treacy/INPHO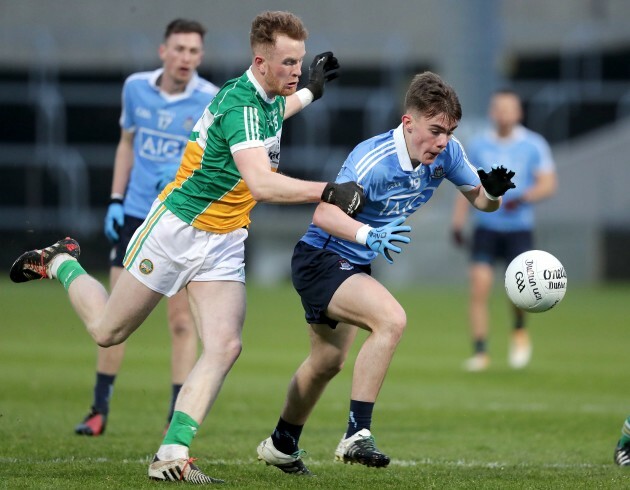 Source: Morgan Treacy/INPHO
Flag
GOAL! Tom Fox hits the net after being slipped through by O'Callaghan. Dublin lead 1-11 to 0-5.
Dublin 1-12 Offaly 0-5
38 mins – O'Reilly lands over a nice point for Dublin. That's 1-4 without reply now for the champions.
Dublin 1-12 Offaly 0-6
41 mins – Tierney swings over a much-needed free for Offaly.
Dublin 1-12 Offaly 0-7
47 mins – Hayes sends over a free for Offaly, who are yet to score from play since half-time.
Dublin 1-12 Offaly 0-8
49 mins – Another free from Hayes for the Faithful.
Dublin 1-13 Offaly 0-8
55 mins – O'Callaghan sends over his first from play.
Flag
GOAL! Smith with a low finish off the left. Dublin are home and dry now!
Flag
FT – Dublin 2-14 Offaly 0-8
Contribute to this story: