What was Plan B?
IT WAS THE 62nd minute of Sunday's All-Ireland football semi-final before Tyrone had committed a foul in the Dublin half. Not that fouling should be endorsed but it did show a distinct lack of pressure. Even as Dublin's lead stretched, Tyrone showed no signs of having anything different to offer.
Mickey Harte said afterwards that he was happy enough with how the game was progressing up until Con O'Callaghan scored Dublin's first goal — but that happened just five minutes in. Where was Harte's 'What if' plan?
There have been almost no books from Dublin footballers. No exposé, no leaks, no ex-player in the media giving an inside track. Earlier this year Paul Kimmage interviewed Fergus Connolly, someone who worked with this Dublin and Jim Gavin at the start. He gave some insight to how this team train.
"It's not about fitness," Connolly said. "Fitness is important but it's about the ability to play and make decisions. And from day one that was the goal: How do we produce the best footballers? How do we train them to make decisions in the spur of the moment? With fitness for sure, but there must be a Commander's intent.
"In the US military, every single action carried out by a soldier on the battlefield must be traceable back to, basically, the Commander-in-Chief. But if there's too much structure, the guys will look for approval for everything and fuck up. So it comes back to the Mike Tyson rule: everybody has a plan until they get punched in the face. But everybody needs a plan when they get punched in the face."
It would be a mistake to think that this decision-making comes naturally to these Dublin players. Decision-making can be coached, but not with drills and cones. Dublin's training will be constantly challenging the players to make decisions, setting up plays where it forces attackers and defenders to constantly pick out the right option under the sort of pressure and time constraints they will have in a game. Cian O'Sullivan is a classic case of player who, at sweeper, seems to nearly always make the right choice. Video analysis will have helped but the preparation on the training field of constantly getting him to make those crucial decisions is where the game is won and lost.
"So every player on the field has a clear objective," Connolly continued. "How he does it at that point in time, I don't care. I give you the tools — you figure it out. And where it becomes beautiful, and it was beautiful, is when you have 15 guys on the field improvising."
Do Dublin have a system? Yes, sort of. They will have a set of general rules (Commander's intent) but beyond that, the Dublin players that have survived and will survive are the ones who make the best decisions. Sure there is an abundance of talent in that squad but the training environment plays a huge role in how these players learn how to apply their talent.
Contrast that with Tyrone on Sunday. O'Callaghan's goal is scored in the fifth minute, yet it's hard to see much evidence of a change in the Ulster champions' approach. Everything was just about sitting back and protecting the D. Time and again, Dublin used the width of Croke Park and a whole heap of patience to unpick Tyrone. Tyrone are a system team and that has worked with back-to-back Ulster title, but against Mayo last year and Dublin this year, when they've needed a change, it's been nowhere to be seen.
Dublin's tackling masterclass
Dublin were patient and brilliant in attack but some of their first-half turnovers set the tone for the game and frustrated Tyrone. Dublin turned Tyrone over five times in the tackle in the first half on Sunday. That won't seem like a terribly high number and even in comparison to normal, it is low; however, the number of team possessions for either side on Sunday was so low that every turnover mattered.
Dublin's tackling was excellent, even if the free count was higher than they would have liked. Paul Mannion found himself at the heart of the first four turnovers.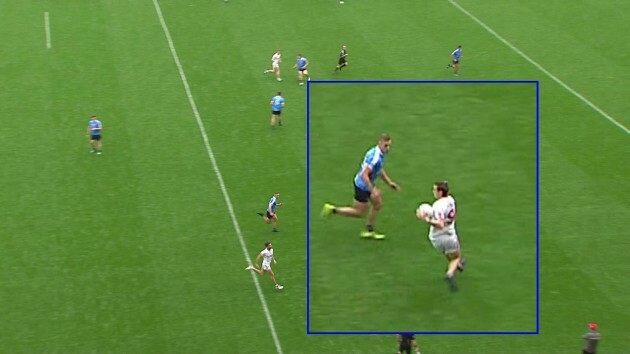 Conall McCann picks the ball up on the near touchline. He has his head up looking for a pass but Mannion only has eyes for the ball.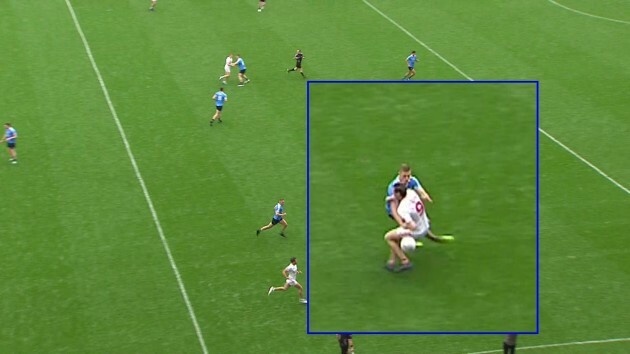 He makes direct contact with the ball without a hint of a foul. Tiernan McCann collects the ball but Mannion isn't finished.
McCann is looking to cut inside and initially hops the ball with his right hand. Mannion is waiting for a chance.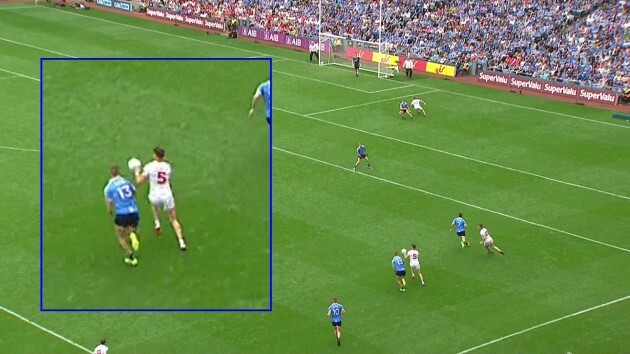 But he hops it just slightly across his body giving Mannion the chance to get his near hand in.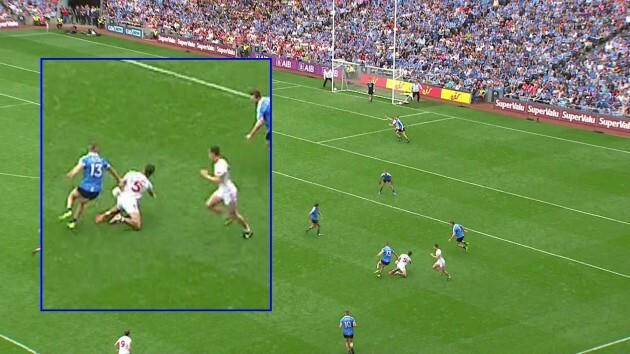 McCann stumbles slightly but because Mannion has only used his near hand, the referee has no reason to blow a foul. Two great tackles and a turnover ball.
Later in the half, we see a very similar technique.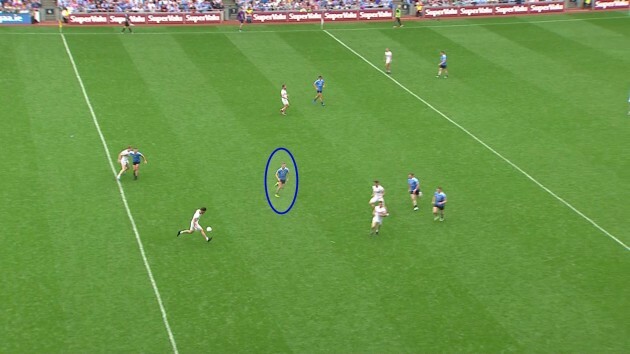 Mannion is tracking the runner Padraig Hampsey.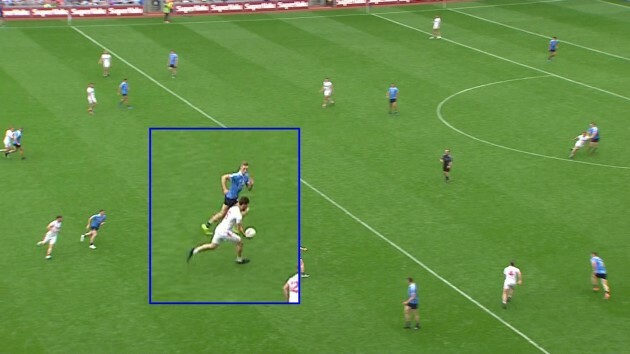 He's just waiting for Hampsey to hop or solo the ball.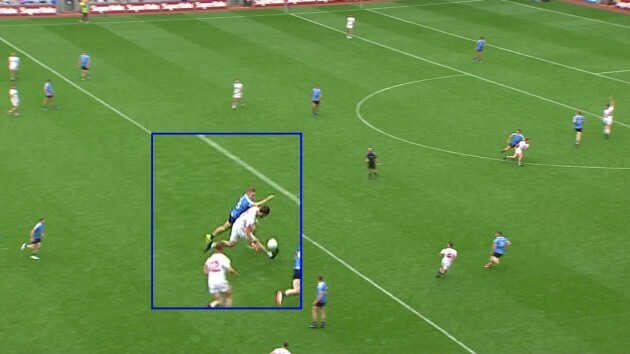 As soon as he does, you can see Mannion's near hand is out and ready to slap the ball away.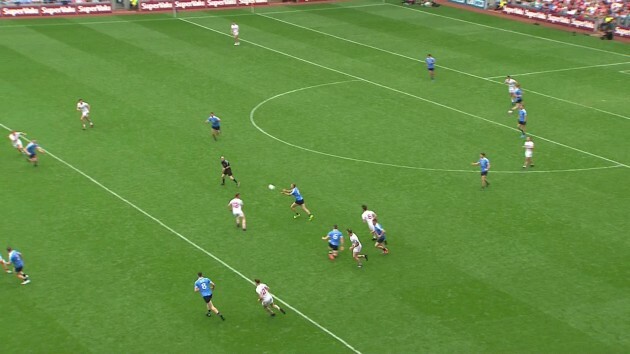 John Small lends a hand from the other side and another turnover is complete.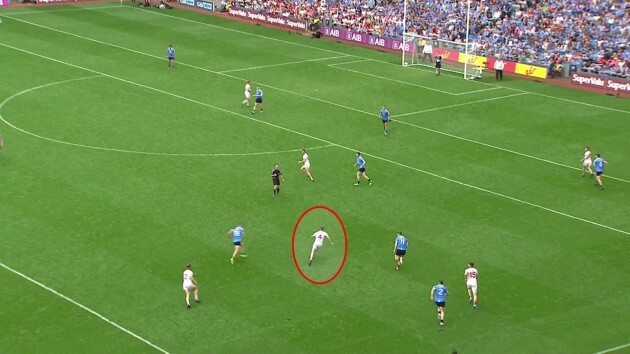 And again, later in the half, as Tiernan McCann looks to carry, it's Mannion in support with John Small this time waiting for McCann to hop the ball.
Exclusive Six
Nations Analysis
Get Murray Kinsella's exclusive analysis of Ireland's Six Nations campaign this spring
Become a Member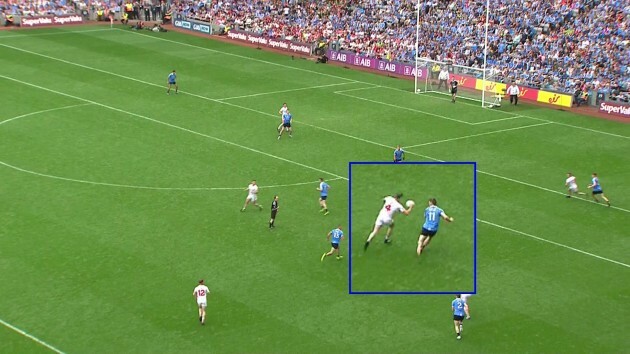 McCann puts the ball in his right hand to hop.
Small gets his left hand in, no hand on the back, and forces the turnover.
Paul Mannion was the instigator or support act in the first four Tyrone turnovers of the game, all coming deep inside his own 45.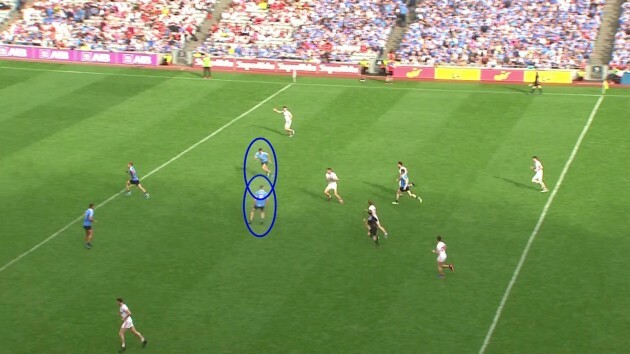 The last example is a carbon copy, this time with Brian Fenton. Fenton never looks fazed when Padraig McNulty looks to go through the gap between himself and Cian O'Sullivan.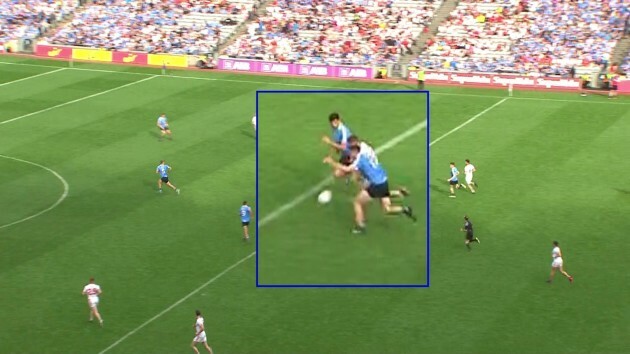 Fenton just waits for the hop and then attacks the ball.
It was textbook tackling, and considering Mayo's fondness for running the ball and taking men on directly, this will be a key target for Dublin.
It was hard to fault much of the Dublin play on Sunday. Everything they did was at the very highest level.
Mayo will ask Dublin a lot more questions than Tyrone did. Both managers have three weeks now to tear the videos apart and start the preparation. Dublin will be overriding favourites again but this Mayo team have pushed them close every time, so maybe they can find that extra percent and finally get over the line.
The42 Podcasts / SoundCloud
Subscribe to The42 podcasts here: