Liveblog
A new European season, a new beginning.
Welcome along to our live coverage of tonight's Champions League first qualifying round first-leg clash at Oriel Park where 2018 Airtricity League Premier Division champions Dundalk welcome Latvian outfit Riga FC to The Town.
The Lilywhites are opening their bid to make history and become the first Irish team to reach the group stages of the competition. The past two seasons saw them fall at the second qualifying stage round, but could it be a case of third time lucky?
Kick-off at Oriel is 7.45pm, with the action live on RTÉ 2. Stay with us for team news and the rest of the build-up.
Tine for some team news…
Patrick Hoban captains Dundalk tonight, and he's one of three changes to the side that drew with Derry City on Friday night. Sean Hoare and Jamie McGrath are the other additions, with all three making their first Champions League starts.
DUNDALK: Rogers, Gannon, Hoare, Jarvis, Cleary, Mountney, Shields, McGrath, McEleney, Duffy, Hoban.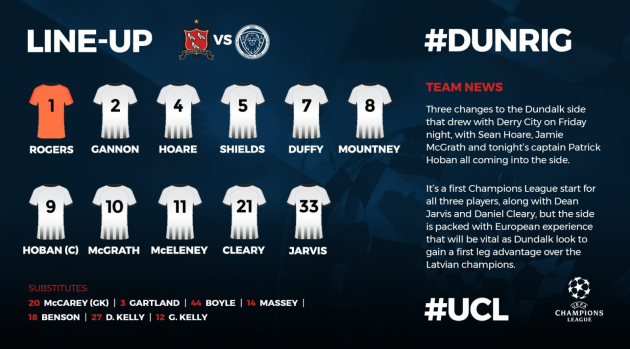 Here's what they're up against: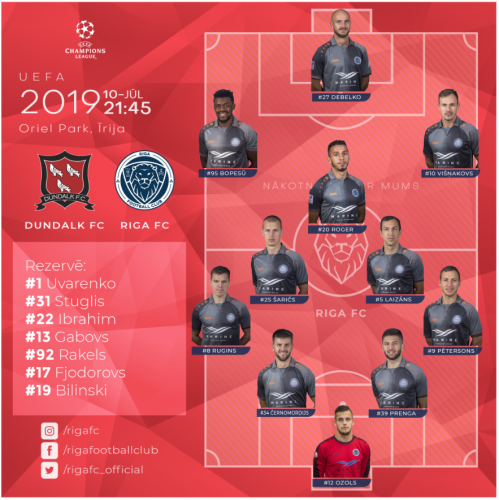 Want to know a little more about Riga FC? Fear not, we've got you covered with a full article:
In short: they were only founded in 2014, but have been crowned Latvian champions in each of the past three campaigns — and won their domestic cup last season. And they have a lot of international experience.

Not a good sign when the brollies are out… but the rain won't dampen the fans' excitement at Oriel.
Source: Morgan Treacy/INPHO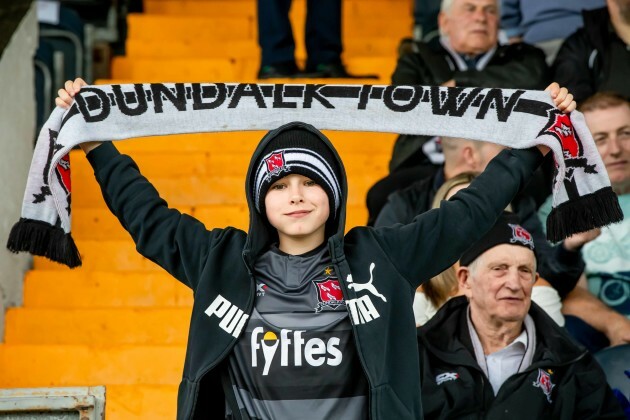 Source: Morgan Treacy/INPHO
Source: Morgan Treacy/INPHO
Dundalk fans might enjoy this one as kick-off nears. David McMillan reflects on their unforgettable 2016 campaign:
Vinny Perth tells RTÉ's Tony O'Donoghue that his Dundalk side "are in a very positive mindset ahead of tonight" and will use their European experience to their advantage.
The teams are out on the pitch and although it's a miserable night in Dundalk — and across the country, for that matter — there's a great atmosphere, with Lilywhite fans chanting as handshakes are exchanged and the teams are announced.
KICK-OFF: And we're off. Dundalk kick off, playing from right to left in their standard white home kit.
Early doors sees Dundalk pass the ball around comfortably as they settle in. There's a slight incident with two players colliding as Riga take a throw, but that's all cleared up pretty quick. Most of the action is down Dundalk's right wing so far.
Riga with their first real attack there but Gary Rogers is the safe pair of hands in the goal. Nothing too worrying, though. This is pretty physical so far, neither side afraid to throw a sneaky shoulder or two.
CLOSE! Woaaaah. Michael Duffy with an incredible effort. He took one look and pulled the trigger from distance, his effort just over the crossbar. Riga turned off there, and the Dundalk man on the left saw a real opportunity to punish.
An unnamed fan spotted in the stands…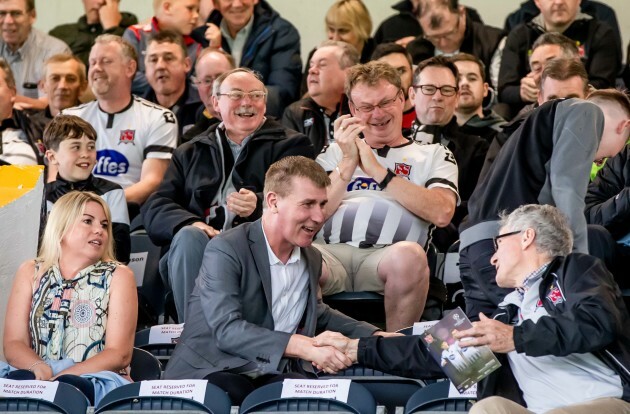 Source: Morgan Treacy/INPHO
Source: Morgan Treacy/INPHO
The rain is getting heavier, but the sides don't mind. Both are settling into this encounter, attempting to launch attacks but nothing too significant so far apart from that brilliant Duffy effort.
He's on the ball again, actually, causing trouble down the left but his cross lands in the Riga keeper, Ozols' arms.
Vinny Perth's men are remaining cool on the ball, patient in their build-up as they look to get past this Riga side. At the other end, meanwhile, there's a dangerous long ball in which Jarvis deals with despite falling on his backside in the box.
It was fairly scrappy there for a few minutes. Dundalk looked to be stringing a few nice passes together, building a promising team move but Hoare opts for the crossfield ball which goes terribly wrong. Out for a kickout, and Riga go again.
Better from Dundalk, and the crowd are more positive about that attack. McEleny gets on the end of a nice team move in the box but he's dispossessed. Another dangerous ball into the area at the other end but it sweeps past two Riga players. The visitors working really hard from left to right with good intensity to the game so far.
We have our first corner of the game, and it goes to Dundalk. It came from a free in which saw Prenga get his head to it. Duffy delivers from the left — a brilliant ball — but Hoare heads wide. Close again, decent chance.
Dundalk free in from the right. Another good delivery sees Hoare get on the end of it, he takes a touch, turns and shoots but it's again, just wide of the left-hand post. Bopesu was shown a yellow card for the foul prior to that free.
A strong showing the past few minutes from the Lilywhites, with a few nice chances created. They'll be confident now, having clawed their way on top after making a few statements up top.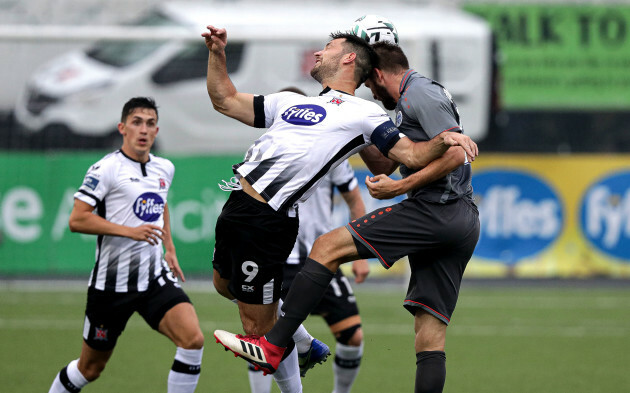 Source: Morgan Treacy/INPHO
Riga with a free from just inside the Dundalk half there. They opt to go short again, patiently playing the ball around before it falls to Roger. He fancies his chances and takes a pop but it drags to the right of the goal and wide.
And another chance for the visitors. Rogers takes no chances, pushing the ball out for a corner but that was a decent shot from Laizans from 35 yards or so. Dundalk clear the corner.
Dundalk may have had a bright spell with a few good chances, but Riga are well and truly in their purple patch now and enjoying controlling proceedings. The Latvian side love playing a short-passing game, patient in their build-up which will eventually start frustrating the hosts.
Gannon going well down the right there, he had to dance around a few Riga defenders and the goalkeeper sends his cross out for a corner. Another decent delivery from Duffy, but nothing comes off it as Hoare misjudges the header. Good work from the set-pieces so far.
Riga, Riga, Riga
The small Riga fanbase are making themselves heard, 80 Latvian fans or so there enjoying proceedings.
You can hear Perth on the line shouting "quickly". He wants a bit more urgency to his side as half time approaches. Will it stay 0-0 heading in, or what do ye reckon?
CHANCE! Riga keep it out though. Hoban gives the 1-2 and races into the box for a cross, he ends up getting under the Riga defender in an attempt to get onto the end of it but it's kept out. They both look a little sore, but are back at it.
Another great opportunity there, and it falls to that man Hoban. McGrath plays a beautiful cross in from the right, Hoban looks good in the air but heads it over the bar.
Bit of blood on show there as Cleary's sent to the line to get cleaned up. He clashed heads with Shields in the air, Shields down on the ground getting treatment. There's silence around Oriel Park as everyone awaits an update from Shields.. there's good news, he's sitting up and talking to the medical staff.
A concerned applause from Dundalk supporters with Shields on his feet again. Cuts are attended to, Shields looks a little dazed but they're both allowed to play on. Two minutes of stoppage time had been announced amid all of that.
A few minutes extra played there after the injuries. McEleney and Gannon do well down the right, the latter's cross forcing a catch from Ozols between the posts. He drops it in the area though, but acts fast to keep trouble out.
HALF-TIME: Dundalk 0-0 Riga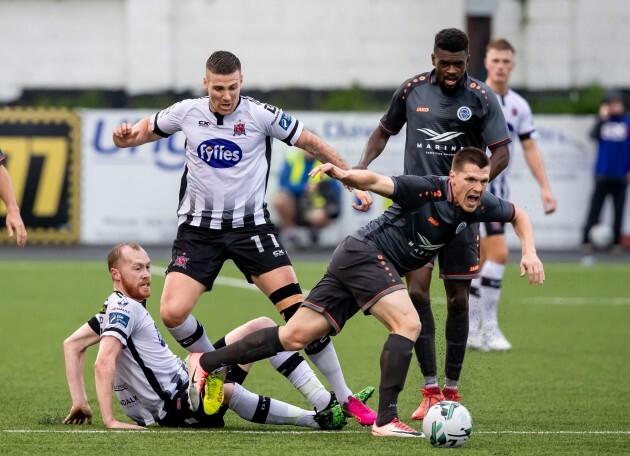 Source: Morgan Treacy/INPHO
Our reporter Paul Fennessy is on the ground at Oriel Park tonight.
Source: Paul Fennessy/Twitter.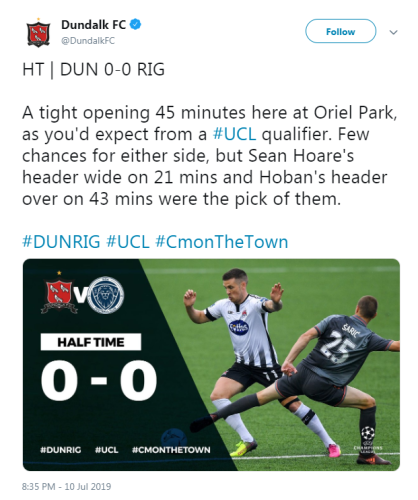 Source: Dundalk FC/Twitter.
What do you lot think at home? One thing's for sure: we're in for a big second half.
RTÉ with a bit of news from the Dundalk dressing room — Shields will play no further part after that collission of heads before half-time, and Andy Boyle comes in.
SECOND-HALF: Riga get us underway as darkness descents on Oriel. Irish international Boyle slots into defence, Hoare moves to midfield. What a player to bring on.
SAVE! Rogers pulls off an outstanding save to keep the first effort of the second half out. Nervy enough time for Dundalk there, but all is well again. Elsewhere, Debelko is booked for a foul on Gannon.
It was also Debelko with that early effort that forced a Rogers save, by the way. Riga have come out of their shell a little more, trying to get on top and create more and more chances. Dundalk won't fret however, they stay calm and composed dealing well with whatever is thrown at them.
Dundalk's latest attack sees Duffy's cross from a free is headed clear by Saric at the near post. The crowd are a little quieter than earlier, everyone just waiting for a significant breakthrough at either end…
Could have been something there for Dundalk. McEleney gets running at Riga with Hoban running through, but Saric does enough to put him off. Unsure whether it was a dink through to Hoban, or a shot on goal but it wanders off wide.
Perth looks ready to make a substitution; Robbie Benson set to come on for Dundalk.
Benson for Mountney it is. 58 minutes gone.
His first touch lifts everyone — the crowd included — and he makes an immediate impact running at the Riga defence. He finds McGrath, who in turn plays it out to Duffy, but his crossed effort sweeps across the goal and goes wide. Better though.
An hour gone at Oriel and it's till 0-0.
SAVE! McGrath did excellently there, coming in from the right and dancing around the Riga players — but it's the final say… he fires it straight at the keeper.
All Dundalk at the minute. Hoban holds the ball up well, gets the support he needs as Duffy races down the left. Hoban plays a brilliant ball down the wing to Duffy but he's brilliantly tackled and kept out.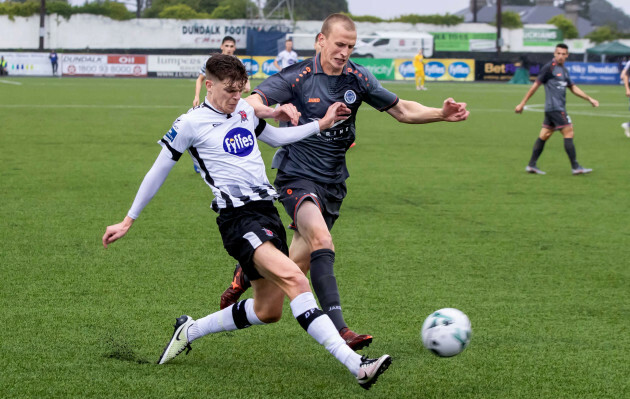 Source: Morgan Treacy/INPHO
Another decent moved pulled together there. Benson is causing havoc around the middle, he attempts a 1-2 with McEleney as he charges in on goal but it's cut out. And another… A superb long ball is played into the area, Hoban attempts to get on the end of it but to no avail.
The home crowd are loud again, those last few chances have given them the belief they need. Dundalk drive on with the help of their 12th man.
20 minutes to go, can either side break the deadlock?
Riga with their first decent attack in a long time there, but still nothing. Dundalk meanwhile at the other end, are still struggling to break through. Duffy tries to find Hoban, who's in a good position, but again there's a Riga foot in the way.
Bopesu has a very good chance on his left foot in the box, but Dundalk get off the hook. His touch lets him down and his shot is wide on the left-hand side. Came from a Dundalk mistake around the middle, they gave it away.
They fire another warning shot there, but Dundalk keep it out. Dundalk counter-attack down the left with numbers forward, but Duffy's delivery is no use. Moments later, McEleney has a pop from distance but he's brilliantly blocked down.
Riga have stepped it up, Dundalk were scrambling there trying to deal with their last chance which bobbled around the box. Dundalk need to step it up now. Good news as Shields appears on our screens, his cheek looks a little flared up but the main thing is he's okay.
Brilliant from Hoare again, driving at the Riga defence and playing a brilliant pass out to Gannon. He makes a jinky run in from the right but Laizāns keeps him out.
Daniel Kelly in for Dundalk, he replaces McGrath. For Riga on the other hand, Roger is replaced by Rakels.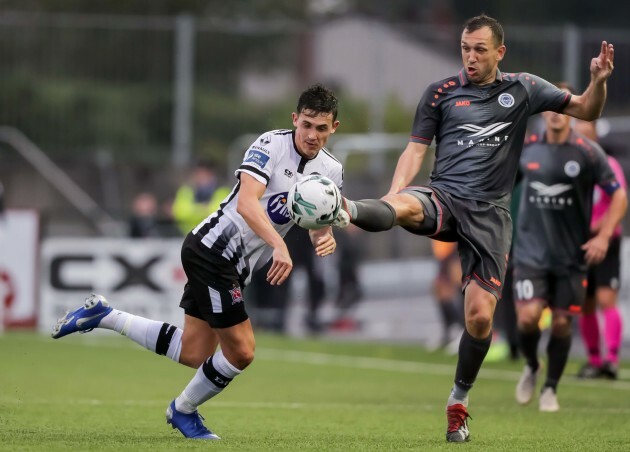 Source: Morgan Treacy/INPHO
Hoban wins a corner for Dundalk, they'll take that one. All eyes on Duffy… another good delivery, Boyle produces a header but it's kept out. The ball ends up back out with Duffy on the left, and he fancies his chances. His effort fizzes across the goal though.
A poor ball from Cleary ends up going straight to a Riga player, they build a promising attack but Dundalk get off the hook once again. Not conceding an away goal is huge here as the clock runs down.
Five minutes to go plus added time it is…
A Riga chance is blasted over the bar. Dundalk, at the other end, go in search of something. Saric body-checks Gannon, which he sees yellow for, and Dundalk have a free on the left hand side.
A great ball in lands on Hoare's head, but the keeper keeps it out. They go again.
The win a corner. Jarvis' cross is blocked and put out. Here we go, could it be a grand stand finish?
No… it's sent in deep at the back post but there's no one there. Some pushing and shoving in the area so the ref gives a free out.
Rings of Allez, Allez, Allez around the grounds. Dundalk fans are happy out, anyway. Sean Hoare has been named man-of-the-match.
"He's been at the heart of everything good Dundalk have done," Stuey Byrne says.
Two minutes added. Half-arsed Dundalk chance, same from Riga…
Debelko is taken down by Jarvis right on the edge of the area… fair close escape for Dundalk there, inches from a penalty. Free on the edge of the box now.
CLOSE! Sooooo close. It looked like it was right in the top corner but hit the sidenet. Sigh of relief for Dundalk!
FULL-TIME: Dundalk 0-0 Riga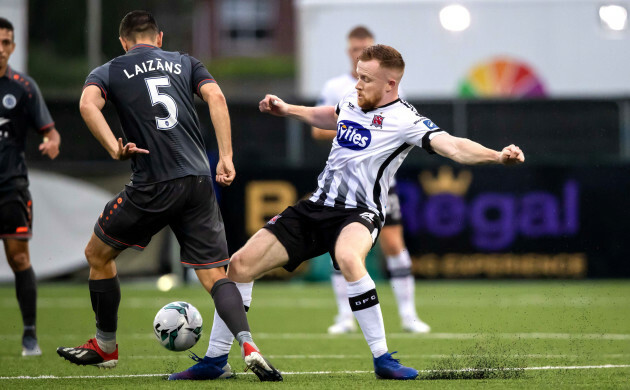 Source: Morgan Treacy/INPHO
So, that's that. Dundalk definitely should have converted at least one of their first-half chances, but it was a lucky escape at the end after that dangerous free kick. The clean sheet will be hugely important for Perth's side going forward, with the hope they can sneak an away goal in Riga in the return leg.
We'll leave it there so. Paul Fennessy will have his match report on The42 in the coming minutes and there'll be plenty of reaction, analysis and previews between now and the return leg. Thanks for reading, enjoy your night!
The42 is on Instagram! Tap the button below on your phone to follow us!
Contribute to this story: