HOW DOES ONE best celebrate a hard-fought victory against Argentina in the opening round of the Rugby World Cup group stages?
If you answered "Betray your newlywed wife while attending 'a light-hearted dwarf-throwing contest,'" step forward to claim your prize!
According to a (particularly gleeful) report by Richard White in today's Sun, that is exactly how England captain Mike Tindall spent last Saturday night in Queenstown, New Zealand.
The husband of Olympian and perpipheral royal Zara Phillips is alleged to have been seen enjoying the company of a mystery blonde while attending an event dubbed the "Mad Midget Weekender". Teammates Lewis Moody, Nick Easter, Chris Ashton and Dylan Hartley were also in attendance.
An anonymous witness describes the scene:
"One particularly beautiful blonde went straight for Mike. But rather than reject her advances, unfortunately he was extremely responsive. They were flirting with each other and getting very touchy-feely. Then they went into the doorway, where the girl gestured Mike towards her chest. She pulled his head towards her breasts and she rubbed the back of his head as she did so."
[caption id="attachment_227020" align="alignnone" width="630" caption="Chris Ashton and friends at the Altitude Bar's 'Mad Midget Weekender'."]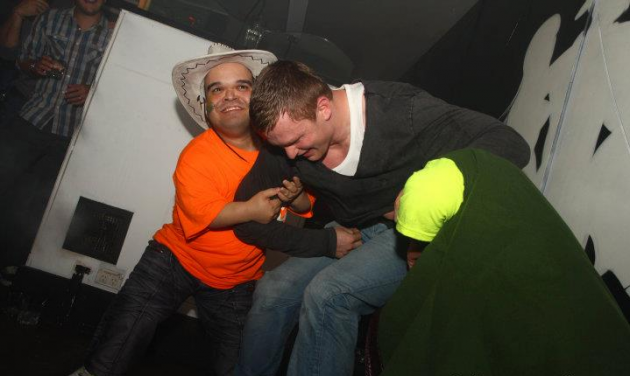 [/caption]
Responding to an email from the Guardian's Robert Kitson, Rich Deane, the manager of the bar at which the event was held, denied the event featured dwarf-throwing and described the behaviour of the England players in attendance as exemplary.
"Firstly there was no dwarf throwing – that's just not cool!" he wrote. "Secondly there was no scandal by any of the English rugby players that we saw. They were great lads, not throwing the midgets, it was all light-hearted good humoured fun!"
Tindall himself is yet to pass comment on the allegations.