IT'S BEEN A long road to the international stage for Dylan Fawsitt. So the daily hour-long trip from his home in Hoboken up to New Rochelle in the north Bronx is worth every clack on the Metro North.
Travelling for the love of rugby has never been any kind of deterrent for the 27-year-old.
Clearly, it has brought him to the United States. But in his formative years the trip was a father-son journey, from Piercestown, Wexford, to Greystones.
And when Fawsitt spoke with The42 this week, there was still a spirited energy in his voice, he was ready to work on and power through even after long-haul flights and the achievement of a few major career goals.
Qualified to play for the USA since September, Fawsitt was called up by the Eagles in November as injury cover, but had to remain patient. Late last month, with Chile the opposition in California, his Test match debut day arrived and so Fawsitt followed the fresh footsteps of John Quill, Paddy Ryan and AJ MacGinty as Exiles turned Eagles.
Like the majority of his peers, USA head coach Gary Gold used this window as a last big chance to blood new talent before the 2019 World Cup.
Fawsitt was intent on making the opportunity count.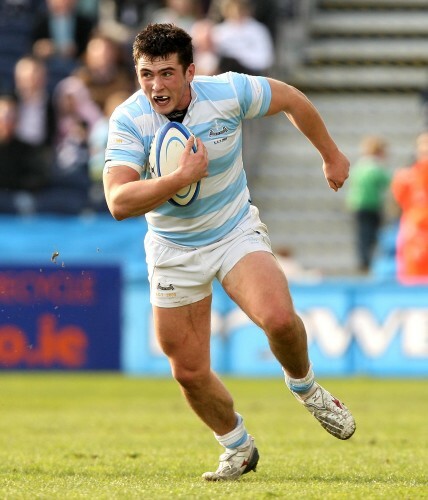 James Crombie / INPHO Fawsitt in senior cup action for Blackrock. James Crombie / INPHO / INPHO
A week on from his first cap came a first start and last week he demonstrated some smart footwork to spin under the posts against Uruguay to grab a first international try.
To ice the cake, that win saw the Eagles complete the American Rugby Championship with a perfect five from five record, holding off the challenge of the Argentina XV to seal back-to-back titles — a double which has broken six years of Argentine dominance in the competition.
"A Grand Slam is what they're calling it, so if you can get your hands on one of them it's always great," says Fawsitt.
"It's very special. It's a dream come true. Now onwards and upwards, I hope to get a few more of them."
Long before the Grand Slam, there was a sporting education of great variety. He was already on the books with Greystones RFC when he moved to Wexford as a 10-year-old and his father helped make the distance no hurdle to sustaining that connection.
In the south-east, he also took up the big and small ball with St Martin's GAA club, who he credits for 'hardening him up' to the rigours of intensely competitive sport. Following a year in Wexford CBS, the opportunity came to play and study in Blackrock College for Junior and Leaving Cert. Not to mention the Junior and Senior Cups. The latter was claimed in 2009. Fawsitt, then a back row, earned himself the moniker 'the butcher'  in a star-studded team led by Jordi Murphy and Denis Buckley with the stardust sprinkled by Andrew Conway and Brendan Macken.
However, the Blackrock men who would prove a longer-lasting influence on Fawsitt than that quartet would be Alan MacGinty, junior and senior.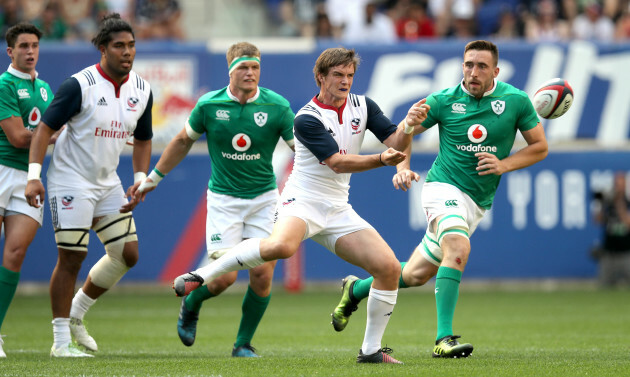 Ryan Byrne / INPHO AJ MacGinty faced Ireland in New Jersey last summer. Ryan Byrne / INPHO / INPHO
While many of his school-mates switched directly to club rugby with Blackrock, Fawsitt returned once more to play with Greystones. While studying for a degree in sports science in Tallaght IT, he added a final three years to his association with the Greystones club he first joined at U7s level.
But he always had an eye on higher grades. The first step away from the club he had known all his life came through Peter Smyth (now Leinster academy manager), who brought him over to then AIL champions St Mary's. He played on Templeville Road for two years before looking further afield. Much further.
Alan MacGinty was pushing me to give this Life University opportunity a go, and follow in the same footsteps as his son Alan.
AJ had scouted ahead to Life University in Georgia, excelled in a setup that could give quality coaching as well as playing opportunities, and was well on the way to being an Eagle. Fawsitt backed himself to follow suit.
"Absolutely. That was the big thing. With Life University I was going to one of the top teams in America. I was going to be in front of everybody so they were going to see what I was made of."
"It's really a hub for growing the game down there. It was great to be part of that. As part of the coaching panel I got a collegiate all-American national championship and I was part of the men's team who won the American inter-varsity championship two years in a row, which was great.
"Myself and Alan were in the same boat, basically wanting to do the best we could and get to a World Cup.
"Alan was able to get one (2015) and hopefully, I'm taking it every game as it comes, but I have it in the back of my mind that there's an opportunity to get to a World Cup in 2019."
Three caps deep, that grand over-arching goal must feel a hell of a lot closer now than it did when Fawsitt first travelled trans-Atlantic to take up a Masters in exercise science and kinesiology in 2014.
Exclusive Six
Nations Analysis
Get Murray Kinsella's exclusive analysis of Ireland's Six Nations campaign this spring
Become a Member
Be it with Life U, the Ohio Aviators or his more recent coaching exploits in New York, medals have come for Fawsitt wherever he's been. Yet it hasn't plain sailing. This 'Rock boy has been intent on grinding his way up.
"I've worked three and four jobs. I've taken everything from washing cars to walking dogs, doing everything I can to get an extra bit of cash," he says of his stint in Atlanta.
Fortunately, he has been able to narrow his focus these days. Since moving to New York with fiancee Alyssa he has been coaching with Monroe College alongside fellow Blackrock alum James English and also the revived rugby setup in Fordham Preparatory School.
Cathal Noonan / INPHO Fawsitt in Mary's colours Cathal Noonan / INPHO / INPHO
It's hard to escape the Bronx if you're looking to get a handle on the increasingly vibrant US rugby scene: it's where Fawsitt divides his coaching time, just across the Hudson, on the northern tip of Manhattan Island, the Old Blue club play on the grounds of Columbia University. Meanwhile, Gaelic Park on 240th street will play host to exhibition matches this year when the newly-formed Major League Rugby franchise Rugby United New York begin showing their wares.
Fawsitt will play for RUNY next year when they enter the competition proper, but will join an existing MLR side for the season coming.
It's harder and harder to ignore, rugby is stirring in America, building and consolidating its structure and base. And Fawsitt is a hooker hoping to remain at the coal-face, doing what he can to fuel a flourishing period for the sport.
"It's amazing. People talk about 'sleeping giants' and it's exactly that. There is an amazing opportunity here.
"Coaching's been great, I've been very lucky to have an opportunity there in Life University and then I coached here with Fordham Prep, they were establishing themselves in rugby. Got them to the State Championship final last year and hoping to go one better this year.
"It wasn't easy. I've worked my ass off since I arrived here to get these opportunities.
"But I wouldn't have any of these opportunities if it wasn't for the sport, so I try to give back as much as I take from it."