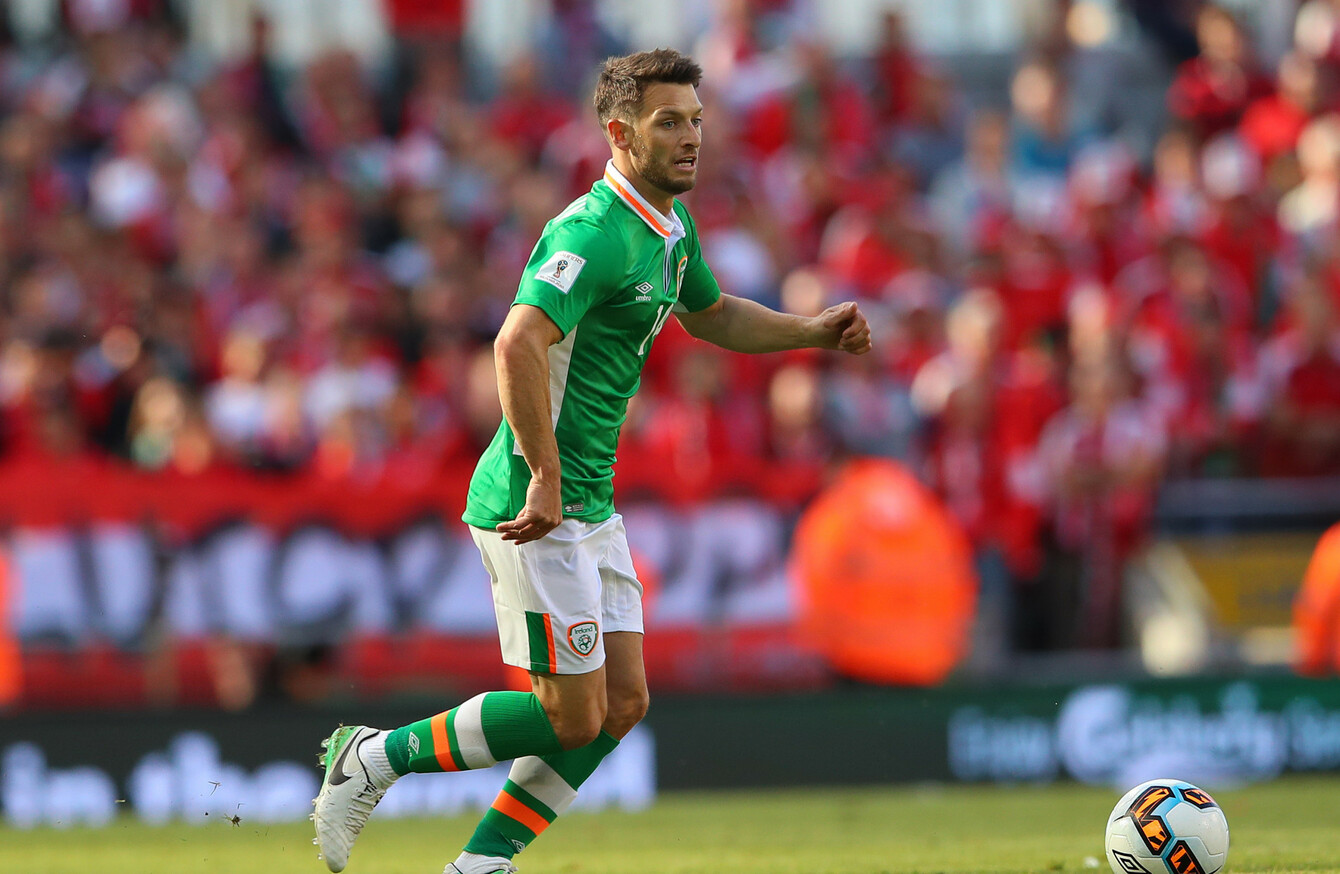 Wes Hoolahan was an unused sub for Ireland against Georgia today.
Image: James Crombie/INPHO
Wes Hoolahan was an unused sub for Ireland against Georgia today.
Image: James Crombie/INPHO
RTÉ'S PANEL WERE highly critical of Ireland's performance against Georgia and lamented the absence of Wes Hoolahan after a disappointing 1-1 draw in Tbilisi this evening.
Liam Brady pointed to a previous match in the qualifying campaign against Austria in Vienna when Hoolahan was instrumental in a 1-0 win as evidence that the Norwich star warranted a place in the team.
"You've got to give players a chance to express themselves and I think they're stifled and confused," the ex-Arsenal midfielder said. "It's just hopeful football, whereas when Hoolahan's on the pitch, it's not hopeful football, it's constructive football.
"The fact that the manager didn't play him or bring him on — that's confusing the Irish public. It confuses us here. He's the most constructive player we've got. He adds guile to the team. You can give him the ball. He can receive it in tight spaces. A lot of our players can't do that, so why's he not involved? That says it all.
Martin might turn around and say 'I've got 13 points on the board — we're second.' But we could be an awful lot better. I think we've had opportunities to grab this group by the scruff of the neck had we been more adventurous in the way we play the game.
"We didn't beat Wales at home. We got away with it with Walters against Austria. They were two games at home. We got away with it against Georgia at home.
Hoolahan is a key factor in all of this and it's a statement by the manager when he doesn't play Wes that we're just going to play basic route-one football.
Eamon Dunphy, a long-term admirer of Hoolahan, agreed with his fellow panellist.
"He doesn't fix the whole thing, but it makes a statement and it fixes a big part of the whole thing," the 72-year-old pundit said. "When Ireland have the ball, he always wants it, so he's showing for it all the time.
The next pass is always to a green shirt and he's got the confidence to want the ball in any area of the field.
"If you put Harry Arter back where Whelan is, bring Wes in, then you have Hendrick (to come in). But if you go on the way he's going on, ignoring an outstanding player who makes the team tick, lots of things develop.
It's not the answer to everything. There are other influences — things you could talk about all night. For example, when we got the goal, we stayed in our own half, and invited the opposition on to us for 40 minutes. If you invite them onto you and never put any pressure on when you or they have the ball, then you're liable to develop a problem and that happened.
"But you do send a signal when you leave an oustanding player like (Hoolahan) off the team. It's a kind of insult really."
Former Liverpool midfielder Didi Hamann agreed that Hoolahan's absence was conspicuous.
The team is different when Hoolahan plays," he said. "Not only does he always show for the ball, he creates attention for the opposition and spaces for other players.
"It's not just one option, all of a sudden you've got two or three options. I think we all agree the flow of the game is different when he's on the pitch.
Having said that, he's 35, he won't be around forever.
"But most of Ireland's team are Premier League players. Surely when he doesn't play or McGeady doesn't play, surely someone has to take the responsibility and say: 'Come on, give me the ball.'"
Subscribe to The42 podcasts here: