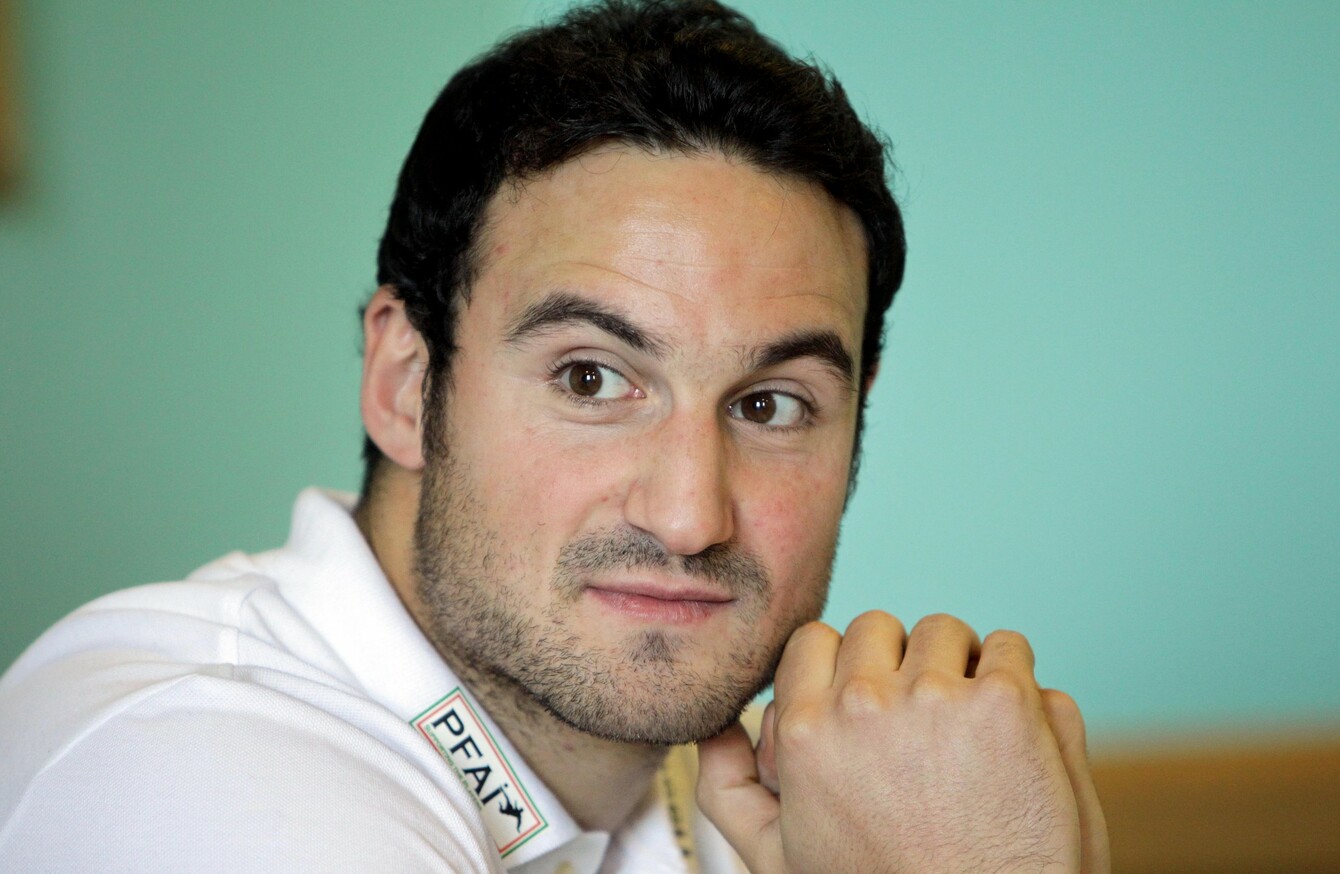 Eamon Zayed is currently 23rd on list of all-time League of Ireland top goalscorers, registering 127 goals in total.
Image: Donall Farmer/INPHO
Eamon Zayed is currently 23rd on list of all-time League of Ireland top goalscorers, registering 127 goals in total.
Image: Donall Farmer/INPHO
1. An Irishman abroad
THERE HAVE BEEN moments in Eamon Zayed's life where, if they were scenes in a movie, they would be dismissed as too elaborate and far-fetched.
Imagine, for instance, pitching the following as a script. A lad from Ballinteer becomes a professional footballer and gets signed by a club in Iran.
Once he arrives at the new club, his non-English-speaking manager says to his face via a translator that he's never heard of him and tells him he's only there because the club's president wanted to buy him.
His first game for Persepolis is against the club's bitter rivals Esteghlal, in a Tehran Derby, with 90,000 people in attendance and 20 million watching live on TV.
To appease the president, the cantankerous manager allows him a place on the bench. His team go into the game on a four-match losing streak against their rivals. Not many people fancy their chances.
With his side 2-0 down and 60 minutes played, the manager is forced to bring on the Ballinteer lad. However, the situation quickly goes from bad to worse, as his team are reduced to 10 men.
The manager gets so frustrated with his ineffectual new Irish signing that he prepares to substitute him and prevent the scoreline becoming more humliating. Yet just before he can, with four minutes of normal time remaining, the Dubliner scores a goal. And then another. And another.
In the space of 10 minutes, the Ballinteer lad has gone from being a nobody to a national hero in a foreign land, in the process becoming only the second player ever to hit a hat-trick in the Tehran Derby.
Source: persienshaggy/YouTube
Miraculously, the non-English-speaking manager, he discovers, is suddenly able to speak fluent English and no longer needs to communicate with him via a translator.
There is also the time, a few years later, where he gets signed by a team in Malaysia.
The Ballinteer lad starts off pretty well, he thinks. The team win their opening two games, even if he doesn't score.
The club's president brings him out for dinner. He asks the Irish star, jokingly it seems at first: 'When are you going to score?' There is an awkward pause, and the president again asks his expensive new signing, without a hint of humour: 'When are you going to score?'
In Malaysia, foreigners are considered luxury players and are treated as such. The natives are merely in the team to make these exotic stars look good.
In the next game, the Ballinteer lad's fourth since move to Malaysia, the fans unfurl a banner that reads: 'Score or go home.' He does, and is treated like a hero once more.
Football is an unstable profession and striker is arguably the most tenuous position on the pitch. You could be a nobody or you could be Sergio Aguero — if you don't score for a couple of games, people will automatically start to question your worth.
Zayed knows this pressure all too well. He has had to deal with it to varying degrees since he started playing club football at the age of eight. It is the same story in Tehran and Bray — goals and the rate at which you score them will ultimately make or break you.
The thing that's driven me throughout my career is proving people wrong," he tells The42. "'I'm going to prove you fucking wrong.' If somebody says I can't do it, I want to do it. Just to prove them wrong.
"You always have to prove yourself or else you might not get a contract next year, or your contract will be half of what it was. There never should be a moment in your career where you think: 'I've made it.'"
2. Starting out
Before becoming one of Ireland's most renowned globetrotting strikers, Zayed was just another young lad with an unnatural obsession for kicking a ball around a field with friends. After starting out at local side Broadford Rovers, at the age of 14, he was recruited by another Dublin schoolboy team based in Sallynoggin, St Joseph's Boys, a "better team" with "better facilities," he says.
Born in Ireland, but of Libyan descent, Zayed has spoken at length in the past about how he was subjected to racial discrimination in an era when Dublin was not the diverse, multi-cultural place it has since become.
Tall for his age, but a stark, skinny contrast to the physically imposing figure he is now aged 33, Zayed made the most of this opportunity to enhance his development at Joeys, as he continued to score at a prolific rate.
Unsurprisingly, English football soon came calling. Between the ages of 15 and 16, he went on various trials. After skipping transition year and finishing fifth year, he spent four weeks of his summer vacation playing alongside the likes of David Bentley, Rohan Ricketts and Steve Sidwell in Arsenal's underage setup, while Irish footballing legend Liam Brady was the Gunners' academy director at the time.
The Premier League side were suitably impressed by Zayed. They offered the 16-year-old Dubliner a three-year Youth Training Scheme (YTS) contract, a moment as bittersweet as anything he had experienced previously.
Less thoughtful youngsters would have seized this opportunity with both hands. Zayed, however, hesitated.
Maybe I was a bit of a homebird," he says. "I went home, spoke to my mum, and she said: 'What about your Leaving Cert?' I kind of hung on to that. I could have said: 'No, I want this.' Part of me wanted to go over, but I was a little bit scared at the time.
"So when my mum said that, I said: 'No, you're right, I probably should finish my Leaving Cert.'
My mum basically rang Liam Brady and said: 'What if he was to stay here for the year, finish his Leaving Cert, and go over at the Halloween break, the Christmas break, the Easter break?' They said: 'If he doesn't come now, we're just going to sign a Brazilian or French guy in his place.'
"I still think it was a wise decision to do my Leaving Cert. That year, I stayed on with St Josephs, I think I broke a record, I got 53 goals that season. I eventually got a move to Leicester City.
I don't regret it. You look at the number of young kids, and I was one of them, who went over to England. It (often doesn't) work out, and when you come back, obviously having the Leaving Cert to go to college is vital."
3. A harsh lesson
After joining Leicester City in 2000, Zayed was introduced to protein supplements and weight training. Soon, he was no longer a skinny teenager.
The 17-year-old starlet had been recruited on the advice of manager Peter Taylor's assistant, who had watched on as the young striker scored to help St Joseph's Boys beat a Belvedere team that featured Wes Hoolahan in an All-Ireland U18 final. After confirming this promise in a three-week trial with the Foxes, Zayed was signed up on a long-term junior pro contract and thrown straight into the club's reserve team.
However, three months later, with Leicester bottom of the Premier League, Taylor was sacked. Future Sligo Rovers boss Micky Adams replaced him and took an almost immediate disliking to Zayed.
I had one incident in training with him where, as a junior pro, I joined the senior team just to make up numbers in training," he recalls. "We had an argument in training. I was young, I should have just shut up. It eventually led to Micky Adams getting a bag of balls, kicking them at me and telling me to fuck off out of training.
"It was the last time I trained with the first team and in a way, it was the beginning of the end. I continued to play with the U17 and U19 team that season. I never played reserve team football again.
But that season, Leicester got relegated. I went home for the summer break, then went over for pre-season again. (Adams) called the first team and the junior pros into one big room.
"He said: 'Look, financially Leicester City aren't in a great state, we've obviously been relegated. So I just want everybody to know, everybody is up for transfer. We're listening to offers for everybody. Then, he called us in one by one, and said: 'If you've got somewhere to go, you can go.' That was a shock to me. I was 18 years of age, I had two years left on the deal, I didn't know how to react to that.
We all did the fitness training together in the first month (of pre-season), and I was the fourth fittest at the whole club.
"I came back in great shape, but Micky Adams had made his mind up, even though he didn't see me train or play, that he didn't want me. That's the way I felt. I just wanted to get out of Leicester, because I wasn't happy."
4. A sort of homecoming
A disillusioned Zayed returned to Ireland. An old coach at Joeys put him in touch with the then-manager of Bray Wanderers, Pat Devlin. Several of Zayed's former schoolboy teammates were already playing for the League of Ireland side, while the chance to return to college and undertake a degree in Business was also part of an alluring deal.
Yet the youngster was by no means an overnight success at the Carlisle Grounds. It took an injury to first-choice striker Jason Byrne — a player Zayed looked up to in every sense — and a hat-trick in a reserve game against UCD that Devlin happened to be watching for the teenager to earn his first-team chance, rarely looking back from there.
I was happy," he says. "I was hanging out with mates. We were training four times a week. It was just fun again. That was the main thing."
Zayed's contentment with life was reflected on the pitch. In his spell with the Seagulls, between 2002 and 2006, he averaged just over a goal every second game — a superb return in 105 appearances with the club.
His fine form was recognised in 2003, when Zayed was named PFAI Young Player of the Year. Inevitably, his prolific scoring ratio attracted interest from other clubs and the following year, he was give a third chance in English football, joining Crewe on loan.
It wasn't much of a chance though, as this stint abroad again ended in disappointment. Seen as the First Division side's third-choice striker, Zayed could find no way into the club's first XI, with Dean Ashton, who went on to play for West Ham and England, and Northern Ireland international Steve Jones, both in excellent form up front at the time.
5. 'My one big regret'
A similarly ill-fated loan spell took place a year later, when Zayed joined Norwegian side Aalesunds in the second half of the 2005 League of Ireland campaign, a move Zayed now describes as his "biggest regret".
When the opportunity came about, Bray were mid-table with 11 games remaining. There was no chance of them mounting a title challenge, while they were also safe from relegation at that point. The Irish side saw loaning Zayed out for three months as a chance for both the player and the club to make some money, with little negative consequences given that their season was effectively over.
The young forward, however, was comfortably sitting top of the Irish scoring charts and he was confident of consolidating this position in the end-of-season run-in. But instead of sticking around, he complied with his parent club's request.
Looking back on it, it wasn't the right thing to do," he admits. "I would have finished that season top goalscorer or second top goalscorer, because I think the third-top goalscorer was a good few goals behind and I was playing really well that year.
"I say it, because at the end of the year and the beginning of the following season, both Stephen Ward and Kevin Doyle got a move to Wolves and Reading respectively. The three of us were roughly the same age, we were three strikers, I was miles ahead of them in terms of goals.
Kevin Doyle had a few to his name that season, he didn't have much. Stephen Ward only had one or two to his name. So if there were going to be teams looking at anyone at the end of the year, they would have been looking at myself.
"However, I'd fecked off to Norway. So the two of them got moves at the end of the year. I feel if I had stayed, finished the year, finished top or second-top goalscorer, I would have got a move."
6. A baptism of fire
Upon returning to Bray following another unsuccessful loan stint, everything felt stale all of a sudden and Zayed did eventually get the permanent move he desired, but not abroad. In 2006, he joined Drogheda and as with his perennial misfortune in England, this new adventure began inauspiciously.
After scoring in a win over Pat's on his debut, Zayed was unceremoniously dropped by boss Paul Doolin, much to the player's confusion.
The following week, I didn't play again," he recalls. "We drew that game. I think we were winning at home and we conceded a few late goals. We finish the game, we're in the locker room, the lads are having showers. (Doolin) calls the guys out of the showers. He goes: 'We have a meeting.' The guys come out of the shower.
"I was standing there. I hadn't played or come on as a sub. And (Doolin) turns around and goes: 'You, I don't want to address you. He goes: 'You're walking around with your chest up, big time Charlie, as if you've just signed for fucking Real Madrid or something like that.' And he just starts laying into me, going: 'You're a nobody.' I'm going: 'What the fuck's going on here? It's like Jekyll and Hyde with this guy.'
The next day, I was on my way to training. I rang Pat Devlin, I was still in contact with him as an advisor. I said: 'What's going on here?' I signed, I scored, I've been dropped and now he's acting as if he doesn't even want me here.
"I go into training. (Doolin) calls a meeting about the game. He's not happy with the game. Then he goes: 'And you Zayed, walking around, who do you think you are?'
He goes: 'I remember when you were 16 years of age, you went to trials with UCD.' (Doolin) was UCD manager at the time. They have try-outs every summer to get a scholarship and play for the team. I went for the first trial. He said: 'We called you back and you didn't even bother showing for the second trial, because you fucking thought you were too good.
"That was the summer I signed for Leicester City. So I said: 'I'm sorry Paul, I didn't come back for your second trial because I signed for Leicester City in England.'
Anyway, it showed me he had a bit of a grudge since I was 16 years of age. So I was thinking: 'What the fuck have I signed on for here?'"
7. Champions of Ireland
After a disappointing first season in which first-team football was hard to come by, Zayed was keen to join Pat's who were interested in the out-of-favour forward. Nevertheless, a couple of Drogheda's senior pros, Damien Lynch, Simon Webb and James Keddy, convinced him to stay and prove the manager wrong. Ultimately, he did just that, securing a regular first-team spot and finishing top scorer as the club won their first-ever League of Ireland title in 2007.
I played with Bray a certain way," he says. "There was a freedom to do what you want at times, take as many touches as you want on the ball. Whereas Paul Doolin didn't want that. He was very tactically aware. 'I want you to do this, that and the other.' It was almost robotic at times. I figured out what he wanted me to do and how he wanted me to play and I did that.
"We had a great squad, a great team and we won it comfortably in the end. And I was a focal point in that team. I played up top, sometimes by myself, sometimes with someone else. I had a good partnership with Declan 'Fabio' O'Brien."
8. Dark days
The following year was another seminal one for both Zayed and Drogheda, but this time for the wrong reasons. After failing to secure a new stadium and narrowly being beaten in a Champions League qualifier against Dynamo Kiev, they suddenly found themselves in a perilous financial situation as the Irish recession kicked in.
I was like: 'What the fuck is going on?' But at the time, I was young. I didn't have a family to provide for. I had finished my degree, so I had options. I knew I had something to fall back on. It was at this time I remember asking the older guys on the team: 'What happens if you can't get a club?' The answer was: 'I don't know.'
"None of the guys had ever planned for plan B. There was no: 'Ah yeah, I went to school and got a degree.'
A lot of the older guys had families and kids to provide for. They never even thought about a plan B. I was amazed at their thought that football was going to last forever."
Be part
of the team
Access exclusive podcasts, interviews and analysis with a monthly or annual membership.
Become a Member
Drogheda's players, who were receiving just 30% of their wages at one point, were all ultimately allowed to leave for free. Ahead of the next season, Zayed met up with then-St Pat's boss Johnny McDonnell with a view to signing for the club.
Initially, the Saints offered an improved deal to what he was earning at Drogheda. A month later, they revised the offer down to €1,000 a week, still a pretty standard contract in an era when former Cork City star Joe Gamble once reportedly turned down €3,000 a week to sign for Pat's.
Yet for their third meeting, McDonnell and Pat's reduced their offer again to €800 a week, which is close to what many accomplished League of Ireland players are understood to be earning now, but seemed a distinctly modest fee by the unsustainable standards of the mid '00s.
A little embarrassed and perplexed but still eager to play for Pat's, Zayed eventually agreed to the deal.
Johnny was on holidays. I rang him on the Monday and said: 'Let's do this deal,'" Zayed remembers. "He said: 'Happy days Eamon, I'm delighted. Let me ring the guys at Pat's, they'll put the contract on paper, and you can come in and sign.'
"So Monday goes by, Tuesday goes by, Wednesday goes by and no word from Johnny. I'm thinking: 'What's going on here?' I'm anxious, so I text Johnny, because I knew he was on holidays and wrote: 'What's going on with the contract?' I didn't hear from him. Not a word.
Next thing, later that night, I get a phone call from Richie Sadlier. He grew up in Ballinteer as well, but I don't know him that well. We were practically neighbours, but he was a few years older than me, so I'd never really met him. He was CEO of Pat's at the time.
"So he goes: 'Hey Eamon, this is Richie Sadlier. You know that contract that Johnny was offering you?' 'Yeah.' 'I'm sorry, but it's not going to happen.' I said 'alright'.
I don't actually know if he gave me a reason. It was a very brief, abrupt phone call that kind of threw me a little bit. It was pretty much: 'Yeah, I'm sorry we can't do that, goodbye.'
"So this was the end of 2008. I was worried and I wasn't sure what was going to happen."
9. Finding a plan B
While deeply disconcerting at the time, Zayed says his experiences over the course of that difficult period were eye-opening and helped him develop as a person ultimately.
Football in Ireland as a career, if you think you're going to play on until you're 30-something and make €1000 every week and save up money for this, that and the other, it was unrealistic. It wasn't going to happen. You have to have something to fall back on. You have to have a plan B.
"Not only that — it showed me contracts could be broken just like that. That was another lesson — you can't take people's word for it, even if you agree to something on the phone. Unless it's down on paper, it's not real.
I'm sure everyone learned a lot in 2008 with people buying houses for unrealistic values, being left with massive losses, equity and stuff like that."
Zayed finally started to take the idea of playing football outside of Ireland and Britain seriously around this time. He had been inspired by two Australians, John Tambouras and Adam Hughes, and a Bosnian, Faz Kuduzović, all of whom he played with at Drogheda.
When Drogheda went into liquidation, the three of them took things into their own hands," he says. "They drew up a football CV and sent it to numerous agents around the world. If you google 'Fifa registered agents,' there's a link that brings you to a list of countries and it has all the agents registered within that country under Fifa.
"The three of those lads wrote up a general email, put their CVs together and just sent it to loads of agents. It was (a case of): 'Go to Starbucks, get a coffee, it'll take you an hour.' They were proactive. They ended up getting feedback from numerous agents. They were offered trials in Azerbaijan, Holland and South Korea.
One of their agents was looking for a striker and they told me what they had done. They said: 'Look Eamon, there's a team in Azerbaijan that are looking for a striker. So I was like: 'Alright, where the hell is Azerbaijan? What's the football there like?' All that kind of stuff.
"I was there on trial for a week. It was a great experience. I didn't sign. But it showed me there was football outside of Ireland and England. Some of these countries financially have a good setup in terms of stadiums and training. They're professional. They pay good money. The standard isn't always fantastic. But maybe there's a door that can be opened and an opportunity that nobody has really looked at.
I went to South Korea and again, I didn't sign there (at Incheon United), but it was important, because those new experiences led to me opening my eyes and eventually playing outside of Ireland."
10. Back to college
After the Drogheda debacle, Zayed ended up choosing another Irish club doomed to financial disaster, the short-lived Sporting Fingal.
Playing in the First Division was not an attractive option, but Zayed now realised the need for an alternative plan to football. Not only were Liam Buckley's side offering money comparable to most top-flight Irish sides, signing would also allow Zayed to study a Master's of his choice in Dublin City University.
Yet balancing a postgraduate degree in finance with full-time football was no easy task, and the star subsequently struggled on both fronts. Training in Santry every morning caused him to miss classes, and an inconvenient exam schedule meant he also missed training on occasion
You'd go to the library where you can read up on the lectures and stuff like that. I had a friend or two in the class. There was a girl called Siobhan and without her, I definitely would not have passed it.
"She was extremely clever and offered to be a tutor and go over classes with me after training if I needed, and I did need it.
What was disappointing and maybe helped to end the relationship I had with Liam Buckley, towards the end of the year, we had a few exams to complete. I'd missed so many classes that I needed to study for these exams, especially the day before the exam and the day of the exam.
"Liam, he can't deny it, wasn't accommodating. I might miss training because I had an exam and I might have an exam Tuesday and Wednesday, but he would ask me to come in straight after the exam.
I was by myself, so I'd just do running. I'd run for an hour and a half, I'd be physically exhausted, then I'd have to go back and try to cram in another few hours of study before my exam the next day. And I just didn't think it was right.
"I thought if he was a bit more considerate, he would have said: 'Just do your exams.' There weren't many of them."
Nonetheless, with Zayed in attack, an impressive team that included Ronan Finn, Shaun Williams and Gary O'Neill, gained promotion to the top flight and won the FAI Cup in 2009.
Source: retroloi/YouTube
11. A new lease of life
All appeared to be going well on the field, but the following season, with the distraction of his Master's, Zayed experienced a dip in form. Being played out of position as a left winger did not help matters, and the experience turned sour even before the club's financial difficulties caused them to go out of existence.
With Zayed in and out of the side that year, the forward became disillusioned not just about life at Sporting Fingal, but with the game itself.
I'll be honest, I actually hated football," he says. "I really didn't enjoy it. Maybe it was the pressure of doing a Master's and trying to juggle both. I just did not enjoy football. I did not enjoy going to training every day."
Yet not for the first time in his career, Zayed — who is the son of an Irish-born mother and Tunisian father and whose grandparents are from Libya — received inspiration when he badly needed it from an unlikely source.
The Libya national team coach Marcos Paqueta had been looking for players of Libyan descent based in Europe and had stumbled upon Zayed's name, a moment of good fortune that the striker describes as a "turning point" in his career.
I had finished my Master's. I was actually contemplating quitting full-time football, going back to part-time football and getting a 'real job,' as some people would say.
"I even interviewed for three or four places, sent out my CV to numerous accountancy and finance firms.
What changed it was going to the Libya national team. They called me into a camp. We had a game. We went over for a week. I jumped off a plane and was met by numerous TV cameras in my face. I was going: 'What the fuck is going on here?' They followed me in training and every day, there were interviews.
"They didn't know anything about football in Ireland. All they knew was 'this player coming from Europe'. When they think of Ireland, they thought of the national team and 'Robbie Keane, Roy Keane,' and that's what they thought. They thought playing football in Ireland was the exact same as playing football in England, in terms of the setup, the professionalism, the standard — everything.
So they made a big fuss about me going over there. And I loved that… You were a star.
"The first game, they didn't do the (clearance) papers in time, so I actually couldn't be involved, but they introduced me to the fans in the stadium — 40,000 people. You're brought into the centre of the pitch. 'Welcome Eamon Zayed.' I remember leaving there going: 'Fuck, I love this. I want to continue playing football.'"
Zayed has since gone on to score one goal in eight caps for Libya. A new manager who was installed after Paqueta decided against calling up players over the age of 30, ruling the Irish-born striker out of contention for selection. But following more managerial upheaval last November, he was recalled for a World Cup qualifier against Tunisia, but could not make the trip owing to club commitments.
And while his international career so far may not have turned out exactly as he would have hoped, the improbable call-up reinvigorated Zayed at a vital time. Following the Sporting Fingal setback, he was disappointed to discover that only one club had put in an offer for him. Shelbourne, a First Division side, were offering paltry wages of €250 a week — about enough to cover expenses, he says.
12. Silencing the critics
Eventually, Hibernians of Malta came in with a more attractive deal, but just before Zayed put pen to paper, then-Derry boss Stephen Kenny phoned him up with an offer of sorts. With Raffaele Cretaro mulling over a transfer to the Candystripes, the manager told Zayed he would happily offer him a contract if their first-choice target turned the club down.
Cretaro ultimately decided he wanted to stay close to his family in Sligo, which paved the way for Zayed's move up north.
I had no doubt in my mind that I wanted to sign for Derry City and Stephen Kenny," he says. "I'm not quite sure why. I'd only talked to him for half an hour, or five minutes here and there. But 110%, there was nothing that was going to stop me.
"I jumped in my car, drove straight out there and signed a contract. And from day one, it just felt right and as if: 'I'm meant to be here.'"
2011 will surely be remembered as Zayed's best standalone season. He finished as the league's top scorer with 23 goals, helping Derry to a third-place finish and winning the PFAI Players' Player of the Year in the process.
It was because the most dangerous type of player is a player who has something to prove, who has that hunger and desire within him, as we've seen with Stephen Kenny bringing together a group of players that some people believed weren't good enough. But he (helped turn them into) the best players in the league (at Dundalk) and won the league for three seasons in a row.
"So I was a player going from Liam Buckley basically saying: 'You're not good enough to be a striker for my team, so we're going to play you on the left wing. I don't believe in you.' To a manager and a coach basically saying: 'You're the best striker in this league.'
'You're going to score all these goals and prove everybody wrong,' and that's what I wanted to do. So that year, I just wanted to prove something to myself and everybody else."
13. A friend indeed
Zayed subsequently made some good friends while at Derry, one of whom was a soon-to-be Ireland international.
There'll be a couple of players that you'll stay friendly with in football. I remember when I signed for Drogheda United, Paul Doolin said it numerous times: 'There are no friends in football.' And that's what he was like as a coach… I didn't agree with that. I didn't know what kind of mentality that is. In terms of a team game, that's bullshit.
"You're with each other all the time, you're training together, you're travelling with each other. Sometimes you're staying in hotels and rooms with each other. You're doing so much together that if you're not friends, well then you're fucked.
James McClean was someone that I really got on with. We clicked on the pitch. At the very start of the season, he'd always try to cross it to me, but his crosses just weren't getting to me. You strike up that relationship where you can joke with each other and go: 'Fucking hell, work on your crossing man, you're horrendous.'
"I wanted to work on my finishing and he was so hungry. He worked his balls off to get where he is and that's why he's there. He worked so hard. After training, he'd stay and work on his crossing. I remember saying to him: 'Look, you cross to me and I'll finish.'
He's so quick that if he was ahead of the defence, (I'd say) smash that ball across the ground and I'll be there. If you're in line with the defence or you're one-v-one and you beat someone, hit it to the backpost and that's what he did.
"He worked on it and his crossing got really good. He assisted me with a lot of goals. And he was a good guy, someone who loved football. He really wanted to be the best he could be, and I think he's gone on and done that."
14. Only in America
Source: MMBA LIBYA/YouTube
Now 33, Zayed has been impressing for Indy Eleven in the US since moving there in 2016, with the team competing in the North American Soccer League, essentially the second tier to Major League Soccer.
The Dublin-born striker has already won plenty of admirers in America, earning a place in the league's best XI after his first season there.
In addition to playing football, he also works voluntarily as a coach for Ball State University (the stipulations in his US visa prevent him from getting paid work from two separate organisations).
Furthermore, Zayed has already begun undertaking his Uefa B coaching licence and plans to complete it upon returning to Ireland once his season with Indy comes to an end. Consequently, the US-based star hopes to work one day as a coach, but naturally won't restrict himself to jobs in Ireland, given the limited opportunities for full-time work available there.
The standard of the NASL, he says, is relatively similar to the League of Ireland. There is one big difference between the two competitions, however.
The stadiums are much better. You get way more fans. Everything about game day is how game day should be. You might have a theme for the night. For example, this weekend, it's pride night, because it was pride month in America.
"They'll have things going on two hours before the match, in and around the stadium. You'll arrive at the stadium and you'll see people outside having a good time, having a few beers and doing different activities. There are loads of family activities going on.
I had a friend, a personal trainer, who came over (to visit) from Bray. He's a Bray Wanderers fan. He came over and watched a (NASL) game for the first time. The main difference, he said, was that he could not believe the gameday atmosphere and everything about what goes on before and after."
Epilogue
Source: Hussein Budejaja/YouTube
Playing football, particularly in countries such as Malaysia and Iran, has ultimately been an invaluable learning experience for Zayed, resulting in memories to last a lifetime. Not bad for someone who was once a young skinny aspiring footballer from Ballinteer and "a bit of a homebird" by his own admission.
There are two main reasons you're going abroad," he says. "You want to try a different footballing environment and then you make a bit of money — a lot of these countries pay more money than you get in Ireland. So you're thinking: 'I can save up a bit of money for a mortgage.'
"You're thrown in at the deep end. A lot of these countries eat differently. They have different habits. They look at football a little bit differently. They train differently. So you think: 'Right, I have to work my way through this puzzle, this challenge.'
And going to Iran, it was something that I really enjoyed. The idea that you're going to go to a country and nobody knows you.
"I've seen it in Ireland. Sometimes teams bring in players from abroad. We had a couple of American and Australian guys at Sporing Fingal and Drogheda. You're like: 'Who the fuck is this guy?' You don't know who he is, you don't know anything about his career, you don't know if he's good, you don't know if he can do anything. It's the same if a team in Iran signs someone from Ireland.
So if you go to a new country, you've everything to prove. That's the challenge. And it's a massive challenge.
"When I went to Iran and I got that chance, it was great and I didn't know how it was going to work out. Then you score some important goals and next thing, a few months later, you're on TV wishing the nation a happy New Year and people know who you are.
It's like: 'What the fuck just happened there?' I went from a nobody to everybody knowing you. You're walking down the street, everybody knows you and it's like: 'Hey Eamon.' So the idea and challenge of going where nobody knows you and trying to create a name for yourself within that league, it's something that I really enjoyed.
"You obviously face challenges off the pitch in terms of the culture and stuff like that. There was a language barrier in a couple of the countries.
But you're getting paid to travel and play football. I don't know if there's a better job than that."
The42 is on Instagram! Tap the button below on your phone to follow us!