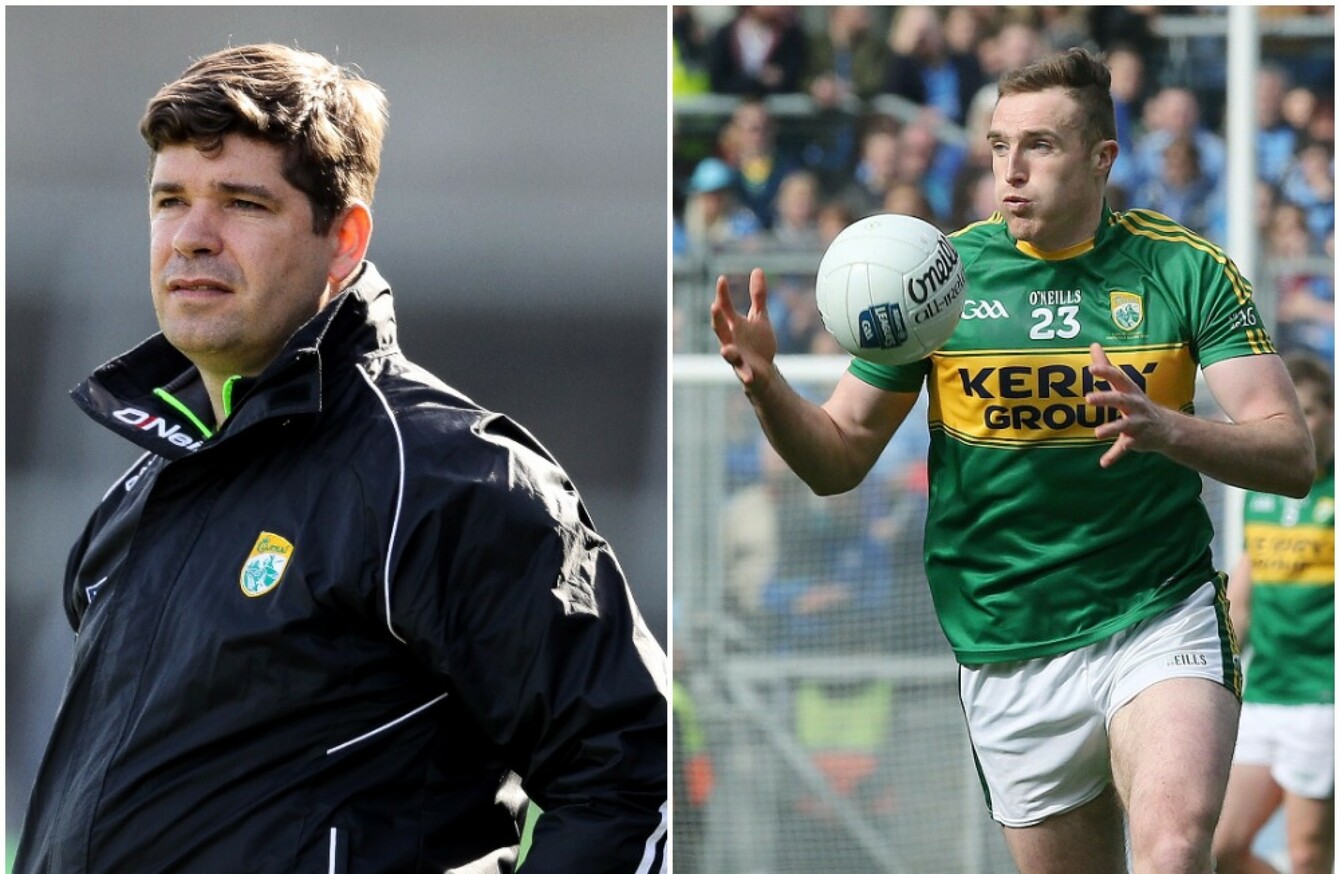 Kerry manager Eamonn Fitzmaurice and player Brendan O'Sullivan.
Image: INPHO
Kerry manager Eamonn Fitzmaurice and player Brendan O'Sullivan.
Image: INPHO
KERRY FOOTBALL BOSS Eamonn Fitzmaurice has insisted their camp were not trying to hide anything in their handling of the anti-doping case involving Brendan O'Sullivan and has questioned why the story was initially leaked before the Sport Ireland report was finished.
Speaking to reporters at a press event today in Tralee ahead of next Sunday's Munster semi-final against Clare, Fitzmaurice addressed the story which first broke last Sunday week.
The 2014 All-Ireland winning boss was frustrated at the protracted nature of the process but revealed legal advice prevented Kerry from releasing a statement earlier to outline the facts of the case.
"We felt all along from the very start of the process that it was important we released a statement saying what happened, prior to it breaking in the public domain because of the fact that we'd nothing to hide (and) Brendan had nothing to hide.
"But there was a process there we had to go through. That was the advice we were given from the start, the legal advice, that you couldn't state anything until the process was finished.
"We had a statement ready to go on this since last July. I think there was a bit of commentary this week about why it wasn't released earlier, were we hiding something?
"That's the exact opposite. Our hand was forced because of the report being leaked. I haven't seen much of the commentary to be fair this week because we were away in the camp but I think that's a huge question – why and how and who leaked it?
"Not so much for The Sunday Independent, I understand that they got a scoop and they felt they had to go with it but who leaked that report when it wasn't finished?
"I think that's a big question when you're talking about a player and a human being."
Fitzmaurice revealed that when the Valentia club player was first informed of the offence, he was told that he was being handed a four-year ban.
"Brendan was notified last 12 May at 10 o'clock in the morning, he got a phone call – 'you failed a drugs test and by the way you're banned for four years'.
"I didn't read that anywhere this week. Sport Ireland rang him to inform him under Wada regulations, he was banned for four years.
"It was clear straight away what the problem was the contaminated product because everything else that he would have taken would have come through the setup.
SEE SPORT
DIFFERENTLY
Get closer to the stories that matter with exclusive analysis, insight and debate in The42 Membership.
Become a Member
"It took us 11 weeks to prove it was contaminated. Why everything takes so long in these things, I can't understand?
"His suspension was suspended once we had proven it was a contaminated product. Sport Ireland were happy that he hadn't cheated, he was a victim of circumstances.
"So for us that was the end of the matter, we were just waiting for the process to be completed, to release our statement.
"We heard nothing for the rest of the year and on the 21st of December at half 5 in the evening, Brendan O'Sullivan gets a phone call to say, 'you're suspended for seven months and Happy Christmas, by the way'.
"Sport Ireland again. That's how come the thing went into a second season."
The42 is on Instagram! Tap the button below on your phone to follow us!