FOR MOST OF his life, Eddie Bolger has been irrevocably associated with Irish boxing.
The Wexford native fell in love with the sport at a young age and was a talented boxer in his day, winning national titles at senior and underage level amid a distinguished career.
Bolger has gone on to become a coach of similar renown. After climbing the ladder at his local Wexford boxing club, he joined the Irish set-up in 2008, initially on a voluntary basis.
His status grew steadily from there and Bolger has been part of Ireland's High-Performance team for the last two years, serving as one of the country's three coaches, along with Zaur Antia and John Conlan, at the Rio Olympics.
He has worked closely with some of the brightest stars in the Irish boxing scene in recent years, including Joe Ward, David Oliver Joyce and Steven Donnelly.
Yet this week, it was confirmed that Bolger was ending his long association with Irish boxing, having accepted an offer he "couldn't refuse" to become the new Head Coach of the German national team.
I'm very passionate about being a coach with Ireland," he tells The42. "I have a good relationship with some of the individuals — Joe (Ward), Katie (Taylor), Paddy (Barnes). I wasn't looking for another job. It just came at the right time. My contract was up on 28 February. I worked every day up to it. I was trying to negotiate a better contract, but it wasn't forthcoming.
"Like divine intervention, the Germans contacted me and they pulled out all the stops and were very eager for me to go over.
I flew over for a few days. They offered me a great package. And it would be an injustice to my family to not consider it.
"It is a challenge, but it's also a good opportunity to develop as a coach and maybe come back in two or three years."
Bolger leaving will be seen as another blow to the High Performance Unit a little over a year after the departure of another highly regarded coach, Billy Walsh, who has since gone on to enjoy success with Team USA. Moreover, with stars such as Katie Taylor, Paddy Barnes and Michael Conlan turning pro, there is a worry that Irish amateur boxing could suffer significantly as a result of this exodus. Bolger, however, insists plenty of talent remains within the set-up and denies that the aforementioned high-profile exits had any influence on his decision to follow suit.
Ireland will always have a great talent pool and there are very good lads coming forward," he says. "Kurt Walker, Joe Ward, Dean Walsh, Brendan Irvine and after the Olympics, if you've three or four good lads, come 2018 or 2019, if you add another one or two to that, you've a good team there."
Germany have a rich history in boxing at the Olympics, though they have struggled in recent years, picking up just a single bronze medal in Rio (won by Artem Harutyunyan in the Men's light welterweight), while going home empty-handed at both the London and Beijing Games. Nevertheless, Bolger recognises the potential to make the country a boxing powerhouse again.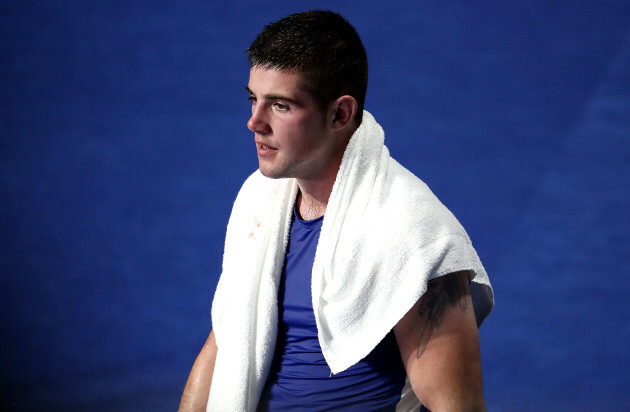 Dan Sheridan / INPHO Bolger has coached a number of talented Irish boxers, including Joe Ward. Dan Sheridan / INPHO / INPHO
"There are between 80 and 90 million people there. There's a culture of Russians, Armenians, Germans, there's good scope for improvement and progress there. Maybe they just need a fresh input and coming from a country with only four-and-a-half million and what we've achieved, I think they've identified that there's a proven system in Ireland and that's the basis for the contact.
Hopefully, I'll have a couple of hours in the evening to upskill myself in a language, and maybe by Christmas, I can implement a training session in German."
Bolger has certainly come a long way since his days coaching the youths in his local club in Wexford. He has also long since identified coaching as a "career choice," despite toiling away with little financial reward for a number of years. There was not much difference, he suggests, in terms of the actual tasks he performed, between working on a voluntary basis and serving as High-Performance Coach with the Irish Athletic Boxing Association.
The grass never changed," he says. "When you're holding pads or teaching, the boxers don't see you as a volunteer. The only reason you're a volunteer is because someone doesn't pay you."
Reflecting on Ireland's disappointing performance at the Rio Olympics, even more than half a year later, he finds it "hard to put your finger on" what went wrong.
Exclusive Six
Nations Analysis
Get Murray Kinsella's exclusive analysis of Ireland's Six Nations campaign this spring
Become a Member
He had worked closely with, among others, Michael O'Reilly, the boxer ultimately caught up in a doping controversy. On this issue, he says: "I'm still to this day not sure what happened. It could have been just a mistake. It could have been something silly, but it is what it is. You're guilty until proven innocent.
But from the inside out, it didn't affect the team at all. They're very strong-minded people, very experienced people. Even the new lads that came in were just so happy to be there and so eager to perform."
If anything, the Irish side's preparation was "a little bit better" than at previous Olympics and he suggests the underwhelming overall performance was down to bad luck and inadequate judging more so than any deeper problems within the team.
To qualify that many people was fantastic. In Rio, we lost a few tight decisions and maybe a few dubious decisions. It didn't just happen to us, it happened to everybody.
"We created the expectations (from previous Olympics) and deservedly so. There were incidents in Beijing and incidents in London, where I think we underachieved. We left stuff behind us. I think Darren Sutherland left a silver or gold medal behind him. I think Kenny Egan probably left a gold medal behind him. And definitely John Joe Nevin left a gold medal behind him.
You can say we overachieved (in 2008 and 2012). I don't think we did. If you analyse it, we probably left a couple of medals behind us. But in Rio, we qualified eight boxers — that's phenomenal.
"We lost a couple of tight decisions. I was so proud of the team. We actually did perform very well over there.
I think we weren't the flavour of the month anymore and I can't give you a reason for that, but we lost a few decisions that I don't think we deserved (to lose).
"But that's boxing… You just pick yourself up again and Irish boxing will (recover)."
The42 is on Instagram! Tap the button below on your phone to follow us!