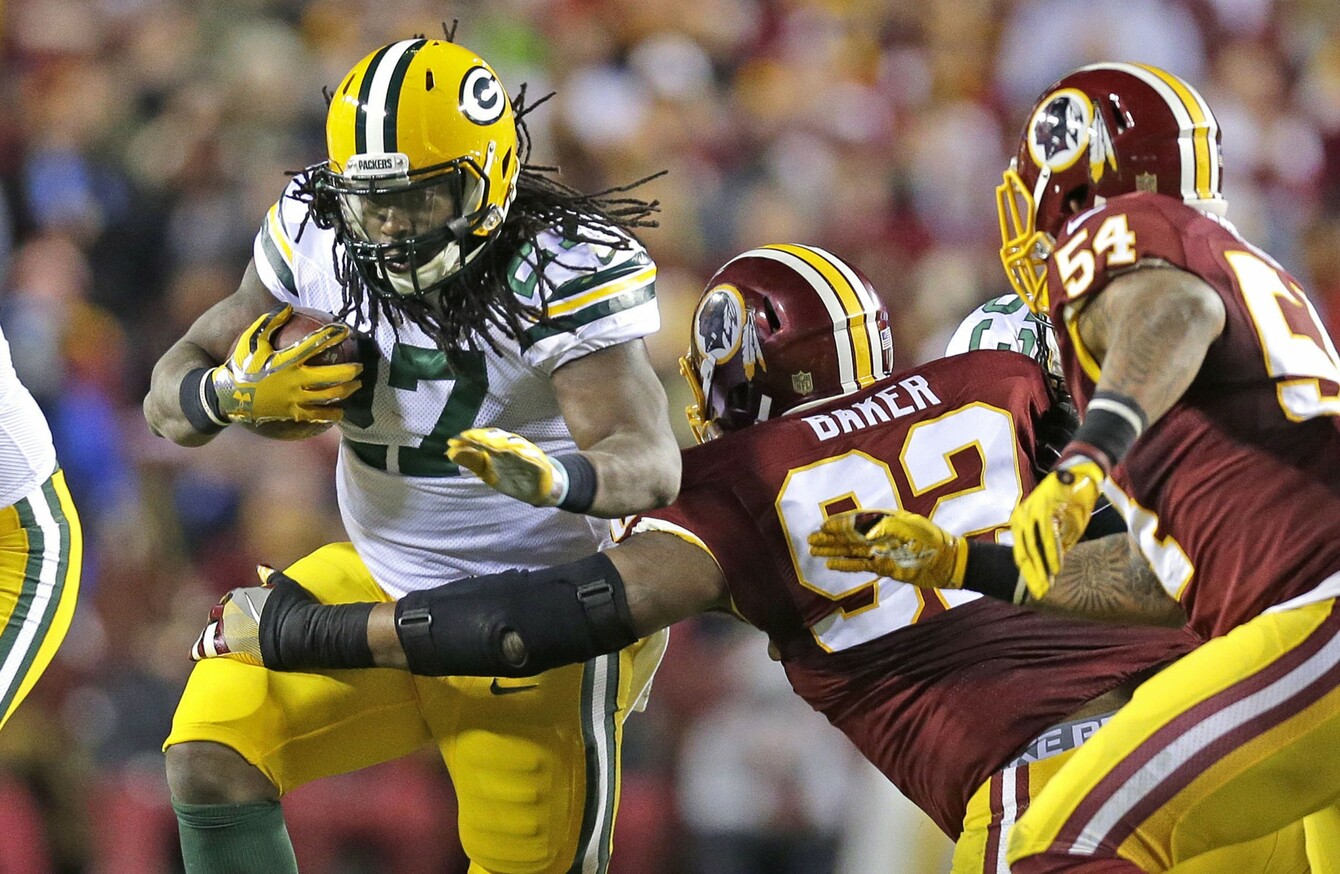 Image: Rick Wood
Image: Rick Wood
SEATTLE SEAHAWKS RUNNING back Eddie Lacy pocketed a $55,000 (€50,100) bonus on Monday after tipping the scales at 255 pounds (115kg) to meet his first contractually stipulated weight loss target, his agent confirmed.
The powerhouse running back switched to Seattle from Green Bay in the close season after struggling to maintain his ideal weight with the Packers.
The Seahawks have given Lacy a series of financial incentives spread over the next seven months designed to help the 27-year-old keep the weight off.
He met his first target — 255 pounds — with two pounds to spare after being weighed by the Seahawks on Monday.
"First weigh-in in Seattle done: 253," Lacy's agents, SportsTrust Advisors, wrote on Twitter on Monday.
Lacy's deal with the Seahawks contains seven weight bonuses which would be worth $385,000 in total if the running back meets them all.
He faces a second weigh-in on June 12 which requires him to be at 250 pounds.
He must maintain that weight for pre-season on August 1. He will then be weighed every month from September to December where he will be expected to tip the scales at 245 pounds.
Lacy's weight reportedly ballooned up to 267 pounds at one stage during this offseason.
However Seahawks coach Pete Carroll was delighted with the condition of his new signing on Monday.
"He looks awesome. He looks great," Carroll said Monday on ESPN Seattle radio.
"He's huge. And he's going to keep playing huge. He did a fantastic job. He's done everything we've asked him to do. He's doing great.
"His attitude about it has been great. He's worked with the support system that we put in place and (has been) highly successful."
Lacy was chosen in the second round of the draft by the Packers in 2013, and notched consecutive 1,100-yard seasons in an impressive start to his professional career.
However his most recent season with Green Bay was hampered by weight problems and an ankle injury that limited him to just 360 yards with no touchdowns.