Liveblog
Munster's Red Army is on the move in big numbers again this afternoon with Murrayfield set for an usually healthy crowd in 45 minutes.
They'll have to book their place in the last four without one of the 15 picked for the task earlier this week:
What do you make of that enforced switch?
JVG on that late switch on Virgin: "We've just got to adapt and move forward. Next man in, that's what a good squad's about."
Looks like it's a good buzz around the town…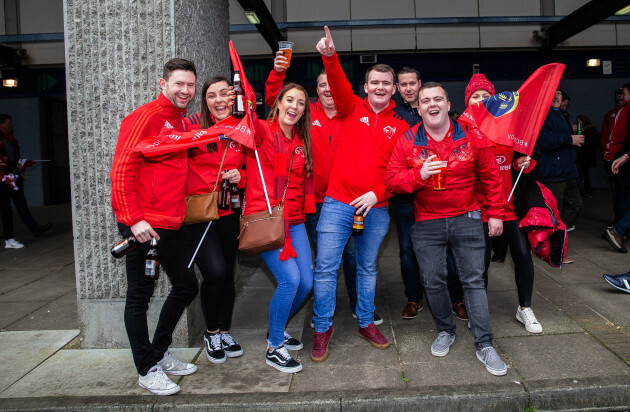 Source: Gary Carr/INPHO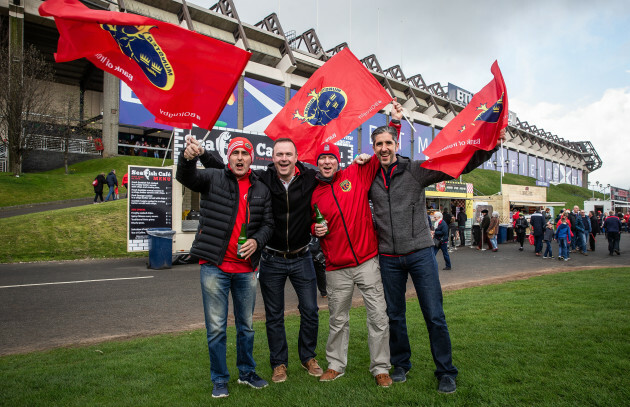 Source: Gary Carr/INPHO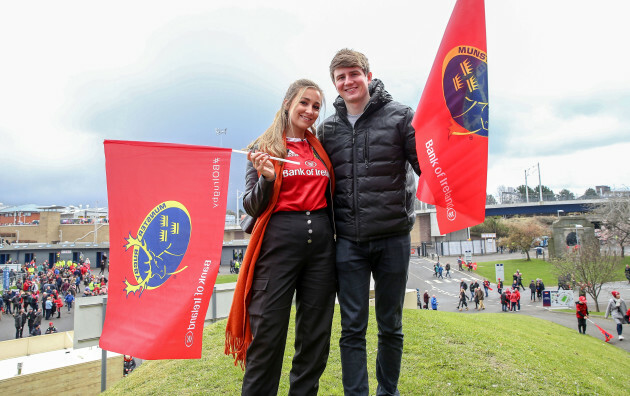 Source: Gary Carr/INPHO
We're having a minute's applause at Edinburgh and we'll be underway momentarily.
Let's have those predictions!
First blood to Edinburgh in the close quarters battle and when they're awarded a penalty they opt to kick for the corner.
It's another penalty for Edinburgh and they're enjoying plenty of early pressure.
Jean Kleyn has trotted off and Billy Holland is on for now, at least.
Huge Munster turnover! Stander and Holland punch the air, as the visitors defended brilliantly yards from their own try line.
What a frantic passage of play. Beirne won the ball back for Munster, Scannell pinged a ball behind the Edinburgh line. When it was returned, Conway chipped forward, chased his own kick and won the ball in the air.
The hosts though got on the front foot again and, the man who started it all, Tadhg Beirne has been sin binned a nudge off the ball, essentially. Edinburgh kick for touch again.
Unreal. With Edinburgh under the posts and on the line, the visitors steal it back somehow.
'They're hanging on for dear life,' Alan Quinlan says.
Jean Kleyn is back on and Billy Holland takes his seat again, having done really well in that early cameo.
TRY! Keith Earls gets over the first score of the game!
Crazy stuff from Henry Pyrgos. The scrum half stood offside and slapped the ball Conor Murray tried to distribute from the base of the scrum. He'd been warned not to do it.
Rather than a penalty and possible yellow however, Earls takes a quick tap and speeds over the line with everyone else slow to react.
Carbery slots the conversion. Massive.
Tadhg Beirne is back on and in the meantime the heroic Munster defence wins another penalty.
TRY for Edinburgh! Chris Dean gets over under the posts.
Jaco van der Walt slots the kick to level it up. Jack O'Donoghue is off for Munster for a HIA, with Botha on.
Conway chases a Garryowen from Carbery and contests it with Darcy Graham who comes off the worse of the two, landing heavily. Edinburgh penalty is the ref's decision.
The home supporters were baying for a card.
Van der Walt makes no mistake from a penalty and Edinburgh take the lead for the first time as we enter the last five minutes of the first half.
And wow, Joey Carbery is leaving the pitch as I type with Tyler Bleyendaal on. Carbery's day is over.
Excellent break again from Darcy Graham, who looks really dangerous.
In the meantime, Jack O'Donoghue has failed, if that's the right term, his HIA and Arno Botha will remain on.
The visitors will welcome the half-time whistle and the opportunity to regroup.
Flag
Half-time: Edinburgh 10 Munster 7
Here we go again for the second half. Let's see what Munster have got.
Beirne knocks on but moments later atones for his error with some serious and typical pressure causing an Edinburgh mistake. Munster with the put in and the chance to reset.
Munster's Joey Carbery goes off injured. Source: Dan Sheridan/INPHO
Edinburgh 10 Munster 10 - Tyler Bleyendaal levels it up with a straightforward penalty effort.
Jaco van der Walt kicks Edinburgh into the lead once again. The home side swarmed Andrew Conway and the visitors were pinged for an infringement at the breakdown.
Serious Munster pressure here; important they get something out of this.
WP Nel is lucky to still be on the pitch, according to Alan Quinlan. He gave away a penalty by falling on the ball but the ref kept his yellow card in his pocket.
Munster have opted for a srcum. Big call.
Murrayfield erupts and the home players are delighted. Huge scrum from them.
Feels like a massive moment.
Stephen Archer is on for John Ryan.
Another penalty awarded to Edinburgh at the breakdown and they're getting on top now.
Billy Holland is on for Jean Kleyn once again.
Rhys Marshall is on for Niall Scannell. Still only three points in this with 65 minutes or soon the clock.
But again, as I type, the ref pings Munster at the breakdown. They need way more support to win those rucks, Alan Quinlan says exasperated.
Big let off for Munster! Edinburgh could've had a penalty in kickable range for an off the ball push but instead Peter Schoeman is pinged for an incident with Beirne and the visitors get the decision. Bleyendaal kicks brilliantly.
TRY for Munster! Keith Earls 71′
Edinburgh 13 Munster 15 Brilliantly finished by the Limerickman. That's incredible.
From right on the touchline, Tyler Bleyendaal makes no mistake. Edinburgh need a try now or a couple of penalties.
Source: Gary Carr/INPHO
Dan Goggin is on for Rory Scannell.
Massive moment as Billy Holland gets a good hand to an Edinburgh lineout ball and he's applauded by his teammates who can feel they're not far from the last four now.
Into the last few seconds…
Edinburgh are doing an incredible job of hanging onto possession.
Flag
FULL TIME: Edinburgh 13 Munster 17!
What a win for Munster. They absolutely dug one that out.
What's your verdict?
Thanks for your company throughout that first Champions Cup quarter-final. Stick around for more reaction from Edinburgh and coverage, of course, of the other big games; particularly that Leinster-Ulster clash later.
Contribute to this story: